I can't be the only one who feels a tinge of arousal at the sound of someone's voice. Especially when the intention behind the sultry tone dipped in honey is exactly that -- to arouse. Recently, I had the pleasure of coming across an Instagram ad promoting the female-founded sexual wellness platform, Dipsea. The voice I heard immediately was one I had become familiar with as an avid Insecure fan. That of none other than Sarunas J. Jackson. Funny enough, that was something I admired about him in the series (as well as in Good Trouble). He had a voice that could evoke trickles almost effortlessly.
---
So that, coupled with the storytelling element that the audio company is all about proved to me in 30 seconds or less that Mr. Jackson had the uncanny ability for taking pleasure to new heights sonically. What I had accidentally stumbled upon was audio porn, and apparently, in terms of sexual pleasure, it is absolutely the wave. Audio porn is defined as adult content that you listen to. Audio porn can be narrated erotic stories (like the aforementioned Jackson's "Off the Record" series), guided masturbation sessions, listening to someone talk dirty to you, or even orgasm sound libraries.
In the last decade, audio porn has seen a lucrative uptick in popularity. The multi-million dollar industry raised over $8 million in 2019 alone. So, what is it about audio porn erotica that has women so tapped in to auditory stimulation versus visual? I spoke with blogger and speaker on all things sexuality, Tatyannah King to spill the tea on all things audio porn.
Audio Porn: What Is It & Why Do We Listen To It?
Porn is often a polarizing topic where some women don't often feel the porn that is out there is representative of them or intended for their gaze. Instead, the "traditional" mainstream porn that we come across are conceptualized, filmed, directed, and edited with the typical male viewer in mind. While ethical porn can be a great alternative for those who want to visually consume porn that isn't inherently male-centric, audio porn provides an erotic outlet for those looking for a less male-centric view that is also immersive. "Audio porn allows you to use imagination and make you feel like you're actually part of the scene," Tatyannah explains.
She continues, "For those who enjoy the sound of moaning, audio porn is a great option. As someone who loves to hear men being vocal and expressive during sex, it frustrates me that I typically have to endlessly search through pages on traditional porn to hear the man moaning. With audio porn, I don't have that issue as much because premium sites do a better job at making sure their male performers are there for more than just penetrating and occasionally grunting."
Erotic Intimacy Through Audio Porn
Don't ask me why, but in my younger days, one of my favorite ways to consume porn was either through reading adult fanfiction or by listening to porn through audio recordings I made with a tape recorder. Without realizing it, the latter was my first taste of the power of audio porn. There was a mental element being tapped into that made the act of consuming erotic content that much more enticing and tantalizing to me.
To this day, a voice note of a partner moaning or even listening to myself in previous sessions can elicit arousal in a way that even the best rough sex compliation I can find on the internet can't. It's the raw erotic intimacy for me. Tatyannah explains, "Some people prefer to have the visuals laid out in front of them, but audio attracts people who enjoy using their imagination and visualizing what they want the scene to be like while listening to the audio."
"Audio porn encourages you to think about your desires in a deeper sense."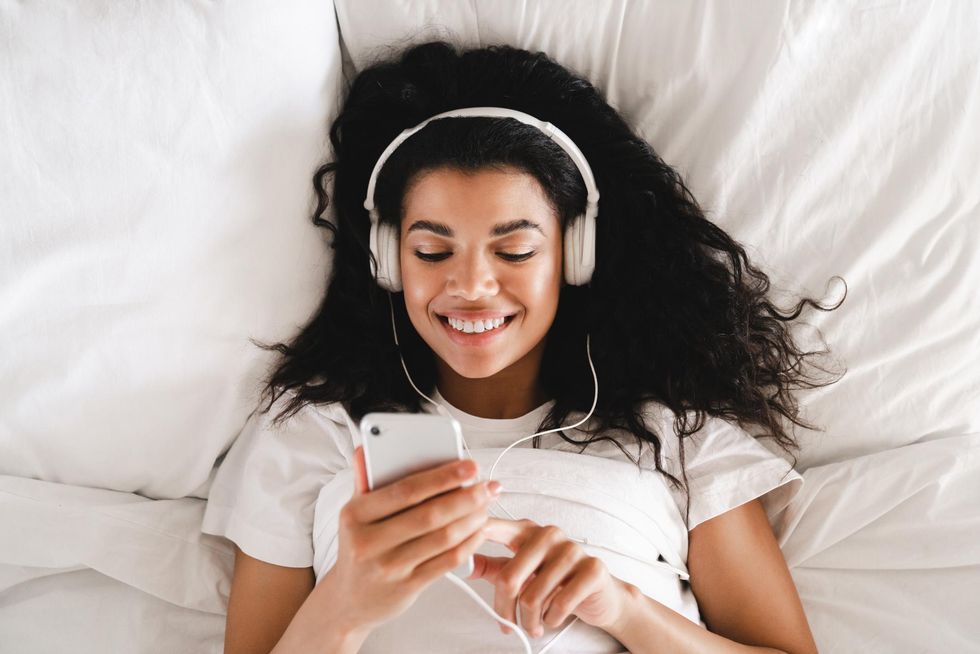 Getty Images
The Science Behind the Pleasure Found in Audio Porn
If you're a fan of verbal expression or confirmation during your lovemaking, it should come as no surprise that audio porn taps into an aspect of us that gets off on hearing others experience pleasure. There's a reason why moans can get you more aroused. According to Tatyannah, that reason is Autonomous Sensory Response, aka ASMR. She explains it as "the tingling sensation along the scalp, neck, or back that people feel when exposed to certain auditory stimuli."
She adds, "Aside from biological and physical responses, it is possible for people to have an auralism fetish, which is a sexual fetish in which one is sexually aroused or excited by sound. These sounds can include music, a particular tone of voice, the actual sounds of sex itself, or simply listening to others have sex."
The Best Places to Find Audio Porn
Featured image by Getty Images