In xoNecole's Finding Balance, we profile boss women making boss moves in the world and in their respective industries. We talk to them about their business, their life, and most of all, what they do to find balance in their busy lives.
The moment Karen Civil and I got into the questions, she said "Whew, I'm about to be 100% real with you. Let's go," and I knew there was no turning back.
---
Karen Civil is a woman who needs no introduction — from her countless businesses, to being a certified game-changer in the hip-hop industry, Civil is a name and face you absolutely know. Many say she's "self-made" (though Civil definitely gives shoutouts to her amazing team), and for countless women, Civil is perhaps one of the first or leading examples of a female powerhouse in what has conventionally been a male-dominated arena.
Karen is also one who needs no warm up to get to her point — she jumps in head first. The first few minutes of our conversation, I found myself receding, feeling like Karen was coming in a little hot on our late night call. Immediately, I realized that I was suffering from the very disease society has taught women, and Black women especially. I was operating out of discomfort to see a woman who was fully unapologetic in her approach and the facts she was going to spit, a woman who many could term "aggressive" or "demanding" or even "scary."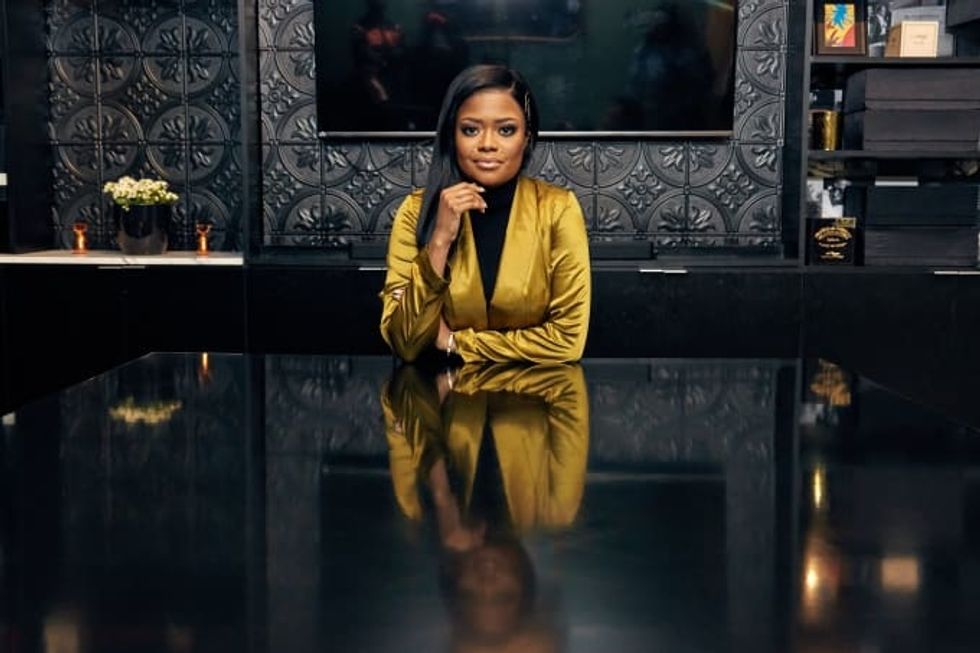 Complex Original
I realized that Karen was in fact none of those things, she just knew what she was going to say and wasn't going to take the scenic route to say it, and it made me wonder why we have silenced countless women before for the same thing. That's a lesson I learned right then and there, one of understanding that a woman can be confident and say what's on her mind. Point. Blank. Period.
In this installment of xoNecole's Finding Balance series, the media maven talks health, spirituality, time management, and most importantly how to walk in your highest purpose and calling.

What does an average day look like for you?
For everything a little bit changes, but there's Always Civil. That's my marketing and branding agency. We have various clients. I'm really proud of the clients that I have right now, which is Russ. Russ is getting ready to drop his project. I have London On Da Track. I have YG, Teyana Taylor, and so many more. We do activations for people, so I just helped James Harden with his James Harden weekend. That was a big moment. I'm starting to do some work with Kamaya that I'm really excited about. That's one aspect of it.
Obviously, we have the Karen Civil brand, which is all things entertainment. I have a great team set in place that's self-sufficient and it runs. I'll peek my head in. I have Live Civil, which is all things empowering, and all things motivating. I have a team for that. I peek my head in. I have the True Women brand, which is our number one vegan based bar on Amazon. We recently launched that a few months ago, so that's something that's not in the hip hop or entertainment space. It's something that's totally different. It's very health conscious. I have a lot. I've taken a lot of calls. I'm handling the schedules, making things happen. In between meetings, because I work with other brands from Louis Vuitton to XYZ, then I'm an influencer myself. I'm a lady who wears many hats and I'm living my life that I set forth for myself. Every day is a little bit different.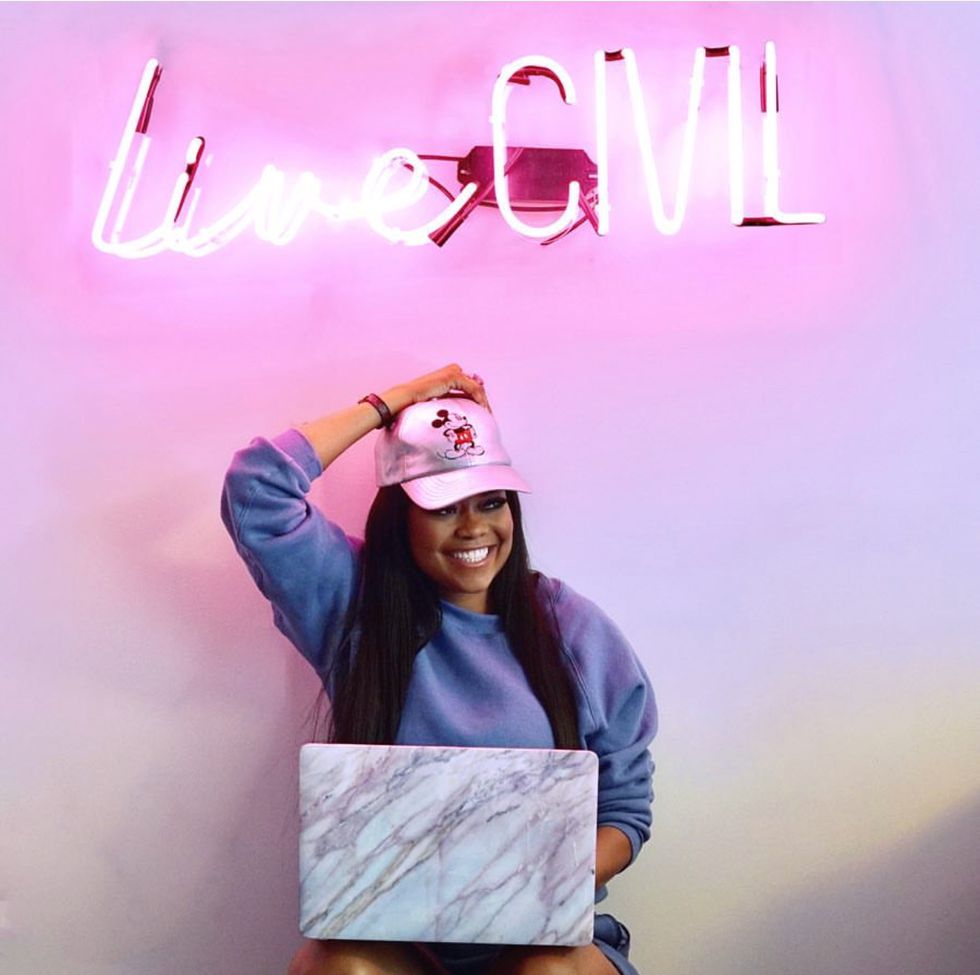 Karen Civil/Instagram
How do you find time to balance all your hats?

It's that time management. I make sure I put the energy and time in what needs to be done. I have a great team around me that helps elevate and execute, because that's really what it's about. It's not me just shining. It's the people around me helping us shine together. I make sure that the clients that I work with are all like, they really want it, so I don't have to chase behind and beg and plead. So, it works.

What is the most hectic part of your week? What obstacles pop up since you are juggling so many things?
The hectic things are, you know, you have very rambunctious clients. You have people who are outspoken, so I continue walking through TSA and in four minutes, I'm looking at my phone like "What the hell is this, World War III on social media?" Sometimes, I wish people would allow me to do my job and give me a minute. Then, a lot of people I have relationships with want you to be there and you can't be there for everybody. You can't be at every single event. When you're up in one place, you're down in another. If I'm at this event making sure this person is right, I try to make sure this person is well too, but it's about managing and balancing my times. I still make it work. I do it with a smile on my face and I try to give them the best effort I can to make them feel even when I'm not there that they feel Karen's presence and she still made it happen.
What does self-care look like for you?
Listen, I'm very spiritual. I'm very spiritual when it comes to that self-care. I get reiki healing, I light my candles in my home, I sage. I need the energy to be right. I pray to my God. I follow the Muslim prayer, so it's like I'm at 4:56, 12:54, 4:33, 7:24, and 8:47. I am on my rugs, I am praying to the east, and I am talking to God. That's important for me. I'm blessing my food before I eat it.
"I'm just making sure I incorporate God through my whole day."
I don't care what I'm doing. I will excuse myself so I can go pray. People understand that, they don't take offense to that. I do my healings, I light my spiritual candles. I'm just trying to make sure that in a world that honestly feels like they don't want me to belong in an industry that is trying to break me, that God continues to keep me whole and my spirit feels intact. I just got to give all glory to God and ask him to remove. Please remove the negative people in my life who are not supposed to be there. I pray for my friends and things of that nature. I've got a therapist who I will see and I lay on the couch. At the end of the day, my mental health is more important than anything else.
How do you find balance with friendship?
Listen, I realized I did quantity over quality and then people's true colors started to come out. Now, more than anything, I reversed it. It is all about quality and not quantity, because people will burn you out. Especially being in Los Angeles. They pretend they are for you when the objective and the motive is to align... It's like spaghetti to the wall. They want to stand with whatever sticks. People want to stand in your light. Now I have a great tribe of women around me who believe in me, who uplift me, and guess what? We uplift each other, so I'm good in that space. God has helped me gravitate all these wonderful people around me that I can call friends, that I can call sisters, that are part of my tribe.

Do women find balance or do you have to settle?
When it comes to my life... I'm not settling. I'm not settling in a personal relationship, I'm not settling in my business, because I want more for myself. More than anything now, we are in a day and age where they respect [women of color] and they are listening to us. We are running the boardrooms. Forbes said we are listed as the fastest growing entrepreneurs. You think I'm not running around with my invisible cape and knowing what I'm capable of? Ain't nobody going to diminish my light. You will never diminish my life.
"Ain't nobody going to diminish my light. You will never diminish my life."
How do you find balance with love and relationships? Do you even have time to date?
I did a public relationship and I embarrassed myself. You know why? Because I wanted to pretend to have it all. And that was my fault because I wanted girls to know you could have a career and a man, and you can do this and you can support him, and you can do everything else. I knew he wasn't right for me but I cared more about what social media thought because I wanted people to be like, "Oh, perfection," and this and that. That's where I failed myself and I failed the audience and the people who believe in me because that relationship was a sham and a lie. Now, more than anything, I am dating. I'm in a great place. I have people who appreciate me, who understand me, and who want the best for me. It's me and us. It's not me, us, and social media.

How do you find balance between your sanity and haters?
People will diminish your light before you even get to turn it on. No sir, no sir. I pay my light bill on time every month. You will not have me in the dark, you will not dim nothing over here unless it's some dim sum and we eating. Nothing over here will be dim. Nothing. I walk in purpose and I walk in light. I'm not dimming down nothing.
How do you find balance in your life with exercise, health, eating?
I have an incredible chef who helps me stay on my diet. My trainer. He is like everything. His name is James Banks and James will be like like, "Karen, let's get it together. Let's get you where you need to be." From training and everything to train, [if] you want change, James is it.
When you are going through a bout of uncertainty, when you're feeling stuck, when you're hitting obstacles and whatever else, how do you handle it?
Oh, I'm got my female tribe. I talk to God, I pray to Him on it to give me clarity. I write it down. I write my thoughts down just to make sure I'm not missing anything. Then, I have my tribe of women that I talk to to help guide and understand me. Those are my three things to provide that balance and to make sure that I'm making the right things. I never want to make a decision out of a heated argument or just in the moment.
What does success mean to you ?
Success to me is living in purpose. This society and this world when it comes to people of color, the race was not set up for us to win. Not being afraid of failure, not letting it hinder or dictate where you see yourself. That is success. I don't put a monetary value on it because when you're chasing your purpose and you're chasing your goals, that comes with it.
"Success to me is living in my purpose."
Success is looking my momma in the eyes and knowing I got her a house, you know what I mean? Success is knowing that I'm able to create opportunities for the people around me. Waking up happy knowing I'm living the life that I chose for myself.
For more of Karen, follow her on Instagram. Also be sure to check out some of the other amazing ladies we've featured in our Finding Balance series by clicking here.