There's nothing like finding a tribe that empowers you to be your best self, especially during challenging times like these. And when you can also find ways to partner up, build legacies, and build wealth together, that's even better. Friendpreneurs Tai Beauchamp, Nia Jones, and Malaika Jones have enjoyed the fruits of all of that with their plant-based wellness brand Brown Girl Jane. The collection of products include broad-spectrum CBD, an ingredient that has been found to improve issues like anxiety, pain, stress, acne, skin dryness and much more, and can be found at Nordstrom, within Birchbox, and online via their website.
---
Sisters Malaika, who is CEO, and Nia, who is the Chief Impact Officer (CIO), found kinship in fellow Spelman grad Tai, who serves as the Chief Brand Officer (CBO). They decided to combine their talents, networks and experiences to offer a product line that promotes wholeness, balance, and beauty from the inside-out.
"The brand started very organically," Malaika said in an exclusive interview with xoNecole. "We come from three very different backgrounds in terms of professional career but we were confronting the same wellness challenges even though we're approaching them from different directions. In terms of creating the brand, we recognized a need to craft a beautiful wellness collection centered on women of color. We were amazed at the efficacy of the plant and all that it could do and the different ways it could be used. In terms of getting started, we created the brand we always wanted to exist."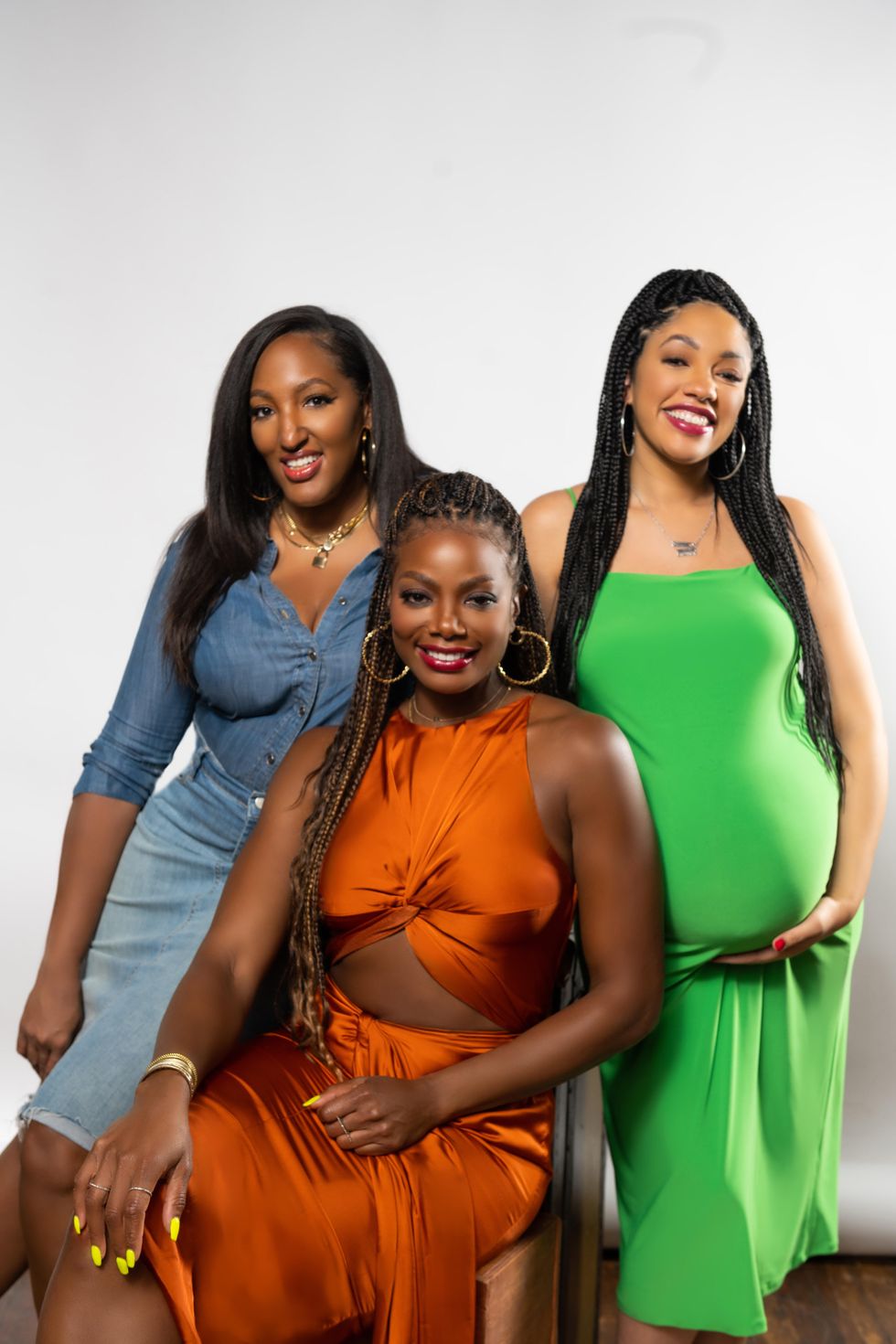 Brown Girl Jane co-founders, Malaika Jones, Tai Beauchamp, and Nia Jones
Image courtesy of Brown Girl Jane
The founders of Brown Girl Jane have also been able to build a community that centers on inclusive luxury and transparency about what Black women are putting in and on their bodies. Working directly with the people involved in the process of making their products, the founders ensure that they interact with everyone from the farmers to the chemists to the manufacturers. "We are self-funded, and we really just broke apart all of the components of the brand," Malaika added.

"My background is in finance and on Wall Street, and so building a business and knowing the functions and operations of business is something I've done before. Tai obviously has her expertise in brand-building, marketing, and publishing. And Nia has done enormous work in mission. We've brought together those components to craft the brand that we wished existed."
The mark of any great (and lucrative) venture is filling a void in the market and providing a solution to a problem that would impact a large number of people. Each founder had their own personal connection to wanting to solve everyday problems in their own lives. "I think the other thing in terms of how it started was recognizing the needs of women like us and feeling more well," Tai added.
"Specifically, [it was] Malaika's experience with giving birth to her youngest daughter and having a spinal cord injury and not wanting to take the pharma route of medicating. CBD plant-based solutions provided a great deal of benefit to her physically. For me, travelling and being on the road constantly and feeling anxious about getting sleep and all those things, obviously also impacted [me]."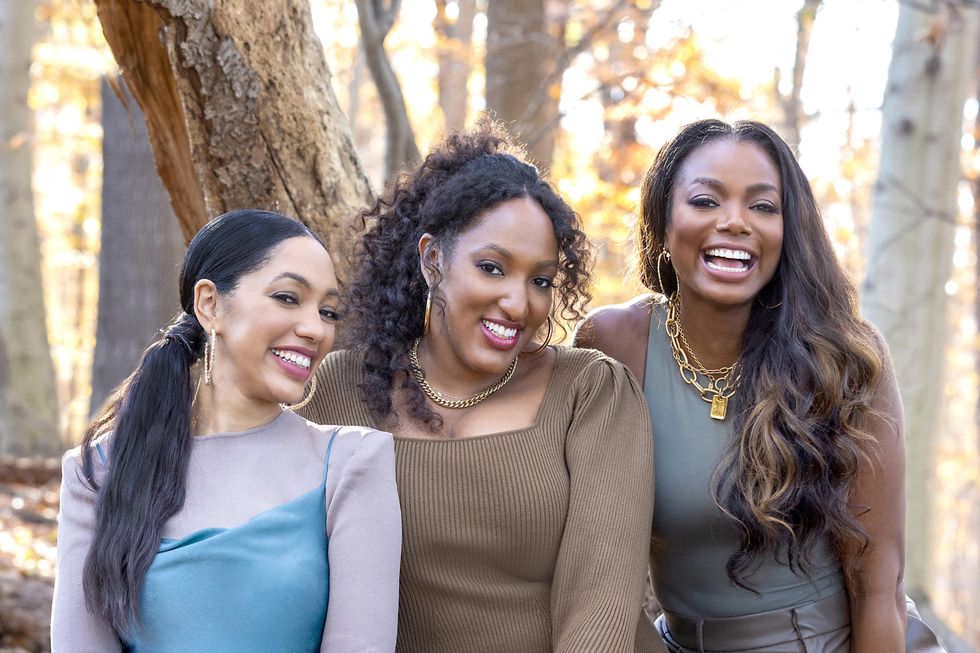 Image courtesy of Brown Girl Jane
With health and isolation issues related to the pandemic, the transitions of politics, and the issues of police brutality and racism at the forefront, many of the challenges they faced were those that other Black women around the world could relate to. "This is really about solutions not only for women as a whole, but that can support how we feel, how we look, and how we're able to show up, from anxiety from sleep deprivation, from pain and what have you," she continued.
"That's what we're doing with this collection as a whole. It's really centering what have been areas of challenge and opportunity for us to not necessarily being able to thrive to our fullest potential and providing both community, a tribe, as well as a collection that takes all of that into consideration, saying, 'Here's your toolkit sister. Here's what you need in order to live your most elevated life.'"
The women agree that it's important to not only offer products with a super-popular, trending ingredient like CBD, but provide a holistic, authentic platform for women to address the many facets of what wellness means for them. "That was intentional. And these products actually work in terms of the level of efficacy, the level of quality, and the level of intentionality in how we craft our collection even as we consider expanding beyond CBD. There is an intentionality, and we want to ensure that this [product] is highly advantageous."
There's a special sense of being the change you want to see even beyond offering a product to consumers, and this is surely evident through the founders, who are indeed real-life sister-girlfriends who aren't afraid to be the embodiment of their beliefs. Cultivating community and finding power in partnering up with fellow women is a key part of the company that tangibly manifests itself through the founders' connections with one another.
"Being founded by three Black women—two of whom are biological sisters and all of whom are Spelman sisters—there is a profound recognition of who we are individually but also who we are in the power of our collective," Tai said. "And in recognizing the power of our collective, because that is ultimately what has sustained us when we didn't have our collection, when we didn't have Brown Girl Jane as a product and brand, we had our sisters, as a community, who held us, who supported us, and who were essential to our toolkit."
"We wanted to make sure that the women we look to support have that same resource because that's foundational. In partnership with the collection, centering ourselves, and changing some of the systemic belief systems that have held us back in some ways in prioritizing health and wellness, we can all be well. We can feel more whole. There can be healing. There can be support. We can be a resource. That was intentional."
The trio's relationship sets a tone for providing a different narrative that challenges other age-old negative stereotypes about female friendships and further illustrates the power of partnering up with other Black women to build something great. "We can approach everything with a different set of eyes," said Malaika.
"I would encourage that when people are working with friends, you actually want people who think differently and have different sets of expertise, but who share the same north star, which for us is just wanting women of color to be able to live their best lives. We want to be helpful along their journey toward wholeness. That's very consistent across the founder team and that's really just the expertise which is varied, and that's amazing to be able to lean upon one another for."

Follow Brown Girl Jane on Instagram @itsbrowngirljane and find their products on Nordstrom.com or their website.
Featured image courtesy of Brown Girl Jane