Every day, families are coming together to start a business by building wealth and legacy, a habit that no doubt lends itself to the black buying power but also aids in the effort towards securing the bag with generational wealth.
---
By extension, the bag, the power, and the legacy are a trifecta that's important to Mena, Iyana and Shantee Wright, who came together nine years ago to start Wright Productions. Wright Productions is a full-service event production, event design, and brand management firm headquartered in Los Angeles that produces large scale and experiential events for high-end clientele, companies, and brands. This sister-owned event production company is a part of the roughly 90 percent of American businesses that are family-owned, according to the U.S. Census Bureau.
In addition to Wright Productions, the Wright sisters also manage a D.C. office and are currently planning to expand to Miami and Houston, all while working to launch a lash subscription service with celebrity makeup artist Sheika Daley and singer Kelly Rowland. Without question, the Wright sisters are making moves and solidifying the biggest move of them all: building their legacy. "We all had the common passion of wanting to leave something behind for our children. Our father always encouraged us to find something we could build together," Mena told xoNecole. "Since we were always around each other and we had common interests and passions, it was natural for us to come together to form our company."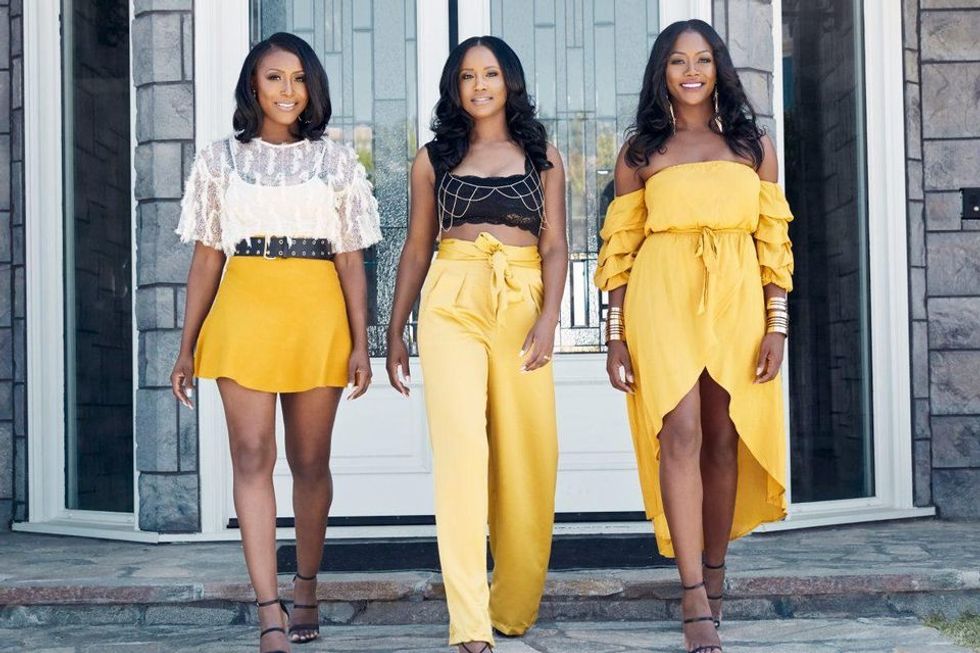 However, running a family-owned business comes with its own set of obstacles.

The sisters not only had to build a business in a competitive industry in Los Angeles, but they also had to learn how to run and operate a business together while keeping their sisterhood intact. "If you are going to go into business with your family make sure your foundation is strong and that you really like and respect each other," she continued. "Everything about the relationship will get tested and if you don't have a solid foundation where love and respect are at the forefront, it won't work."
Taking The Leap
The Wright sisters come from a real estate background and worked for separate companies before self-funding Wright Productions. The sisters naturally started working together through Mena's non-profit when they realized they had a knack for creating events and enjoyed working together. Their hard work did not go unnoticed. "Slowly people started asking us to plan their events and then it led to referral after referral, then it sort of just took off on its own," Mena explained.
The sisters got their first client before they each committed to leaving their full-time jobs. The client was a NFL player, which opened doors for the Wright sisters to take the leap and become full-time entrepreneurs. "Before this, we just viewed producing events as a project. Securing our first major client made it very real for us and gave us the confidence to leave our corporate jobs. Looking back, we had no clue what we were really doing with a large scale event, but we put so much love and positive energy into it, it turned out to be a huge success."
"Securing our first major client made it very real for us and gave us the confidence to leave our corporate jobs."
Make Sure Sisterhood Comes First

Although the sisters enjoyed the magic they made together, there was some initial hesitancy before they each quit their real estate jobs to form their production company. Like all businesses, owners will experience growing pains, but adding the shared responsibilities with a loved one could present its own set of challenges. The Wrights had the concerns on how the business would impact their family dynamic. For a while, they wondered if it was possible to find a balance between the two. "It became a reality that we could lose our sister-ship and friendship due to the level of stress we were all under to make sure the company succeeded," Shantee revealed.
"It became a reality that we could lose our sister-ship and friendship due to the level of stress we were all under to make sure the company succeeded."
The Wrights had to learn how to manage the load of becoming new business owners in a competitive market while keeping their sistership as the first priority - family before legacy. Mena added, "Learning how to communicate through the various relationships we have, our sister relationship, our relationship as friends, and our business relationship has been challenging and a constant learning lesson for us."
Know Your Role In Business
The Wrights had their share of naysayers, but once the sisters collectively decided to defy the myths about family-owned businesses, they figured out how to manage the sister and work life balance seamlessly. One way they did it was by defining each of their roles for the business. "When we started the company, we were all CEOs until we realized that we weren't working as smart as we could. At that point, we had to have an honest meeting to determine whose skills best fit key positions," Shantee shared.
The sisters broke down their strengths and weaknesses and created roles for each other to help with the workflow of the day. Mena is a big thinker, a motivator and a seller, which made for great leadership to take on the Chief Executive Officer role. Iyana is behind the scenes making sure everything is running smoothly from an internal standpoint because she is the organized and detailed-oriented sister, which made her the perfect fit to be our Chief Operating Officer. Shantee is the creative sister who loves dealing with the clients and interacting with people making her the perfect fit for the company's Chief Creative Officer position.
Teamwork Makes The Dream Work
As the sisters each fell into their respective roles to keep the business moving smoothly and efficiently, they also had to learn how to dissolve business disagreements and remember the collective goals of their business. Iyana shared, "My advice to other family-owned businesses is to remember that you're on the same team. The only competition there should be is with yourself to continue making yourself better. Build your business with trust between each other and nobody will be able to come in and divide and conquer. Communicate respectfully like you would if you were working with a stranger."
Communication is key for the trio, as it helps them maintain the balance of sisterhood and business partners. Their go-to method for communicating and resolving issues is called the 2-1 approach. "We have a 2-1 system where if two of us agree on a decision, then we go with that decision but If one sister is really passionate about a point she is trying to make, we let that sister have it. We don't operate from a place of ego, but from trust and love so in our communication, we try to understand each other's point of view," Mena continued.
"We don't operate from a place of ego but from trust and love."
Remember Your Why
Remembering their "why" has helped the Wright sisters face the competitive nature of the event production business. Although, the Wright Production clientele list has included Floyd Mayweather, Serena Williams, Kelly Rowland, BET, and Nestle, attracting top-tier accounts against bigger production companies can be a challenge.
Having sisters to lean on during the rough times in business kept the Wrights perspective and intentions in check. "Having my sisters during those times when we may lose an account to a larger competitor helps keep me sane and focused on the 'bigger why' of why we started our business, which was to build a family empire. Its different than just being in business with some person," Mena admitted. "We can really cry and lean on each other and when we are picking each other up, we know it's genuine and sincere. Having your sisters have your back in those situations makes you pick yourself back up and keep going because your family is counting on you. I wouldn't want to be in business with anyone else."

As a family with the common goal of legacy, no challenge will undermine their love for sisterhood and their focus of expanding their business. This trifecta works as each sister brings to the table their individuality, helping to grow Wright Productions into the business of their dreams.
Be sure to follow the Wright sisters on Instagram. For more information about their clients and services, visit their website.