When it comes to style, there has been a major resurgence of the thrifted vintage look among millennials.
---
With thrifting, you can save major bucks, find classic looks for any occasion, and support community and WOC vintage thrift store owners with brick-and-mortar businesses and online shops in the process. And while I love buying brand new clothes, there is something special about going thrift store shopping and finding something name brand, vintage, one of a kind, and fly for dirt ass cheap!
I always say, "It's not what you wear, it's how you wear it."
As an avid thrifter, I know a thing or two about navigating thrift stores, finding the best bang for my buck, and thinking of ways to put unique looks together. I decided to put my skills to the test by asking a friend of mine to join me in a thrift store challenge where we put together a complete outfit for $25 or less. I decided to add a twist to it by doing a bunch of different looks, ranging from a girls' night out to a flirty date night.
Read on for tips and tricks of how to navigate thrifting, and also for some style inspiration with different thrifted looks styled by yours truly.
Start Thrifting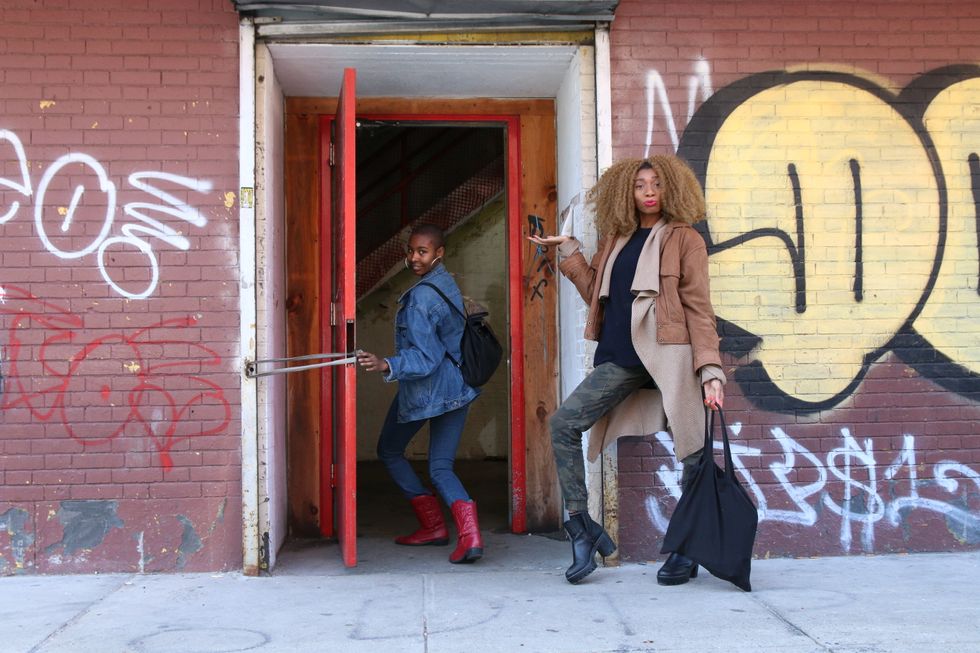 Photo by: Dee Williams @hideexdee@famoustaine
Hit up your local neighborhood Salvation Army or Goodwill consignment stores. Likewise, you can look up your local brick and mortar thrift shops. On this particular thrift trip, my friend Friday and I took a trip to the Salvation Army to find some thrifted looks. Remember, you can always take this opportunity to find and support WOC-owned thrift stores.
Check out this popping list of some more online WOC owned vintage thrift stores!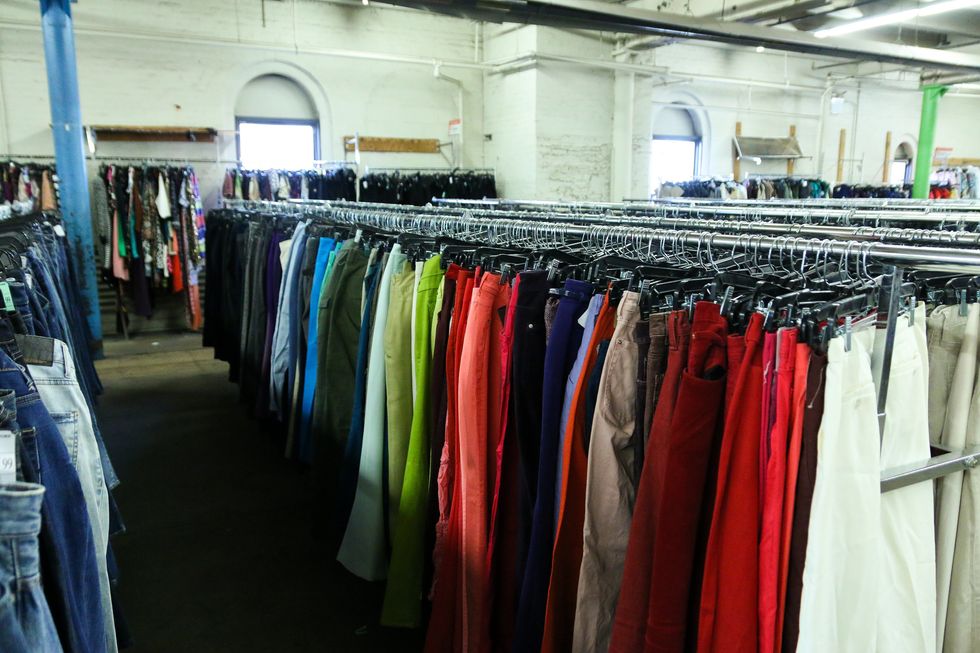 Photo by: Dee Williams @hideexdee
Once you're there, you will really have to look through the racks to find good pieces, since most of the stores are usually very big. The good thing about these kind of stores is that most of the clothing is color-coded and categorized by male, female, and children's. They are also caterogized by pants, jackets, dresses, skirt, coats, etc. If you are looking for something in particular, you will have no problem knowing where to find it.

Find Opportunities To Save On Top Of Saving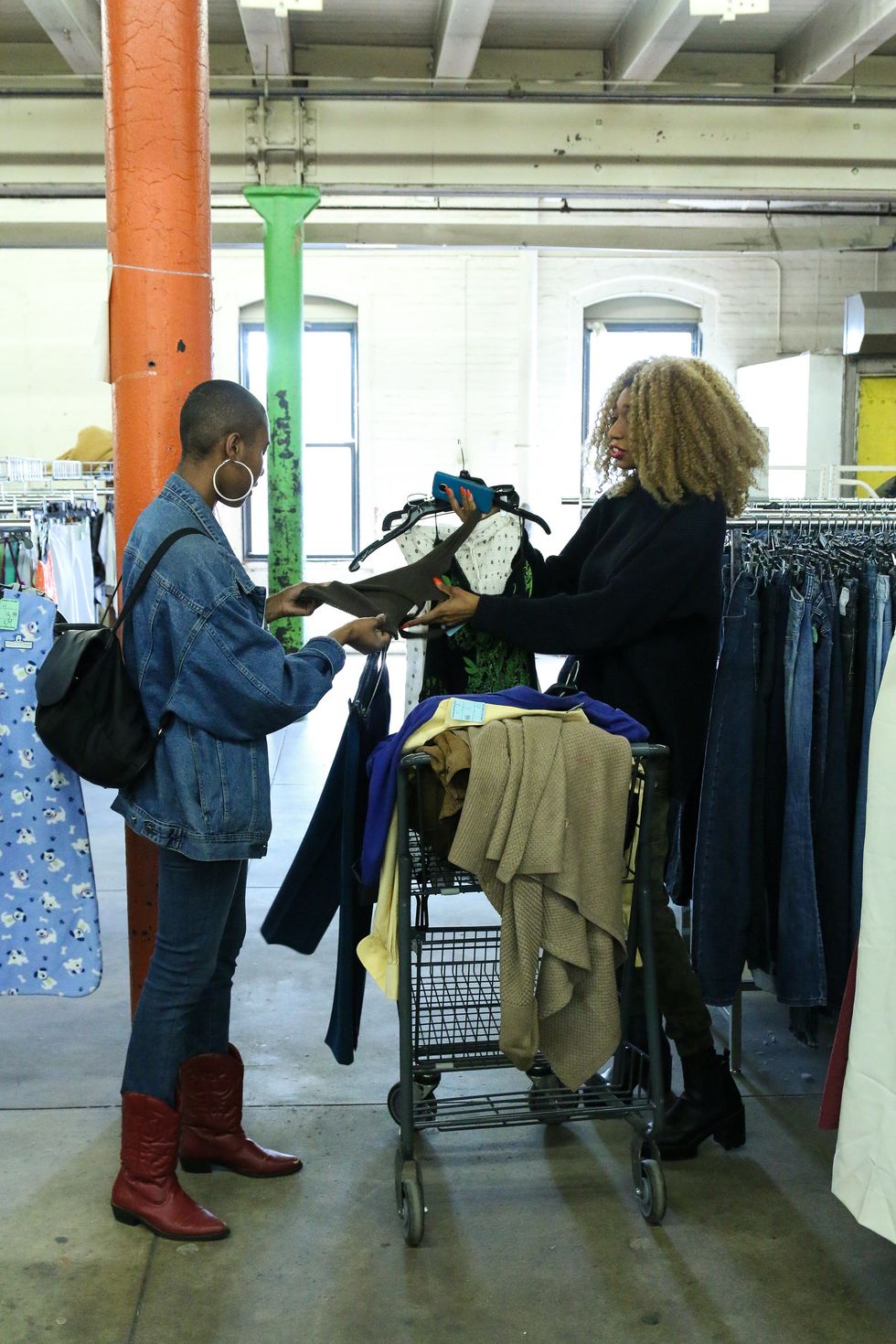 Photo by: Dee Williams @hideexdee@famoustaine@fluidfridays
Another great thing about the Salvation Army, in particular, is that most store locations across the country will have a day where every item in the store is half off, with the usual exception of one colored tag. I usually plan to be at my local store early to make sure that I snag all of the good stuff at half the price. Chain stores like Goodwill also offer half-day sales, as well as other savings events periodically throughout the year. So constantly be on the lookout to get the most bang for your buck.

Get Creative With Your Outfit Choices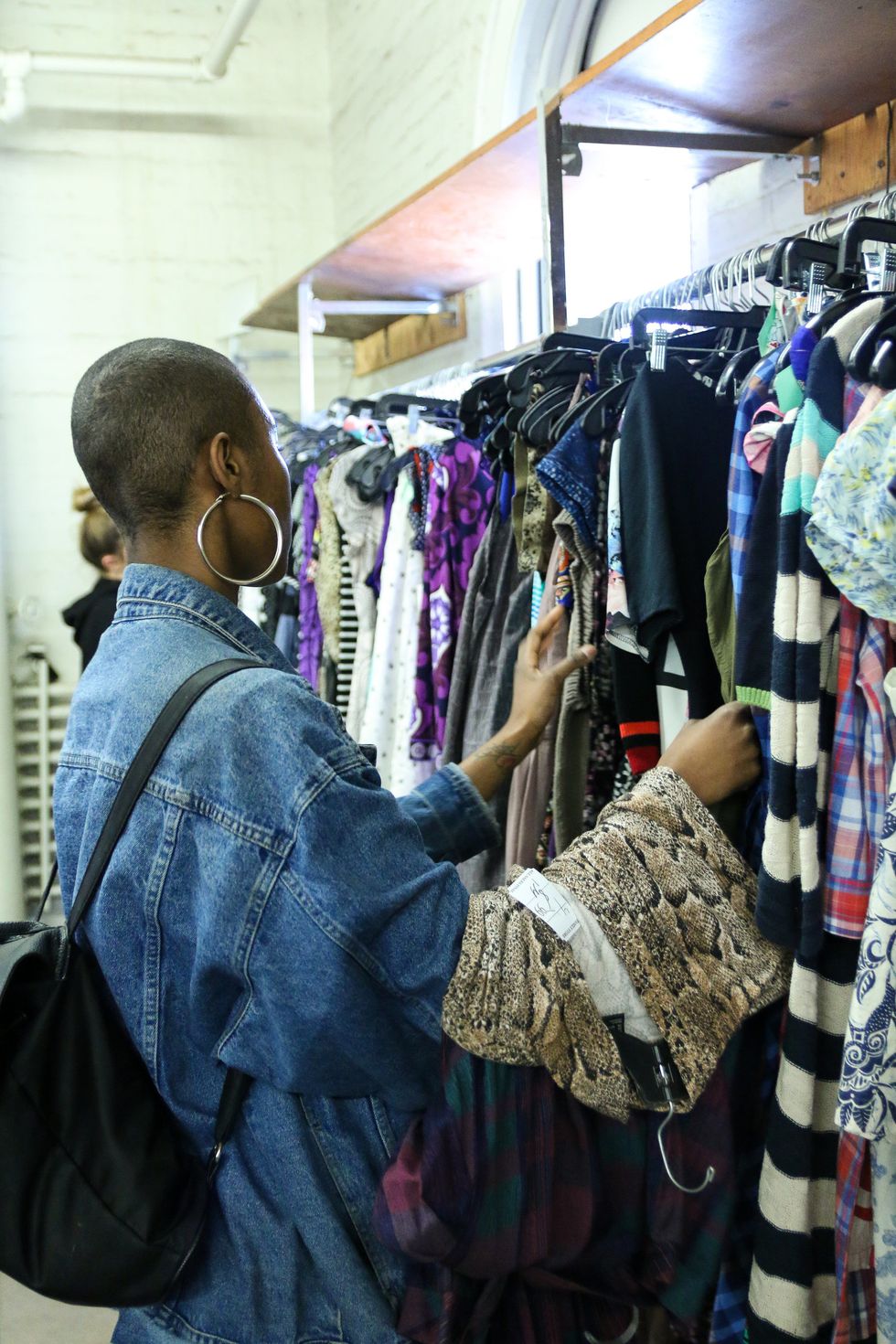 Photo by: Dee Williams @hideexdee@fluidfridays
Thrifting allows you to really bring out your own personal sense of style, since there are no rule or guide books when going to a thrift store. You won't have any mannequin styled to perfection, and you won't have anyone there to help you pick out the perfect designer outfits. Thrift store shopping truly allows you to express your creativity through your own personal sense of fashion. Also, going with your bestie is such a fun, and bonding experience as you both nay, or yasss looks together, and swear on what you know sis would love!

Look Out For Stains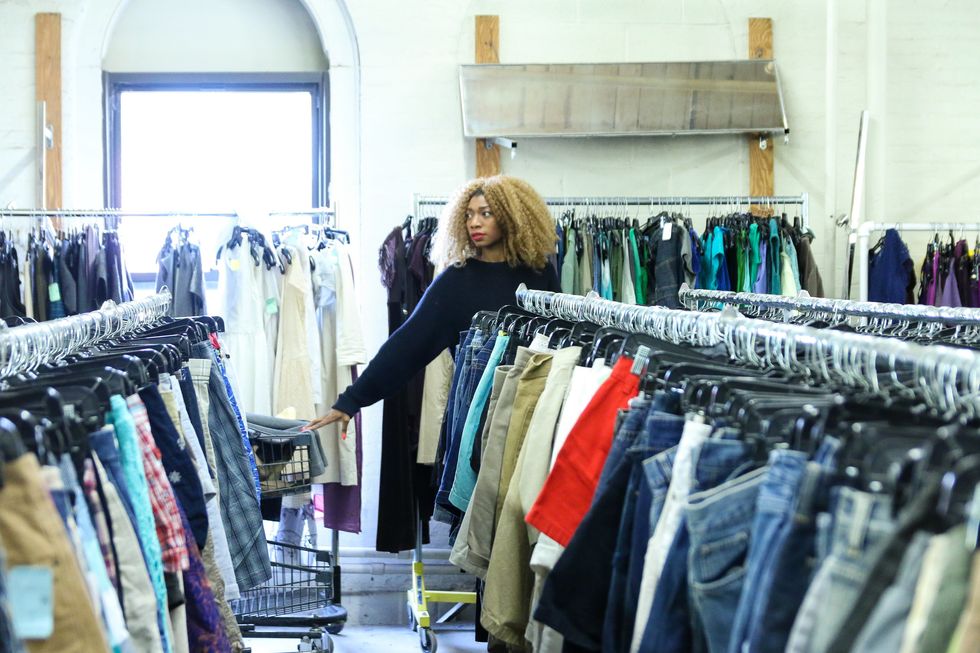 Photo by: Dee Williams @hideexdee
Don't be like me, lose your mind, and forget to keep up with your personal belongings. Also make sure you check to see if there are any unremovable stains on something you pick out. Most thrift store sales are final. As a general rule, if you are still feeling iffy about community thrift store clothes, all you have to do is wash any piece you buy before you wear it.

Click through the gallery below to check out the challenge looks that me and the bestie came up!
Look 1: Coffee Shop Chic
Photo by: Dee Williams @hideexdee
Here, I look like I threw on a quick outfit to run to the coffee shop to get some writing done and meet up with a friend for a late lunch date later. I love the chicness of this olive v-line plunge top, the old school high-waist elastic banded jeans, and the super comfortable canary yellow oversized button-down and bag. Total cost of this look? $16
Want more stories like this? Sign up for our newsletter here to receive our latest articles and news straight to your inbox.