After years of working in the corporate food service industry, Brooklyn based Ashley Rouse knew she was destined for more. Her Brooklyn, NY-based low-sugar, vegan artisanal jam company Trade St. Jam Co., which she started in a tiny apartment when living in North Carolina was steadily growing in sales and wholesaling opportunities.
---
However, Ashley knew that time is what she needed in order to grow the company into the vision she had. In early October 2018, she decided to quit her corporate job to venture into the world of full-time entrepreneurship. I sat down with Ashley to chat with her about her road to full-time entrepreneurship and how the decision to choose faith over fear is leading her on this new journey. Ashley shares the steps she took and advice for others who are looking to take the leap and pursue their dreams full-time.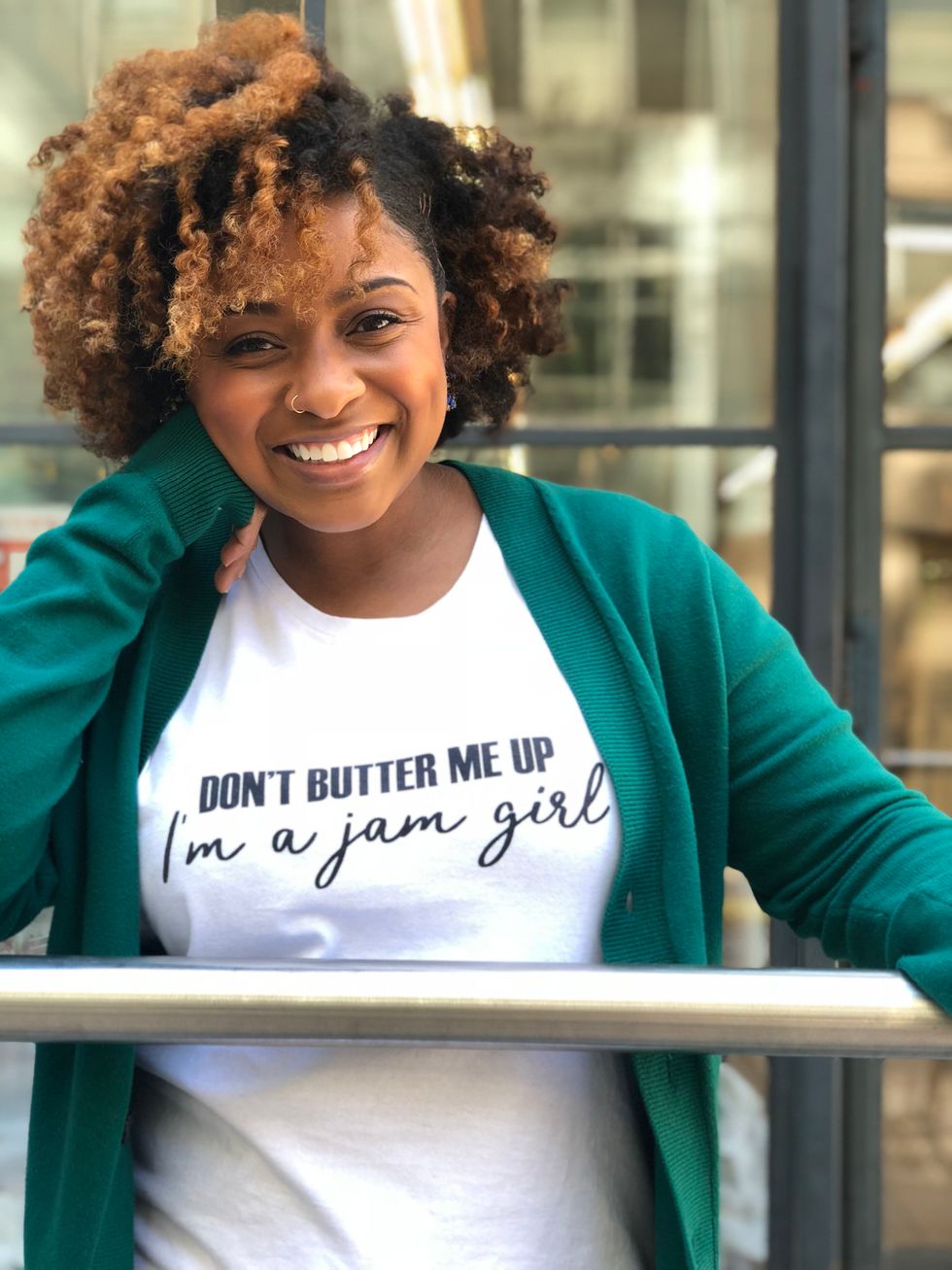 Ashley Rouse
1. Build the dream before you quit.
Every big idea starts small. In the early days of Trade St. Jam Co., Ashley cooked jams in small batches and sold and shipped locally. Over time interest and demand grew. She later expanded to selling in local New York City craft fairs and markets.
Learning the industry and market before you penetrate full-time is also important. Ashley spent her early days building and connecting with other local businesses and #blackowned companies. Ashley took the time to invest in brand basics such as branding, customer profiles, product offerings, sourcing, inventory management, and production – which all allowed her to scale later on.
2. Be open to the signs that it's time & commit to the decision.
Full-time entrepreneurship was always on Ashley's "to-do" list, but she thought she was being "smart" by holding off. "I always knew [I could] make more money doing this is if I wasn't at work all the time. But, when I thought about the idea of quitting, it was so daunting." In retrospect, Ashley realized that she was actually afraid that things wouldn't work out.
Ashley's "catalyst moment" came two months prior to quitting when she was invited to participate on a panel discussion on entrepreneurship. She originally didn't want to do it – but ended up obliging. During a Q&A with the audience, an attendee's comment changed her entrepreneurial trajectory:
"He said, 'I'm sorry to interrupt but something higher is telling me that I have to say this right now...when you step out on purpose, you won't be afraid because that's what God has for you. You need to be open to that and understand that and pray that you hear that when He speaks to you.'"
During the ride home, she told her husband, "Maybe we need to look at the numbers again and see if I can do this."
This time, Ashley's apprehension was gone. "I know it sounds crazy but every time I talked about it before, I had been so fearful. For whatever reason this time, I felt strongly about it...I wasn't afraid."
3. Make a plan.
After Ashley's transformative experience – she decided to keep momentum moving. "The next night we put a bunch of numbers in the spreadsheet and ran it three times. We talked about it [and I told my husband], 'I think I'm going to do this.'"
Three days later, Ashley put in her notice at work.
Though the decision to quit came suddenly, Ashley took the time to create a plan but left room for her to "work through it as it comes."
To her surprise, after she quit, opportunities and sales began rolling in. A Bon Appetit feature led to 200 jam orders. Bigger brands such as Squarespace, Facebook, and The Gap began to reach out for wholesaling and brand partnerships. Who knew quitting would lead to this?
4. Enlist a support team.
Ashley credits having the support of her mom and husband as being critical to her success. Ashley's mother was one of her first culinary and career inspirations and encouraged her to pursue her love for food via a culinary career. "She was always realistic. [She told me], 'If you do it and you don't like it, then you can do something else.'"
When Ashley decided to quit her corporate position, her mother was also on board. "She was excited to see me say this is what I want to do and told me to go for it."
Ashley's husband is also another crucial team member. "My husband is everything. He's calm, patient, God-fearing, encouraging… he fills in all the little holes I have and helps a ton with the business."
When she initially talked quitting, he agreed and urged her to do it. Though her husband still works full-time, Ashley notes him as being Trade St.'s "analytical side" and he urged her to analyze key metrics, such as business margins early on in the growth process.
5. Prioritize faith & self-care.
It can be daunting to quit your 9-5 to pursue your dreams and many often doubt their decision in the first few months. Ashley mentions, "I spent this whole year strengthening my relationship with God."
Ashley's faith was important to providing her the strength to keep going and is a key pillar in her everyday approach to entrepreneurship. "Recently, I started tithing, which is something I never [had] done before. [Tithing] has shown me that I am making money and how much I'm making. When I finally said I'm going to give 10% of my income...I realized I was giving a lot but it's also because I'm getting a lot."
No matter what your belief system is, having faith that your dream is worth the work you're putting in is a major factor for growth.
"You have to make a decision. I'm going to do this or I'm not going to [do] this. If I am, I'm going to do it all the way. I'm going to be faithful and push through so when I have those days and I feel like I can't do it, I have to be self-aware and tell my[self]...that [I made] this pact to myself."
Throughout the journey, it will be important to celebrate the small wins. Recently, Ashley surprised her mom with a fully-paid trip to Paris and Amsterdam – something she had never been able to do before. She and her husband also went to Jamaica for a wedding – where they were able to destress and relax – something that any full-time entrepreneur needs to schedule into their calendar.
You never know where your journey will lead you once you decide to invest in your passion full-time. Make sure you aren't the one getting in your own way and blocking future blessings. "On December 12th, I went back to Conde Nast and did a Chef's Table. It's full circle because I used to run the Chef's Table program at Conde Nast...and now I'm being featured."
What's next for Ashley and Trade St. Jam Co.? The company recently launched a new IGTV show "You Can't Jam With Us" and Ashley will be featured in an upcoming Vice docu-series "Hustle" airing in February 2019.
To learn more about Ashley's journey, click below or listen to her story on episode 174 of the Dreams In Drive podcast.
Rana Campbell is a Princeton University graduate, storyteller, content marketing strategist, and the founder and host ofDreams In Drive- a weekly podcast that teaches you how to take your dreams from PARK to DRIVE. She loves teaching others how to use their life stories to inspire action within oneself and others. Connect with her on Apple Podcasts, Spotify, Soundcloud, Instagram @rainshineluv or @dreamsindrive.
Featured image via Ashley Rouse