The West Coast is having a Heat Wave. While the East Coast is gearing up for a tropical storm. Cities like Boston and Minneapolis have experienced the hottest month of June to date; and the South is set to break records for the summer heat. Yet, it's still like Christmas this July. Between new music, shows, and movies, July seems to be the best time to go out and return home to rest up in front of the screen.
---
Luckily for us, those moments of rest can be just as entertaining as having a night out on the town. And with the help of Netflix and their upcoming originals, there's no chance of their being a dull moment. Fresh off the sleigh, Netflix has delivered ten new pieces to add to their New Black Netflix lineup. From the emotional short documentary, Audible, to the action-packed Gunpowder Milkshake, Netflix has something for everyone this upcoming month.
Check out what's new and Black on Netflix this July, while avoiding unnecessary summer sweats.
Audible: July 1st
This original Netflix documentary follows The Orioles, a football team from Maryland School for the Deaf, who haven't lost a game in 16 seasons. Although, that quickly changes when they are defeated by a local football team. Now, in hopes to return to their original standing, The Orioles head on a journey to earn their title once more, while refusing to allow their deafness to be a hinderance.
Born to Play: July 1st
Low on funds, but full of passion comes the Boston Renegades on their road to redemption. After losing their championship match the previous year, Born to Play highlights a women's football team which consists of unpaid athletes of various ages, 19-49. With relentless determination and motivation, the women of Boston Renegades dedicate their time, bodies, and salaries to their dream of being professional football players.
The Best of Enemies: July 1st
Based on the book The Best of Enemies: Race and Redemption in the New South by Osha Gray Davidson, comes The Bestof Enemies. This film focuses on the rivalry between the radical civil rights activist Ann Atwater and the leader of the Ku Klux Klan, C. P. Ellis. Ann Atwater is known for her involvement in the betterment of African-American communities, while focusing on reducing school violence and ensuring the peaceful desegregation of schools.
The film stars Taraji P. Henson and Sam Rockwell as Ann Atwater and C.P. Ellis, respectively.
Why Do Fools Fall In Love: July 1st
Why Do Fools Fall in Love follows the life of Frankie Lymon until his death at the tender age of 25. Particularly, the movie follows Frankie Lymon and the three women who claim to have been married to Frankie upon his death and want to lay claim to his estate. The film gives a playful, charismatic, and entertaining take on a tragic story about show-business and loyalty. This Gregory Nava picture features Black icons, Larenz Tate, Vivica A. Fox, Halle Berry, Lela Rochon, and Little Richard.
We The People: July 4th
We The People is a new Netflix series that combines civic sessions with catchy musical tunes. A 10-episode series created by Chris Nee, executive produced by the Obamas, We The People sets out to teach viewers about the rights and duties of being an American Citizen. Nee states that, "The entire project was about finding ways to talk about things that have become very partisan and not take sides." With hope, this mini-series will inspire younger viewers to become more interested in politics and their civic duty.
Gunpowder Milkshake: July 14th
Two words: Angela. Bassett.
According to Netflix, this upcoming film is the "mother of all action films." Gunpowder Milkshake is an action-filled story about a mother-daughter assassin team and their friends, as they revolt against the group of men who fight to take everything from them. The Netflix original also stars Game of Thrones legend Lena Headey, Haunting of Hill House/BlyManor queen Carla Gugino, Doctor Who alum Karen Gillan, and Crouching Tiger, Hidden Dragon alum Michelle Yeoh.
Naomi Osaka: July 16th
Up until 2017, the name Osaka was barely uttered beyond the tennis community. Now, just four years later, Naomi Osaka has become a household name and she has a story to tell. In this three-part mini series, we get a glimpse of tennis-player and Grand Slam winner, Naomi Osaka's life and career as she overtakes the world of women's professional tennis.
Django Unchained: July 24th
Written and directed by Quentin Tarantino, returns Django (Jamie Foxx) accompanied by dentist-German bounty hunter, Dr. King Schultz (Christoph Waltz) to Netflix's streaming service. Django Unchained follows Django, a freed slave, two years before the Civil War. On a mission to hunt the South's most-wanted criminals, Django discovers that his long-lost wife, Broomhilda (Kerry Washington), remains a slave and sets out on a mission to free her.
All American: Season Three: July 27th
After announcing his return to South Crenshaw High at the end of season two, season three of All American picks up with the festering of grievances and rivalries. With Spencer and Coach Baker changing teams, the stakes between Beverly High and Crenshaw has now reached the all-time heights with father pitted against son and friend pitted against friend. Tune in to figure out who will win the rivalry and what will become of Spencer and friends their final year of high school.
Resort to Love: July 29th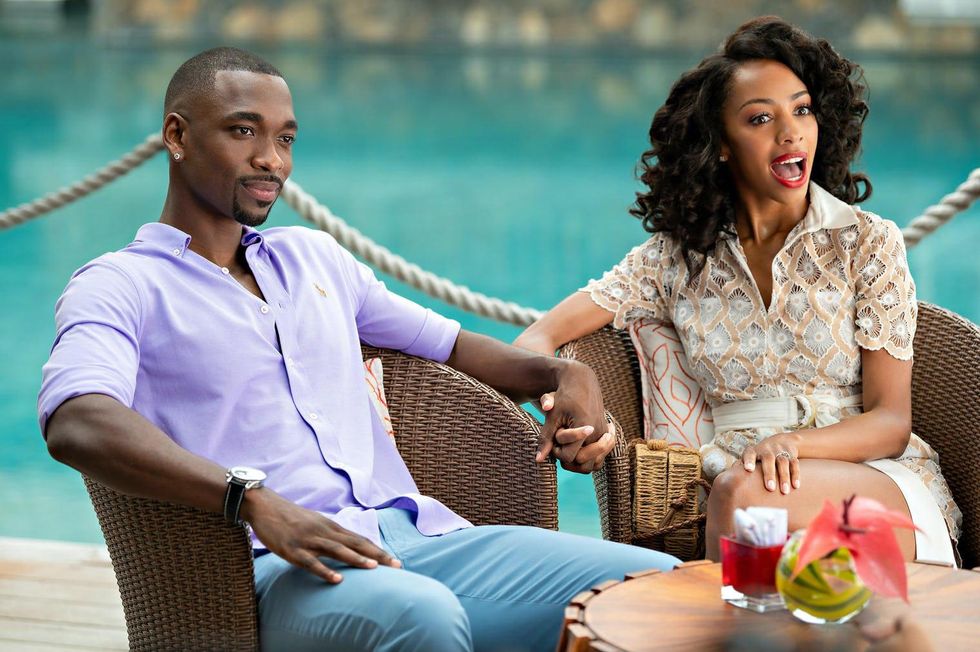 Resort to Love/Netflix
In the early 2000s, romantic comedies were like the air you breathe: all around and all encompassing. Now, finding a romantic comedy is like finding a musical strictly made for the big-screen, rare and often underwhelming. Though, that might be set to change. Netflix's new romantic comedy Resort to Love, produced by Alicia Keys, tells of an inspiring singer who obtains a resident job at the island resort and spa. Meanwhile, she discovers her ex-fiancee and his current finance plan to get married at the venue. It stars Christina Milian, Jay Pharoah, and Sinqua Walls.
Featured image via Resort to Love/Netflix