---
Corinne Foxx has certainly grown up right in front of our eyes. And although she's only 27, she is by no means new to the entertainment industry because sis stays bookedT and busy, m'kay?! Her pops, Mr. Foxx, has been bringing her along for the red carpet ride since the night of his 2005 Oscar win. And sis has been bossing up annually since. Including in their upcoming Netflix series, Dad Stop Embarrassing Me!, which she executive produces.
Inspired by her relationship with her multi-hyphenate father, the future mega-show stars Jamie Foxx as Brian, the owner of a cosmetic company and single father to Sasha (Kyla-Drew), as well as a slew of other characters — similar to his In Living Color days.
She tells Entertainment Weekly:
"We didn't want him to play himself, and what's more embarrassing than your dad doing makeup all the time? Brian really wants to understand [Sasha] so badly and be there for her — and he maybe goes to extreme lengths to do so."
And Corinne sees this sitcom as her dad getting back to his comedy roots, as he is reunited with In Living Color costar, David Allen Grier, who plays Pops, a character loosely based on Jamie's stepfather.
Corinne may have been a newborn when In Living Color ended in 1994—completely showing our ages here—so she never got the chance to experience the comedic timing between her real dad and onscreen granddad. But seeing them in this show, has given her ample nostalgic woulda-couldas to last her a lifetime.
"When David came to set, I saw them immediately light up and comedically understand each other. I was like, 'Oh, this is the money. This is why my dad was so adamant to have David be a part of it.'"
Listen to her, sounding all official! Love to see it!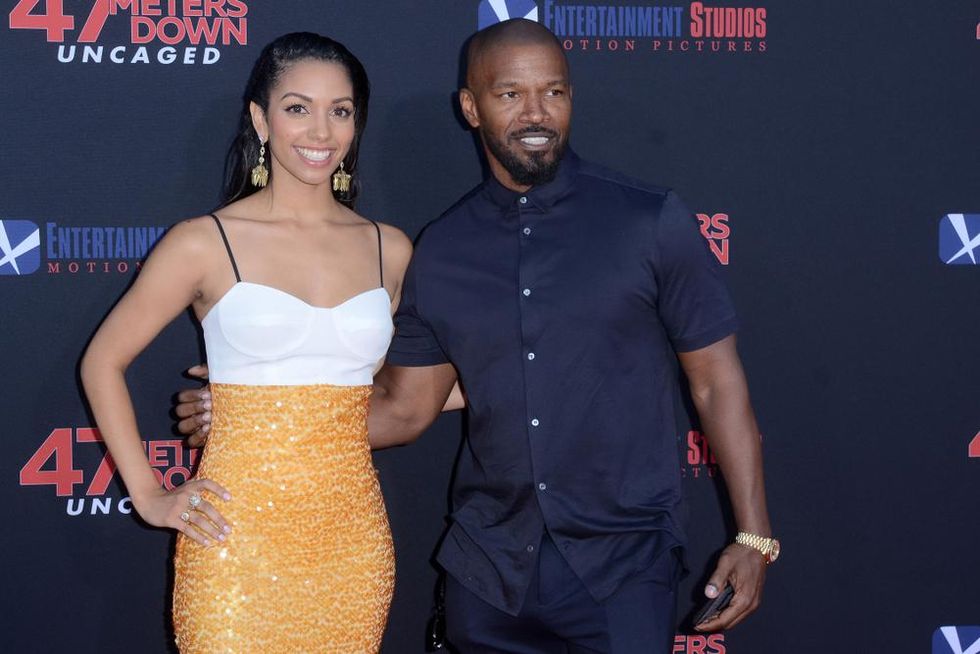 Kathy Hutchins / Shutterstock.com
This isn't the first time Corinne has worked with her famous dad. The two worked together when she was awarded Miss Golden Globes in 2016 while a senior at USC, and the duo also have hosted the music-lovers show, Beat Shazam, since 2017 (which fourth season premieres later this year). She branched off to shoot the Disney+ movie, Safety, a movie based on the true life story of Ray McElrathbey, a former Clemson University football player, who secretly raised his little brother on campus while their mom was in rehab.
But Corinne and Jamie's easy work relationship is why they always manage to find each again. She tells ET:
"It's my first time producing a TV show. It's a sitcom, and it's my dad's return to TV comedy. We've obviously done a lot of things in the public eye together but we also have this private life that people don't really know; they don't know all these embarrassing stories."
"When you're in the moment as a teenager and going through this stuff, it's not funny, and you're actually upset. But it's so fulfilling to see how these stories have grown into something that my dad and I can cherish and love. This is our story, and it's just like, 'Wow, at least we went through all that for something!'
Black nepotism is a major flex. Major. Congratulations, Corinne!
--
Dad, Stop Embarrassing Me! premieres on Netflix on April 14.
Featured image by DFree / Shutterstock.com