Leslie Jones is known as a lighthearted comedian who steals hearts as a frontwoman for SNL and notably for her past role in Ghostbusters.
---
While Leslie has reached optimum levels of "celebrity" from her career, underneath, she is really just like the rest of us. She's a successful woman - and though she doesn't look it, is in her 50's - wondering the same thing most single women of any age are: Will I find love? Am I doing this all in vain? Will I end up alone? Will I die alone? In a recent tweet, Leslie posted a photo of herself in the gym post-workout with a caption that reveals that celebrity status can never take away the humanness we all possess.
Ok back to cardio. But confession I feel like I'm doing it for nothing. I know it not I'm healthy and look good but… https://t.co/ODp2QuCAQh

— Leslie Jones 🦋 (@Leslie Jones 🦋)1517340969.0
Normally, social media can be a cruel place to stage such a vulnerable confession. But the responses Leslie received were so heartwarming that it became a reminder that we are not alone in our pursuit for happiness, success, fulfillment, or whatever our soul desires in life. There are others out there who are going through similar emotions but still extend their hands to lift up the woman who, whether she knows it or not, has raised us up in dark moments.

@Lesdoggg Leslie. I'm a minister + I can tell you that everyone dies alone. Be healthy for you. Don't give so much… https://t.co/7VQXHvtpZx

— Victoria Weinstein (@Victoria Weinstein)1517341223.0
@Lesdoggg Hey @Lesdoggg It's for you!! You keep on doing it and it will make you feel better and girl, seriously! You look so good! 🔥

— Elizabeth Falkner (@Elizabeth Falkner)1517368482.0
@Lesdoggg Glad you shared. You should take care of yourself for you. IF someone else notices, that's a bonus, but Y… https://t.co/ZJRVnvC8YJ

— Tamara E. (@Tamara E.)1517348214.0
@Lesdoggg NO one as funny as you dies alone. YOU are beautiful. It's not about your body - that's a shell we have… https://t.co/BOzNWz4UBK

— David Sobolov (@David Sobolov)1517341737.0
@Lesdoggg Leslie, being healthy (mentally and physically) is the best way to attract the person who has the same en… https://t.co/rDNnBd4Rxw

— Shea Peters (@Shea Peters)1517341344.0
@Lesdoggg Thank you for sharing this and being real. You're letting tons of people see that we ALL have the same re… https://t.co/bOLHz4xij8

— Billy Lorusso (@Billy Lorusso)1517345809.0
@Lesdoggg I spent years working out. In my middle to late 40's I became catastrophically ill. Part of the reason I… https://t.co/ecOpBMYxci

— Linda Rose (@Linda Rose)1517342446.0
@Lesdoggg Do it for you, gorgeous. You are loved.

— rabia chaudry (@rabia chaudry)1517341132.0
On Instagram, the response of support has been even more unwavering. There, the post has gained over 34,000 likes and more than 4,800 comments. One of them was notably from actress Meagan Good who offered some insight and encouraging words of her own to Leslie. "The right people will notice," she began. "You are a 'Gift' and God doesn't give His precious gifts away to everyone. He's selective."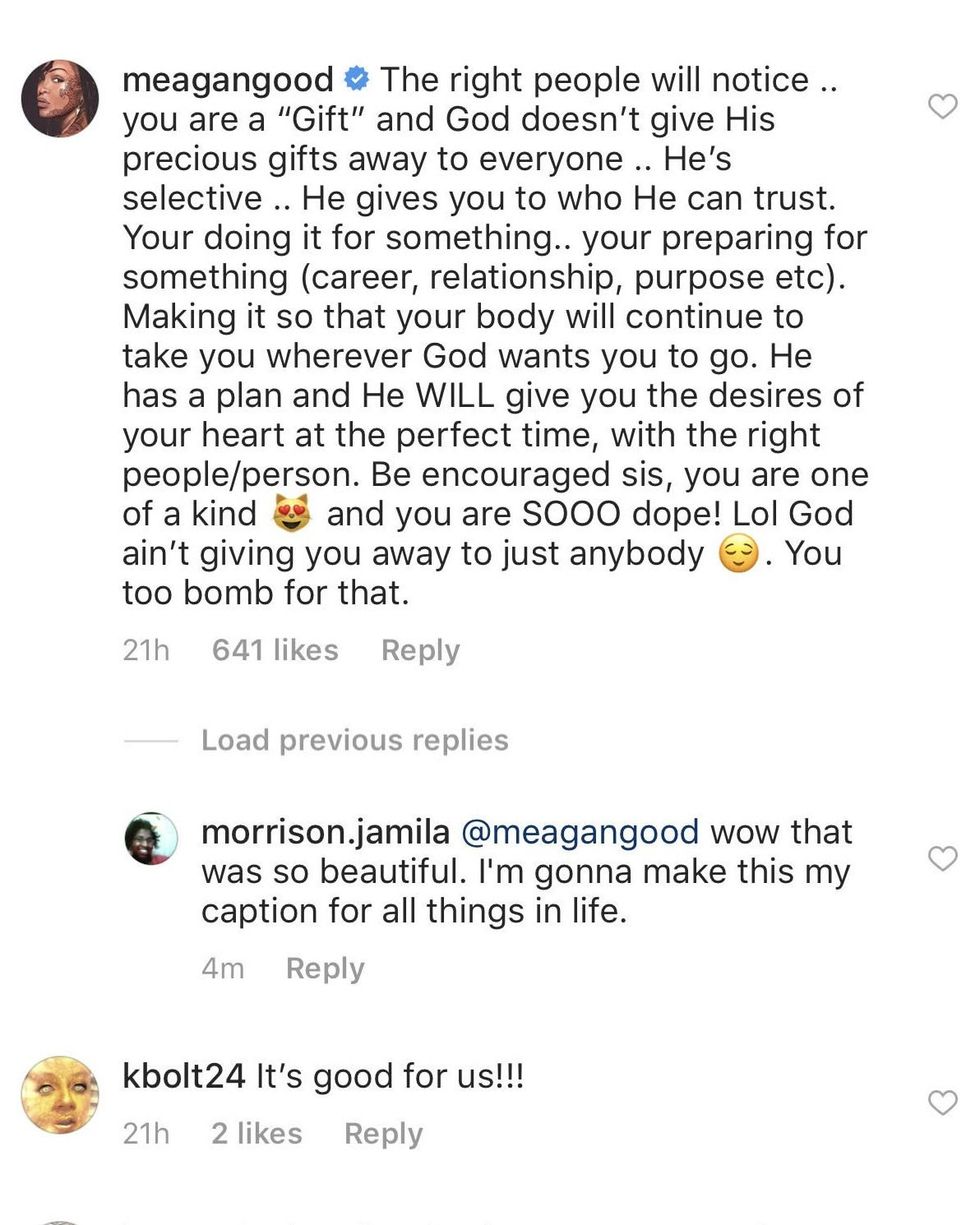 Leslie's tweet and Instagram post were reminders that it is not out of the ordinary to wonder if we're enough, if our singularity is permanent, or if there is purpose for who we are trying to be. The responses that followed were also a reminder that there is hope in life and in humanity, and that we are not alone in the way we feel.

It's important for us to keep speaking our truth and surround ourselves with others who will mirror the light inside of us.