It's been forever since I've had a boyfriend. Whenever people ask me when I'll get another one, my running statement is "I'm too old for a BOY anything."
---
There's one thing that both experience and observation have taught me, it's the fact that when you're in the pattern of getting with someone, giving your all, breaking up and then getting with someone else—it can desensitize you to the sacredness of commitment on so many levels. Then, when you actually do decide to jump the broom, whether it's consciously or subconsciously, you tend to process your husband like you would a boyfriend. If things don't work out, no problem—I'll just break up with him too.
Legally, it's not that easy. If you have children, it complicates their present as well as their future (check out "Effects of Divorce on Children's Future Relationships"). According to statistics, while approximately half of all marriages end in divorce, 67 percent of second marriages and a whopping 73 percent of third ones do. Biblically? I'll just say check out I Corinthians 7:10-11; it tends to get overlooked quite a bit.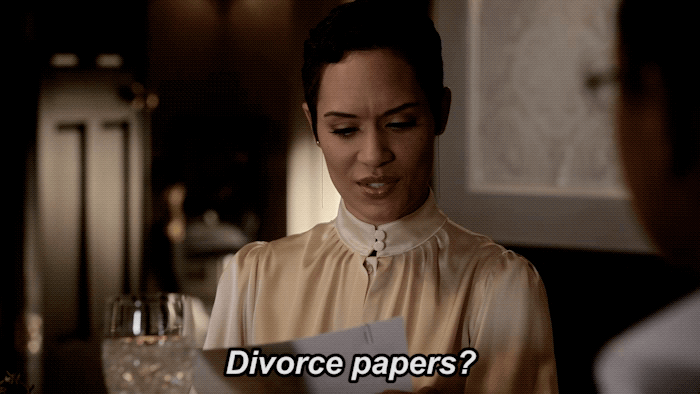 media0.giphy.com
For all of these reasons and more, once I chose to become a marriage life coach, I made sure that my emphasis was on reconciling divorced couples. It is indeed possible and, whenever it happens, it's so beautiful to see. I believe it's a lot like what Alec Baldwin's character said in the movie It's Complicated (paraphrased): "A lot of divorced people should get back together 10 years later. They were already committed and knew each other so well, but the time apart can help them to mature and grow, which will make the marriage so much better." Just something to think about.

Anyway, as a child of more-than-one-divorce and also as someone who works with divorced individuals, because I know that it can wreak havoc in ways that oftentimes aren't experienced until months or years up the pike, if you're currently married and contemplating getting a divorce yourself, I just want to encourage you to ask yourself the following six questions—first.
Featured image by Getty Images
Related Stories
How Do Men Really Deal With Divorce?
What Divorce, Baby Daddies, & Kids Taught Me About Myself
Wendy Williams Takes Back Her Power And Files For Divorce After 20 Years Of Marriage