Model Imaan Hammam's career requires her to be full-on glam all day by wearing beautiful clothes and a full face of makeup. While exciting, she still enjoys her downtime and in Harper's Bazaar's Go to Bed with Me video series, Iman shows us how she likes to wind down.
---
Before she starts her bedtime routine, the Moroccan and Egyptian beauty likes to light a candle by Diptyque. For the video, she used Diptyque's Mimosa scented candle and followed that with incense to "bring positive energy."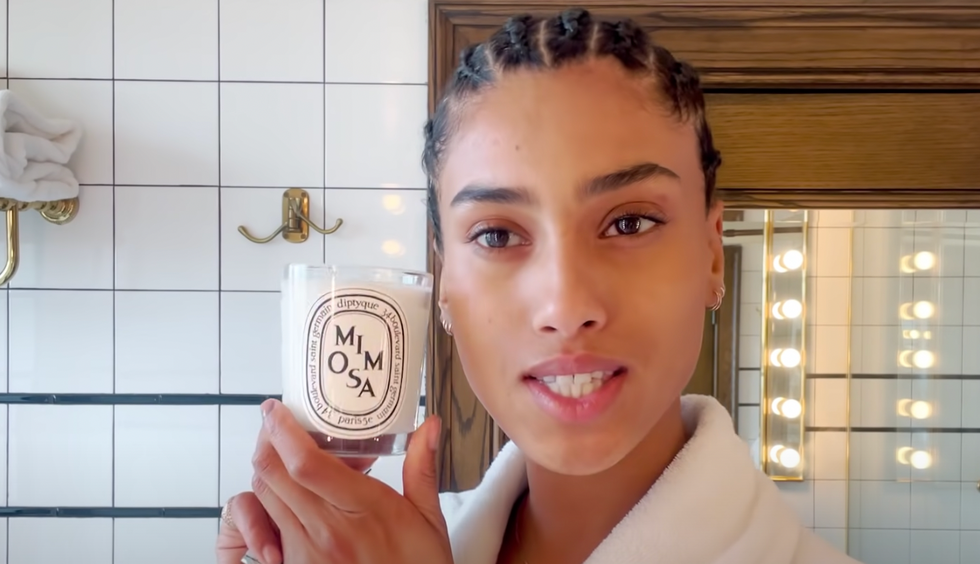 Harper's Bazaar/YouTube
To cleanse her face, she likes to use Epicuren Silk Radiance 3-in-1 Cleansing Oil. ​"What I love about it is it's super silky and as you can see the texture of it is a little oily so I'm gonna rub it into my hands and gently massage it into the skin," she said. She uses the cleanser as a way to take off her makeup.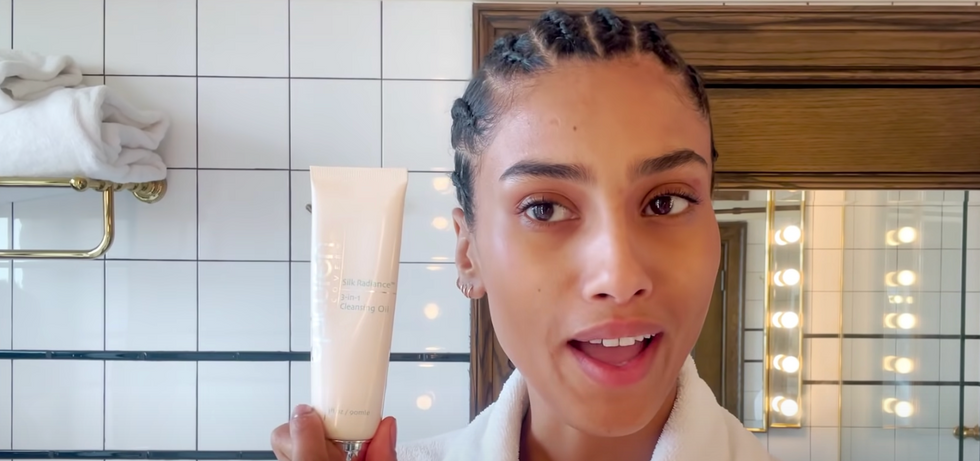 Harper's Bazaar/YouTube
"I never sleep in makeup. I try to. I mean it depends. When I'm having a real crazy day at work and I'm tired sometimes it happens but normally I don't because I think it's not good for your skin so even when you're tired, make sure to wash your skin."
But that's just one part of her cleansing routine. The 25-year-old likes to double cleanse. Next, she uses Osmosis + Beauty Deep Clean Detox Cleanser. She cites her mom as the person she learned skincare from and refers to her as the "herb doctor." "I grew up using oils and cleansing the skin with natural products which really helped me and also because I didn't have any clue," she said.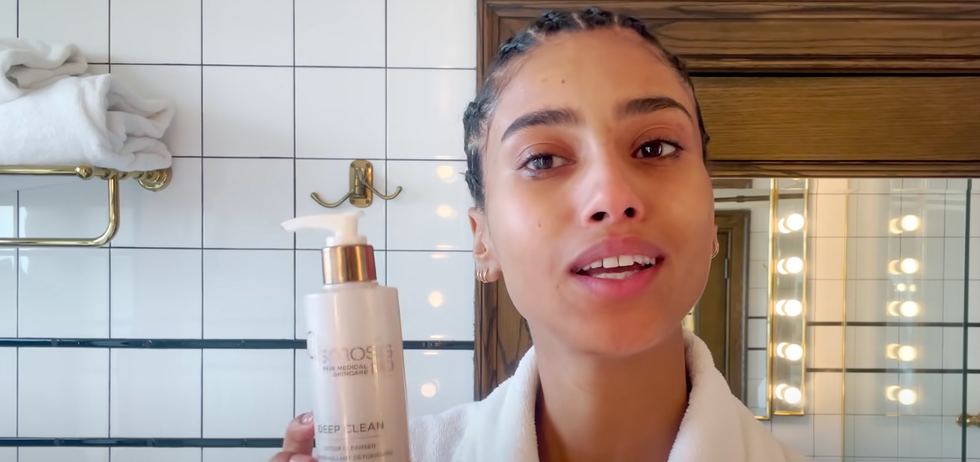 Harper's Bazaar/YouTube
"But when I got a little older and when I moved to New York, I really started looking at skincare differently because you get to shoot, you have a lot of makeup on and your skin gets to break out so I was like okay I need to get my sh-t together. So I had to learn about products. Now, I have a skincare routine that I have been using for over five years."
For step three, she uses Epicuren Colostrum Hydrating Mist. As a model, Imaan travels a lot which dries her skin out and so she relies on the hydrating mist to keep her skin hydrated. She also likes to spray her hair with it. She follows that up with Epicuren Bulgarian Rose Otto Oil.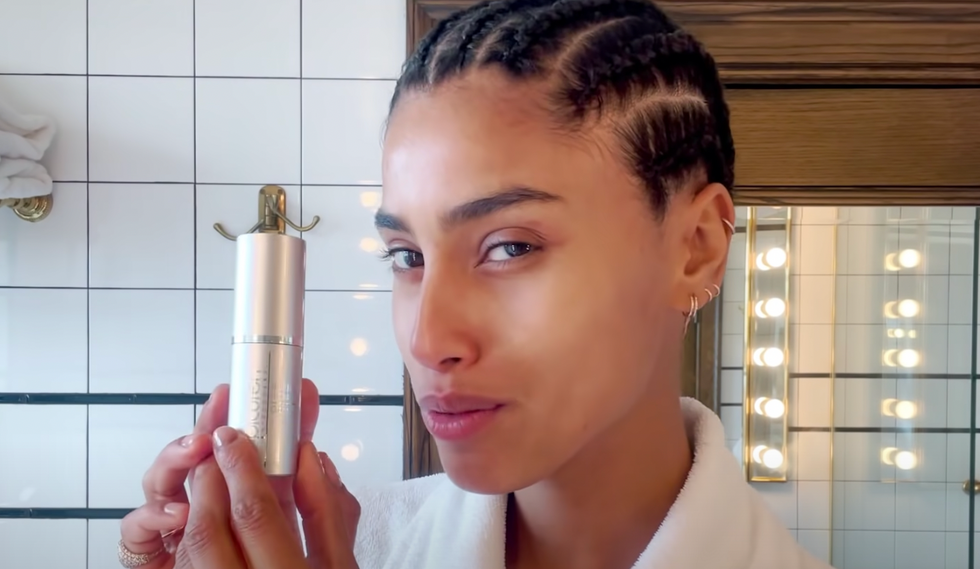 Harper's Bazaar/YouTube
To make sure that the products she uses so far seep into the skin, she uses the Osmosis + Beauty Epic Skin Tool. "What it does is it helps promoting the skin product and it helps with a deep penetration so it makes sure the product really goes in the skin," she said.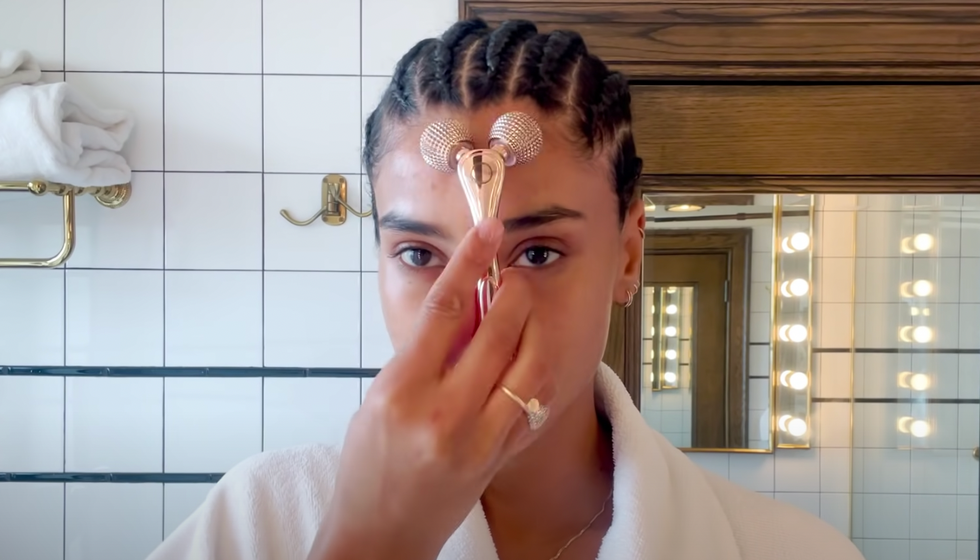 Harper's Bazaar/YouTube
For creams, she likes to use Epicuren Moisture Surge Hyaluronic Acid Gel, Ole Henriksen Banana Bright Eye Crème, and Epicuren Colostrum Luminous Glow Cream.
Moving on to her lips, she likes to use Fresh Sugar Lip Polish Exfoliator. She scrubs her lips and then rinses them off and follows it up with Rosebud Perfume Co. Strawberry Lip Balm.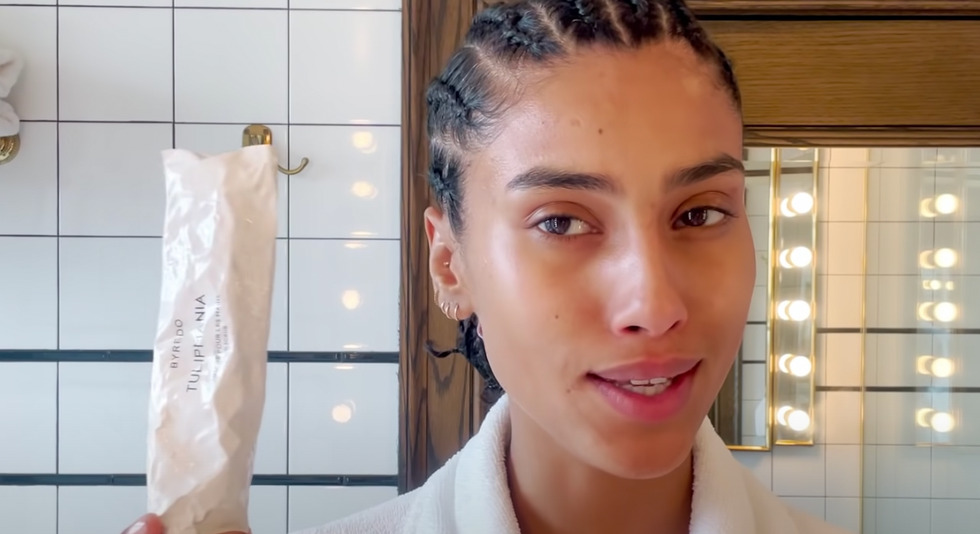 Harper's Bazaar/YouTube
She likes to apply Briogeo Strengthening Treatment Oil on her hair and scalp. "It really helps the hair grow and everyone knows me for my hair. It's big and you don't know how much work I have to do for all of that hair every morning," she said.
Imaan ends her nighttime routine with Byredo Tulipmania Hand Scrub, Epicuren Peptide Rich Hand Cream, and last but not least Costa Brazil Kaya Jungle Firming Body Oil.
Model Imaan Hammam's Special Tool For Deep Product Penetration | Go To Bed With Me | Harper's BAZAAR
Let's make things inbox official! Sign up for the xoNecole newsletter for daily love, wellness, career, and exclusive content delivered straight to your inbox.
Featured image via Harper's Bazaar/YouTube