---
There are some people who become entrepreneurs on purpose. They know that it means late nights, early mornings, and an inconsistent sleep schedule that nobody would envy. They acknowledge that it means taking risks to win where others only see failure, sacrificing time, money, and recreational freedom for a greater vision that money can't buy but that others can certainly (and preferably) invest in, and that it means being wrong more times than being right.
Yet knowing those things, they continue to dream of a life of being their own boss and creating solutions to the world's problems. Even if they can't take the leap right away, they spend years preparing for their big moment.
But for others, being an entrepreneur is neither planned nor desired—sometimes it's just a matter of survival, or in the case of Kristin Scott—founder of Gifts From A Virgo—divine intervention.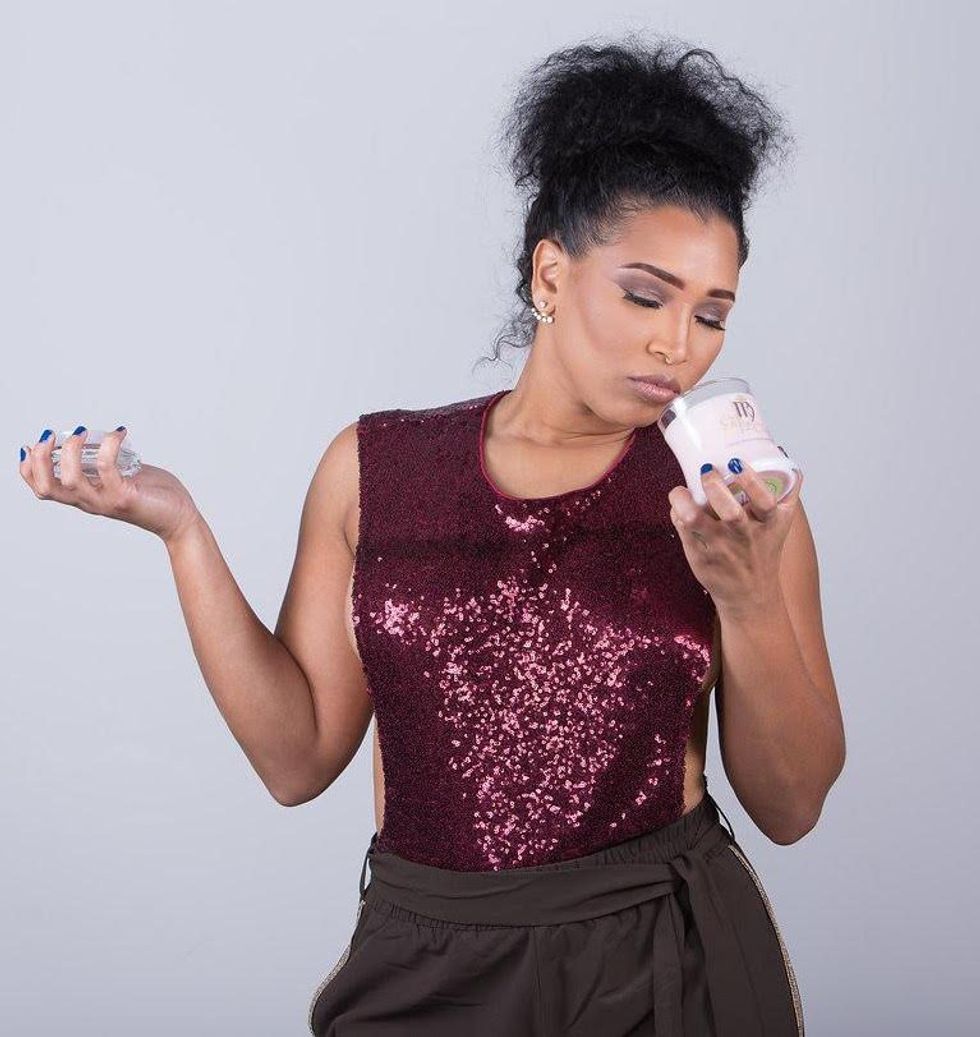 Photo Credit: DeMayne Earvin
If you were to ask the Youngstown, OH native what made her ditch her 9 to 5 and pursue a career in candle-making, she couldn't even tell you. But what she will tell you is that she wasn't even a devoted candle lover when she first started out on her new venture.
"I might buy the wall things from Bath and Body Works, but me burning a candle everyday? No, not at all," she says. "I don't know where it came from!"
In April 2012 the single mother was laid off from her job where she was overworked, underpaid, and miserable when the idea of starting a candle business came to her. Despite the uncertainty and lack of knowledge about the business, she chose to take a leap of faith instead of filling out another job application. She initially started searching for tutorials on YouTube, but soon realized that her research wasn't yielding enough information to know how to make the candles. The constant feeling of defeat became too much to bare, and she decided to call it quits soon after.
"I had somebody say it's not burning down right—it's not burning evenly, and there was no scent. That was like my first couple of months; then I stopped."
Yet she kept having this nagging feeling that somehow these candles were tied to her purpose. She confided her new business idea to a friend and was referred to a woman with her own successful candle business out of Detroit, who schooled on the basics of business such as coming up with her brand name and getting her LLC. Kristin then purchased her first 10 pounds of soy wax, fragrance, and five boxes of glass jars with just a few hundred dollars to her name.
But having a mentor didn't excuse her from the trial and error process of being an entrepreneur. Despite her newfound knowledge and research, the product, nor the smell, were coming together quite like she imagined.
Not willing to let go of her vision, Kristin took a trip to Detroit to pay a visit to her mentor in hopes of getting the first-hand information that she needed to make her candles burn without burning a hole through her pockets. This time she learned that seeing is different than doing, and no matter how many times she was shown the process, she still couldn't seem to master the right wax-to-fragrance ratio and left feeling like she gained no more knowledge than she came with. Once again, she caved in and gave up.
"I just was like, okay, forget it; I was just done again," she admits. "I don't know how many times I felt like that in that first year; I put so much time in."
This wasn't the last time that she would feel defeated, but it was the last time that she would quit.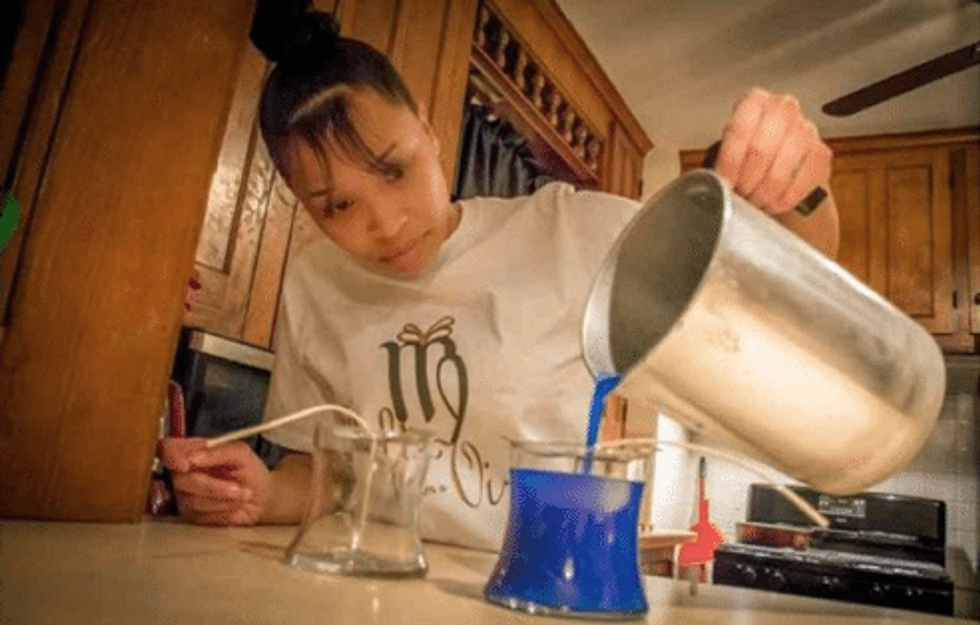 Around September she once again got the urge to try again. She got back in the kitchen and kept making mistakes until she finally got it right.
"I think it was a good thing for me to learn my way through trial and error," she says. "I literally had to teach myself how to make them. You think you're doing everything right until you get that one honest person like this is not worthy. And then you've got to really go back in the kitchen and just try different methods, you know, so, basically I just really taught myself."
Confident that she finally had the perfect candles, Kristin began attended her first event in October 2012 to sell her deliciously fragrant soy-based candles. She'd light the match and watch the candles draw in buyers by the dozens. She admits that at this point she didn't view herself as an entrepreneur; in fact, she lacked knowledge about the product that she was selling. When a potential buyer came up to her and told her that she could make more money if she advertised that the candle could also double as a massage oil once the wax melted, she was shocked, and maybe even a little embarrassed, that this wasn't something that she was aware of when she began purchasing pounds of soy wax.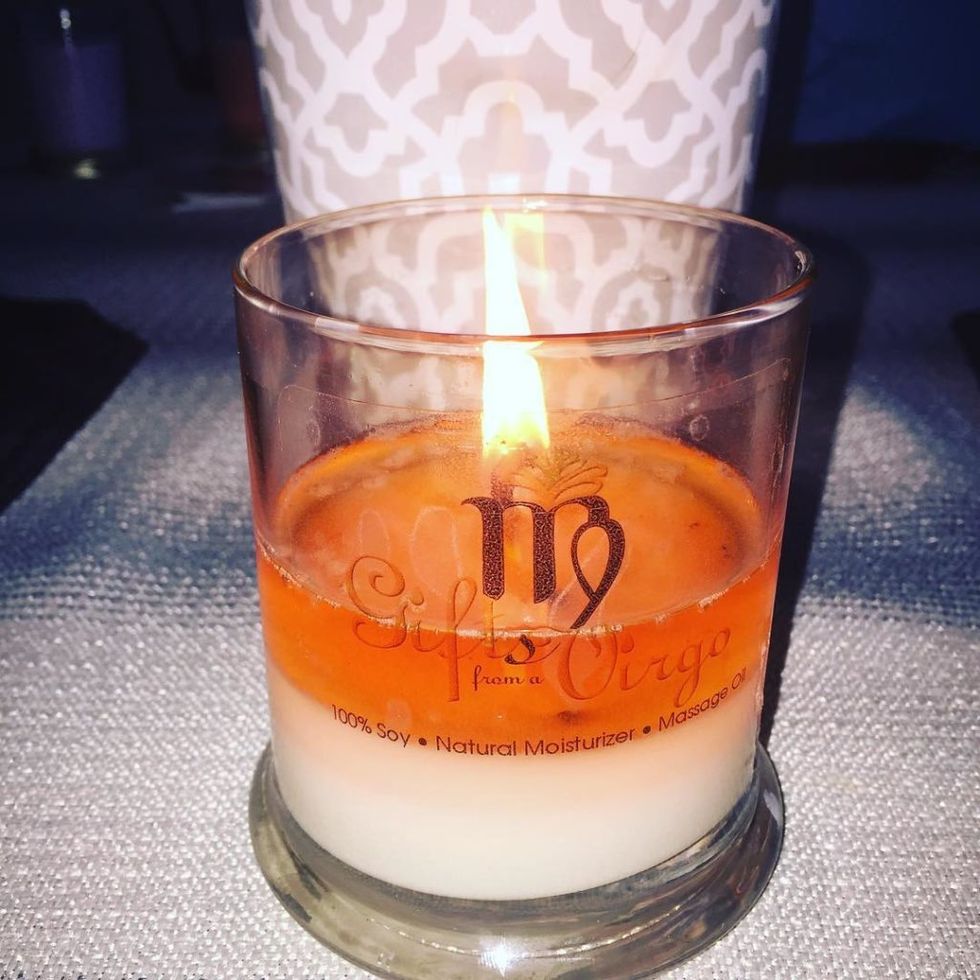 Gift from A Virgo candles have not only an amazing strong scent, but they also double as massage oils.
Once she began marketing her candles as massage oils, her sells dramatically increased, and she closed out her first year of business with almost $40,000 in revenue.
Taking her side-hustle seriously, she began researching the product and how to reduce her costs. At the time she was conveniently purchasing all of her supplies from her mentor, but the more her sales grew the more the profit-margin decreased, so she cut out the middleman and started purchasing her wax from a wholesaler.
"I probably wouldn't make that much of a profit because I'm buying from her. I'm buying 10 pounds of wax from her for $25, but 50 pounds of wax for $25 from a wholesaler. I didn't even know what kind of wax she was using. It's all learning; it's all growing. It's getting wiser on your business moves."
She also realized that there weren't enough hours in a day to be a full-time boss a full-time employee. Back in November 2012 she has picked up a job to pay the bills, and was burning the midnight oil trying to juggle her job and her business. But between traveling and attending events to promote her product, the businesswoman had to make a decision to leave her full time job, and in May 2014, almost two years after launching Gifts From A Virgo, began pursuing her newfound passion full time.
"I looked at it as, if I do this full time and it does not work I can always find another job, but I can't go to these events and I can't do as much as I want or get my company because I'm up 24 hours. Basically come home, making candles to two in the morning, getting up at 4AM or 5AM, getting my son up for school…it basically was like, Kristin you've got to just go for it and pray about it, so I did that."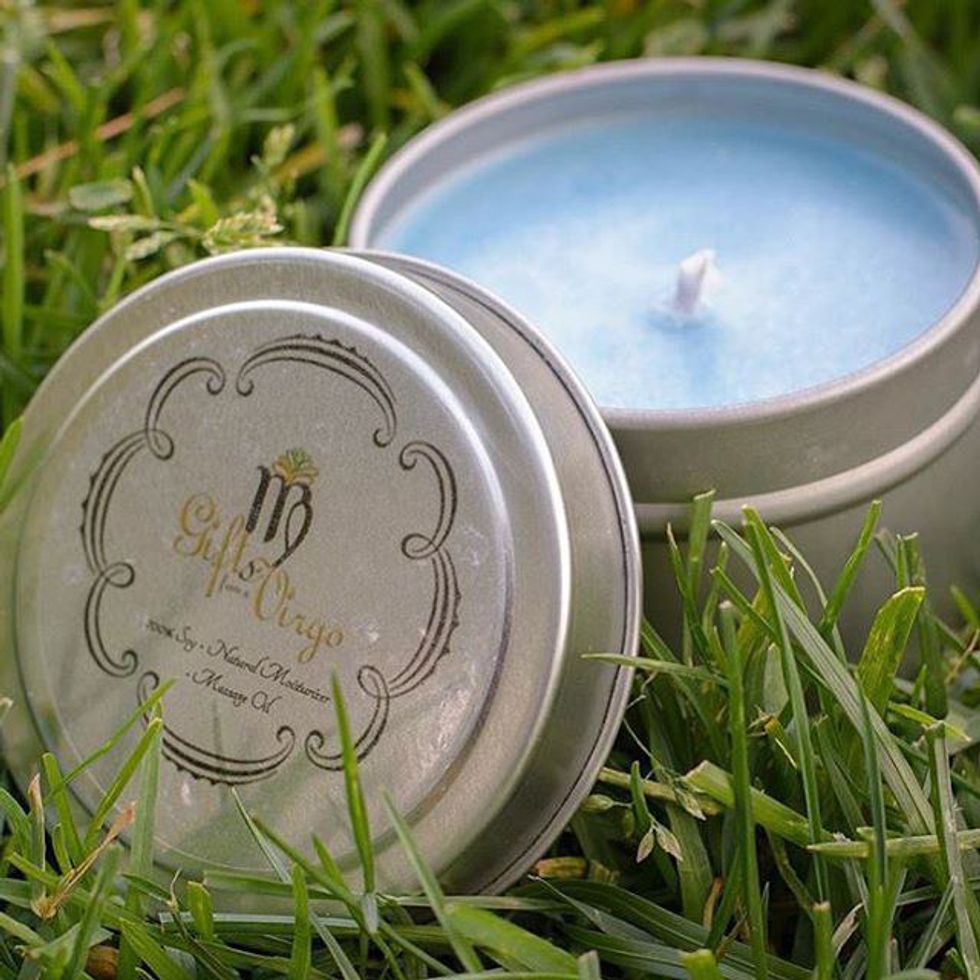 With more time to dedicate to her business she began turning her attention to other ways to promote her product. It was after running into rapper T.I. at a restaurant in Atlanta that she realized that guerilla marketing and face-to-face communication did wonders for her brand and for her confidence. She had been watching the rapper for a few minutes before her friend encouraged her to approach him about her business. Nervous, she swallowed her pride and strolled up to him with her Mangolicious candle, ready to give her 60-second elevator pitch.
"Once I saw that he was cool and he wasn't like a mean person, I just kept going and telling him about my candles. He was perfectly fine, and he was actually really nice about it. He could've been like, 'girl get your butt out of here!' But he was perfectly nice and was like, 'well can I buy ten right now?'"
She didn't have ten candles on her, but she did pass him her business card not expecting anything to come of it. But when Shamra Rodriguez, best friend to T.I.'s wife, Tiny, and mother of Bahja Rodriguez of the OMG Girlz contacted her for candles, she was sure that it was because of her earlier conversation with the Atlanta artist.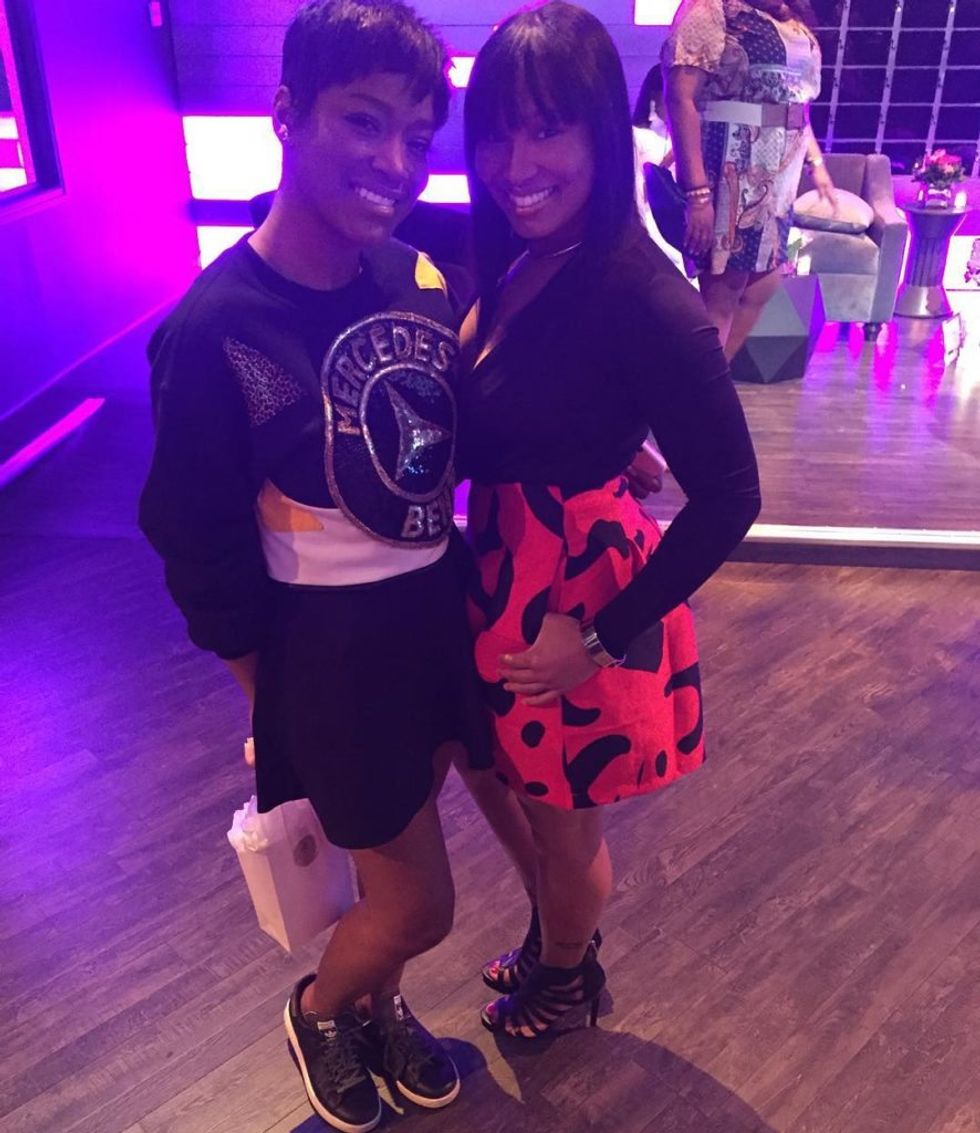 Kristin and Keke Palmer
Kristin also begin reaching out to celebrities via social media and through mutual connections, getting her product in the hands of Keke Palmer, Lisa Raye, Tiffany Evans, and a number of other influencers including Karen Civil, who loved the candles so much that she requested them for her Live Civil Brunch in Los Angeles.
This past November, just three years after launching Gifts From A Virgo, Kristin announced the opening of her new storefront in Youngstown. It's not just a huge accomplishment for her, but for her hometown of people who are looking at her as a sort of heroine, and rightfully so given that the post-industrial city has seen a drastic decline in population, and thanks to high crime and poverty rates, has been compared to the cities such of Camden, New Jersey.
"Throughout my city we have killings like every day, and our city's so small. People look at me like, 'you're really doing it' and I don't even think I'm doing it! When a man comes to me and is like, 'you make me wanna drop the dope game; you make me wanna do some legit business,' that's an accomplishment."
She's not patting herself on the back without acknowledging her own skeletons. Growing up she admits to being the chick who would throw down in a heartbeat if you just looked at her wrong, not even letting a knife or gun wound keep her from getting scrappy. She credits her business to being the motivation behind her turning her life around, and helping her to make amends with former enemies who often show up to her events and ask to buy a candle, despite the animosity that once existed between them.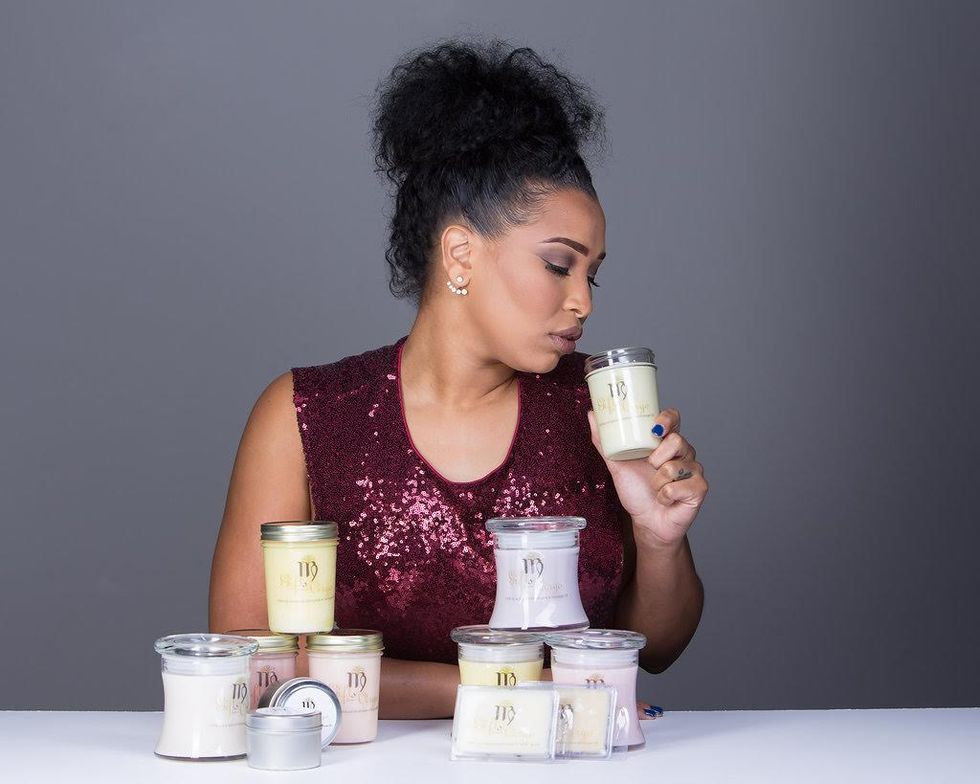 Photo Credit: DeMayne Earvin
"My candles have actually brought my enemies and me at peace."
"I've grown so much to the point where I'm so positive that I could shake any negativity off. I have too much to lose at this point in my life. Before I had a kid, but I didn't think. Now I think before I react to certain things."
It's ironic that Kristin, who admits that she never even had a passion for candles and no desire to even be an entrepreneur, is now shopping for an accountant for 2016, and hopes to eventually catch the attention of retail giants such as Wal-Mart to wholesale her products. It's even more ironic that she still can't tell you what made her even think to sell candles, and yet it's the one thing that's undoubtedly saved her life.
"My business has allowed me to grow and mature so much, and I've been able to have a better relationship with God. I was a lost person at one point in my life. My business, this is my everything right now. I put my all into this. I dedicate myself to this everyday of my life."

If that ain't God, I don't know what is.
To learn more about Kirstin's candles visit Gifts From A Virgo!