---
Like the saying goes, great skin starts from the inside out. Our skin is our largest organ, so it definitely makes sense that what we put inside of it, or whatever stress we are dealing with, would have an effect on our skin. Have you ever noticed that you tend to get breakouts in specific areas of your face? It might be around your cheeks and jawline, or your forehead, or in your nose. According to Ayurvedic and Chinese medicine, your body might be telling you there's something happening internally that's making you break out. This practice is called face mapping.
According to face mapping, the face is split into sections, including your chin/jawline, cheeks, forehead, and nose. When you have breakout in these specific areas, it can mean anything from respiratory issues, to poor diet to hormonal fluctuations. Let's break it down, shall we?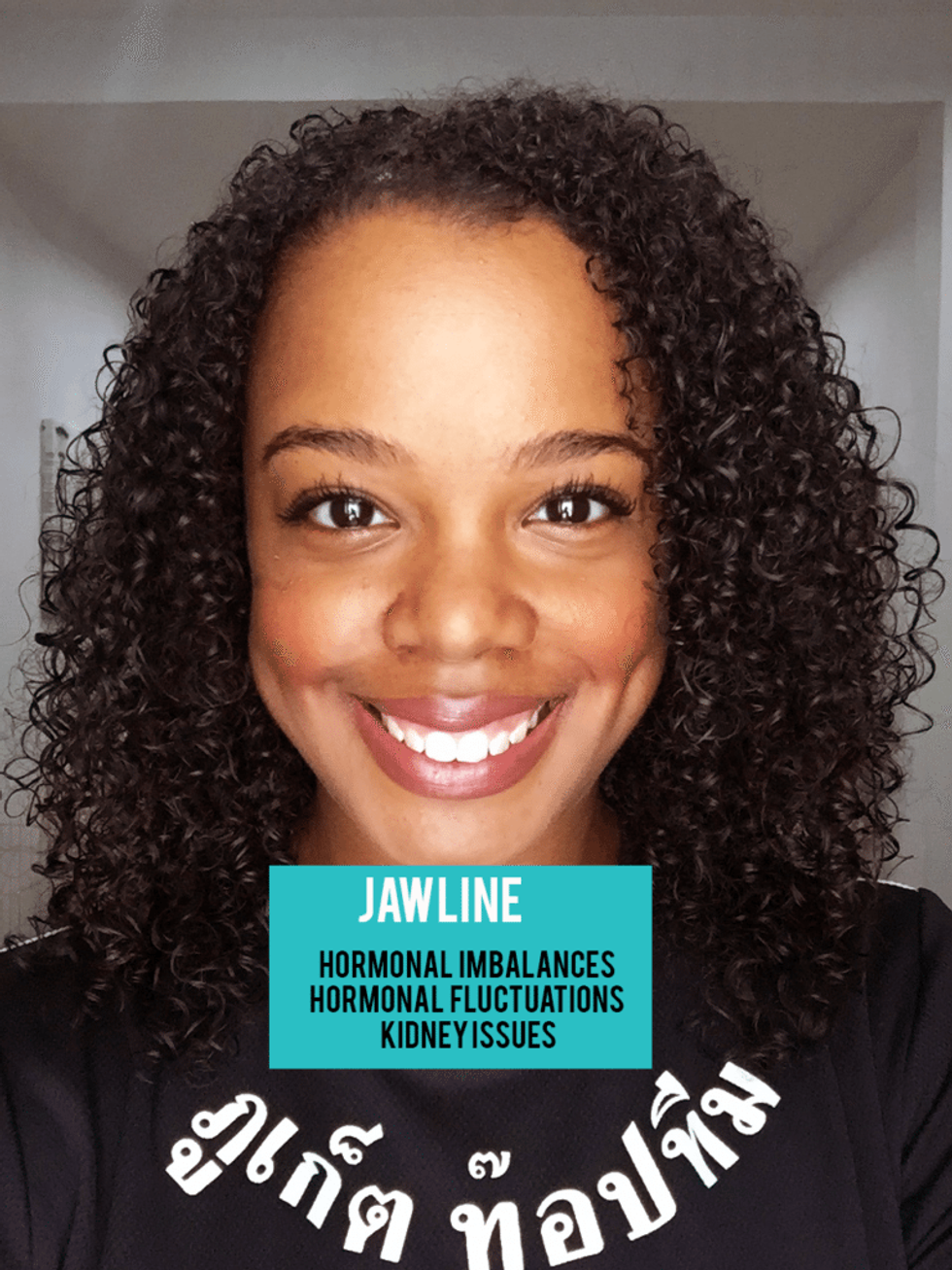 What Breakouts On Your Jawline Mean
Raise your hand if you can tell when your period is about to start because you experience a breakout. Is it around for your jawline? According to face mapping, jawline breakouts are due to hormonal imbalances, hormonal fluctuations, and kidney issues. There is even a theory that breakouts along your jawline can also tell you when you are ovulating, and on which side you are ovulating. This hasn't been proven, but I still think it's pretty amazing.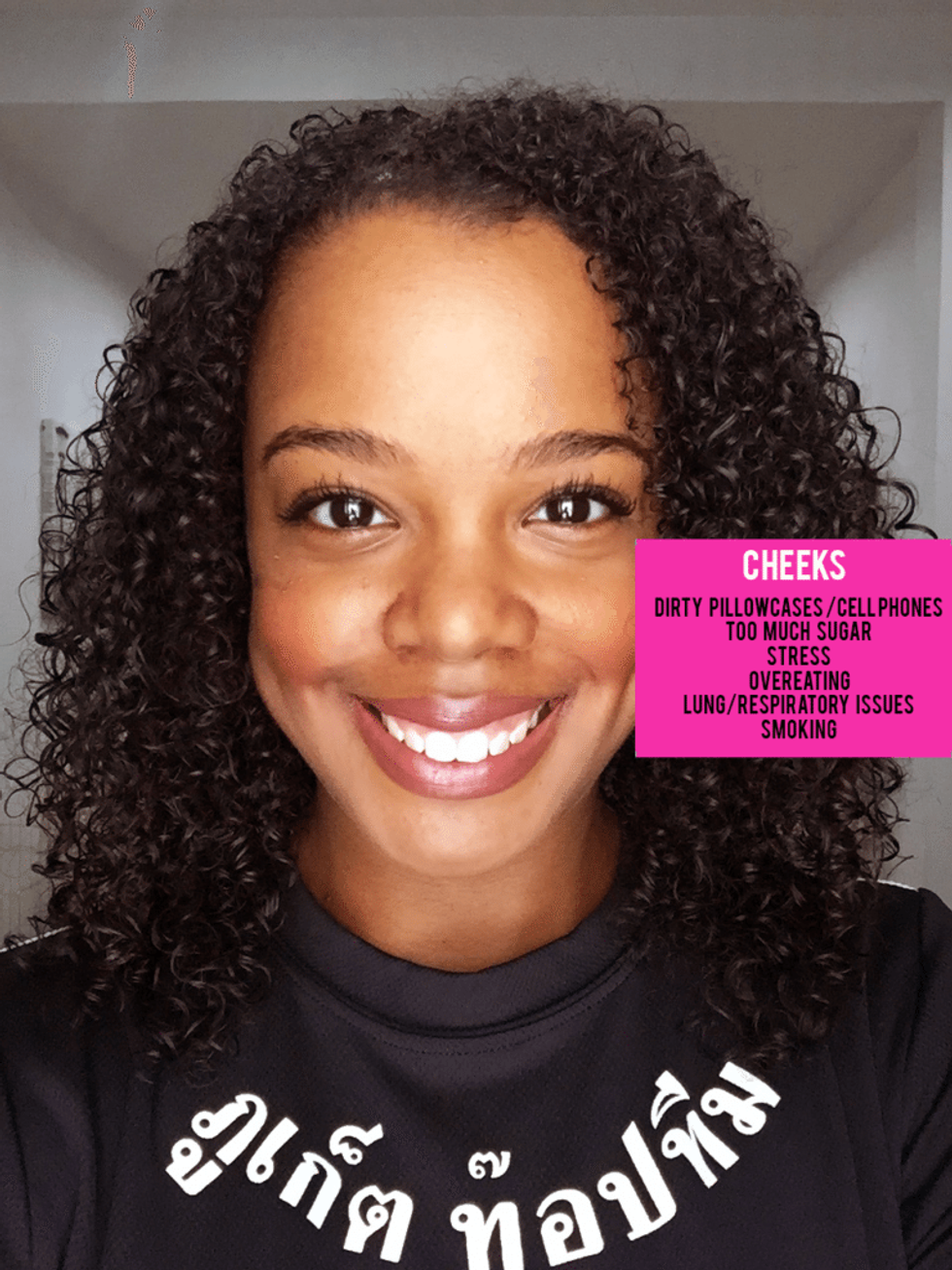 What Breakouts On Your Cheeks Mean
If you break out around your cheeks, it could be something as simple as dirty pillowcases or cell phones, but it could also be too much sugar, stress, overeating, or lung/respiratory issues. If you're a smoker, you might want to watch out as smoking could possibly be the cause of breakouts on the cheek. There's a debate going on between researchers as to whether smoking and whiteheads or acne on the cheeks are linked. Super interesting stuff!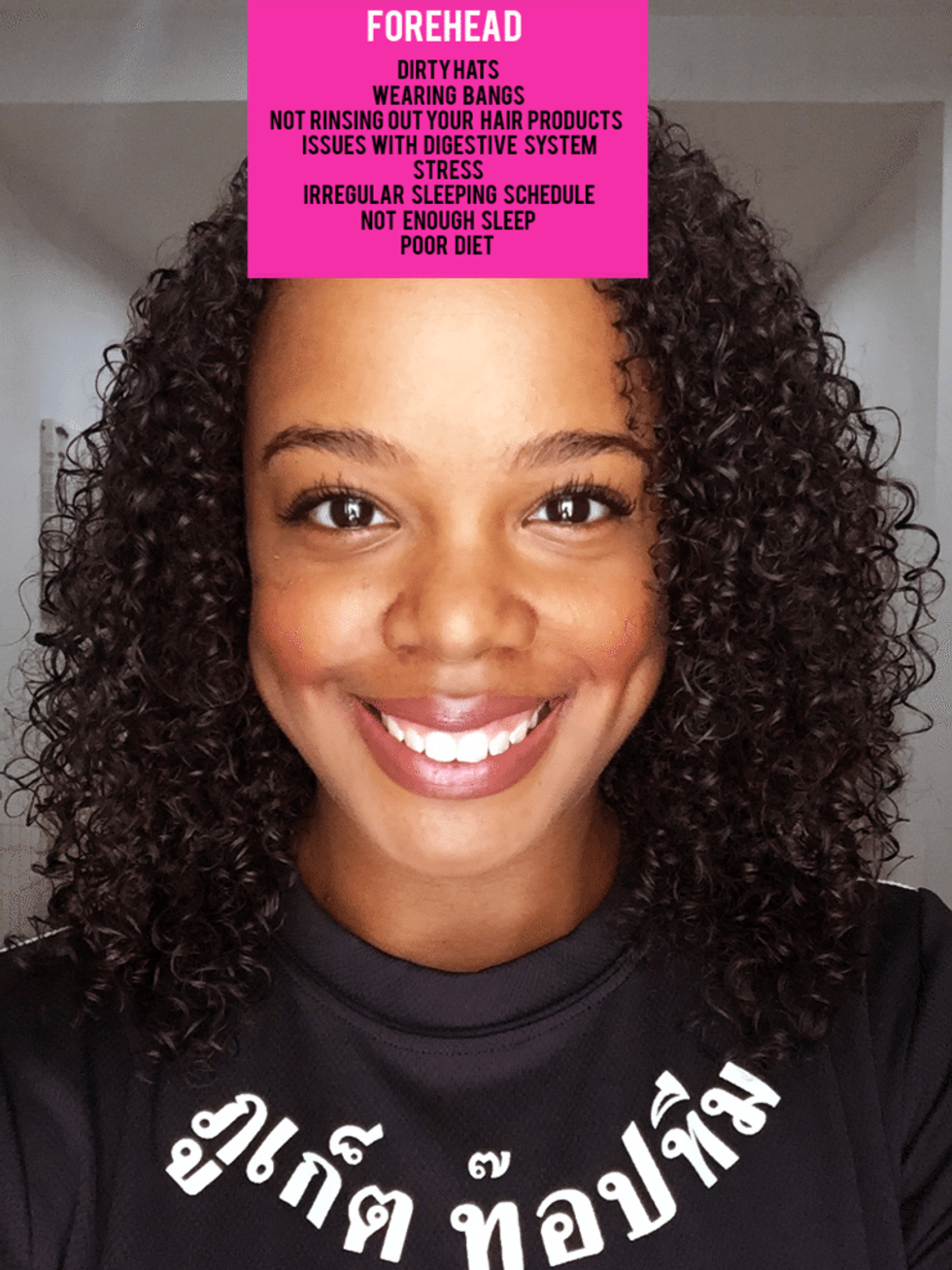 What Breakouts On Your Forehead Mean
Breakouts on the forehead could be from wearing dirty hats, having bangs, or not properly rinsing out your hair products when you wash your hair. It could also indicate issues with your digestive system, stress, irregular sleeping schedule/not enough sleep, and a poor diet. If you find yourself with frequent forehead breakouts, try getting at least 7 to 8 hours of sleep a night, along with eating leafy greens and drinking more water.
What Breakouts In Between Eyes And Nose Mean
Acne in between your eyes and around your nose could mean that you have a poor diet, are constipated, bad circulation or high blood pressure. If you break out in between your eyebrows, that could be a sign that you have a food allergy. If you are lactose intolerant, you may also find that you have breakouts in between your brows. Again, it might be worth it to take a look at your diet and eliminate processed sugar, fast food, alcohol, and increase water intake.
Personally, I always break out on my jawline about 4 to 5 days before my period, and without fail, I breakout of if eat too much sugar. On the rare occasion I drink soda or have a little too much alcohol, I can always expect to get a few whiteheads the next day. It's annoying, but at least I know the cause!
Face mapping is not an exact science. It's true that what is happening internally can affect our skin, but if you suffer from cystic acne or are concerned about the state of your skin, please see a dermatologist who can better assess your skins' condition.
Want more stories like this? Sign up for our weekly newsletter here to receive our latest articles and news straight to your inbox.
Featured image by Getty Images