Aunjanue Ellis has exemplified Black girl magic in her roles for Lovecraft Country and more recently King Richard. And with so much buzz surrounding the Oscar-nominated actress for her incredible work, her sexuality never became a topic.
---
That didn't mean that Aunjanue was hiding it. For example, she wore a stunning head-to-toe red suit with the words "Queer" embellished down her blazer's sleeve while attending the 15th Annual Essence Black Women in Hollywood Awards. Kicking off Pride month, the Mississippi native spoke with Variety about the outfit she wore to the Essence event and her bisexuality. "I was thinking, 'Why didn't more people pay attention to that?' And I was like, they probably thought it said 'Queen,'" she said about wearing the words "Queer" on her suit.
"It wasn't that I was expecting any sort of major reaction or anything like that. One of my family members noticed, but nobody else did." Her friends and family already knew about her sexual identity. However, they didn't expect her to share it with the world. According to Aunjanue, they were "hurt" by her decision.
​"I am a work in progress, and my family and my community are works in progress," she said. "I really believe that that is important to say because I'm not alone. We see people on the other side of it, where everybody's good and fine: 'Love is love.'"
Navigating Hollywood as a bisexual woman has been quite an experience for the 53-year-old. She shared that many Black women have made damaging comments about queerness not recognizing that Aunjanue is a queer woman. "There is an assumption made of me — a presumption made of me," she said. "Is it because I'm a Black woman from Mississippi? Is it because I'm older? I don't know what the mechanics are that goes into them not processing, or them not just being able to believe that in the same way I am Black, I am queer. This is who I am."
The When They See Us actress recalled a moment she revealed her sexuality to her co-workers after a couple of them expressed their concern exploring a character's bisexuality.
"This person that I was working with had a tremendous amount of anxiety about exploring that part of that character's life," she remembered. "I'm sitting here feeling like there's something perverse about this woman because she's bi, and we don't want to talk about it, as if something is wrong with her."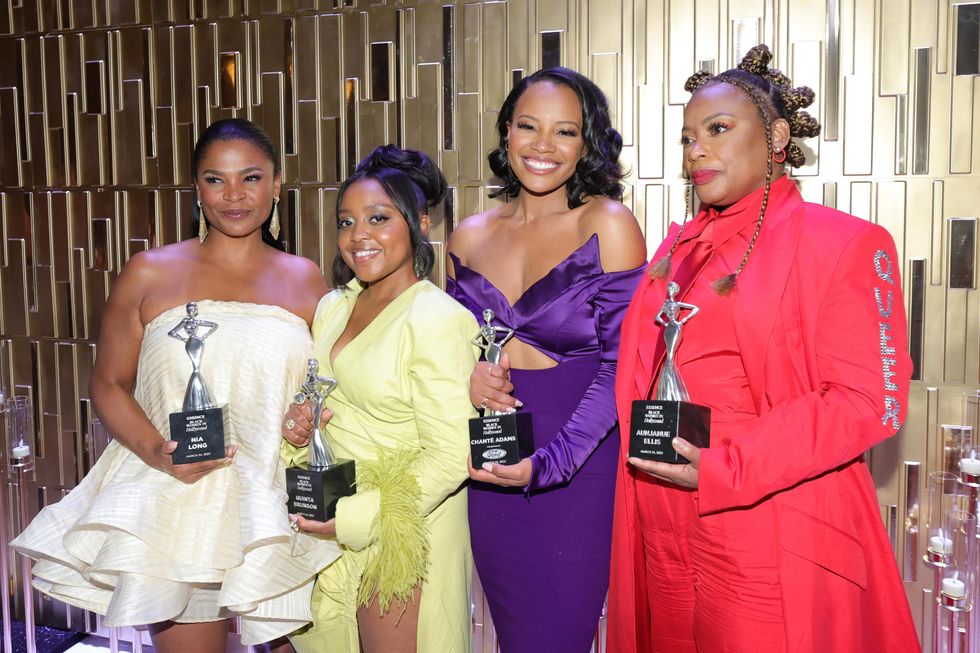 (L-R) Honorees Nia Long, Quinta Brunson, Chanté Adams, and Aunjanue Ellis during the 2022 15th Annual ESSENCE Black Women In Hollywood Awards Luncheon.
Rich Polk/Getty Images for ESSENCE
Aunjanue also shared that another co-worker complained to her about having to kiss a woman in a scene which was upsetting to the actress. "The way she talked about it, it was almost like she was disgusted by it," she said. "And I was just like, 'What do I do here?'"
She ended up sending a mass text to everyone to address the matter.
"I was like, 'Look, I love y'all. I appreciate my relationships and friendships, working and otherwise with all of you, but you need to know that I am bisexual,'" she said. "So when you say things, when you have felt your most intimate with me, that are queer-phobic, you are talking about me. And it hurts.'"
She continued, "It doesn't even register with them that it happens, because it's so hetero-normative. We think that we're on the other side of things because of what we see in media and on television and we are so not."
"I think that's one of the reasons why I started wearing that (Girl Bi) sweatshirt. And that's one of the things that made me put 'Queer' on my sleeve that day."
Let's make things inbox official! Sign up for the xoNecole newsletter for daily love, wellness, career, and exclusive content delivered straight to your inbox.
Featured image by Stefanie Keenan/Getty Images for CDGA