---
In About Face, xoNecole gets the 411 on IGers who give us #skincaregoals on the daily. Here they break down their beauty routines on the inside and out, as well as the highly coveted products that grace their shelves and their skin.
25-year-old Brooklyn-based aesthetician Brenttany Sharraine wants you to be your own skincare goals and has dedicated her entire career to helping women do exactly that. For her, skincare isn't a job, issa lifestyle. "Most days, it doesn't feel like work. Chatting with clients about skincare is something I'd do as a hobby. Skincare has always been something I've been passionate about and the fact that I can share my passions to help people achieve their skin goals is rewarding for me."
In this month's segment of About Face, we chat with Brenttany about all of our burning skincare questions and get the details on the routine that keeps her skin on 10 all damn day.
Brenttany explained that while a full face of makeup used to be her go-to routine, now, this barefaced beauty's beat is all-natural. She told xoNecole, "In my early 20s, I would wear a full face of makeup everyday. No matter where I was going. If I stepped outside, I had on makeup. Now it's the complete opposite. I'd have to be going to an event to get myself to wear foundation. Now, I'm so comfortable in my own skin that I don't feel like I need it. Less is more nowadays."

The beauty professional recently sat down with xoNecole and revealed the secret to a foundation-free slay, and according to her, it's all about the SPF, sis. Keep scrolling for more!
*Some links are affiliate links. If you purchase an item from an affiliate link, xoNecole might earn a small commission.
My most significant beauty lesson...
"The most important lesson I've learned in beauty is wearing SPF for sure. [While] working with a dermatologist, I would see how common skin cancer was and how UV rays were a huge contributor to physical aging. As a teen, I was told black people do not physically age. I beg to differ. Just wear your SPF guys!"

My morning routine looks like...
"My morning starts with waking up to the sun beaming down through my skylight. I'm lucky that I get to work in the evenings most of the time, so I'm in no rush to get up. If I don't have any errands to run that morning, I spend extra time in bed reading any work emails I may have received while sleeping and listening to my favorite podcast, which is currently Dave Ramsey, and writing in my reflection journal."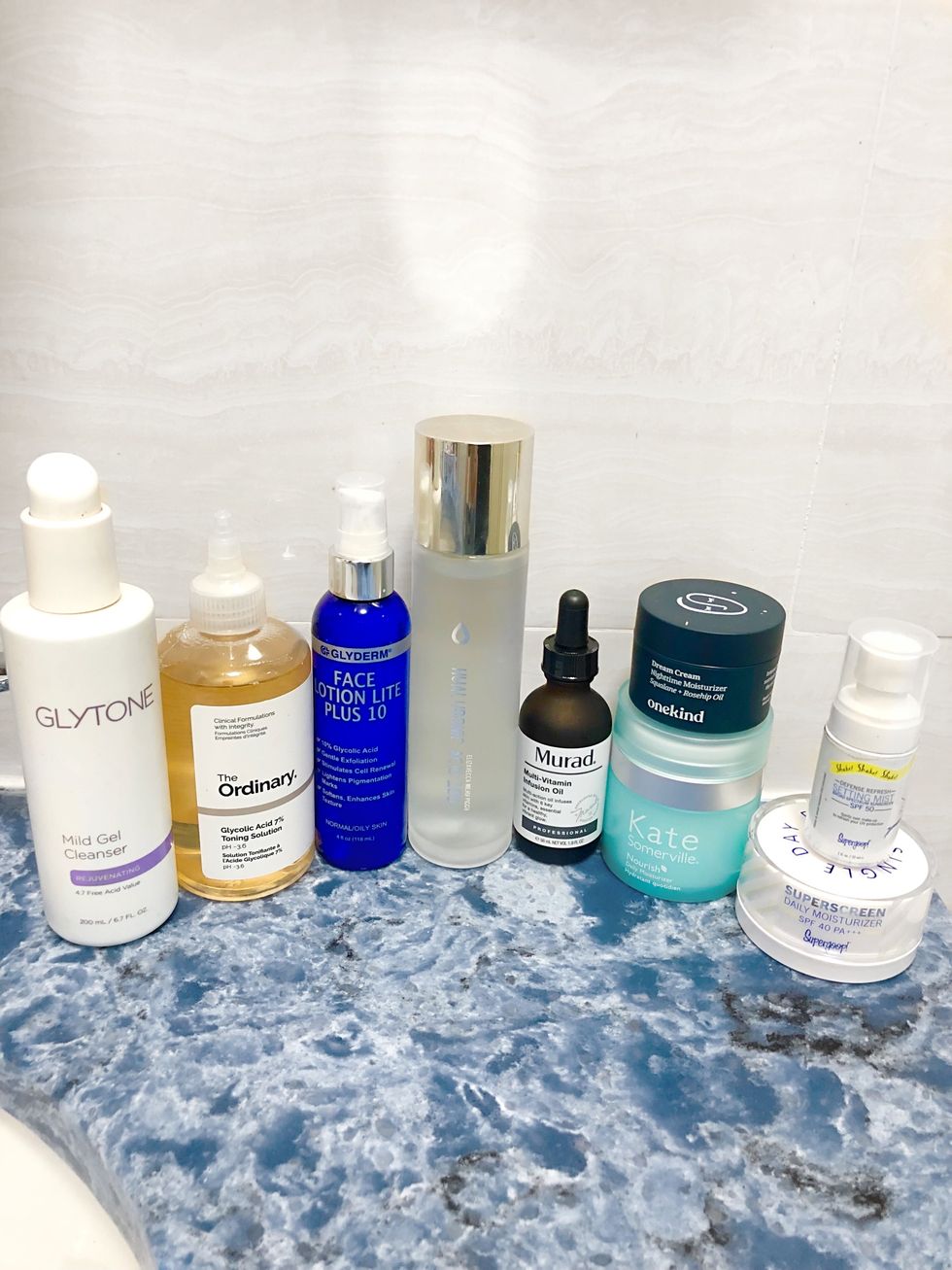 Brenttany's current skincare rotation
Courtesy of Brenttany
How my routine switches up with the seasons...
"[I use] heavier creams in the fall and winter for the most part. I also like to add in an oil for extra protection from dryness. I'm currently using Murad's Multi-Vitamin Infusion Oil. In the spring and summer, my skin gets more oily so I'm still applying my Hyaluronic acid serum, an antioxidant serum like SkinCeuticals CE Ferulic, but swapping my Supergoop! SPF 40 moisturizer with their SPF setting spray."
How I approach beauty from the inside-out...
"A day with nothing to do is super recharging for me. Most of what I do is hands-on so massaging, acupuncture or anything to release tension and promote relaxation, I'm all for. Writing in my journey makes me feel powerful. It allows me to be in control of my thoughts."
What self-care is to me...
"Satin eye masks and pillowcases. I feel like a princess whenever I go to bed and wake up!"
How I do skincare when I travel...
"I keep it simple when I travel-––so my cleanser, moisturizer, and SPF are all I bring in travel-size containers. I would also bring my makeup faves like brow and face powder, mascara and a gloss in my carry-on. I feel like the less time I spend on getting ready, the more time I spend enjoying the trip!"
For more of Brenttany, follow her on Instagram @brenttany!
Featured image via Brenttany/Instagram