Some things, you will always remember, just like it was yesterday. So is the case for me when it comes to early Wednesday afternoon, December 22, 2021. I got up, got dressed, and went to my eyebrow waxing appointment. Then I followed that up by picking up some expensive ass bras. Then I went to get some lamb chops that I planned on searing on my stove when I got home. As Ice Cube once said, "It was a good day." Only, as I was a literal mile out from my house, I received a text from one of my landlords that simply said, "There's been a fire in your unit call me back as soon as you can."
---
I wish I could tell you that I went into immediate panic mode. I mean, that's what most people would do, right? Nope. Instead, I called, asked him what was going on and he replied by asking me where I was. Then he said to be careful because "a few firetrucks were on my street." Chile, when I turned onto my road, there were a whopping eight of them, neighbors were all over the place and several firemen were standing on the roof of my townhouse and literally cutting into it. It was an amazing sight to see.
And still, from me, emotionally, nothing.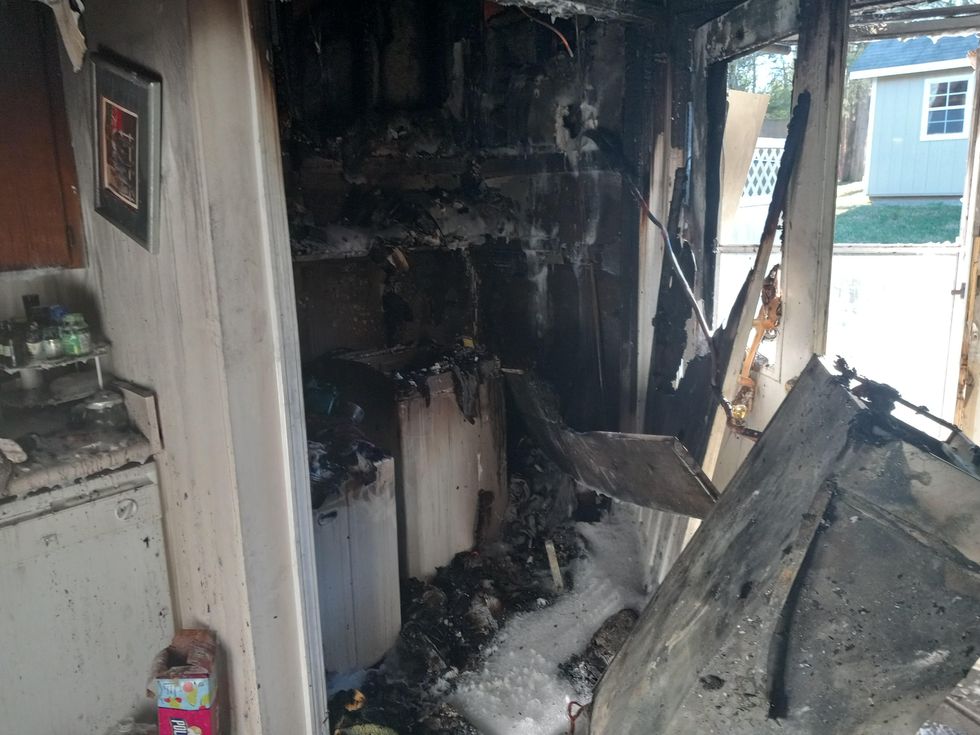 Shellie R. Warren
"I just want to know what caused it," is what I said to my landlord and the firemen who were asking me questions; some that I remember and some that I don't. All of them replied with some variation of waiting for the fire marshal to make the call. What I knew is I didn't have breakfast that morning and I didn't iron either, so…what was up? As I walked around the back of my home and I saw the men pointing up at my HVAC unit, I wasn't shocked in the least. Even my other landlord — who to this day, hasn't said, "I'm sorry this happened to you" and actually chuckled a laugh of whiteness when he went through the property that night and, when I said it wasn't funny and I could've died, he responded with, "Yeah…well" — stated that the unit was "as old as I was" (units are supposed to be replaced every 10-15 years by the way and they hadn't even changed my air filters in over a year).
Yeah, I'll let y'all read between the lines on my thoughts about that. Right now, I'll just say, "He's an idiot for coming at me like he did." Whiteness usually doesn't think stuff like this through, though.
And that night, in the dark, as I saw that about 90 percent of what I own, in every single category of my life, was gone from the fire and/or water and/or the foam of the fire extinguishers and/or the hatchet jobs that they did to get into my place — still, emotionally, from me, nothing. Well, I take that back, peace. The "peace that passes all understanding" (Philippians 4:6-7) that the Bible speaks of that I wasn't sure I've ever fully had before. Oh, but chile, I get what it is now. And yes, it has become a part of me.
And so now, as I'm not even a month out from that life-changing experience, I wanted to share some of the immediate takeaways that I got from it. Mostly because, if you live life for a little while, you realize that sometimes, you aren't being "punished," it isn't "karma" and you aren't a bad person (nor is God not looking out for you; Psalm 121:4). Sometimes, life is just life and it's when it decides to show all the way out, you get to see who you really and truly are — or have become.
As far as who I now am, here are my six takeaways.
Featured image by Getty Images