Coming up in the world as a young Black woman sure does come with the whole bunch of no's and don'ts. Nonsense like:
---
Don't wear that black lipstick, you'll look too goth. Don't wear that red lipstick, you are too dark for that. Don't color your hair blue, you're going to look crazy. Don't cut off all that pretty hair, you're going to look like a man.
These limiting beliefs of what Black girls can and cannot do doesn't leave a whole lot of room for us to explore and experiment.
Beauty blogger Elisa, more popularly known as Shantrinas, has been a mentor on social media for women looking for fun and simple makeup and natural hair tutorials. She is a self-taught artist that can help anyone pull off a bold look, especially those of us with darker skin tones. Recently, Elisa chatted with xoNecole about style, beauty, and what makes her so unapologetic about the way she rocks them both.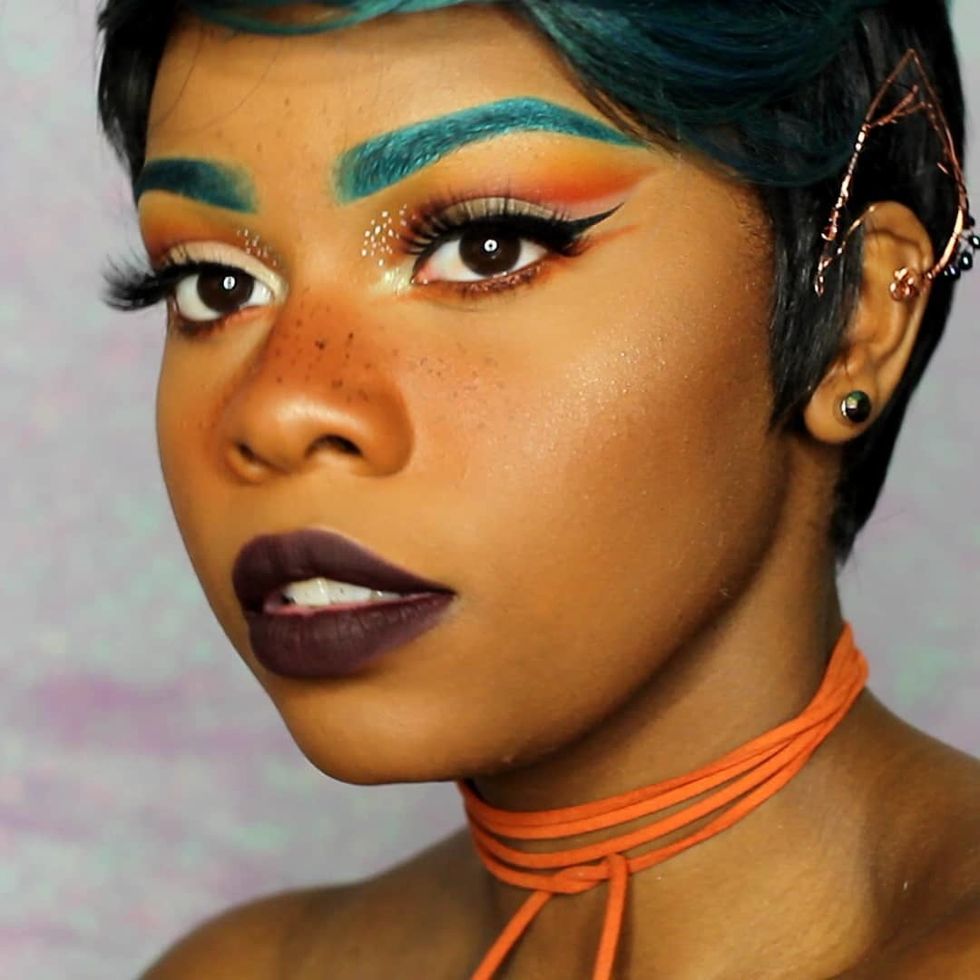 Shantrinas/Instagram
What stands out about Elisa is her fearlessness in experimenting with different looks and colors, whether it's through her choice in beating her face or with styling her hair. She can instruct you on executing a range of looks from a striking and bold look, or the face of the Girl Next Door. She believes that is the most wonderful thing about the world of beauty. She is exercising the freedom of becoming your own personal fantasy.

"My style is constantly changing... It started when I went through the whole emo thing because I liked their style and I thought it was a little different. Then I got a bit older and thought I needed to calm down a little bit and I started being a little more toned down, but now I'm kinda all over the place and [it] is based off of how I feel that day. If I want to look like a fairy one day, that's cool and if I want to look like something else the next day, that's fine, [too]," she explained. "The whole reason that I actually went natural was that I wanted to dye my hair... I wanted pretty colors in my hair either purple or pink."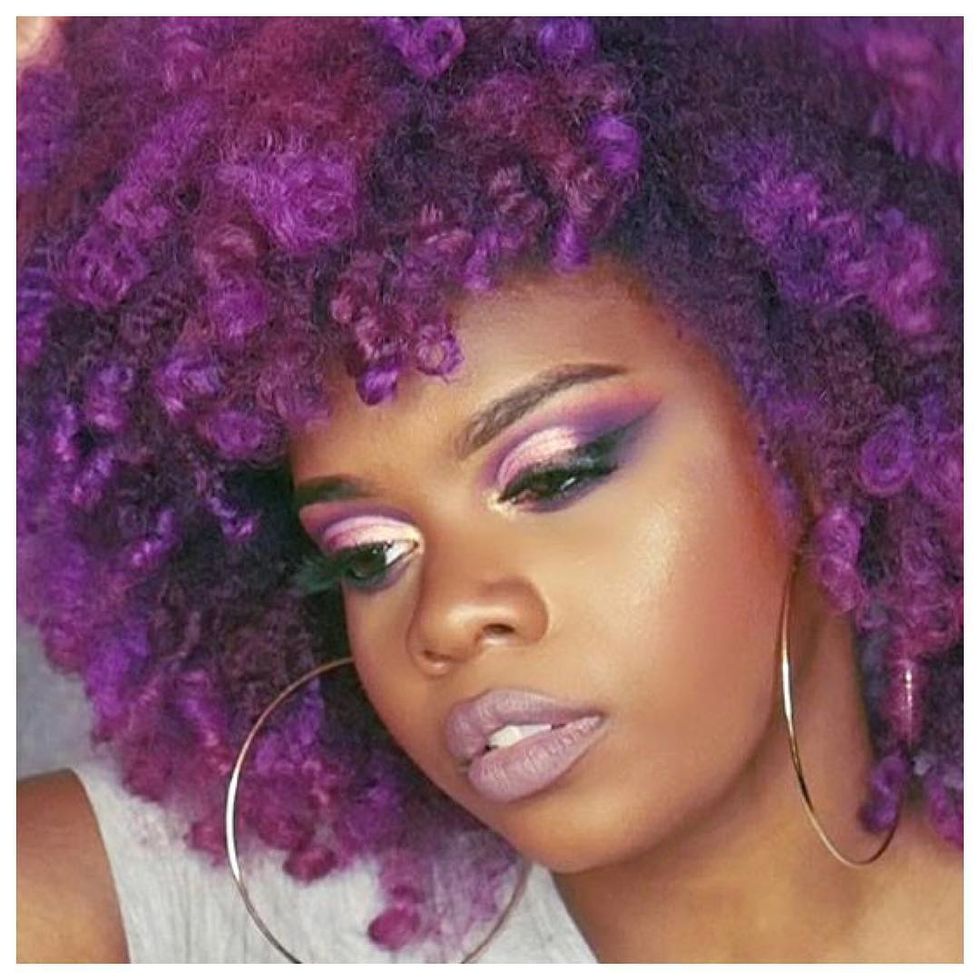 Shantrinas/Instagram
Purple or pink may be the last color the average woman would think of when dyeing her hair but Elisa is no stranger of thinking outside of the box. She grew up inspired by Kelis, loving alternative styles and being infatuated with the emo crowd along with the drag queen community. As a result, self-expression knows no bounds. She shared, "Even when I was younger, people would say, 'You shouldn't be wearing makeup. You shouldn't be wearing that color. You are too dark for this, you are too dark for that. And I said I like how this looks! I don't care what you think, I'm going to do it. I'm going to wear dark lipstick [and] love bold eye shadow I don't care if you think I look like a drag queen. I'm going to do it."
And she does it well. In each YouTube video, you can see her rocking her luxurious natural tresses in different colors like orange, purple, aqua blue, or she might just surprise you and cut it all off because to her, it is just hair.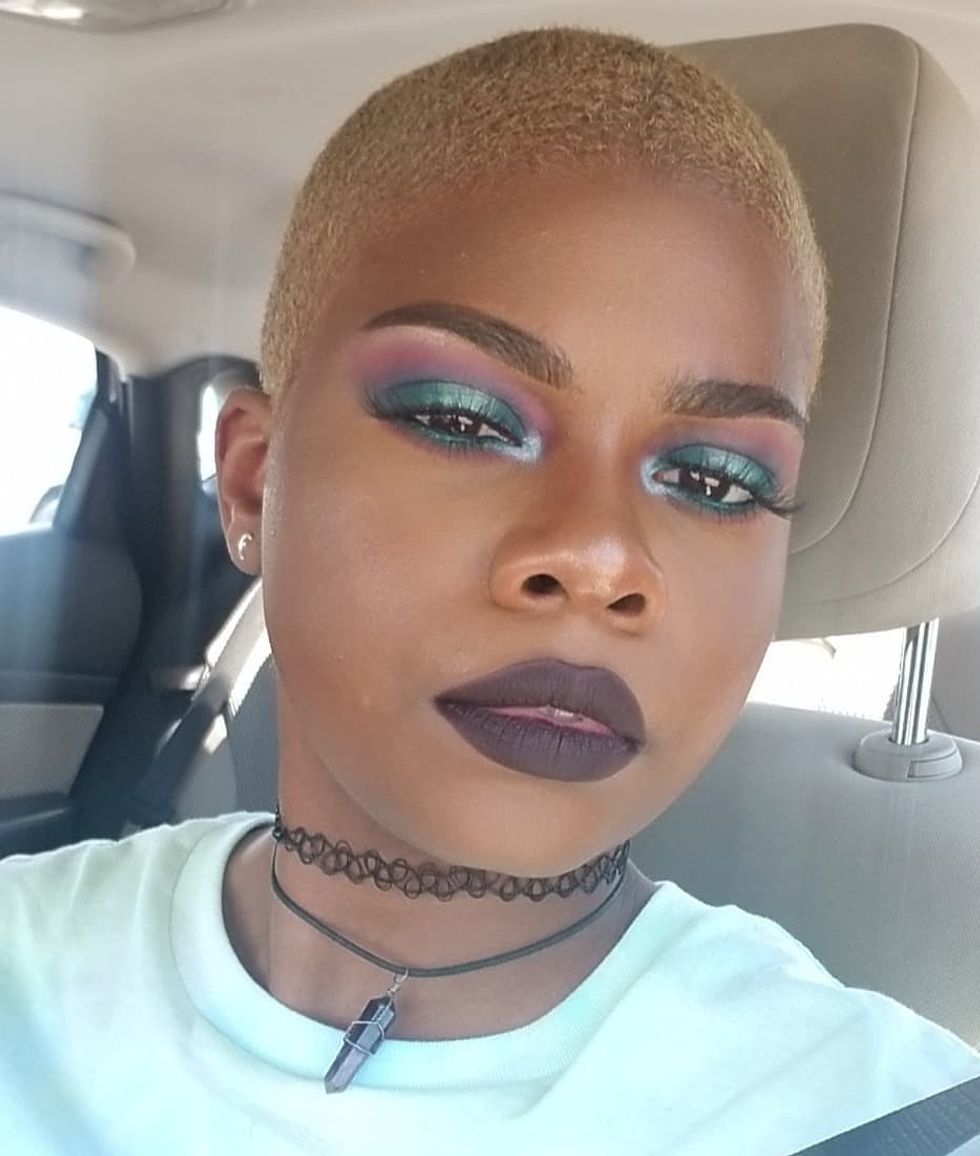 Shantrinas/Instagram
Creativity is what keeps her going and she uses makeup and hair (the way a painter uses brushes) to create and experience a feeling; even going as far as experimenting with different color eye contacts and highly pigmented makeup colors. Shantrinas mentioned that she is also really into special effects makeup. Her advice when it comes to women that want to try something different with their look and are trying to get out of their comfort zone in the world of hair and makeup, is to do what feels good.

"I think you should find your own individual style. Don't be so pressured to be a certain way when there are so many other things you can be. If you want to try something, just go for it. Don't think about it too much, that is where the anxiety builds. Just do it."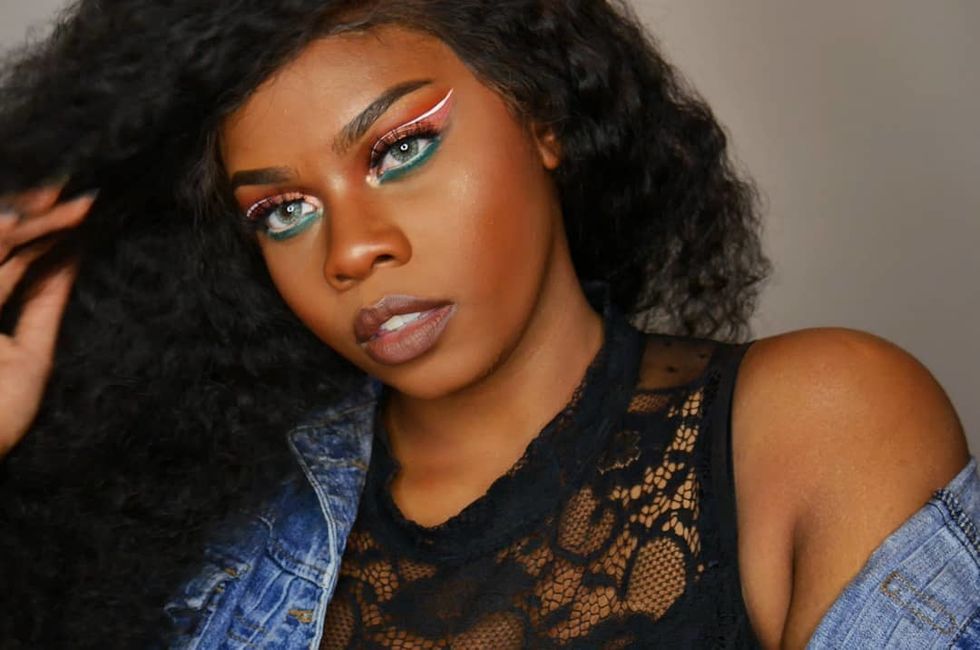 Shantrinas/Instagram
You can catch Shatrinas diving into the world of fitness and clean eating while mixing up different colors to put in her hair. To keep up with this makeup loving, healthy living maven, check out her YouTube channel or on her Instagram @Shantrinas.

Thank you, Elisa, for giving us the inspiration to venture out of our comfort zone every once in a while.
Related Stories:
Hair Color To Try: Red -Read More
Real Women Show How They Rock Bold Lip Colors -Read More
Trend Alert: Ten Bright Eyes For The Season - Read More