---
Not too long ago, while looking up some wedding data, I read a published study on The Knot that literally had me shaking my head. It was talking about how often married couples go on dates. The findings weren't very impressive. I'll put it to you this way—while 11 percent went on dates once or more a week, 30 percent only did it once a month and 36 percent hardly ever had one. That really is kind of disturbing considering most of us have heard that the way we get someone is the way we should keep them. Plus, dating shouldn't be seen as merely a way to woo someone into being in a relationship; it should also be about wanting to spend real quality time with them. No matter how long two individuals have been together, that should never get old.
If you totally agree but the challenge is that your lifestyle (hard to find a babysitter), budget (need to save most of your coins) or current circumstances (like a roaring pandemic that is happening at the time that I am writing this) are what's preventing you and yours for being as romantic as you'd like, I've got a few ways where the two of you can still date each other from the comfort, convenience and safety of your own home.
1. Have a Spa Day (or Night)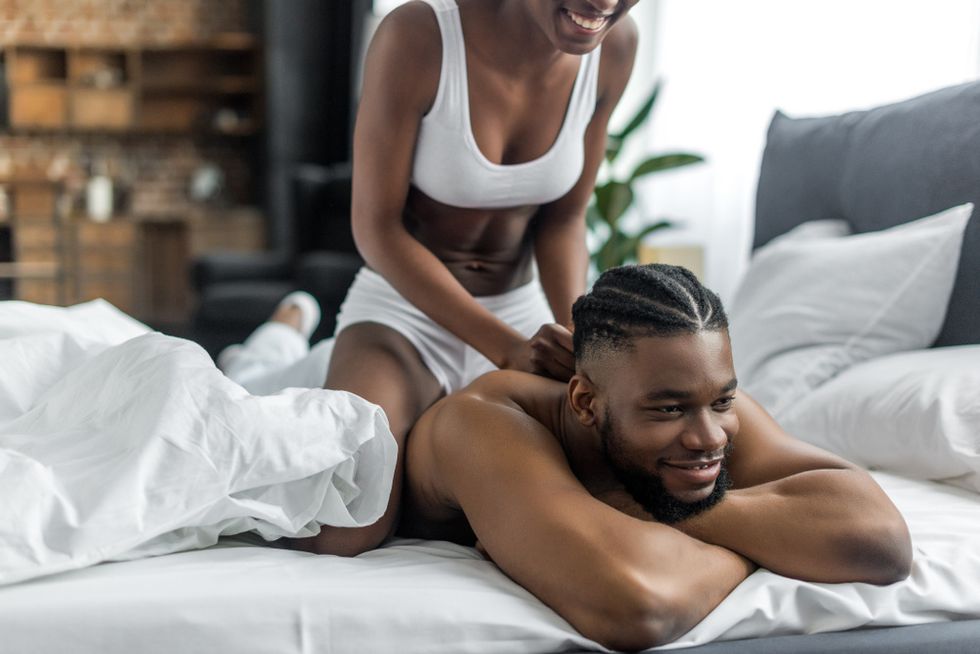 Something that can be romantic and sexy while also being a way to de-stress is to create a spa-themed date. It can consist of things like giving each other massages with aphrodisiac essential oils (see "Blow Your Man's Mind By Giving Him This Tantalizing Massage" and "8 Natural Aphrodisiac Scents, Where They Go & How To Make Them Last") and doing some reflexology on one another, to taking a soothing bath together; one that consists of DIY bath soak recipes. Make sure that you take luxury to another level by warming up your towels in the dryer before using them, picking up some rose petals to put into your foot soak or bathwater, lighting some soy scented candles, opening up a bottle of wine, and turning off all of your electronics (except maybe a device for some background music).
2. Binge-Watch a Series from Your College Years
Call it blinded nostalgia if you want to, but some of my favorite television-watching years was the early 90s. A Different World. Living Single. Martin. In Living Color. Yeah, those were the days. If you were in college then, take a walk down memory lane by binge-watching some of those shows with your significant other. Whether you knew each other or not at the time, it can bring up all kinds of memories and fun stories. You can take it up a notch and eat some of the same foods that you did while you were hanging out in your campus's university center. (By the way, this suggestion applies to any television era; the early 90s is simply my personal favorite.)
3. Put a Twist to Sip & Paint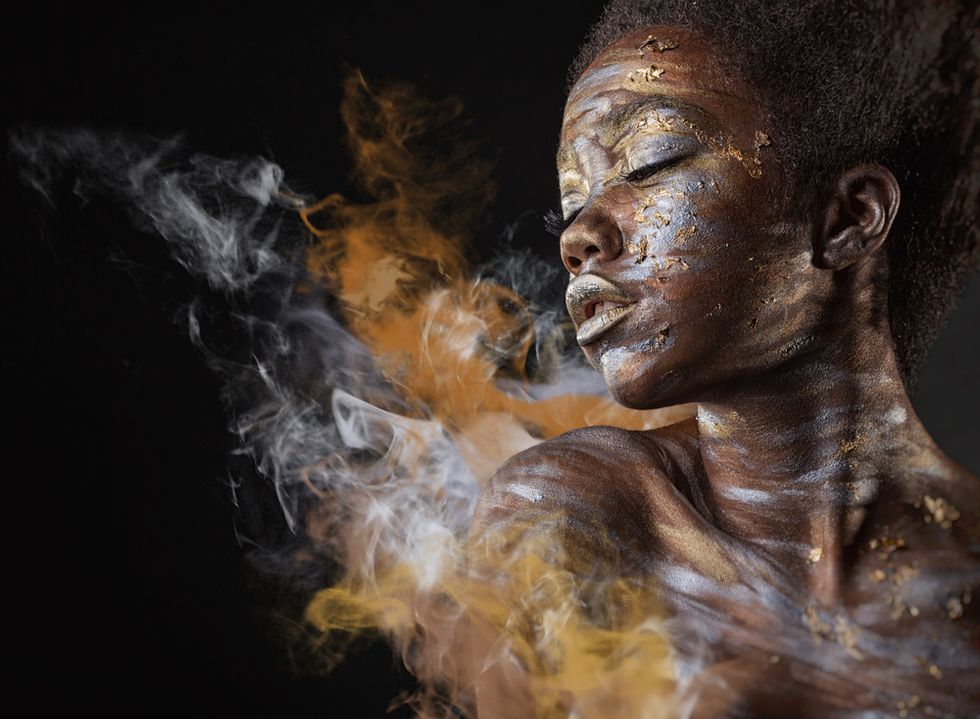 Pretty much every city has at least one place where you can go to take painting classes while you sip on a glass of wine (or some other alcoholic beverage that tickles your fancy). Put a twist on that by throwing a very private and personal sip & paint at your house. Sure, you can put up easel if you want to. But I have something a bit more erotic in mind.
How about making some of your own body paint (or you can purchase some edible body paint, in a variety of different colors, here), stripping down to your underwear (or less) and painting each other? It's something that is both sexually stimulating and really fun at the same time; especially if you bring that bottle of red wine (which is a big time aphrodisiac) into the equation. #bottomsup
4. Go on a "Travel-Themed" Date
There are a couple of different ways to have a travel-themed date night in your house. One way is to either order or prepare foods that represent another country. You know, maybe a pasta dish to represent Italy or a Greek salad to represent Greece. The cool thing about this idea is your date can be any time of the day. For instance, maybe you want to make some Rabanadas (which is basically Portuguese French Toast) for a breakfast or brunch date, or a couple of bowls of Vegetable Pad Thai (which represents Thailand) late at night. Selecting foods based on a particular place can be a great way to expand your palate while bonding if you plan on preparing the dishes together.
Another approach to a travel-themed date is to put on some soft music, light some soy scented candles and hop on Instagram or Pinterest to plan a dream vacation together. And just where would you get the money to pay for it? Check out "5 Reasons Why Every Married Couple Needs A Sex Jar". If you play your cards right, planning the date will be nothing more than a creative foreplay move (if you catch my drift).
5. Make a Disco Ball and Dance the Night Away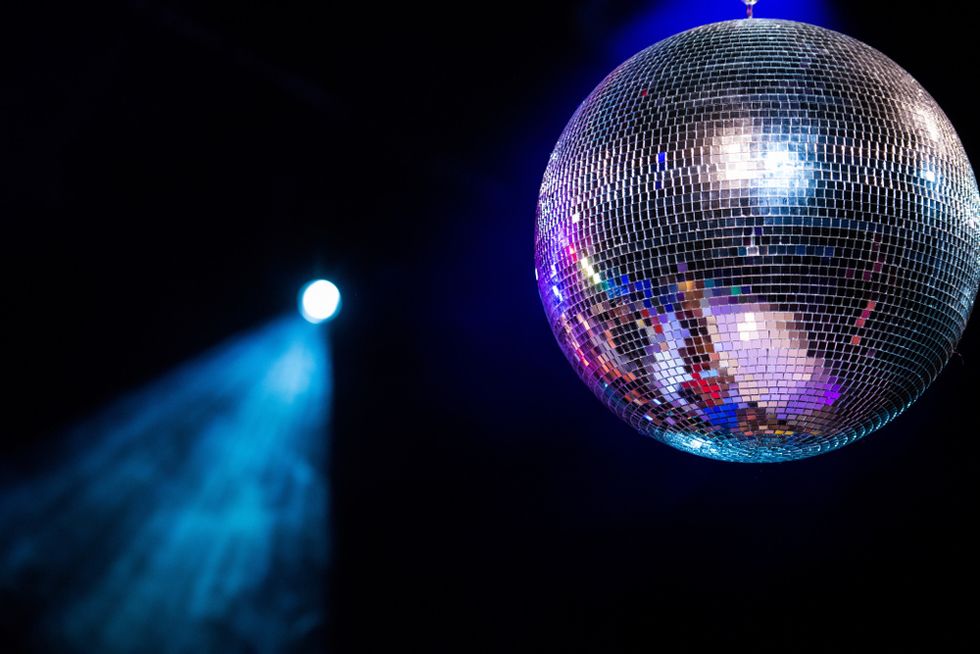 The more that you and your partner touch each other, the more oxytocin will surge throughout your systems to make you feel emotionally close and physically connected. So, why not have a night when you turn off most of the lights, put on your favorite music playlist and dance all night long? You can make it feel more like a "formal date" by actually dressing up and even hanging a homemade DIY disco ball from your ceiling. If the ball is something that you'd like to try, you can get some fairly easy step-by-step instructions here.
6. Design Your Own Drive-In (in Your Backyard)
Who said that you had to spend a mini mint on movie theater tickets? Buy some candy, pop some popcorn and watch your favorite flick from the comfort of your own backyard by setting up your own drive-in experience. For this idea, it all depends on how sophisticated you want it to be. You can purchase a projector and put together an entire set-up (click here, here, here or check out a great Dollar Tree video here for some tips on how to do that). Or, you can simply take your computer outdoors and watch a movie on that if you just want a change of scenery.
7. Enjoy a Sports Night Together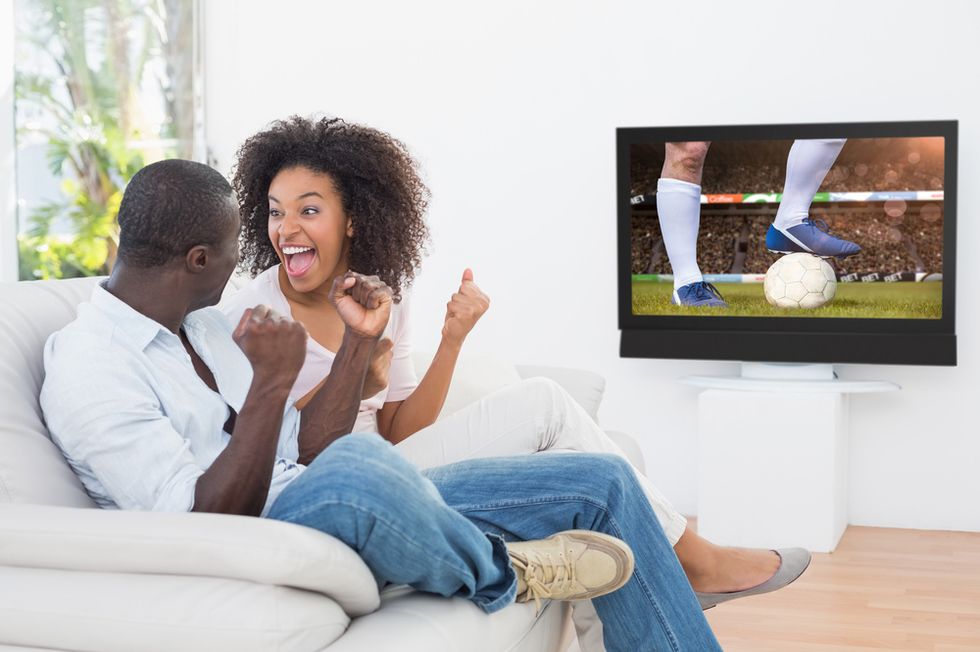 Even though there is apparently a scientific reason for why men like sports more than women do, there was a Gallup poll from a few years ago that said 51 percent of women consider themselves to be some pretty diehard sports fans too. If you are one of them, another date idea is to have a sports night at home. There's not much to this one. Simply order up some hot wings or pizza, crack open a couple of bottles of beer and watch a game or competition to your hearts' content.
8. Have a Video Games Competition
It's a huge misconception that it's only men who enjoy playing video games. In fact, one study revealed that as much as 46 percent of women consider themselves to be avid gamers. If you happen to fall into that demographic, have a video game competition with your man. If you'd prefer to take it back to old school retro stuff, articles like "The 6 Best Sites to Buy Retro Games Online" can help to point you in the right direction of finding vintage consoles and game cartridges. Just make sure that you come up with a really sexy prize for the winner in order to make this date all the more…stimulating.
9. Transform Your Bedroom into a Hotel Room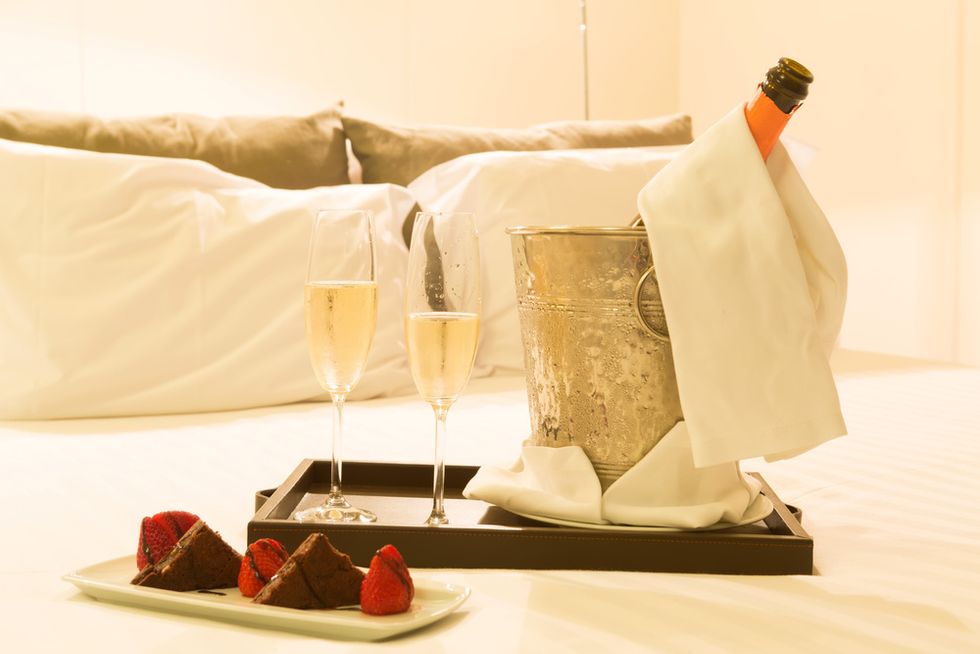 The married people in my world know that I advocate for them having as much sex as they possibly can. I try and put my money where my mouth is by sometimes putting couples up in hotel rooms or a bed and breakfast, free of charge. If money is a little tight right now and you can't afford to book a reservation, how about transforming your bedroom into a hotel room?
Purchase some new white 300-count (or more) sheets and then apply the triple-sheeting technique where you put a thin blanket in between your top sheet and your actual comforter for more of a layered and hotel-like feel. Buy a couple of terry cloth robes. Put together a toiletry basket with things like candles, massage oil and fruits in it. Get a three-way light bulb for your lamps. Invest in a blackout curtain (so that you can sleep in the following morning). Consider investing in a sound machine or hopping onto YouTube to listen to ASMR ocean waves or rain videos.
Little touches like these can easily make you feel less like you're in your same ole' bedroom and more like you're in a five-star suite.
10. Create Your Own Bed & Breakfast
Want more stories like this? Sign up for our newsletter here and check out the related reads below:
Featured image by Shutterstock