---
Puerto Rico has been at the top of my list of places to visit over the last couple of years — mainly because I wanted to support the US Territory, post-hurricane Maria. Puerto Rico has been in the news because of their protest of Gov. Ricardo Rossello, who was caught sending hundreds of pages of sexist, homophobic, inhumane messages including texts joking about the many citizens who lost their lives during Hurricane Maria. As of today, the Governor has finally resigned effective August 2nd.
When I visited Puerto Rico, I could feel the pride and resilience of the people, and their successful twelve-day protest proves it. Though more than 76% of Puerto Rican's identified as white, Puerto Rico is mixed and has African roots. In fact, one of its most popular dishes, Mofongo, is a green plantain mash that is served topped with a protein like chicken or seafood, which is derived from the West and Central African, fufu. To learn more about this history, you'll want to stop in Piñones in Loiza and take a tour with Derek. Loíza was where African slaves (of Yoruba descent) were forced to live and work by the Spanish colonizers during the slave trade.

Since Hurricane Maria, Puerto Rico has made major strides and is ready and opening their arms to tourists to experience their sunshine-filled, cultural mecca.
Here is where I stayed, ate, shopped, danced, and learned in San Juan:
Where To Stay:
Casa Los Cummins
I can thank Hotel Tonight for introducing me to this eight-bedroom B&B run by fashion designer turned home designer, Lucy Cummins. The bright decor and home-like energy of the space were two of my favorite things about staying there — not to mention the location is close to most everything you'll want to see in San Juan. Casa Los Cummins also offers a complimentary breakfast with cereal, eggs, toast, and coffee (or tea).
The Dreamcatcher
Settled in Ocean Park, the nine-room, three-suite hotel is an ideal getaway for true rest and relaxation. I stayed at the The Dreamcatcher for three days in their Sanctuary room which included private outdoor facilities decked out with an outdoor shower. The property offered daily beachside yoga and meditation classes along with breakfast and brunch serving up vegetarian, vegan, and gluten-free options to its guests. What I loved even more about the property is that the beach is in our backyard within a two-minute walk from the hotel.
The Caribe Hilton has been a San Juan staple for seventy years and has just reopened its doors after a multi-million dollar restoration initiative. With six oceanfront view pools, a private beach, and a swim-up bar — you won't have to leave the property for beach days.
Where To Eat:
Bebo's Cafe
Bebo's was recommended to me by a Puerto Rican native. If you get a chance to stop by, tell Eduardo I sent you and don't forget to have the crab Mofongo with a side of sangria.
Birria & Empanadas
Located in Old San Juan, the small bar serves cocktails with empanadas you won't want to pass up. I suggest the chorizo or chicken.
Casita Miramar
Casita Miramar was one of my best dining experiences in San Juan. The service was excellent. My whole snapper and seasonal rose apple mojito were my perfect last meal before departing the island.
Double Cake
Double Cake was another option recommended to me by a local. Double Cake is one of many woman-owned businesses in the walkable Calle Loiza in Santurce. Coffee- and sweets- lovers alike will get their fix. The bakery is known for its assortment of cupcakes, but I went for the pecan layered cake. I think it was the southern gal in me that made me go for that choice.
El Nie Bar
Okay, this isn't quite a restaurant as it is more like a dive bar, but the spicy salmon empanadas were so tasty I would take a special trip back to the island to have a bite of one.
Hecho En Casa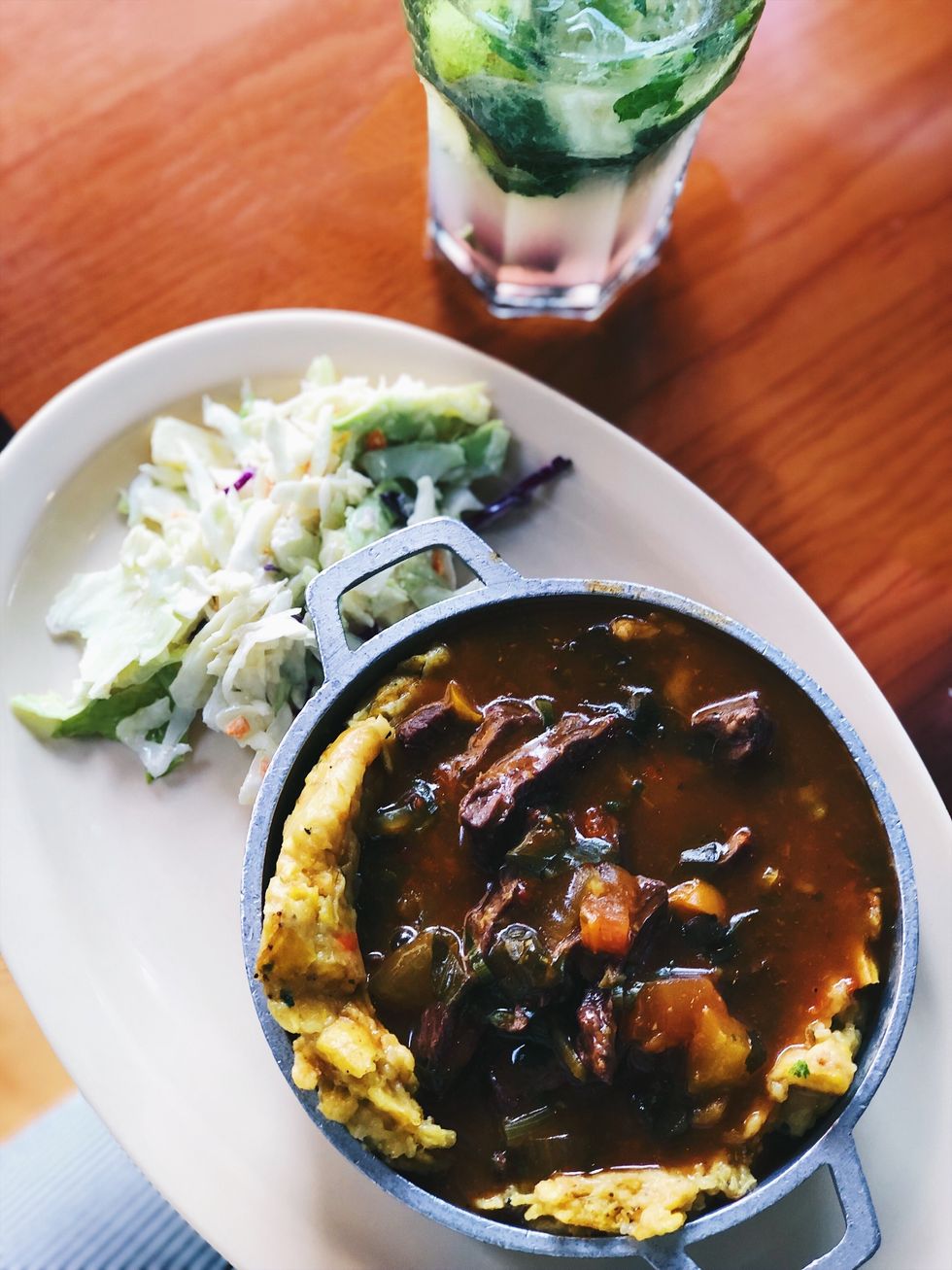 Steak mofongo with a side of cabbage and a mojito
Sheriden Chanel/xoNecole
Located in Old San Juan, this restaurant with its open windows and inviting staff touts offering a traditional approach to Puerto Rican cuisine. The island's staple mofongo is served here but in an open-faced take that is reminiscent of a pot pie and oh-so-delicious. They also have my favorite mojito of all time. And you can't leave without a shot of Gran Anejo rum, which if you didn't know is THE Puerto Rican rum (fun fact: Bacardi rum is actually Cuban despite having a distillery there). It hits different when you're actually in San Juan, trust.
What To Do: 
El Yunque National Forest
You can't go to Puerto Rico without visiting one of its most regarded natural treasures, the El Yunque National Forest. While Puerto Rico is known for its beautiful beaches and water activities, El Yunque deserves just as much love. The tropical rainforest expands to about 29,000 acres and its vast beauty can be uncovered either alone or one of many excursions the island has to offer.
La Placita
This famed nightlife spot has been around for over 100 years and is the Thursday night hangout for people to let their inhibitions go and dance the night away. Imagine a block party times one thousand. La Placita made my trip to Puerto Rico one I'll never forget. I danced to music I knew from my hometown (The Migos and Lil Nas X were on blast) and shook my hips to Reggaeton classics and new additions from Puerto Rico's own Bad Bunny. Even though there were thousands of people bouncing from club to club (I don't like crowds), I never felt unsafe.
Esquina El Watusi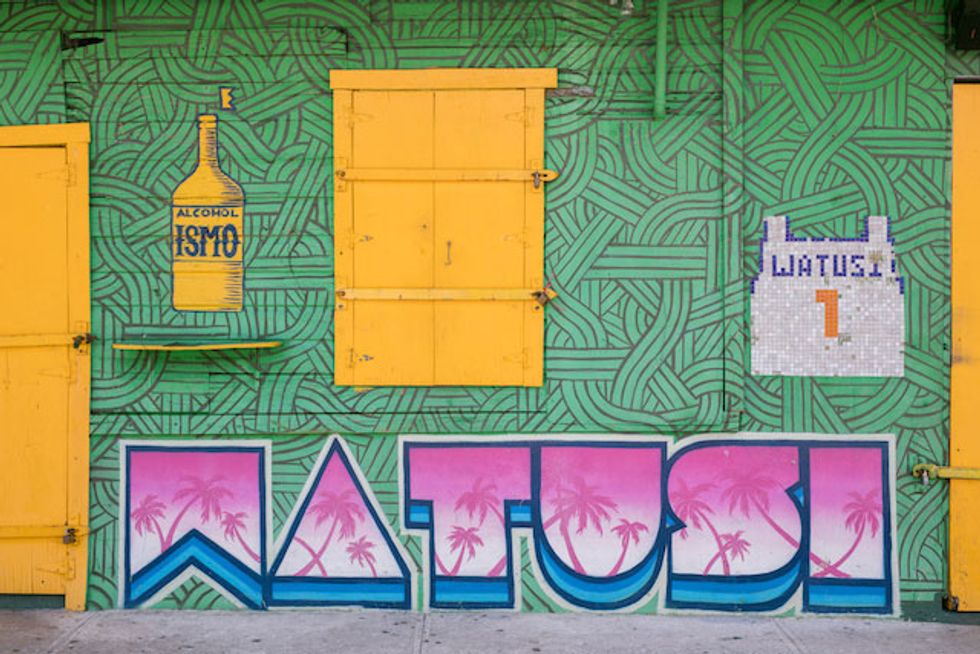 El Watusi
This is a local hangout where people spill out into the street with their Medalla Light, talk with their friends, and salsa dance the night away with live music as their soundtrack.
La Factoria
La Factoria is the Saturday night hotspot, and since my flight was out at 6 pm that day, I missed experiencing it firsthand. The nightlife spot has nearly a five-star rating on Yelp and lives up to what co-founder Roberto Berdecia hoped for, "We intended to create a space that will help elevate the Puerto Rican cocktail industry and take it to another level so that the country would gain worldwide recognition." If you're a whiskey drinker, the spiced old fashion seems to be a universal crowd-pleaser.
Get Photos With A Tour On The Side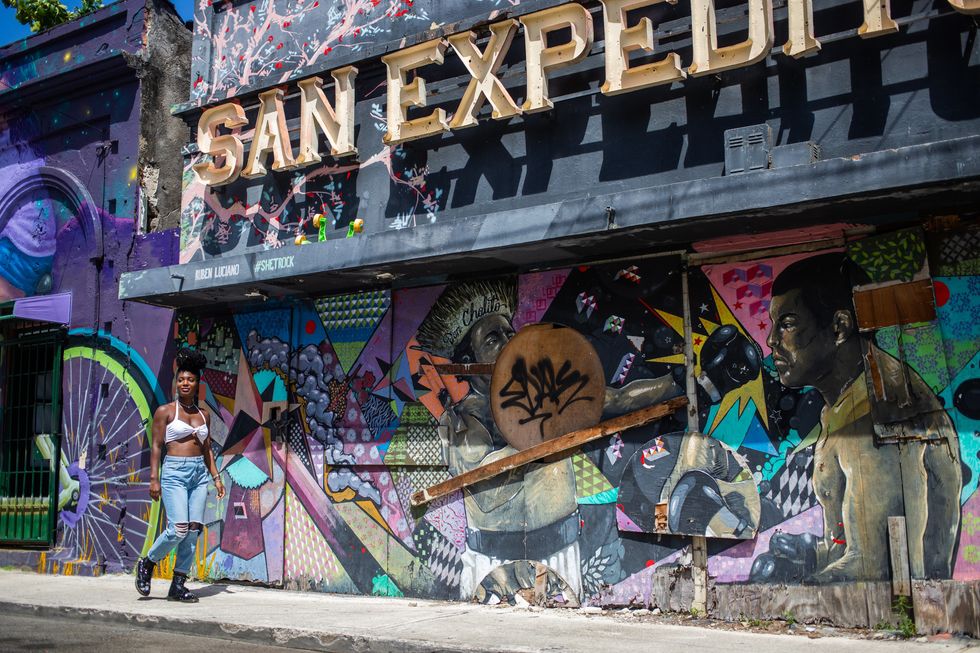 Raul Lopez Mestres
When I reached out to Raul about his Street Art Photo + Walk, it was a long shot because his Airbnb Experience is usually sold out, but I was lucky, and he made room for me. We walked the streets of Santurce, took photos, and talked about what it means to be creative with loads of student loan debt (relatable, right?).
Johnny & June
To be honest, I hadn't given much thought to shopping while I was in Puerto Rico, but I'm glad I did. I started Googling and stumbled across a sister-run vintage shop in the Santurce district. They had vintage Moschino pieces and more reasonable options like the $38 pair of leather, snakeskin print pants I couldn't leave behind.
When I travel solo to a new city, I usually skip the nightlife because I like to play it safe and do what my mom taught me, "You better be in this house when those street lights come on." But, thanks to Griselle and her tour, I was able to get an authentic experience of the nightlife in San Juan. Be sure to pack comfy shoes because there is a lot of walking, but the bars you go to and street art you see are well worth it.
Moni & Coli
As I was walking down Calle Loiza, I saw a cute little boutique and stopped in. This shop was also a sister-run business owned by Mónica and Nichole Oyola. What made this modern, well-decorated boutique special were the local vendors they carry in their shop like jewelry designer, Michelle Llavona.
Want more stories like this? Sign up for our newsletter here and check out the related reads below:
Everything To See, Eat & Do In Havana
A Budget-Friendly Guide To International Travel
8 Beaches To Hit Up As Your Next Summer Vacation
What Happened On My Day Trip To Santa Barbara
Featured image by Sheriden Chanel/Instagram