Many women aren't lucky enough to say they spent a half-hour with their childhood celebrity crush to dish about life, love, and the pursuit of happiness, but I'm proud to say that I am. The first time I saw Drumline, I knew it was destiny. My nine-year-old heart was so captured by the film's lead character, that I bought the DVD with my own money and begged for the soundtrack for my 10th birthday.
Nick Cannon was the first man to make me "feel things" in a womanly way. I had other crushes, but Bow Wow's Harlem Shake had nothing on the way Nick hit those drums. What I didn't know about Nick during my hormonally charged adolescent years, was that his road to success wasn't a walk in the park.
Raised by a teenage mother, Nick discovered his affinity for entertainment at an early age. He was able to use his wit and tenacity to launch his stand-up comedy career, which would eventually help him escape the gang-ridden streets of his hometown in California.
Now, the 37-year-old has become the youngest executive at Teen Nick, is the creator of the longest running hip hop show in history, just opened a new restaurant in Miami, and somehow still finds time to be a great father and a student at Howard University. Nick's hit show, Wild N' Out, recently kicked off Season 12 of the show with a multi-city tour and the young mogul says this is the only the beginning.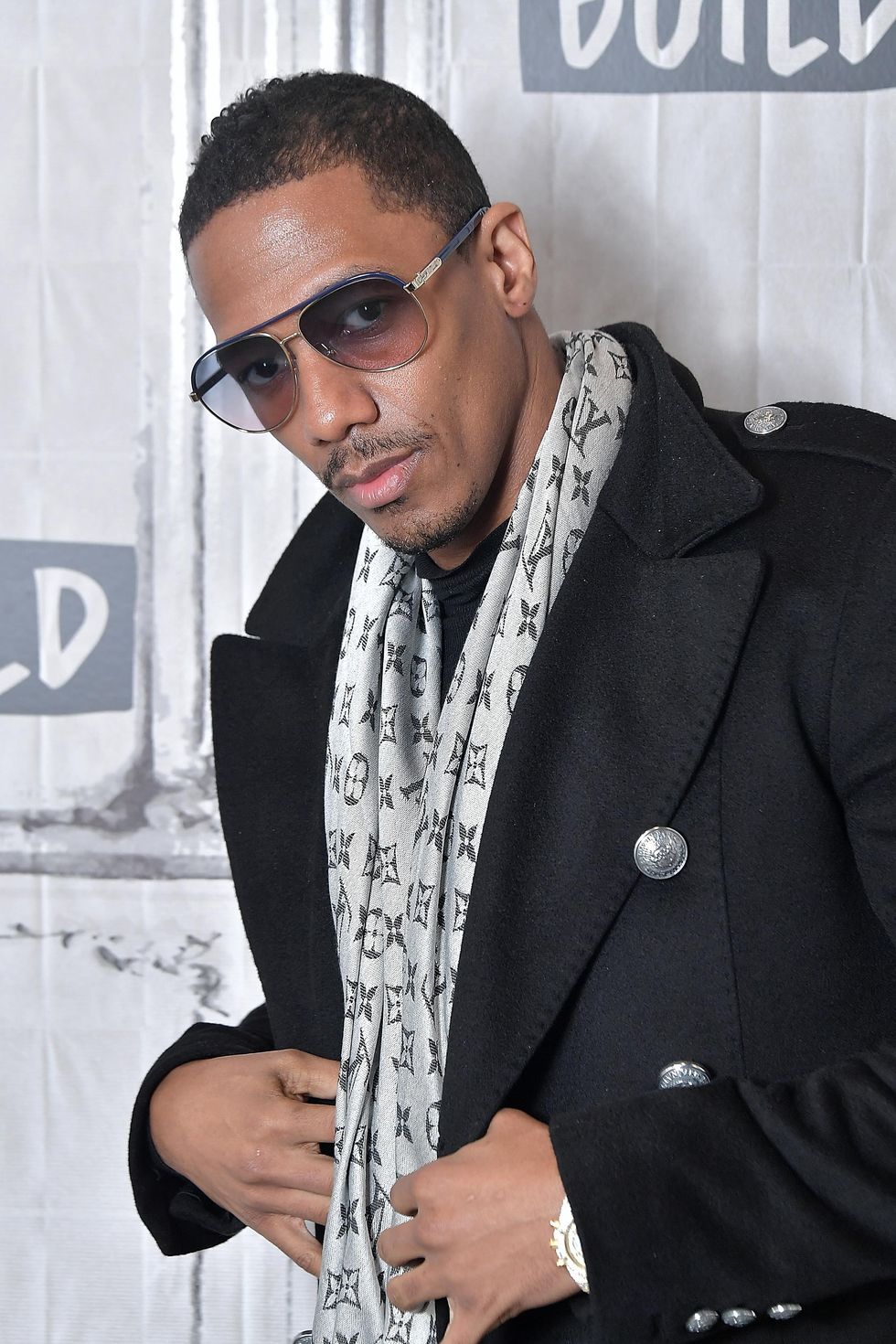 Michael Loccisano/Getty Images
Despite being diagnosed with lupus in 2012 and juggling a chaotic personal and professional life, Nick is on a mission to impact the world in more ways than one.

xoNecole got a chance to sit down with the multi-hyphenate to discuss everything from fatherhood, to how you can score a date with Nick Cannon.
xoNecole: With such a chaotic schedule, is it important for you to make time for self-care?
Nick Cannon: As someone who's dealt with health issues in a very severe manner, I know the importance of taking care of yourself, putting yourself first, and understanding self-preservation. If you ain't the best you, everything else just falls to the wayside.
xoNecole: What does self-care look like for you?
Nick: A lot of meditation. Everything from yoga to martial arts to gym activity daily. Paying close attention to what I put into my body, specifically water. I try and get a gallon a day, aiming for two gallons every day, of water, and that's kind of the foundation. Proper hydration and water intake, and then making sure I'm in the best shape I can be in.
xoNecole: How do you make time to be a dad?
Nick: I think you should never have to "make time" for fatherhood. Fatherhood is the purpose of life. My goal in life is to figure out how I can be the best father I can possibly be. From there, you take those values and apply them to the rest of your lifestyle.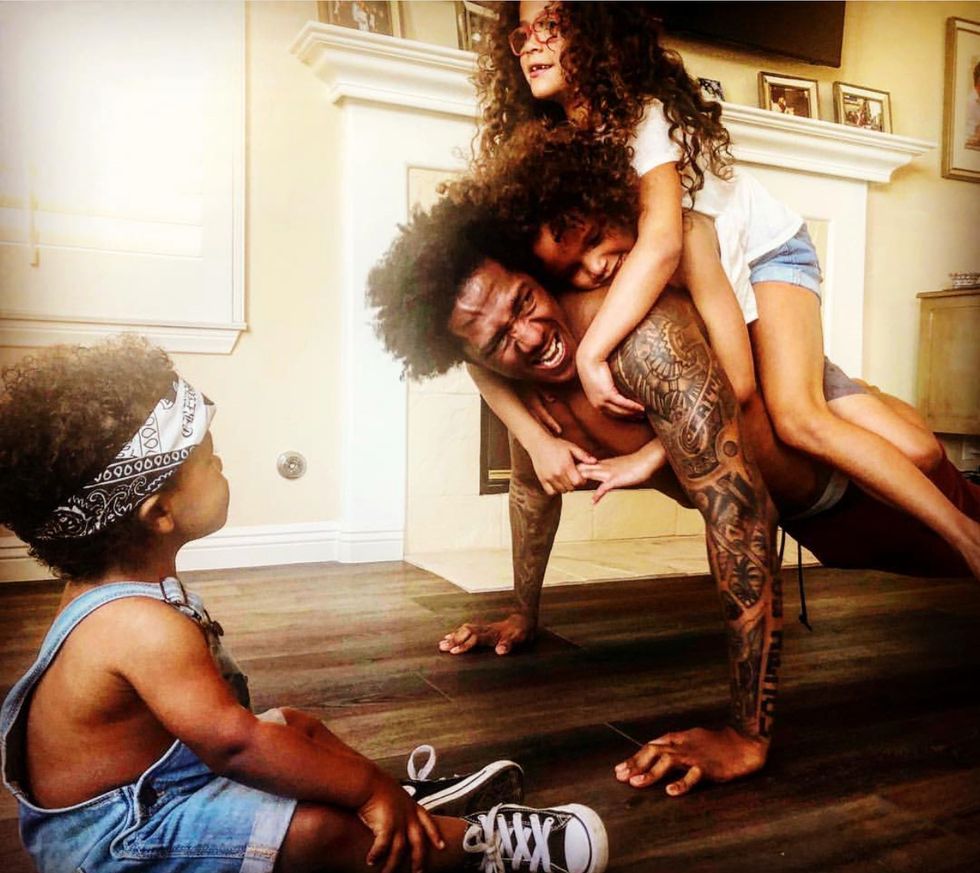 Nick Cannon/Instagram
xoNecole: How has your life changed since becoming a father of three?
Nick: It becomes your number one focus, it's applied into every decision that you make. Whether it's personal, business, you move as a true man. Whereas before I operated in a very selfish way, and thought more like a boy or someone who was really just looking out for themselves, but when you become a father you gotta make decisions as a leader.
xoNecole: What advice do you have for single fathers out there?
Nick: I hate giving advice, I'm not a believer in taking advice from others because everyone's path is and journey is different. If I could say what I would do, I definitely rely on a lot of prayer and meditation.
xoNecole: It seems like you've pretty much mastered co-parenting.
Nick: I don't like the term "co-parent," I don't know where that came from. It's almost like a step down, or having to compromise what your duties are. When really it's just parenting. I think everybody parents in a different way. I attempt to just be the best father or the best parent I can be, I'm not trying to be the best co-parent.
"I don't like the term 'co-parent'... It's almost like a step down, or having to compromise what your duties are."
When you're on the same page with your family, because you never stop being family, you put your children first and it's all based and rooted in unconditional love. It usually, for me, it goes extremely well when you take yourself out of it and focus of the kids.
xoNecole: Has your fame had an affect on your dating life?
Nick: Fame is fake, temporary. I don't think that's part of my life. Those two things don't really exist to me: fame or a dating life. I don't really think I have a dating life. Obviously, I entertain people and have friends. But I'm not thinking of it like, "Who am I going to date now?" I don't even know what that means in 2018. With my busy schedule, I make time when need be.
Being a father is my number one priority and after that it's work, so if I find time to spend with somebody else, that's usually a third tier approach.
xoNecole: So, can I put it on the record that Nick Cannon is a single man?
Nick: Absolutely, you can say that for life. Put that on my tombstone.
xoNecole: For life? So you don't see another marriage happening in your future?
Nick: Nah, never that.
xoNecole: Why?
Nick: I feel like that's something that I've done before, I've experienced it, it's a beautiful thing. But it's not really something I'm looking to do again. I lived it, I enjoyed it. But my views have changed quite a bit since then. I definitely will fall [in love] again, but I don't need some paperwork from the government to solidify my love.
"I definitely will fall in love again, but I don't need some paperwork from the government to solidify my love."
I understand why people do it. Weddings are beautiful, amazing, but I've experienced that. And going forward, my ideas have evolved just a little bit than just a traditional wedding and marriage. Most people probably wouldn't agree with how I think. As a kid, I was definitely fascinated with the idea of being married and having a fantasy wedding, I married my dream girl. I definitely got what I wanted as a youngin, but now that I'm older, I can see past that. I want to focus on being the best father I can be.
xoNecole: What are the traits you look for a woman?
Nick: Honesty, sincerity, nurturing qualities. Obviously wisdom, I think women are the wisest creatures. Honesty is my first thing, and that's because I have horrible trust issues. I think in any friendship, any relationship, honesty is what a solid foundation is built on.
xoNecole: How would a woman score a date with Nick Cannon?
Nick: They gotta ask me. If someone wants my attention, they gotta show me they want it. I'll make it simple: I like who likes me. I'm not really gonna put myself out on a limb because I'm too insecure for that.
I'm an energy dude. As funny as it sounds, energy is drawn towards each other. I'm always involved with the people I'm supposed to be involved with because their energy attracts me and my energy attracts them, so we kind of end up meeting halfway when it's right, you never have to force it. If you have to force it, it's not supposed to be. I rather just allow the universe to bring it together and have a serendipitous experience.
Click here for more information on Wild N' Out Tour dates and how to score a ticket. And be sure to keep up with Nick on Instagram.
Featured image by Michael Loccisano/Getty Images