---
Thomas "Nephew Tommy" Miles is an actor, comedian, and media personality who has become a comforting face in our community. That's why I was super excited when I learned he had become the host of OWN's Ready to Love, a dating show for mature singles looking for authentic and long-term relationships. Since its start in 2018, Ready to Lovehas given viewers a personal and authentic look into the lives of everyday people on their journey to find a genuine connection.
This season, Ready to Love is leaving its home in Atlanta to travel to Nephew Tommy's hometown of Houston. And he is excited for viewers to become more familiar with the city he loves, "Houston, it's the fourth largest city [in America]. Though to people here, it's more like a big town. Everybody kind of knows everybody. But regardless of where you are, dating is a challenge. If you've been preoccupied, it's the same thing. You still haven't taken time to focus, and say I'm gonna find what I want."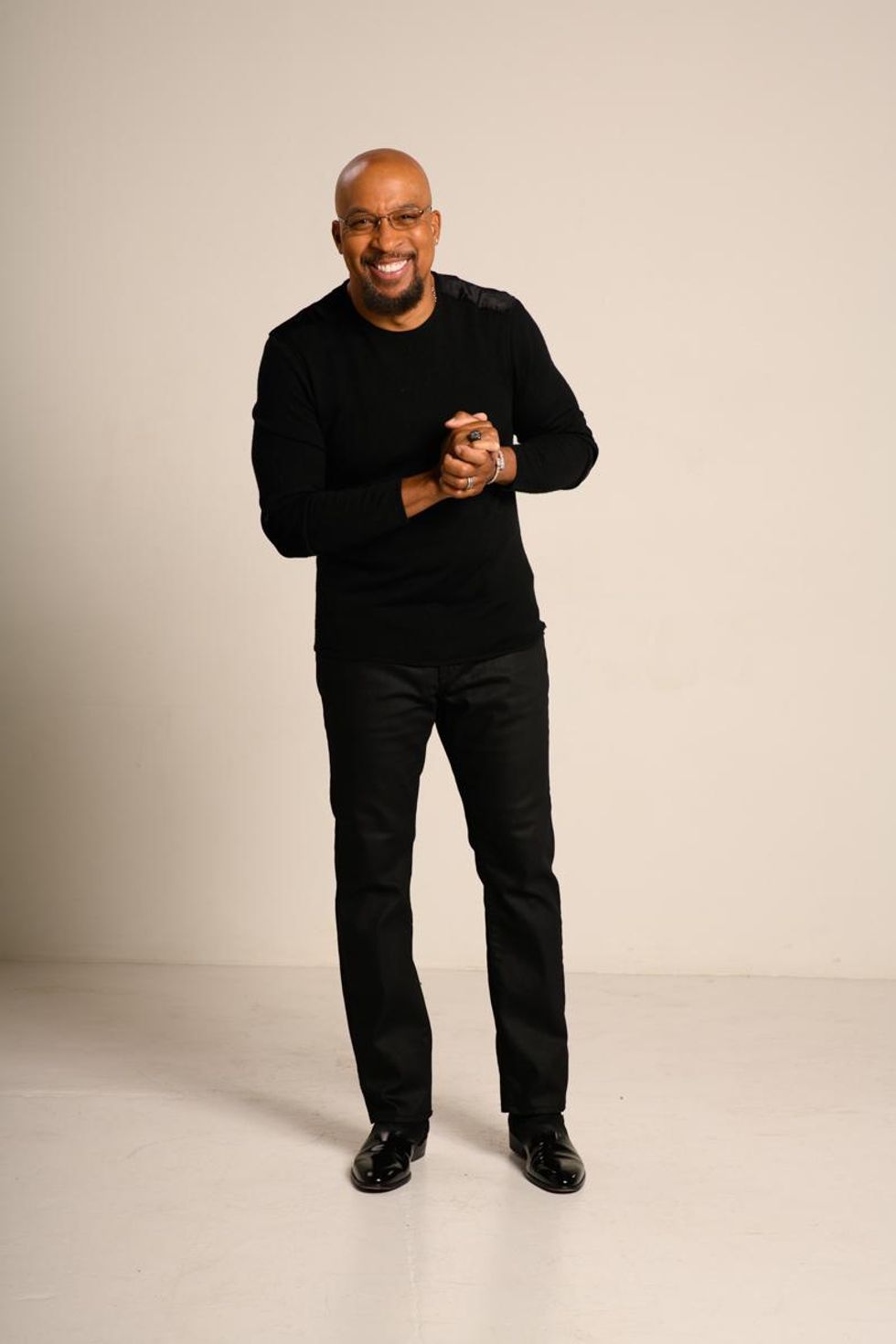 Courtesy of Nephew Tommy
In our conversation, we chatted about what that looks like this season, love and relationships, and marriage. And just as expected, the chat was full of laughs, truth, and a bit of tea. Check it out below.

xoNecole: For those who aren't familiar with the show, tell me more about Ready to Love?
Nephew Tommy:Ready to Love is a dating show, but it's not a typical dating show. These people are in their 30's, 40's, and even 50's, and they're looking for love. These are people that have been in marriages, gotten divorced, and are career-driven, and haven't taken time to find a relationship. We start with 20 singles, 10 women, and 10 men, and it's a process of elimination. Each week, the power shifts back and forth: women eliminate men and men eliminate women until we get down to six people, three couples that hopefully find love. There's no $1,000 reward and there's no trip around the world. The prize is love and you can't put a price on that.
You know, one of the things I like about the show is that the singles are 30 and older; it adds a unique element. How do you think that differs from other television shows?
I think it's different because people are in a different space in their lives. We know what the twenties are like, we all had a lot of fun. But once a person has gotten grown and has responsibilities, and that's the one element they're looking for that they don't have, they want it. And I think the difference in 30-plus in comparison to someone younger, is that the nonsense is out the window and people that want it are chasing it. There are some women on this show that are no-nonsense, and they let the guys know.
Interesting, and how do you think this season varies from other ones. What new and exciting things can we expect?
This one is a bit different to me because it's some boss ladies on there. I mean when I say boss ladies, these ladies are making money. They are lawyers, entrepreneurs and they own their businesses. This takes the stakes up a lot higher, and it makes it where these men have to step up to the plate. And you know, they can't come in insecure because the woman is making more money. It's like, bring your A-game and she might just help you step your game up so you can be a boss man.
Are there any special or funny behind-the-scenes moments from past seasons that you can share with us?
It's been some crazy stuff behind-the-scenes and in front of the scenes. I think the one that's the most bananas is from last season [at] the resort. It was about a week or two before the reunion, and I found out one of my contestants was pregnant the whole time the show was going on. I'm like, 'Are you serious?' And then when I got to the reunion, I found out two of the guys also had babies on the way. The woman could have had the baby during the reunion, she was expecting right then! So yeah, there's a lot behind-the-scenes that sometimes I don't even know.
Well, a lot of times in general people think they are ready to love but have not let go of past situations or are not ready for commitment. From your perspective, when do you think someone truly knows they're in love.
I think you just know, it's a feeling, it's a vibe. There are a few people on our show that I saw and knew exactly when it hit them, and when they connected. But you know when it's there. You don't have to go on one million dates (laughs). You know when you're ready. You get that feeling!
Speaking of feelings, when did you know your wife was the one?
College, I said, "OK, that's the one." But even then, I was in my twenties when we met so I had to go around the world and act a fool before I straightened out and got it together.
Now you know we love a good "How We Met" story at xoNecole, so you gotta take me back, how did you two connect?
It was at Texas A&M in 1986 (smiles). Probably the first couple weeks of school in the common areas. It's where people are shooting pool and there are TVs and lounges, and that's where we talked, connected, and it all happened.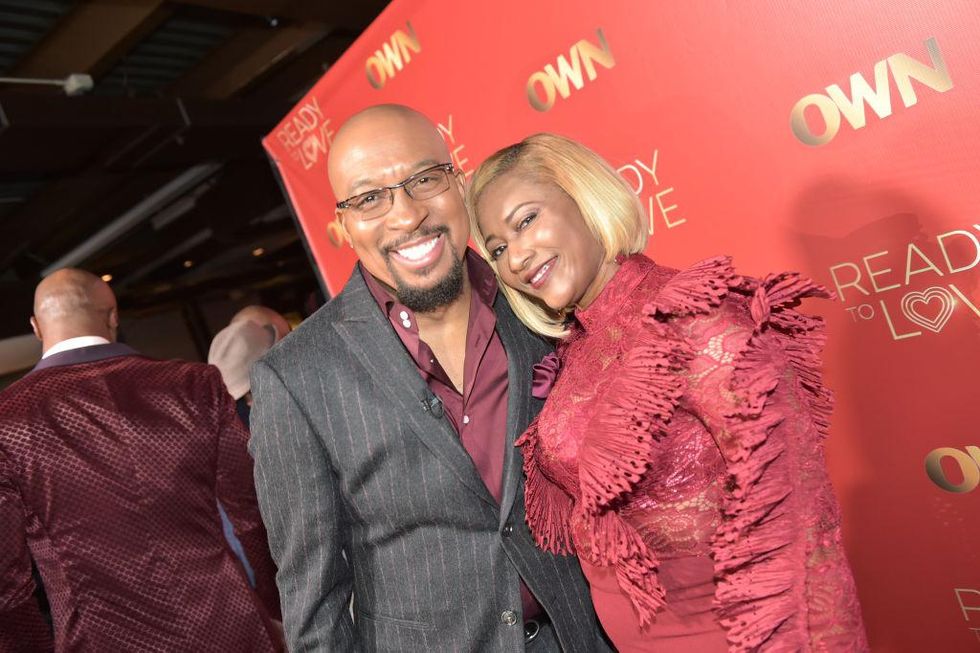 Nephew Tommy pictured with his wife Jacqueline Mills.Moses Robinson/Getty Images
I noticed your wife was in the casting episode of Ready to Love and it was obvious that you guys have a fun relationship. What would you say are the most important traits that fuel your marriage?

Just chemistry and longevity. Over a course of time, it just connects. There are some good and bad days but through it all, you just tough it out and ride it out. It's all about riding it out.
And how important is the idea of partnership to you, is it prevalent in your marriage?
I think it is really important, especially when it comes to what you're good at. I like being the go-getter, the breadwinner, and making it happen for everybody. And trust me, there's a lot of people under that umbrella. But as far as paying this and that bill, I don't want to do that, I'm not good at it. I wanna be this creative guy and go work, and it's nice when you have someone good at different things, and it just all comes together.
Well, I have to ask about the other side as well. What struggles have you guys encountered and how did you combat them?
There are always struggles. In the beginning, I didn't have any money. I mean, I didn't have two nickels to rub together (laughs). But for her to see that I had a dream and just try to follow me with it and stand behind me, was a lot for me. She rode it out and now the tables turned and I'm the breadwinner and everybody gets to chill out at home and doesn't have to work and do anything, everyone's happy.
You guys clearly have a rich history. Still, has hosting Ready to Love taught you anything new about love and relationships?
Communication is the key. I tell the people on the show all the time, there's a difference between hearing and listening. A lot of people hear you but there's very few listening. I can sit on the couch and hear all day long, but am I truly listening? That's the key in a lot of relationships. A lot of people want to be heard and spit back what they think but sometimes it doesn't work because they're not listening.
Finally, for old and new viewers, why should we tune in this season?
People should tune in because this is black love at its best. It's real, it is who we are. I think we wear and carry it well. You can watch it with your girlfriends, brothers can tune in, and a lot of couples watch it together too. You can sit back and put your bets together, and start guessing who is gonna connect and make it to the end. It just becomes a fun thing to do and it's the best thing on Friday nights, and I'm not just saying that because I'm on it. No, I am saying that because I'm on it (laughs).
Catch the new season of Ready to Love, Friday nights at 9/8c on the OWN Network.
Featured image courtesy of Nephew Tommy