Make yourself a priority. At the end of the day, you are your longest commitment.—Unknown
---
The quote you just read? Humor me and focus on the word "commitment" more than "priority" for just a sec, please. So, we all know folks who are scared of commitment, right? The term that is usually used for them is commitment-phobe. Some of the signs that indicate if someone is one include—they don't like to make long-term plans; most of their relationships are casual; they flake on personal commitments; they're attracted to individuals who refuse to fully commit to them; their expectations are unrealistic in both personal as well as professional relationships; and they're pretty poor communicators.
OK, with this list in tow, rather than thinking about all of the other people who may immediately come to mind, point the finger towards yourself. Is this how you are when it comes to your interactions with others? More importantly, is this how you are when it comes to how you interact with yourself?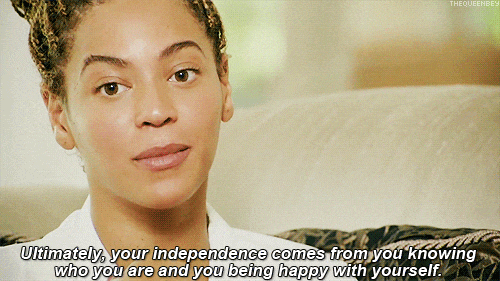 media.giphy.com
When's the last time you planned to go on a summer vacation and started saving up for it the previous fall? How many of your relationships consist of people who are as committed to you as you are committed to them? One sign of a poor communicator is someone who doesn't listen well. Are you truly in tune with your ownmind, body, and spirit to the point that when they need you to give them some extra TLC, you stop whatever is going on and do it?

I don't know about you, but I'll definitely raise my hand in this class and confess that, for years, I was so focused on trying to change the ways of the commitment-phobes in my life that I didn't realize I was one myself. How? I didn't access the reality of what that quote said—I didn't see myself as being my longest commitment and therefore, honor myself as such.
Oh, but bay-bay. I have done a complete 180 on that for the past few years now. Here's how I stopped being the greatest self-commitment-phobe I knew and made myself my own top priority. I think if you try some of these tips, you can master doing the same thing for yourself as well.
Featured image by Getty Images.
Related Articles:
5 Reasons You Should Unapologetically Pamper Yourself - Read More
5 Ways I Remind Myself I'm Beautiful Every Day – Read More
Self-Care Goals: How To Make Sure You're Doing It Right – Read More