---
Clean beauty products have been trending for a minute. Every time I walk into Target or Ulta, I spend hours in all the beauty aisles. Makeup. Skin. Hair. All of it. If the packaging screams "try me", I want to try it. But I never really cared to try any clean beauty brands until recently. I love clean beauty products for skincare, but I have yet to try any for haircare. It's no secret that when it comes to curly hair, finding the right products is a hit or a miss. How many times have you bought a curl product that doesn't agree with your curl type and end up having to return the item? I have been guilty of this so many times. Let me just say, knowing your curl type is the number one curl rule. If you don't know your curl type, take a curl type quiz.

I also love that we have so much variety when it comes to textured hair, but sometimes it can be overwhelming. And for me, I'm always skeptical of trying new shit. I like to stick to what works until the brand decides to switch up the ingredients. I recently came across Function of Beauty's haircare line at Target. For those of you that don't know, Function of Beauty is an international clean beauty brand offered in 45 countries and uses over 60 natural ingredients to create customized formulas for hair, skin, and body goals. Yes y'all, Function of Beauty offers customized skin and body products too. But we will save that review for another day.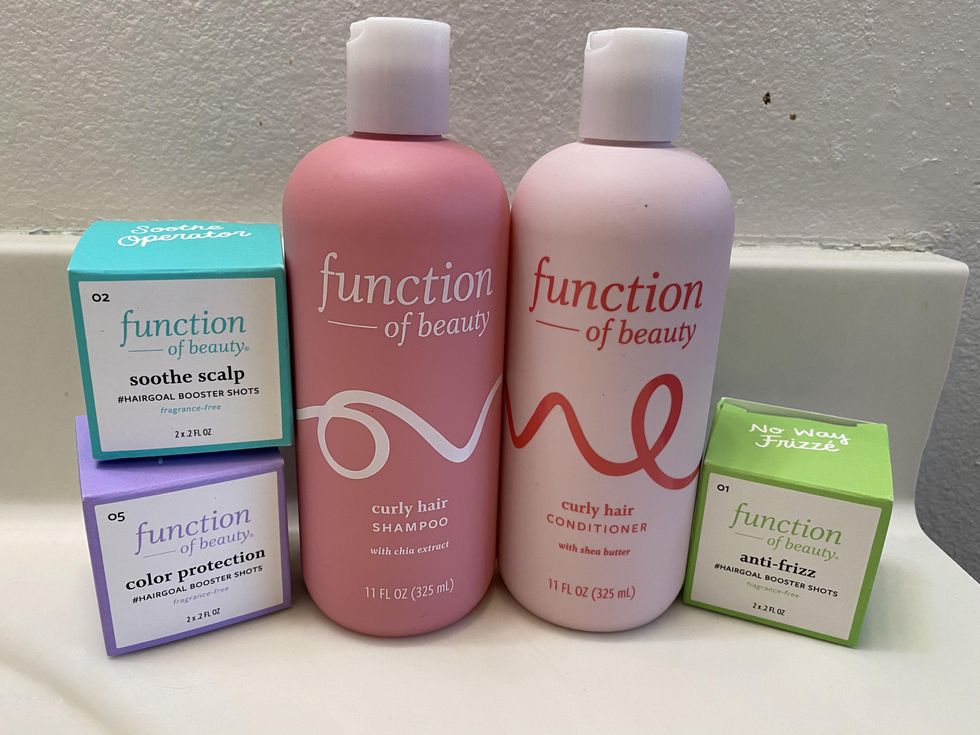 Writer Camille Ali/xoNecole
As I stopped in front of Target's Function of Beauty display, the pink packaging that read "curly" called to me. Not only is the product affordable, but you can also customize each shampoo and conditioner based on your hair goals and needs. Sis was sold. I picked up a bottle of the shampoo and conditioner along with three booster shots. You can choose from 10 different booster shots, but I chose color protection, anti-frizz, and soothe the scalp. The shampoo and conditioner were $10 each. Each booster shot was $2.99. I left Target spending a total of $50 bucks. But I mean, who doesn't leave Target spending more than they had planned to? Guilty.
Featured image by Function of Beauty