---
As far as HBO's Insecure goes, I've come to accept that we only get eight, 30-minute episodes of fun-f*ckery. And although it still doesn't feel like quite enough time to catch up on the lives of our four favorites girlfriends (Issa, Kelly, Tiffany, and Molly), they show us a damn good time with their lit antics each episode.
We've witnessed things get litty everywhere from Kiss 'n' Grind to the Party Lyft that Issa hosted on the clock of her part-time job and, lowkey, we want in (I'm just saying). True to form, the girls can't have a good night without it ending in food. If it's not that, then there's lunch dates, brunch dates, and date-dates that take us into the foodie world of Los Angeles.
For me personally, food is the culture. There's hardly anything I prefer more than a good food spot, which brings us here: to the dope list of Issa Dee-approved LA food joints that Issa Rae oh-so-casually name-drops from time to time.
Some places are more eventful than others, but as someone who likes to pretend I'm a part of Issa, Kelli, Molly, and Tiffany's squad, they're all relevant. If you aren't fortunate enough to live in LA, like myself, these are the places you'll want to hit up on your way to The Dunes for your impromptu photoshoot.
1. Worldwide Tacos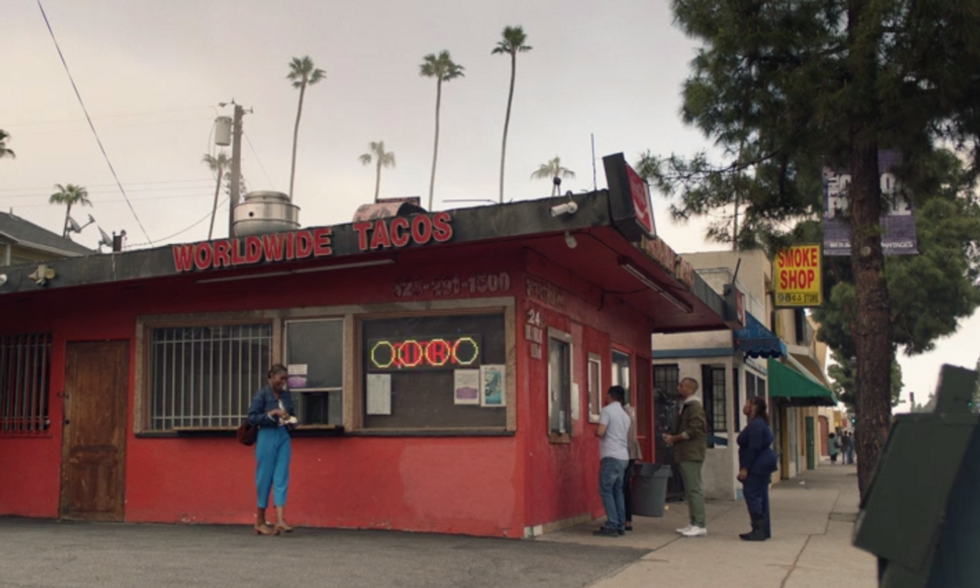 HBO's Insecure
As we see Issa working towards living her better life (not yet the best one) in the opening episodes of season three, she's finally moving out of her "hoetation", or rebound phase, and looking for things that are generally more fulfilling, including but not limited to the men she entertains.
So you can imagine our excitement when Lyft Bae, Nathan, interrupted Issa in the midst of her BBQ Salmon Tacos from Worldwide. Yeah, we looked past the fact that he startled Issa into dropping her meal on the ground and we did it before he even offered to buy a new one. Although we were supposed to be watching Issa learn with the mantra "know better, do better" -- what actually happened is, a world full of women realized that we can't help but love a project! We saw potential signs of f*ckboy written all over Nathan and we went all in anyways, and then proceeded to make excuses for him. And to think, it all started over tacos!
Worldwide is a walk-up, window type of move so no need to get fancy, but save room for the top-notch choices.
Did you know that xoNecole has a new podcast? Join founder Necole Kane, and co-hosts Sheriden Chanel and Amer Woods, for conversations over cocktails each and every week by subscribing to xoNecole Happy Hour podcast on Apple Podcasts and Spotify.
Want more stories like this? Sign up for our newsletter here and check out the related reads below:
Jay Ellis Reveals The Truth Behind Lawrence's Return To 'Insecure'

Black Book LA: The Black Millennial's Guide To Los Angeles
xoNecole Goes Behind The Scenes On The Set Of 'Insecure'

'Insecure' Actor Sarunas J. Jackson Talks Life After Dro And What He Looks for In Love

Featured image via Insecure/HBO