---
What inspired me to write this piece is very simple. Most of us spend at least 6-8 hours in our bedroom, so I personally think that it should be the most invested room, décor-wise, in the entire house. Like me? I've worked from home since 2000 and I spend a ton of time in my living room. It's pretty warm and cozy, no doubt. However, the time I've slowly put into making my bedroom the way it is now? Whether it's a catnap or retiring for the evening, I'm literally thrilled whenever it's time to go into that space. And that's because of how I've decorated it.
Spring is the time of year when a lot of us do some cleaning and adjusting to our surroundings. If your bedroom is "cool" yet you know, deep down, that it really could be much better, here are some inexpensive ways (like literally under $50 a pop except for the wake-up light which is around $150) to make your bedroom the one room in the house that evokes so much calm, peace and beauty that you almost, quite literally, can't stand it.
1. Buy Yourself a Wake-Up Light
Unlike a lot of people I know, I actually like it when daylight savings time causes us to "fall back". That's because I enjoy the fall and winter seasons, including the fact that it stays darker longer. Which is why I have blackout curtains hanging up in my bedroom; to me, the darker it is when I retire for the evening (or try and catch a nap), the better. Yet regardless of the time of year that you prefer, something that you might want to invest in is a wake-up light. The long short of it is, it mimics sunrise in order to ease you into light instead of "jar" you with it. Some come with alarm clocks and lighting settings that makes it easier on your eyes to read before turning in. If this is something you'd like to add to your bedroom, there is a list of some really great ones right here.
2. Install Some Color-Changing Light Bulbs
Speaking of lighting, overhead lighting is pretty much the worst when it comes to your bedroom. In the daytime, go with natural light (if you don't want anyone looking into your bedroom from the outside in, you can always get your bedroom windows professionally tinted, so that you can see out and others can't see inside). At night, how about some LED (LED ones last longer and are better for the environment) color-changing light bulbs? Some also mimic the sun by being warmer in the morning and evening and cooler in the middle of the day. However, a more dramatic spin is to get the kind of bulbs that literally change to a variety of colors. Some are even remote- or voice-activated (I know, right?). You can read up on some of the best of the best by checking out The Spruce's "The 7 Best Color-Changing LED Bulbs of 2021".
3. Get Bedding That's in Calming Colors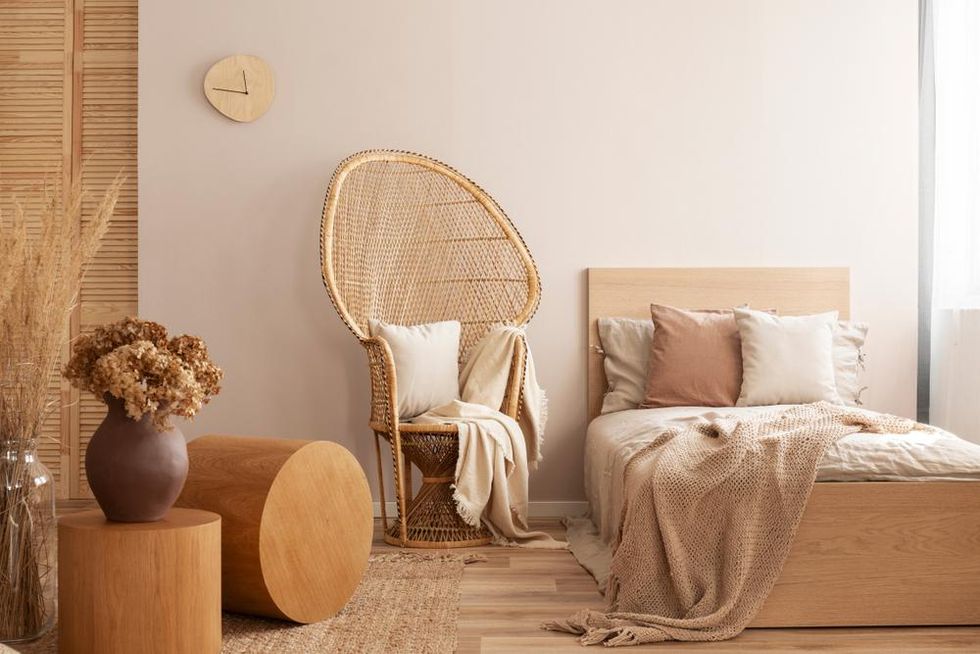 Color psychology is very much so a real thing. So when it comes to creating a warmer and cozier space in your bedroom, adding colors that are proven to calm you is your best bet.
Lavender symbolizes serenity, grace and silence. Blue-grey is all about sophistication and elegance. Dusty pink evokes femininity and beauty. Sage green is rooted in wisdom, peace and growth. Beige promotes internal peace of mind, simplicity and warmth. Taupe represents modesty, maturity and dignity. Sea blue is all about calm, inspiration and health. And pale orange represents creativity, happiness and encouragement.
These are just some of the colors that can help to calm your senses, even if you use them as merely accent colors to your overall bedroom décor.
4. Fill a Diffuser with Lavender, Bergamot or Vetiver
It's one thing to have a room that is visually beautiful. You're taking it up a few notches to have one that smells absolutely amazing. As far as your bedroom goes, scented soy candles are one option. Only, if you're someone who doesn't open up your windows a lot (for continual air circulation's sake) or you forget to blow your candles out, well, you can see how problematic that could become.
The alternative? An essential oil diffuser. Not only is it safer but the overall benefits are numerous. Essential oil diffusers are able to help to relieve anxiety, boost your immunity, calm your senses, eliminate odors and improve the quality if your sleep—all things that you definitely want to transpire in your bedroom, right? As far as some of the best scents to use, lavender reduces your blood pressure and heart rate and helps you to sleep better, bergamot eases the feelings that are associated with anxiety and stress and, vetiver calms nervousness, helps with anxiety and is even an oil that has a reputation of helping with healing that is associated with emotional trauma.
5. Put a Faux Tree in Your Bedroom (or Hang Some Ceiling Plants)
Without question, one of the best additions to my bedroom is this tall faux plant that I have in one of my corners. There's something about it that makes me feel really peace-filled and relaxed. And just why is it fake? Although I did grow up with quite a few plants in my home, I don't really like the upkeep that they require. And since a lot of stores have some pretty impressive fake ones these days (lots of arts and crafts stores have them, for instance), I decided to take the low-maintenance route.
Speaking of greenery, another awesome option is to hang some plants from your ceiling. You can put up some literal ones (you can check out a MasterClass on how to do that here) or you can find some fake greenery vines (also at arts and crafts stores) and come up with creative ways to hang them. If you want to do something like a vine wall, a sistah broke down how she did it on YouTube. Check it out here.
6. Design a Floral Accent Wall
Speaking of stuff on your walls, if flowers are more your thing, another great idea would be to DIY a variation of your own floral accent wall. You could go to the same arts and crafts store that you would get a faux tree or some fake greenery from for some of your favorite blooms. I actually checked out a video from a sistah who made one for her wedding out of fake flowers from The Dollar Tree, chile. If you want to see how she pulled it off, all you need to do is click right here. Another sistah did one in under 20 minutes (I know, right?). You can see how she did it by going here.
7. Add a Window Treatment That Includes Fairy Lights
Again, I'm someone who prefers to sleep in pitch darkness. However, I do find something really inviting and beautiful about bedrooms that have fairy or twinkle lights somewhere in it. If you're either over the way your bedroom window currently looks or you've been trying to figure out how not use the starkness of your overhead lighting so much, a cool idea can be to add some fairy lights to your curtains. If you adore that idea yet, at the same time, it seems like it might be a bit of a fire hazard, no worries—there are window curtain lights that exist. They're pretty affordable too. You can read more about them by checking out Penlight's article, "12 Best Window Curtain Lights (Buyer's Guide)".
8. Put Down a Faux Fur Rug
Something that I semi-recently purchased for my own bedroom is a big ole' faux fur rug. It's honestly one of the best investments I've made for my home in a hot minute because it definitely makes my bedroom space look and feel cozier. Plus, since it's right beside my bed, I like the way it feels on my feet when I wake up. I found mine for around 40 bucks. Everywhere from Walmart and Overstock to Wayfair and even Etsy carries them.
9. Purchase a Cable Knit Throw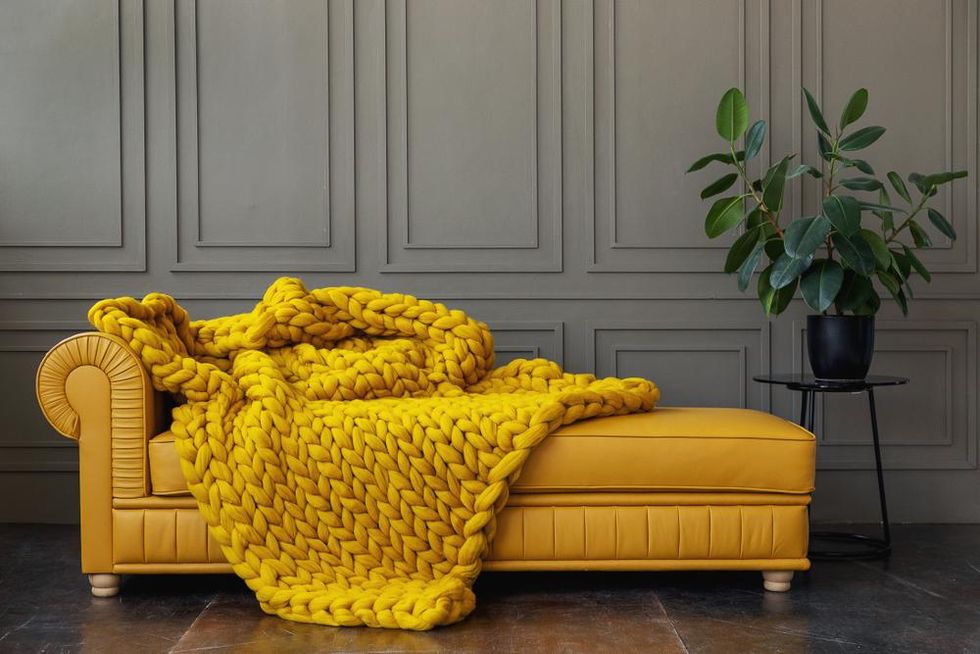 Pretty much, in every room of my house, there are throw blankets. I like how they can help to bring a pop of color to any room. Plus, it doesn't matter what the weather is like outdoors, I'm the kind of person who likes to snuggle up underneath one while I'm listening to music or watching television. Well, the kind of throw that looks really beautiful in a bedroom is a large cable knit one. If you're someone who likes to knit on your down time, you can start now and probably have a nice-sized-non-rushed one ready by fall (some step-by step instructions are listed here). Or, if you'd rather have one right here and now, Walmart, Target and home improvement stores sell them. I'm gonna be honest, though. Some of the best ones I've seen are on Etsy's site. Just go there and put "cable knit throw" in the search field.
10. Hang Up a Self-Love Mission Statement
Something that will easily—and instantly—make any room more aesthetically appealing is artwork…or at least something on the walls. Let me tell it, bare walls are the absolute worst. And while mission statements are traditionally reserved for places like home offices, I want to encourage you to consider creating one that you can design, blow up and frame to hang either above your bedroom or on the wall across from it (so that you can look at it, every morning that you wake up). The theme should be self-love. A literal mission statement about why you deserve to love yourself and how you will go about doing it on a daily basis. It is time and effort well-spent.
11. Put Some Throw Pillows (on the Floor)
I don't know about you, but I used to have corners of my room that were barer than I would like for them to be. The dilemma is, I didn't want to put any furniture there because it would take up too much space and I already had things that I needed like a lamp. For me, the solution has been big throw pillows.
It's another wonderful way to add a pop of color that you might like without going to overboard. And it's another easy way to make your room feel warm and peace-filled without spending a lot of cash in order to do it.
12. Create a Reading Nook
Reading in bed is great. Still, if you'd prefer to use that space solely for sex and sleep, how about making yourself a little reading nook? All you need is a small table, a comfy chair and little things that will personalize the space like perhaps a plant or some flowers; a footstool; some candles; a mug (so that you have something to put your favorite drink in); a reading lamp and anything else that will encourage you to go over and make time for (at least) a chapter a day. I've even seen someone turn a closet into a nook (you can see it for yourself here). It's the perfect final touch to making your bedroom tranquil and beautiful.
Join our xoTribe, an exclusive community dedicated to YOU and your stories and all things xoNecole. Be a part of a growing community of women from all over the world who come together to uplift, inspire, and inform each other on all things related to the glow up.
Featured image by Shutterstock