---
If there's one thing that a lot of people can say has been a side effect of 2020, it's sleeplessness. Between the pandemic, working from home , always having the kids around and, let's be honest , trying not to panic over all of the above, striving to get quality rest has been a real challenge. Understandably so.
As I was recently recommending some healthy sleep tips to someone I know, I happened upon an all-natural sleepy time lotion that some of you might want to try (click here for the recipe). Yet as I thought about all of the things that we can externally do to make resting better, my mind then wandered over to things that we can do from the inside out too.
In walks, food. While it's always a good idea to have your last meal around 2 ½ hours before calling it a night (because your body can digest your meals and reduce heartburn and insomnia that way), there are certain foods that can play a direct role in you getting some quality zzz's each and every evening. So, if you've tried just about everything and have still found yourself tossing and turning for hours on end, check out the 10 foods that very well could bring an end to all of that.
Featured image by Shutterstock
Shellie R. Warren PCC
Different puzzle pieces are creating bigger pictures these days. 2024 will mark a milestone on a few different levels, including the release of my third book next June (yay!).
I am also a Professional Certified Coach. My main mission for attaining that particular goal is to use my formal credentials to help people navigate through the sometimes tumultuous waters, both on and offline, when it comes to information about marriage, sex and relationships that is oftentimes misinformation (because "coach" is a word that gets thrown around a lot, oftentimes quite poorly).
I am also still super devoted to helping to bring life into this world as a doula, marriage life coaching will always be my first love (next to writing, of course), a platform that advocates for good Black men is currently in the works and my keystrokes continue to be devoted to HEALTHY over HAPPY in the areas of holistic intimacy, spiritual evolution, purpose manifestation and self-love...because maturity teaches that it's impossible to be happy all of the time when it comes to reaching goals yet healthy is a choice that can be made on a daily basis (amen?).
If you have any PERSONAL QUESTIONS (please do not contact me with any story pitches; that is an *editorial* need), feel free to reach out at missnosipho@gmail.com. A sistah will certainly do what she can. ;)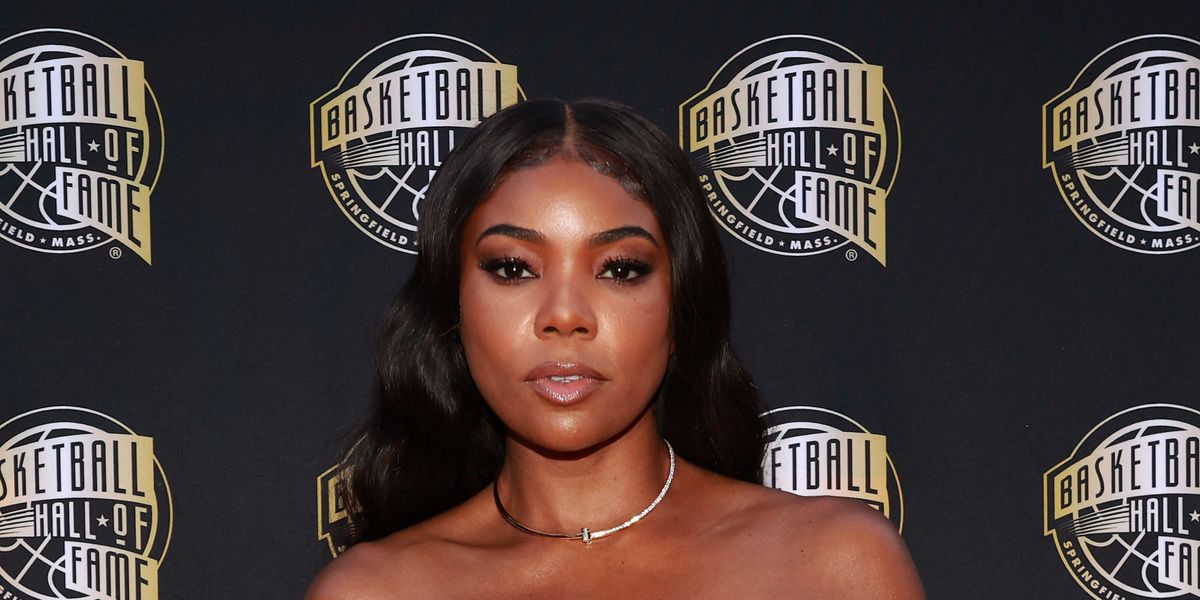 Whenever Gabrielle Union graces the movie screen, she immediately commands attention. From her unforgettable scenes in films like Bring It On and Two Can Play That Game to her most recent film, in which she stars and produces Netflix's The Perfect Find , there's no denying that she is that girl.
Off-screen, she uses that power for good by sharing her trials and tribulations with other women in hopes of helping those who may be going through the same things or preventing them from experiencing them altogether. Recently, the Flawless by Gabrielle Union founder partnered with Clearblue to speak at the launch of their Menopause Stage Indicator, where she also shared her experience with being perimenopausal.
In a xoNecole exclusive, the iconic actress opens up about embracing this season of her life, new projects, and overall being a "bad motherfucker." Gabrielle reveals that she was 37 years old when she was diagnosed with perimenopause and is still going through it at 51 years old. Mayo Clinic says perimenopause "refers to the time during which your body makes the natural transition to menopause , marking the end of the reproductive years."
"I haven't crossed over the next phase just yet, but I think part of it is when you hear any form of menopause, you automatically think of your mother or grandmother. It feels like an old-person thing, but for me, I was 37 and like not understanding what that really meant for me. And I don't think we focus so much on the word menopause without understanding that perimenopause is just the time before menopause," she tells us.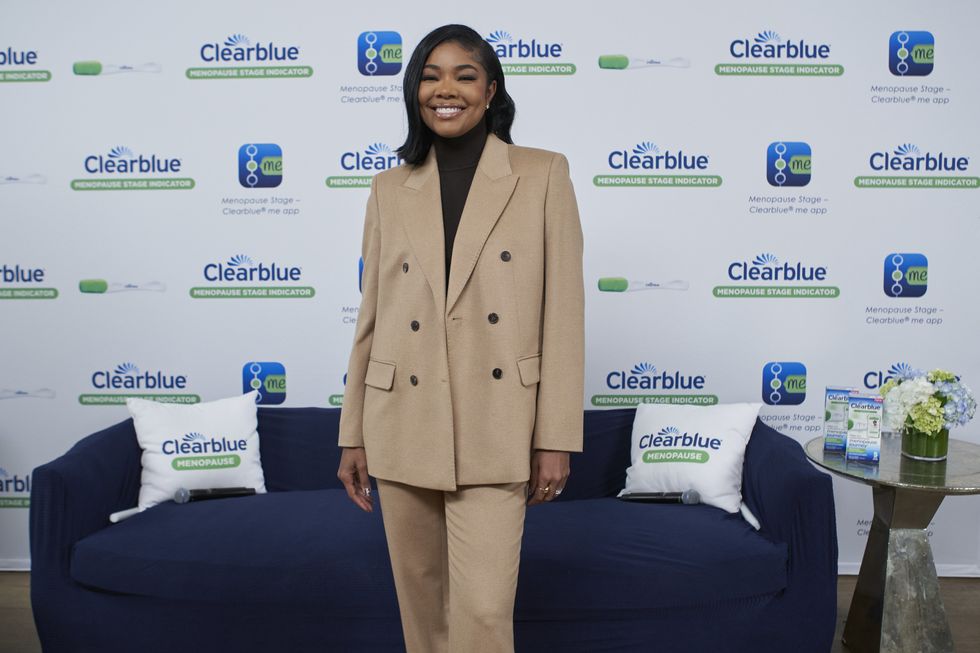 Gabrielle Union
Photo by Brian Thomas
"But you can experience a lot of the same things during that period that people talk about, that they experienced during menopause. So you could get a hot flash, you could get the weight gain, the hair loss, depression , anxiety , like all of it, mental health challenges , all of that can come, you know, at any stage of the menopausal journey and like for me, I've been in perimenopause like 13, 14 years. When you know, most doctors are like, 'Oh, but it's usually about ten years, and I'm like, 'Uhh, I'm still going (laughs).'"
Conversations about perimenopause, fibroids, and all the things that are associated with women's bodies have often been considered taboo and thus not discussed publicly. However, times are changing, and thanks to the Gabrielle's and the Tia Mowry 's, more women are having an authentic discourse about women's health. These open discussions lead to the creation of more safe spaces and support for one another.
"I want to be in community with folks. I don't ever want to feel like I'm on an island about anything. So, if I can help create community where we are lacking, I want to be a part of that," she says. "So, it's like there's no harm in talking about it. You know what I mean? Like, I was a bad motherfucker before perimenopause. I'm a bad motherfucker now, and I'll be a bad motherfucker after menopause. Know what I'm saying? None of that has to change. How I'm a bad motherfucker, I welcome that part of the change. I'm just getting better and stronger and more intelligent, more wise, more patient, more compassionate, more empathetic. All of that is very, very welcomed, and none of it should be scary."
The Being Mary Jane star hasn't been shy about her stance on therapy . If you don't know, here's a hint: she's all for it, and she encourages others to try it as well. She likens therapy to dating by suggesting that you keep looking for the right therapist to match your needs. Two other essential keys to her growth are radical transparency and radical acceptance (though she admits she is still working on the latter).
"I was a bad motherfucker before perimenopause. I'm a bad motherfucker now, and I'll be a bad motherfucker after menopause. Know what I'm saying? None of that has to change. How I'm a bad motherfucker, I welcome that part of the change."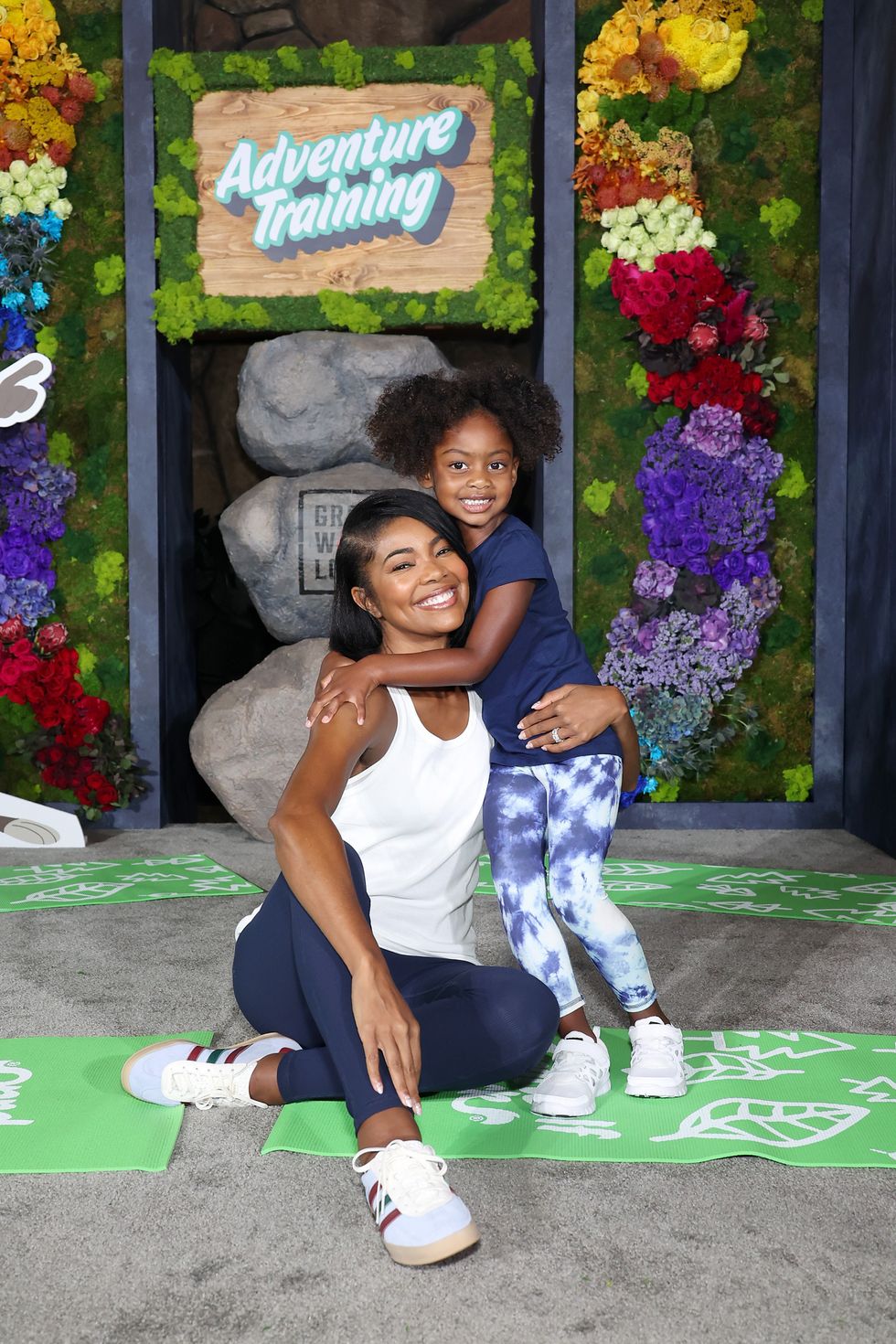 Gabrielle Union and Kaavia Union-Wade
Photo by Monica Schipper/Getty Images
"I hope that a.) you recognize that you're not alone. Seek out help and know that it's okay to be honest about what the hell is happening in your life. That's the only way that you know you can get help, and that's also the only other way that people know that you are in need if there's something going on," she says, "because we have all these big, very wild, high expectations of people, but if they don't know what they're actually dealing with, they're always going to be failing, and you will always be disappointed. So how about just tell the truth, be transparent, and let people know where you are. So they can be of service, they can be compassionate."
Gabrielle's transparency is what makes her so relatable, and has so many people root for her. Whether through her TV and film projects, her memoirs, or her social media, the actress has a knack for making you feel like she's your homegirl. Scrolling through her Instagram, you see the special moments with her family, exciting new business ventures , and jaw-dropping fashion moments. Throughout her life and career, we've seen her evolve in a multitude of ways. From producing films to starting a haircare line to marriage and motherhood , her journey is a story of courage and triumph. And right now, in this season, she's asking, "What's next?"
"This is a season of discovery and change. In a billion ways," says the NAACP Image Award winner. "The notion of like, 'Oh, so and so changed. They got brand new.' I want you to be brand new. I want me to be brand new. I want us to be always constantly growing, evolving. Having more clarity, moving with different purpose, like, and all of that is for me very, very welcomed."

"I want you to be brand new. I want me to be brand new. I want us to be always constantly growing, evolving. Having more clarity, moving with different purpose, like, and all of that is for me very, very welcomed."
She continues, "So I'm just trying to figure out what's next. You know what I mean? I'm jumping into what's next. I'm excited going into what's next and new. I'm just sort of embracing all of what life has to offer."
Look out for Gabrielle in the upcoming indie film Riff Raff , which is a crime comedy starring her and Jennifer Coolidge, and she will also produce The Idea of You , which stars Anne Hathaway.
Feature image by Mike Lawrie/Getty Images
Sex & Love - Home Page
Dec 04, 2023 09:00 AM EST

Kerry Washington and Nnamdi Asomugha are one of Hollywood's notoriously private couples, but since the release of her memoir, Thicker Than Water , the Scandal actress has been more open about their union. The mother of two stopped by The Drew Barrymore Show and shared details about how they met. The beautiful couple met at Drew's family theater, The Barrymore Theater, in 2009, where Kerry made her Broadway debut. She played Susan in David Mamet's Race .
"I was doing my Broadway debut. It's such a storied, important theater," the Emmy award-winning actress shared. "It was my first time on Broadway, and now I write about it in my book, so it has another fun legend to fill all the beautiful things that have happened at that theater."
Kerry and Nnamdi met backstage, and the author revealed whether it was love at first sight or a slow burn. Here's a hint: it was "a little bit of both."
"You talk to people like my parents who've been married for as long as they've been married. I think both are important. I think that first sight thing for me was really important and undeniable, but I think the slow burn is what keeps you going," she said. "We've been married 10 years now, so it's like an immediate with a great slow burn that I hope will keep burning."
We couldn't agree more. In a past interview, the UnPrisioned star explained why they kept their relationship private for so long, and while talking to Drew, she revealed they even used code names when they were getting married.
"We had some fun with code names, so Jason Wu made my wedding gown, and I adore him," she said. "He's the person who made Michelle Obama 's Inaugural gown. He was secretly custom-making this wedding gown for me, but we used to say that it was for the Moroccan premiere of Scandal ."
Kerry Washington Reveals How She Met Her Husband | The Drew Barrymore Show
Feature image by Bryan Bedder/Getty Images for Bronx Children's Museum