Even before I went to look up the word to make sure I understood what it meant, a statement that has always made me wince in my mind is "I don't have any regrets" (or some variation of that).
---
Although I know it's a popular thing that folks like to say, to me, it always came off as a mixture of arrogance and thou doth protest too much. It would cause me to say (usually also in my mind), "So, hold up. With all of the stuff that you've done over the course of your entire life, there is nothing that you regret?" Nothing at all?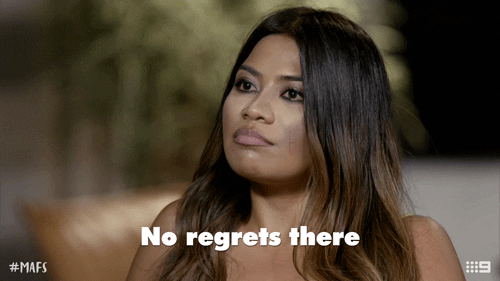 media3.giphy.com
Shoot. I have a ton of stuff I regret.

I regret starting my freelancing career without hiring a tax accountant. I regret spending more time in the university center than in the library in college. I regret dating a guy for years who I knew I wasn't in love with. I regret all of my abortions but especially my fourth one.
Shoot, just this week, I regretted ordering something from a merchant on Etsy who lost my merchandise. So yeah, I don't get how anyone on the planet can get out of a seven-day cycle, let alone an entire lifetime without having any regrets.
Still, I've heard people say it so much, with so much boldness and confidence, that I decided to do some further investigating. After having a conversation with about 20 people about them "having no regrets", more times than not, they would get into how, no matter what happened to them or even what they've chosen to do that may not have been the wisest thing at the time, it all played a role in where they are and who they are. And that is why they have no regrets.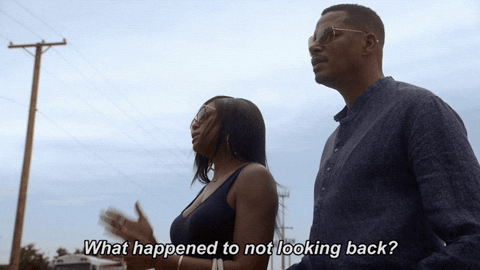 media2.giphy.com
I hear that. I get it even. But to me, that sounds more like being in a state of acceptance than not regretting anything. It's the definition of regret that brings me to that conclusion.

Regret: to feel sorrow or remorse for (an act, fault, disappointment, etc.)
And remorse?
Remorse: deep and painful regret for wrongdoing; compunction
Now take a moment and think back over the course of your life. Is there nothing, not one thing, that you are remorseful about? Really?
If you still stand firm on your point, you're not alone. There's a guy that I know who basically makes it a hobby to leave women in shambles. Whenever I've asked him if he regrets it, he looks me dead in the eye, doesn't blink, and says "no". (Yeah, I hope he doesn't "regret" that karma that's coming his way too!)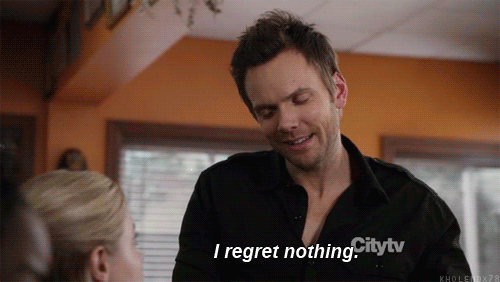 Help me out here. When you see not having remorse (which is regret) in that kind of context, doesn't it creep you out a bit? If it doesn't, it should. In fact, if you do some Googling around about what it means to not be a remorseful individual, don't be surprised if the word "psychopath" pops up (that's not a compliment, by the way).

For me, I get that my good and bad choices have made me the woman I am today—and yes, I love her. That's why whenever I do interviews on Christian radio stations and they ask me if I "regret" not being a virgin, the answer is along the lines of some of Column A and some of Column B.
On one hand, the more information I get on how much sex affects a person, I understand how much simpler (and healthier) life would've been if I had chosen to have one partner for life (if you want your mind to be blown, check out this YouTube video on the physical effects of multiple partners). On the other, those 14 dudes and the experiences that came from "knowing" them? They are priceless.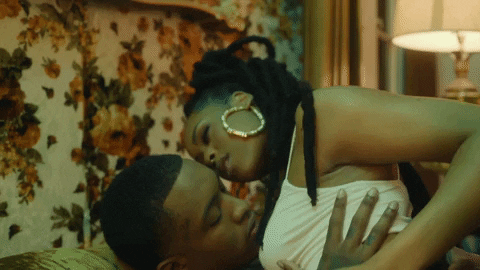 Still, I can't say that just because I like who I am that there aren't some regrets. I regret getting chlamydia. I regret hurting other women by sleeping with their boyfriends. I regret faking orgasms to boost certain guys' egos. I regret getting date raped and not calling the cops. The list goes on.

And here's the thing about regret. For me, it's the act of regretting—it's humbling myself enough to acknowledge wrongdoing on my part, even if it was nothing more than pure recklessness—that broke a lot of patterns, healed a lot of issues and, in some instances, even mended certain relationships.
In other words, living with regrets has made me better, not worse.
I already know some people will forever be on the tip of, "I don't regret nothin' and I'm stickin' to it!" I get that. I'm just hoping that knowing—or revisiting—the definition of the word will provide a little food for thought.
Personally, I feel safer—yes safer—around those who live with regrets than those who don't have any.
But maybe that's just me.
Want more stories like this? Sign up for our newsletter here to receive our latest articles and news straight to your inbox.
Featured image by Getty Images.