Kiarra Sylvester
Motor City native, Atlanta living. Sagittarius. Writer. Sexpert. Into all things magical, mystical, and unknown. I'll try anything at least once but you knew that the moment I revealed that I was a Sag.
Kinky sex is more common than many of us realize. The only difference lies in what's normalized versus what has yet to become normalized. But when you think about it, many of us vanilla-ish folks get our rocks off on things like being spanked and/or straight up slapped, choked, and more recently having shared bodily fluids such as spit. And this doesn't begin to touch on the other, more miscellaneous spaces of kinky sex.
The irony that of the term "vanilla," which I've noticed myself and expert Monica Brown calls out is this:
"The concept of vanilla sex seems to have a connotation of boring (untrue) and can often mean different things depending on who you're talking to. Here you are thinking that you're going to introduce someone to something freaky yet you're the one now strapped in a door harness in a state of delightful shock."
Vanilla has a spectrum and it can get dark if you prefer it that way -- as far as ice cream references go, we can add and remove toppings as we crave them. But, of course, the most important thing is communicating these desires for kinky sex to your partner(s).
Featured image by Getty Images
Keep reading...
Show less
Whether butt play is the first stop in exploring your sexuality or an evolutionary point reached after much reflection and growth, it seems inevitable to avoid its presence in pleasure. It has so much potential as an epicenter for pleasure yet it's still one of those things done behind closed doors (no pun intended). Anal sex is the new blowjob for Black girls, or so it seems. Remember when blowjobs were pronounced "things white girls do", but quietly Black girls were partaking too?
That's what anal sex has become. For a plethora of reasons I don't care to address — not here and not now. This article is for those who have moved past the shame or embarrassment or "miseducation."
This is for those who are ready to explore the other side of pleasure.
This is a guide to the wonderful world of butt plugs. One way to dive into butt play. And because we're here to guide, it seems only fair that we'd start at the basics:
What Even is a Butt Plug?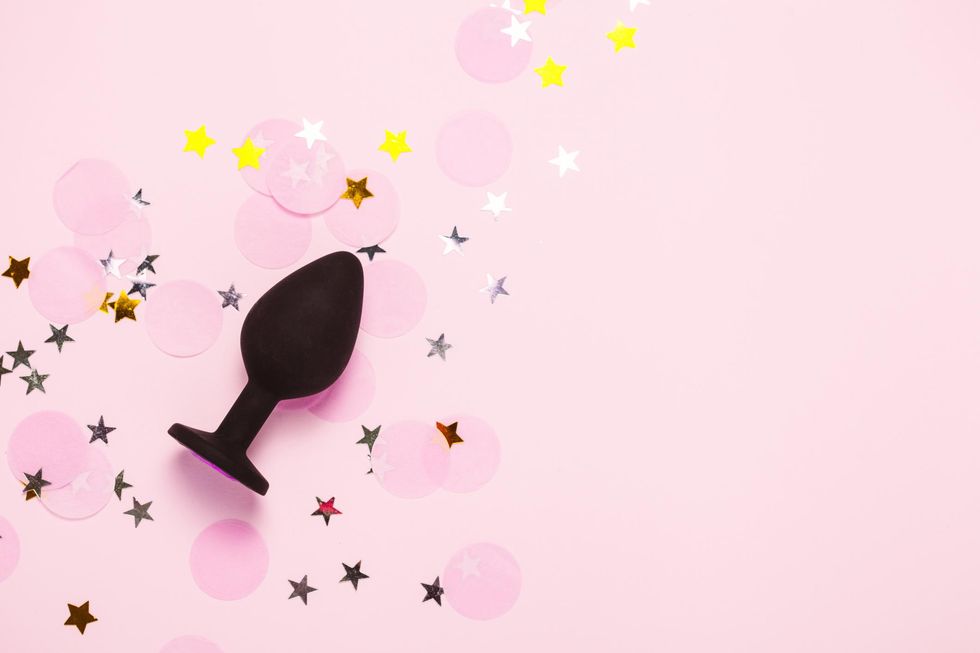 Enter the wonderful world of butt plugs.NadinPanina/Getty Images
Well, according to me, that's easy to answer because it's exactly what it sounds like, a plug for your asshole. A stopper, if you will. But its purpose is dependent upon your goals, which we'll get into shortly. They come in many shapes, sizes, and materials (metal, glass, plastic) like any other sex toy. They can even come with a vibration.

According to sex educator and host of Anal Sex Podcast: The Plug Luna Matatas, butt plugs can be more carefully defined as "sex toys that go inside of the butt, they usually have a bulbous shape, a neck and a flared base. They allow the muscles and tissue of the rectum get accustomed to penetration. Butt plugs are great for anal training."
The spectrum of ways in which you are able to use butt plugs in your anal play are endless. Butt plugs can serve as the main dish or the appetizer.
Here are a few ways to help you envision how you might want to use butt plugs, according to anal expert, Matata: 
Stretching for Anal Play
Much like any other workout, stretching can be the difference between cramping up or actually getting a full, enjoyable workout. And by workout, we mean anal.
Double the Pleasure
For added sensation during vaginal sex or even during solo sex, two is better than one. And Matata says, "You're adding in another erogenous zone to your self-pleasure, which might amplify the sensations you normally feel during masturbation."
"Butt plugs can give a sense of fullness inside the anus that feels pleasurable for some people. Others enjoy the stimulation to the many nerve endings at the entrance of the anus."
Embrace the Tease
Up the ante and give a little tease action rather easily when use your plug during ther types of partnered sexual activity, from kissing and cuddling to oral sex. See how long you all can last before you're driven to have sex or even edge it out. The benefit of this is that "while doing other things that get you aroused, your anus has a chance to relax and enjoy the sensations of the butt plug."
For the Thrill
"Engagement of our erotic imagination — you might be excited by the idea of having something in your butthole naughty or taboo," Matata concludes.
How to Use Butt Plugs for Beginners: A Guide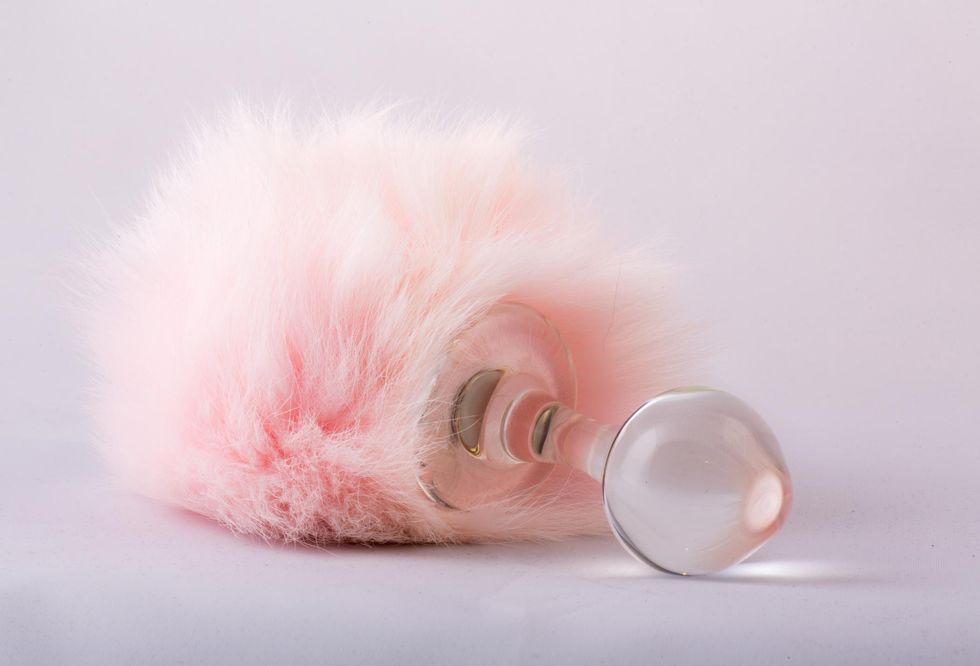 tino serraiocco/Getty Images
Size Does Matter
When looking into how to use butt plugs for beginners, curious minds might want to know what size to start with and if the purpose of your butt plug is to work you up to anal sex, does it need to be similar in size to your partner's penis or strap. To the latter, Matata explains, "You can go from a smaller plug to a penis [or strap], it depends on the experience of someone with anal penetration, what their body is in the mood for that day, how relaxed they are, etc.
"You can test out how well the person is opening up [to] the butt plug by rotating it inside someone, pulling it all the way out and then restarting the process, alternating between time with a plug and time with fingers massaging the rectum."

Anal Play: Butt Plugs or Anal Beads?
For beginners, I would recommend starting small with your plug if this is your first venture into anal play of any nature. But if you have a little experience under your belt, Matata suggests adding some weight, as a weighted butt plug for a little razzle dazzle i.e. increased sensation. You might also try a different shape as well, such a spheres or anal beads.
Keep it Safe
As far as the material, it's your world. However, as with any other toys, you do want to make sure you're using body-safe material. That's the bottom line. Matata points out, "Butt plugs can be made of rubber or jelly materials, but these are porous which makes them hard to sterilize. Try finding butt plugs made of body-safe materials like silicone, glass, or stainless steel. If you're a beginner to butt play -- you could try silicone materials first as some beginners find glass or stainless steel butt plugs too firm. [Furthermore], look for butt plugs with a rounded shape at the top and a flexible neck."
Wet it Up
Whatever you do, it can't be stressed enough the importance of lubrication. The anus, unlike the vagina, doesn't lubricate itself naturally so you'll want to use, "Lube. Lube. Lube. [Specifically] a long-lasting water-based or silicone lube is super important." And because it doesn't self-lubricate at the sign of arousal, it is especially important that we pay attention!
"Listen to the anus - sometimes it's just not in the mood for penetration, you can enjoy the outside nerve endings by putting vibrators against the butthole or massaging it," she continues. "If burning sensations or pain happen, slow things down, take a break or add more lube. Ignoring the pain or using numbing agents is increasing your chances of anal injuries like fissures."
Although all good things must come to an end, Matata left us with a few of her favorite gems to consider when looking to invest in butt plugs. Some of her favorites were created by b-Vibe, known for their "innovative and sexy looking butt toys."
The Best Butt Plug for a Beginner:
The Best Butt Plug for Intermediate: 
The Best Butt Plug for Advanced: 
Featured image by NadinPanina/Getty Images

Keep reading...
Show less
Not sure what sex education looked like in your high school but it for sure wasn't the ol' banana on a condom tutorial for me. It's disappointing because it was by far the thing I looked most forward to doing in sex education, that and carrying those damn egg babies around in an odd attempt at simulating parenthood. Even with my mom gifting me a golden compact mirror for my 16th birthday, inscribed with "Just in Case", and a secret compartment with a Lifestyle condom neatly tucked into it, she wasn't about to show me how to use it. Yet, the knowledge piece is just as important. Arguably more important to know is how to put a condom on.
And based on most of the women I texted, and asked, "How do you put on a condom," it's clear that the knowledge is lacking or I have too many coupled friends, and thus they see no purpose. Nevertheless, it was an eye-opener that even if we wanted to initiate condom use, so many of us know nothing beyond "pinch the tip and roll it down." Moving forward, all you need to know is L.I.P.S.T.I.C.K.
In this instance, when learning how to put on a condom--at least an external condom--you want to remember the acronym L.I.P.S.T.I.C.K!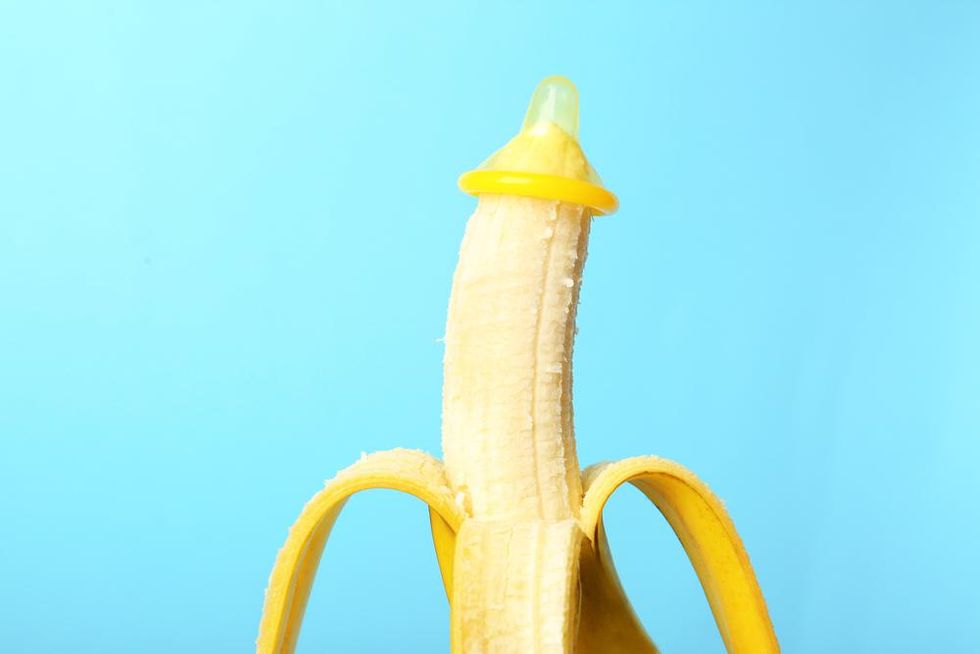 Shutterstock
Now, here's how to put on a condom step-by-step, or L.I.P.S.T.I.C.K.:

Look at the expiration date. Yes, condoms expire and while they have an pretty long shelf life, you'll still want to double-check.
Inspect the condom for holes, air bubbles, and then open it.
Pinch the tip and place the condom on with the pinched tip facing up. If your partner is uncircumcised, you will need to pull the foreskin back, first.
Slide the condom to the base of the penis. This ensures that you've covered as much skin as possible since some sexually transmitted infections are transmitted from skin-to-skin contact rather than the exchange of fluids.
Time for some fun. Aeeoowww.
Isolate the shaft of the penis by holding the condom in place while pulling it out. It's more effective if you manage to do this before your partner starts to lose their erection.
Carefully remove condom and properly dispose of it in trash, not the toilet.
Keep these steps in mind!
Putting condoms on doesn't have to be awkward and take us out of the moment. As you become more experienced at putting the condom on, you can take this task on from your partner and add some sensuality to it make the act far more seamless.
Featured image by Shutterstock
Keep reading...
Show less
K-I-S-S-I-N-G was supposed to lead to love, then marriage, and then a baby carriage. And though that clearly isn't how that works, I think we can all remember learning how to French kiss being sort of a big deal in adolescence. Still. It's one of those things that you don't forget. Truly, my first kiss is still the source of my anxiety when it comes to the most basic tongue action that we'll ever discuss as adults: French kissing. I was in eighth grade and the boy who I had been pining over for all of the fall semester was finally mine. It was after school in the hall as he was on his way to basketball practice when he leaned in for a kiss. I quickly called attention to the fact that I didn't know how to kiss in an awkward outburst. He ran off laughing and told the entire locker room.
To this day, I'm not all that certain I'm the best kisser, though I hopefully hope no one has me on their list of worst kissers. Much like when Hitch instructed Kevin to stick with a two-step in the 2005 eponymously named film, I coach myself to stick with the one-two step of tonguing. I let our tongues wrestle just a little and then when I'm not certain what comes next, I suck and bite a little lip. However, I'm certain that French kissing can be far more intricate than this.
Thankfully, I know my strengths and weaknesses well enough to know that I had to use a lifeline for this one. I got in touch with Tyomi Morgan, ACS Pleasure Coach and certified Sexologist to pick her brain. Better yet on a few, much-needed pointers to achieve the much desired accolade of most improved French kisser.
You'll be happy to find that she delivered, here's what was said.
Kissing With Tongue: How To French Kiss, According To An Expert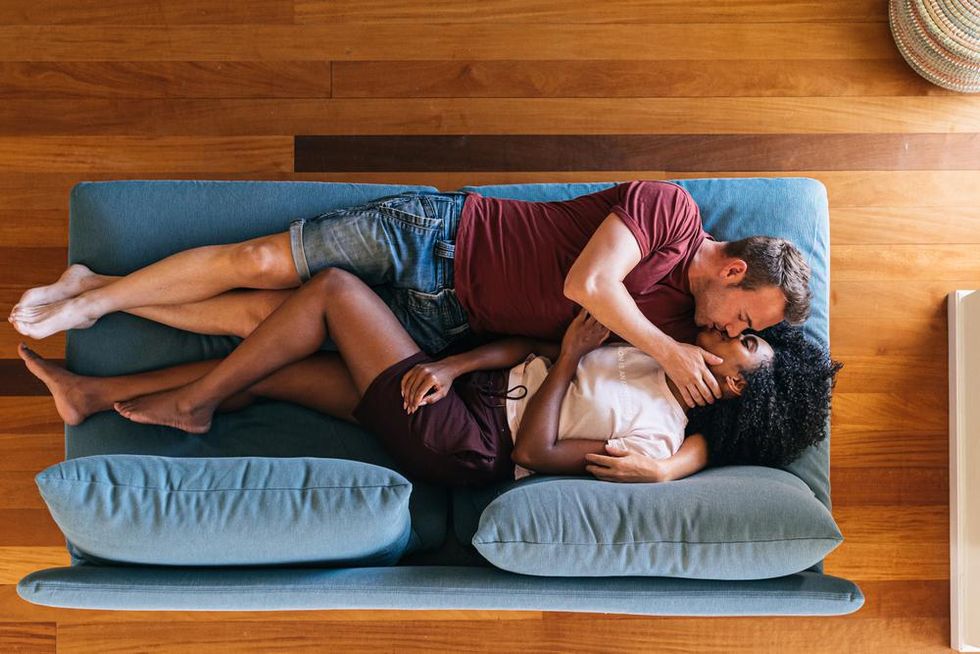 Shutterstock
Like I said, I'm not the best kisser so it always feels super awkward right down to not really understanding where my tongue should be and when it should be there. Morgan says, "The dance that tongues do during French kissing really depends on the people who are in the act. One partner may have a more dominant approach while the other is more passive. There are situations where both partners are dominant in how they approach the French kiss which could lead to awkwardness...it's all about creating a balance that allows the kissing to flow effortlessly."
The Pleasure Coach adds, "One partner secedes to the other and allows the other to lead. Then, roles can be reversed allowing the submissive partner to take the lead.
"Tongues can do a lot of different things in the French kiss. Partners can touch tongue tips or circle each other's tips while the tongues are poked out. One partner can suck on the other's tongue while it pokes in and out, or tongues can rub up against each other with the upper side caressing the underside of the other. Tongues can chase each other inside of their mouths, embrace like sword fighting or rub up against the inner lips. The tip of the tongue can also be used to flick or trace the lips as well.
"Tongues are always moving in a French kiss — how they move is determined by the messages they want to convey to each other."
This actually provides relief in understanding not only what I'm "supposed" to do but also knowing why many of my kisses have probably been so awkward. In always feeling compelled to do something, and absolutely anything, I will dominate the kiss without offering space for my partners to do so. I do this to fill the "silence" so to speak and pose as if I know what I'm doing. When in actuality, the key is to let it flow!
Know That The Tongue Is A Muscle & Work It Like One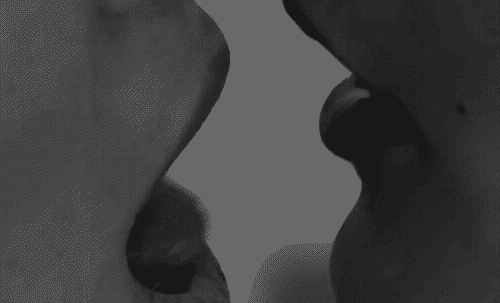 black and white love GIF
Giphy
If practice makes perfect, then how exactly can we apply that logic to kissing? Me, personally, I visualize that scene from Superstar where ol' girl is making out with the tree. But Morgan recommends working out. Yes, you read that absolutely right! "The tongue is a muscle and must be worked out just like any other muscle in the body. Flabby tongues don't maneuver as well as strong ones, and don't have as much control.
"Strengthening the tongue is the first thing to do to gain control over the tongue's ability to deliver pleasurable strokes. The techniques found in the book, Blow Him Away by Marcy Michaels contains several tongue strengthening exercises that are easy to perform on a daily basis. Using the tongue to eat treats from cups like applesauce, pudding, jello or even frozen desserts are great ways to practice using the tongue as well. Licking food from spoons also helps."
As someone who will lick anything out of a cup rather than waste spoons, my tongue might be better off than I anticipated. And as far as technique? Well, watch and learn! Not me, of course. "Watching videos of people French kissing goes a long way in providing examples of how to move tongues when in a French kiss."
If you've already mastered the French kiss, the Glam Erotica founder gives us some additional tips that will help add to the sensuality of your French kisses: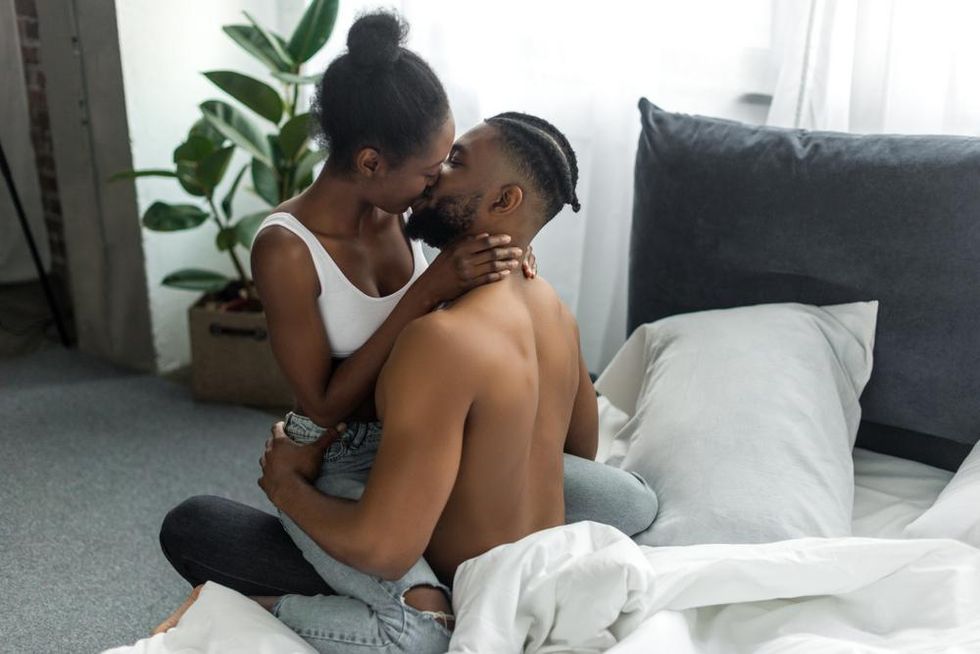 Shutterstock
1. Keep it Slow and Steady
As my supervisor says "this is a marathon not a race" and thus it makes sense that Morgan suggests being mindful of our breath when we're kissing. "Breathing plays a big part in French kissing, as the noses are close together and the mouth is in action.
"Slowing down the breath and exhaling gently through the mouth is a technique that can help with connection and controlling the pace of kissing. Letting out sighs of ecstasy and moans of enjoyment can also heighten the experience and communicate your desire for more to a partner."
2. Touch and Go
Additionally, "Using your hands to grab, caress or rub on other erogenous zones while locking lips and tongues is an easy way to heighten arousal and take things up a notch. Rinsing the mouth before kissing or popping a piece of gum or a breath mint will go a long way."
3. Food-play for Foreplay
Big bonus game? Make your kisses edible. Yes. Expert Tyomi Morgan suggests integrating some food to up the kinky on your kisses.
Read more sex and love content on xoNecole here.
Are you a member of our insiders squad? Join us in the xoTribe Members Community today!
Featured image by Shutterstock

Keep reading...
Show less
It's my expert opinion that "shooting up the club" or letting your man cum inside you is an endearing sentiment reserved for trusted partners. I've heard so many women discuss how their partner can't be trusted as far as they can be thrown, and yet a baby almost always ends up in this equation. There absolutely needs to be a bit of discernment when it comes to those we decide to try new and, sometimes, risky sex stuff with.
But, I'm also human and I understand that slip-ups happen. Nevertheless, it wouldn't be responsible of us to ignore all that can go awry where slip-ups are concerned.
What are all the things that you should consider before deciding whether you and your partner should throw caution to the wind and dancing in the rain? Umbrella free? Let's get into it. While you all have grown accustomed to me as writer Kiarra here at xoNecole, today I'll be that and the expert with the lowdown. So allow me to reintroduce myself as MSW, MEd, educator and advocate for Decolonizing Black Sexuality, Kiarra Sylvester.
And I'm going to help you determine if the price is right when deciding if the time is now for your partner to ejaculate or cum inside of you during sex.
1

.

Trust and Believe: How much do you really trust your partner?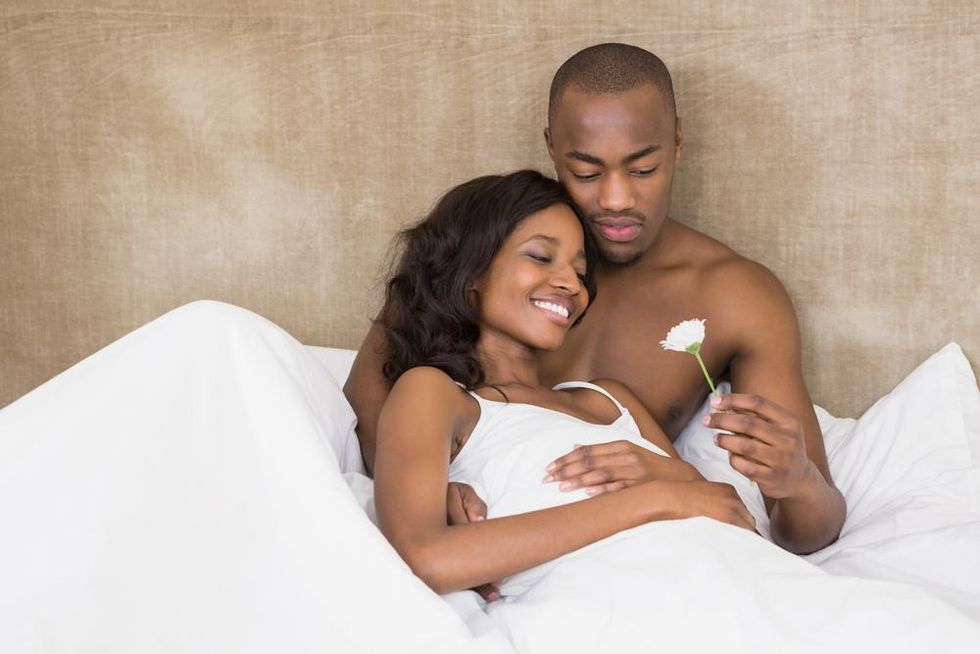 Shutterstock
In some sort of utopian world, I wouldn't have to ask this question—it would be a given that we'd only permit these types of privileges to those that we trust. But, we don't, so I will ask again: Is your relationship, whether strictly sexual or a full-blown relationship, one that is built on trust? Trust that was built on open, honest communication? If this is someone who you feel the need to go through their phone at any given point, there is no trust and the answer is "no". You absolutely shouldn't allow your partner to cum inside of you. This is a more simply dynamic of trust, but as you know, there are far more intricate elements of trust at play.
If your partner pressures you to do anything sexually or otherwise, this violates trust as they are unwilling to adhere to the boundaries you have either set upfront or are intending to set in the moment.
If "yes", move forward to the next question. But, also consider discussing what condomless sex with no pull-out might look like. What type of boundaries do you all need for this to work? Will you all commit to only having sex with one another? Will you use condoms with other partners? Regularly testing together? Cool, how often is regular? And understand that testing regularly isn't a perfect solution, i.e. unless you're being tested daily, there's a margin of opportunity in between scheduled testing. Now, you can move your player piece closer to "go".
2

.

Planned Parenthood: If you do end up pregnant, are you collectively ready for parenthood?
If you've opted out of using the pull-out method as a means for birth control (which was risky business to begin with, since according to Bedsider, the "withdrawal" method has a failure rate of 20 percent and I'm assuming so because "pull out" is one step before deciding to just say "fuck, that shit.") Withdrawal is easily one of the least effective contraception methods and it's always been stressed to use this method paired with another when possible, even if it's a fertility awareness method.
Though we're not discussing pulling out, I mention it to press upon you that letting your partner ejaculate in you puts you in the big leagues. So the questions become: 1) Are you collectively ready for parenthood; 2) Is this a person you would enjoy parenting with? Even if you don't end up with this person, romantically for a lifetime — can you see an enjoyable coparenting relationship? If your answer is still "yes", then you have your answer. If "no", move along to the next question. All hope isn't lost yet.
3

.

B.C., Before Child—Not Christ: Where do you two stand on the birth control conversation?
If this isn't a person you see a future with OR you simply don't have any desire to be a mother yourself, then it's time to get clear on where you and your body stand on birth control. Contrary to popular belief, abortion is birth control, and whether you believe that or not, you both should have an honest dialogue about your positon on this method. While I squarely believe it's a woman's choice at the end of the day, it can help to discuss so there's a sense of preparedness and understanding of expectations should you find yourself seeking out an abortion. One in four women will have an abortion by age 45, so whatever you do please don't feel ashamed. But you should know if this is a person who will support you physically, mentally, and financially through this process or if it will be expected that you go it alone.
While this is a discussion that should be had, you should also consider other variants of birth control since abortion is expensive and for that reason alone, I wouldn't recommend leaning into it as a primary form of birth control. The average abortion starts at about $400 and after the first trimester, the price goes up weekly. Aboriton can see rates of $2K in circumstances where women can't afford them, and spend time "chasing the fee." That said, I urge you to use sites such as Bedsider and speak with your gynecologist for more information on the methods you're most interested in, and figure out what birth control best suits your body and lifestyle.
Birth control is not one size fits all, so if you find a method you think you might like and it's either, not covered by insurance or you don't have one, dig deeper. There are resources out there!
If your answer to birth control is "yes", be sure to be proactive so not to be reactive here. But also keep in mind that should you need to be reactive, there is emergency contraceptive (Plan B), which can be purchased at a drugstore. Also if you were already interested in the IUD, specifically, a copper IUD, they double as emergency contraceptive if you can find a clinic that can insert them into you within five days of unprotected sex. The copper works by repelling the sperm in the opposite direction.
If "no", and you've also answered "no" to at least one other question so far...thank you for playing but it doesn't seem like letting your partner cum inside of you is the best idea for you at this time.
4

.

Vaginal Health: Do you know condomless sex can throw off your vaginal health?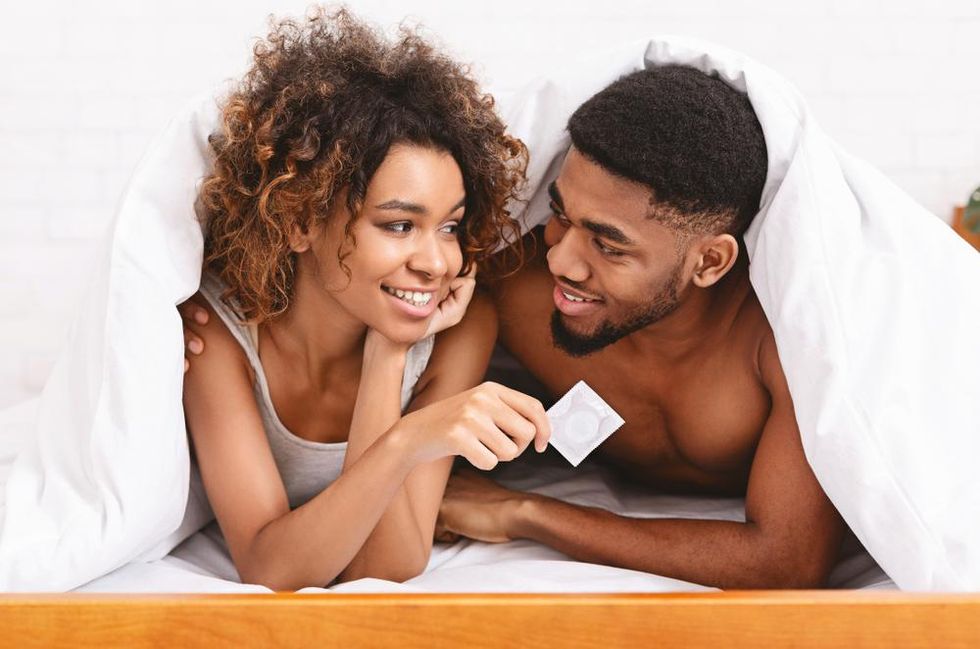 Shutterstock
Congratulations! You've made it this far. While listed last, it's certainly not the least concerning point of contention. We're aware by now that condoms can throw off the vaginal pH leading to bacterial vaginosis, yeast infections, and urinary tract infections so it only makes sense that we consider the ways in which semen might also do so. And when exchanging bodily fluids, like semen, the stakes are higher than a rinky-dink yeasty. Additionally, you are more vulnerable to sexually transmitted infections such as HIV. That means, we're being smart about how we interact sexually while seeking out desired pleasure. I purposely didn't lump this piece in with trust, at least not completely. The thing that many people tend to forget is that some sexually transmitted diseases can present asymptomatically, especially when presented in men.
That means even with a trusted and faithful partner, it is still risky to participate in consensual, ejacualatory, condomless sex with your partner. Which takes us back to the highly suggested point I made earlier about implementing regular testing.
At the end of the day, nothing is a sure thing in this world. Unfortunately, expert or not, I cannot make that call for you but simply help you make the best decision for you based on the most accurate information. But above all, be sure that you've discussed this with your gynecologist and your partner before participating in unprotected sex regardless of the outcome.
Are you a member of our insiders squad? Join us in the xoTribe Members Community today!
Featured image by Shutterstock

Keep reading...
Show less
Interestingly enough, I went from reading Junie B. Jones to Zane novels just as seamlessly and quietly as my body began going through puberty. And I know for a fact I wasn't alone in this. Gang-gang for sure, because I can't even count on hand how many 8th graders were running around nose deep in Zane's Around the Way Girl, and its likeness. This was arguably in the early aughts Black girl starter pack. It was truly the equivalent to the way in which our male counterparts were sneaking and watching porn.
Though women do enjoy traditional porn, many have said that there's a greater draw to erotica for many of us. Personally, I enjoy the creativie spaces that erotic novels provide — allowing us to envison the character through our own rose-colored readers. The visualizing, if you will. Suffice to say, I'm still a sucker for a good erotic tale these days. Just as hot and bothered as my 13-year-old self but with all the means to...release while reading. But time is of the essence, as many of us who once loved reading are hard-pressed to find the time to do so these days. That's why we thought it would be nice to make it easier for our fellow erotica-loving ladies and round up some of the most spicy ones to add to your ongoing and infinite reading list.
I scanned the pages of Goodreads and double-checked the reviews via Amazon to find only those with a gold-star rating (4 and above) erotic novels to add to your reading list. Check them out below.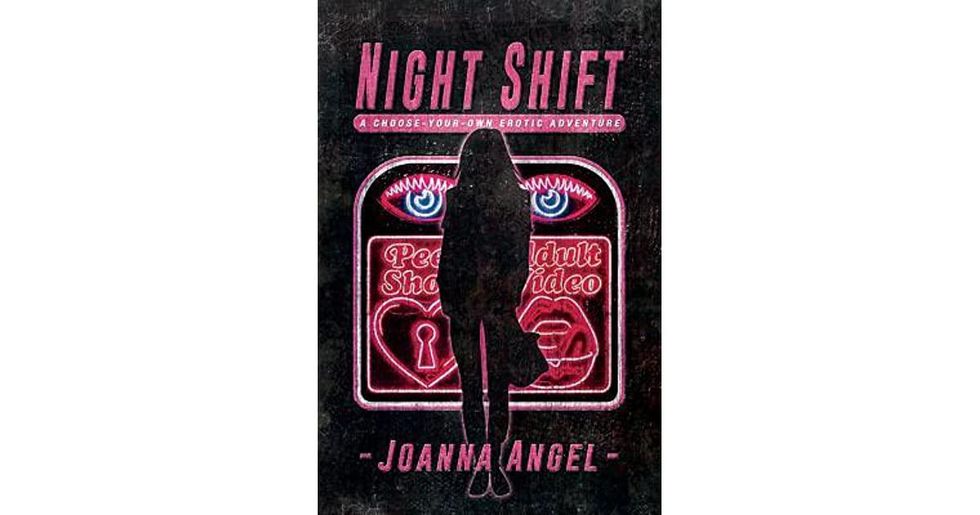 Goodreads
Chosen both for its high rating and its uniqueness, this book is an interactive erotic novel that allows you to choose the fate of the main character Taryn. Angel is the founder of adult entertainment company "Burning Angel", making it that much more appealing to us for reasons that have nothing to do with the quality of writing and everything to do with the fire, hot content.
Amazon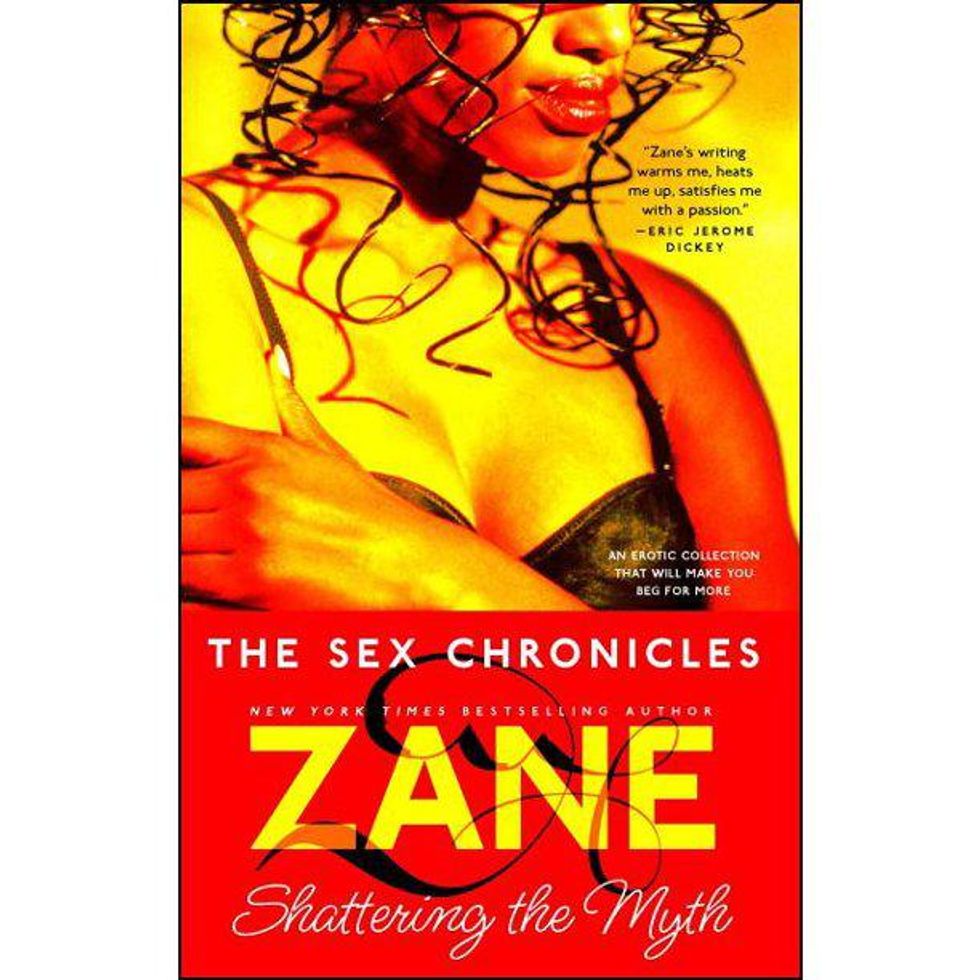 Walmart
This list couldn't live without a classic being thrown on the list. It's not often that we get Black authors who do erotica and Zane was erotica's it girl once upon a time. And because the author hasn't come out with anything recently, we're forced to dig out our time capsule for this gem. We're not mad at it though! For those of us who were old enough to be reading it back in the day, it's a fine time to revisit and for those of us who weren't old enough but read it anyway...it's a time to revisit.
Amazon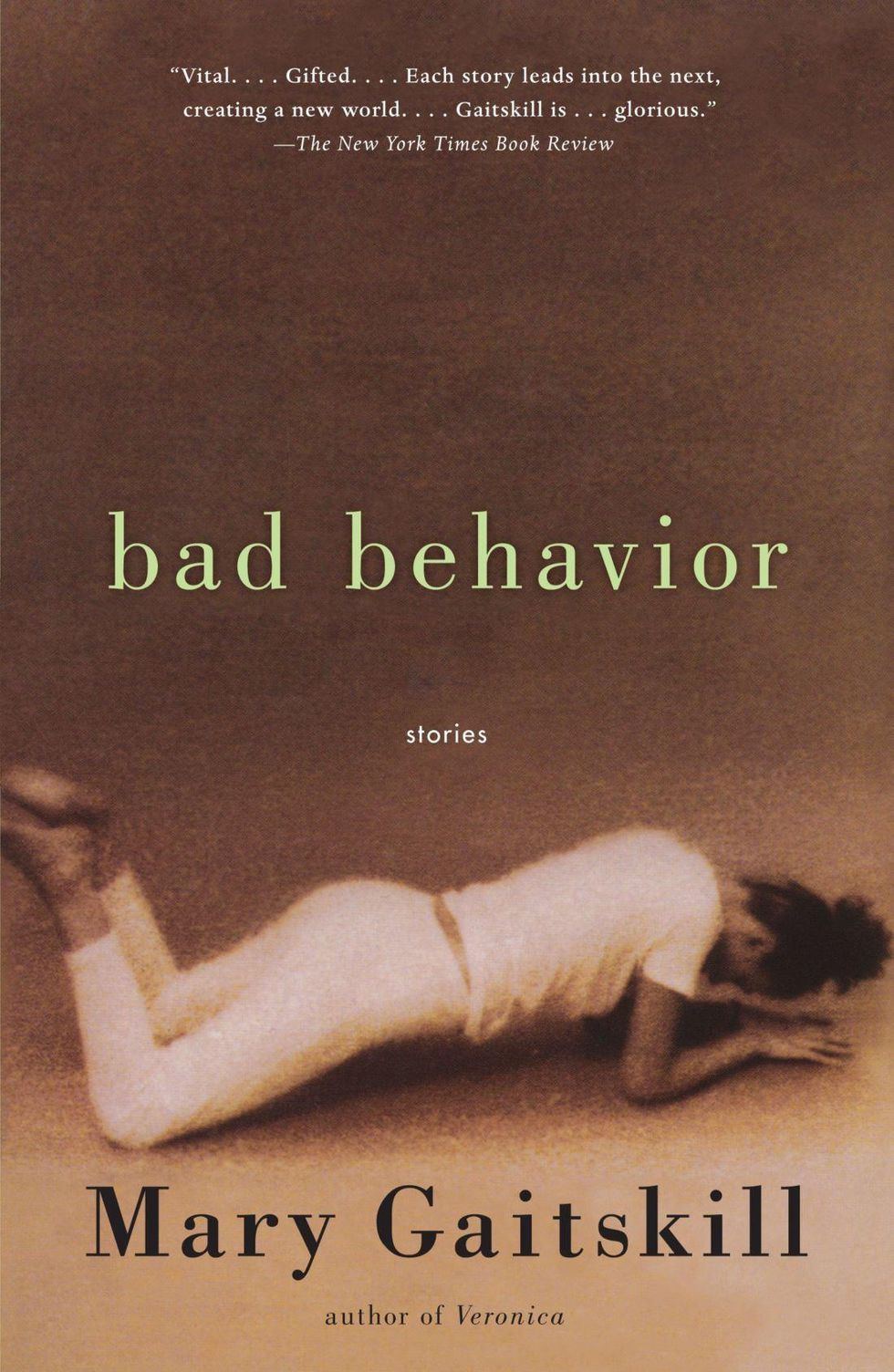 Amazon
Bad Behavior: Stories is seemingly the R-rated version of Candace Bushnell's Sex and the City, as it's set in the raunchy, seductive, and old school Manhattan — exploring all of those themes and more through the eyes of one young woman and her adventures in the city.
Amazon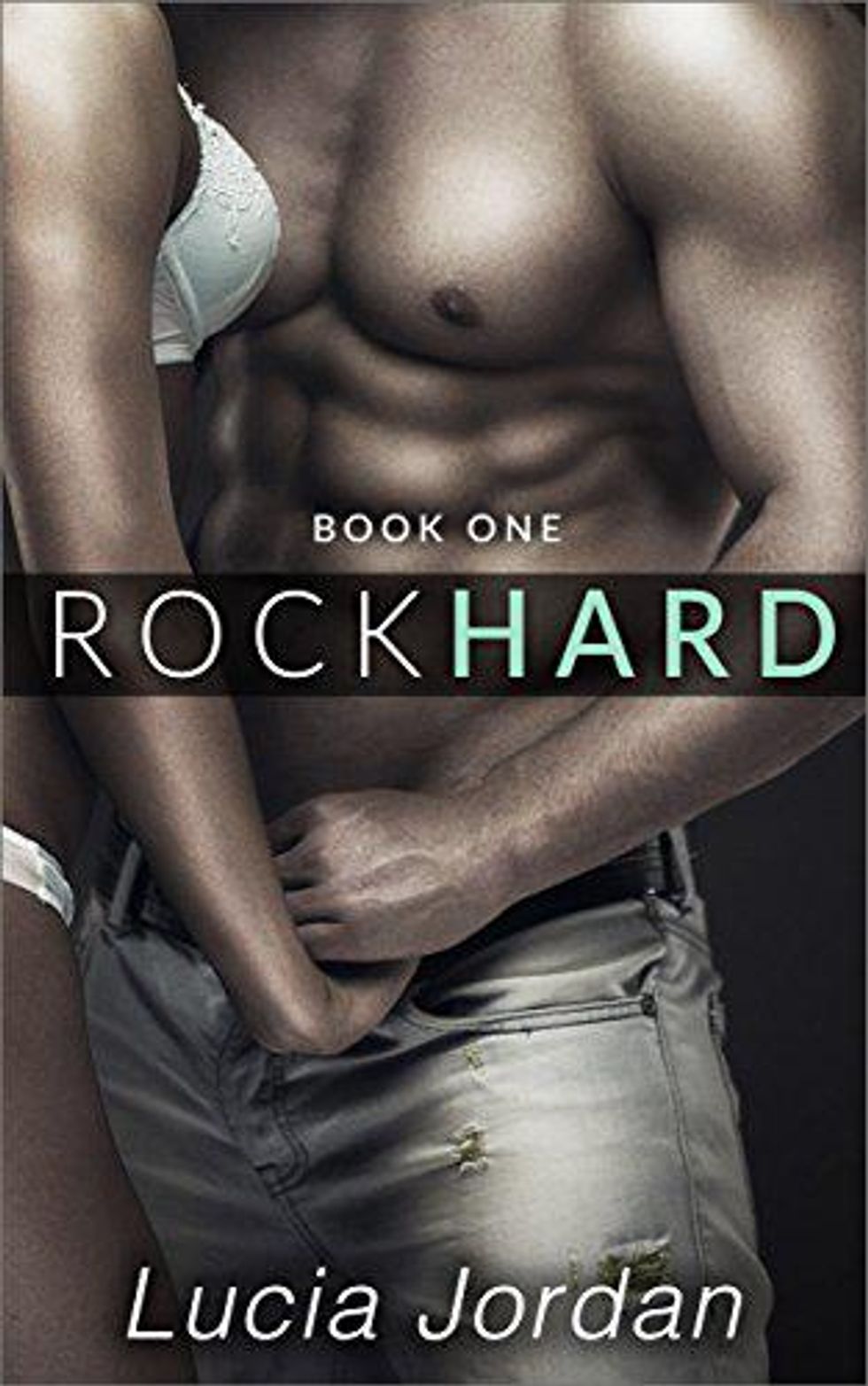 Amazon
The title definitely pulled me in with this one, which is always a good sign but not necessarily telling of what the future holds when it comes to a good read. The description alone suggests an entanglement between three old high school friends all grown up. And by the looks of it, Lucia Jordan doesn't waste any time getting right into the erotica plot in Rock Hard.
Amazon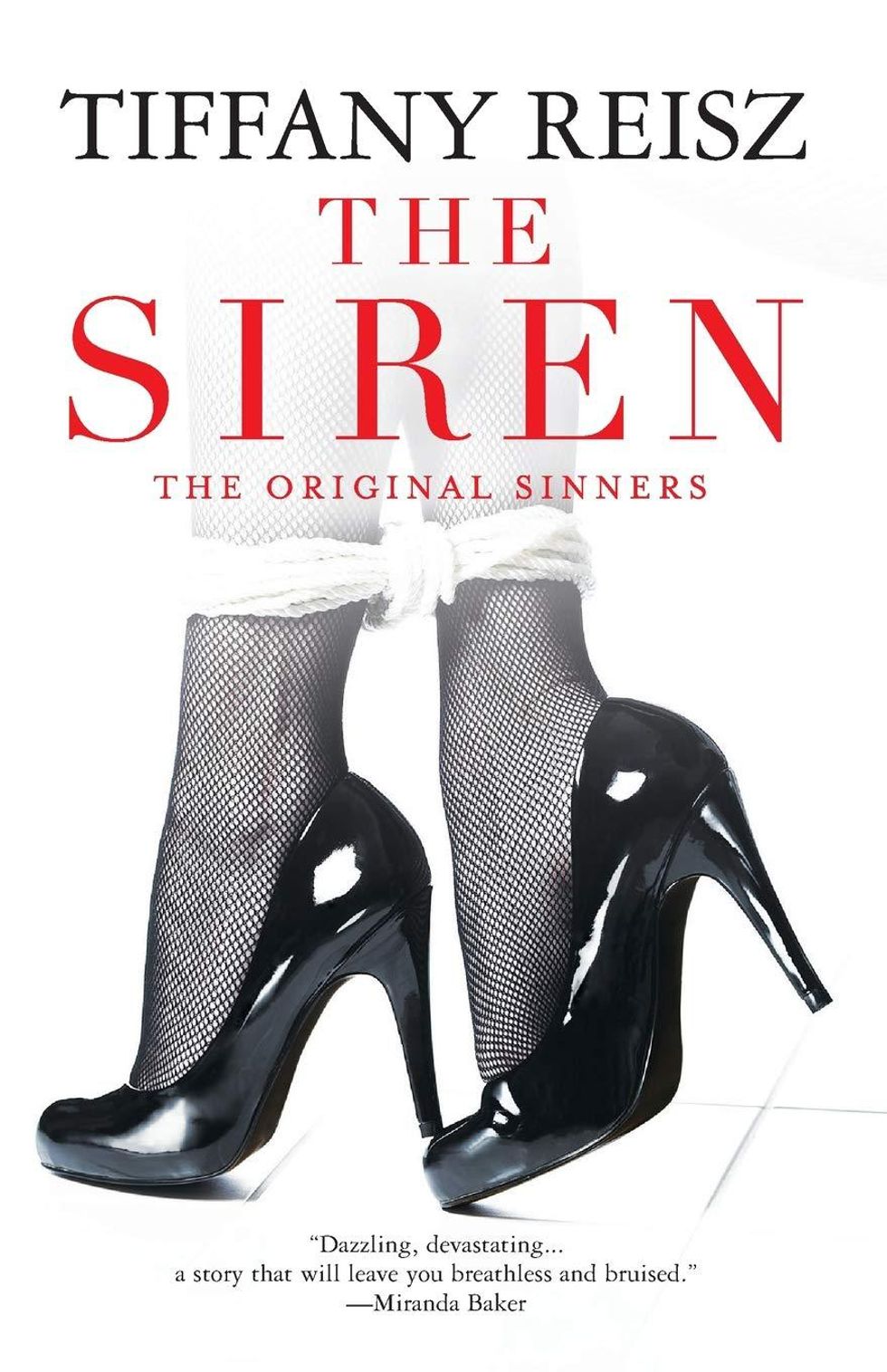 Amazon
Make it Fifty Shades, but better. That's what so many asked for back when the trilogy infamously rose to fame. Well, this piece of erotica might just be the one that delivers on the "better". It explores erotic, kinky sex while holding no punches, according to many of the reviews.
Amazon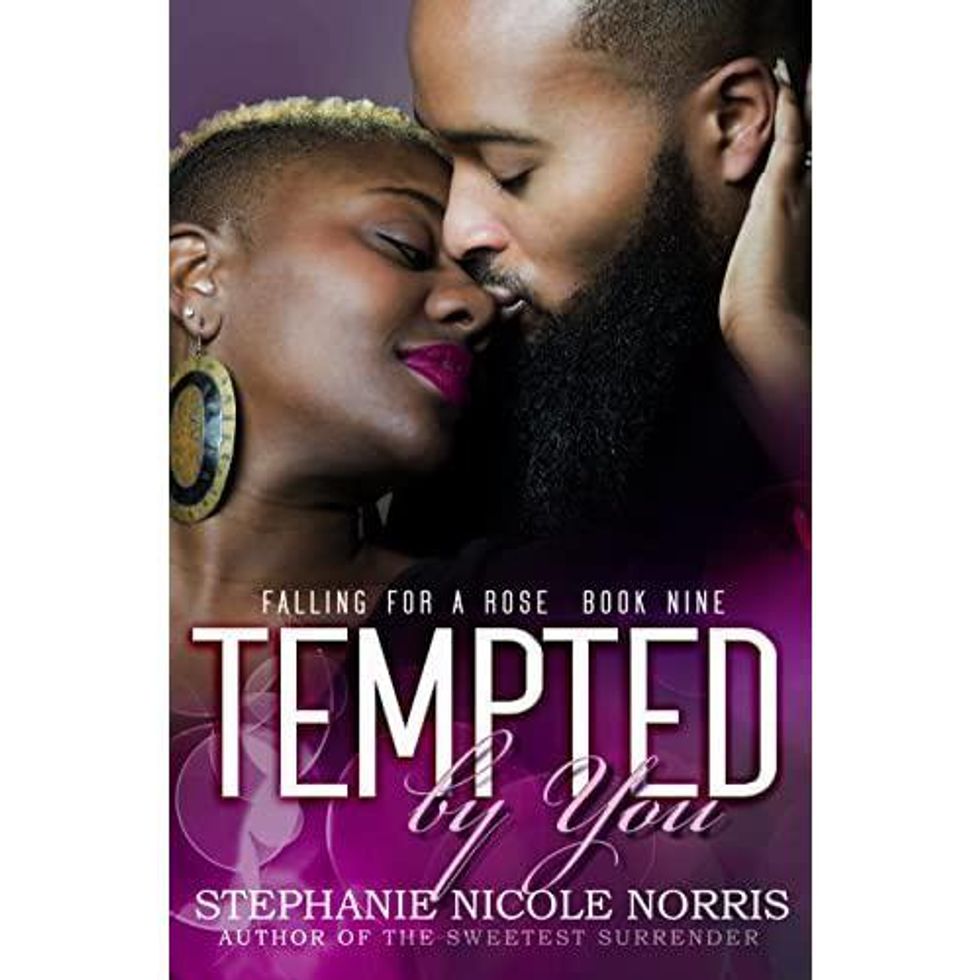 Goodreads
Norris brings us this 5-star erotica series, with plenty of characters of color to fantasize about. Though this book is the last in the series, it comes highly recommended for its sex content which seems to be an uptick from the others in the series.
Amazon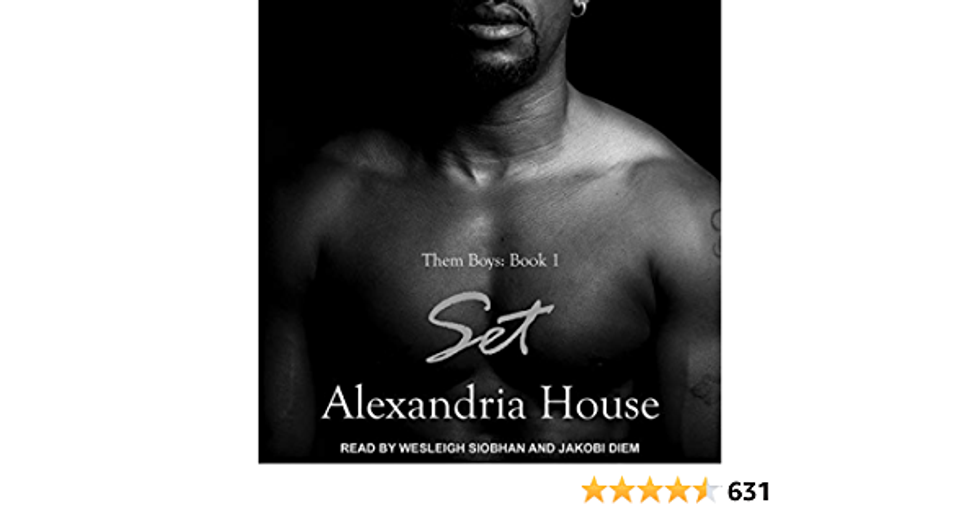 Amazon
I took one look at the comments for Set: A Novella (Them Boys), mostly because I didn't make it past the first one which said, "If I wanted to watch porn, I would've." Look for my comment in a few days because I'll be the one copying and pasting that user's comment but with 5-stars because that's exactly what I came here for.
Amazon
Featured image by Shutterstock

Keep reading...
Show less