Kiarra Sylvester
Motor City native, Atlanta living. Sagittarius. Writer. Sexpert. Into all things magical, mystical, and unknown. I'll try anything at least once but you knew that the moment I revealed that I was a Sag.
By no means are doulas new, but the way we've come to view them is for sure evolving on the regular. And what I mean to say is that for so long we've viewed them through this narrow scope as birth workers only. However, as the world progresses there has become an expansion in the types of doulas readily available to serve the community.

Typically, doulas are defined as "a trained professional who provides continuous physical, emotional, and informational support to their client before, during, and shortly after childbirth to help them achieve the healthiest, most satisfying experience possible." This is according to DONA International or Doulas of North America. Allow me to also point out that while doulas can also double as health professionals, the role of a doula alone is not that of a health professional.
However, similar professionals are using the label doula to provide the "healthiest, most satisfying" experience in various life events or activities that deserve minimal trauma and maximum joy (and a reframe that allows for it in even the bleakest circumstances).
In this day and age, there are at least 9 different types of doulas you can seek out and while many of them are in regards to bearing children, you might be surprised to find what the other types of doulas' work consist of.
1. Labor and Birth Doula
The type of doula we most commonly recognize is a labor and birth doula. They are the OG doula in the game and their work aligns most with the aforementioned definition – their specialty lies in providing prenatal, labor, and delivery care which includes advocating for patients. This makes them especially appealing to Black women who have an alarmingly high maternal mortality rate.
Doulas are a reminder that advocacy comes in so many forms including education, which is part of the prenatal doula service offered. They provide the tools and guidance sometimes necessary to create a birth plan; show you positions that most OBs won't bother mentioning that help make all stages of labor easier; and so much more.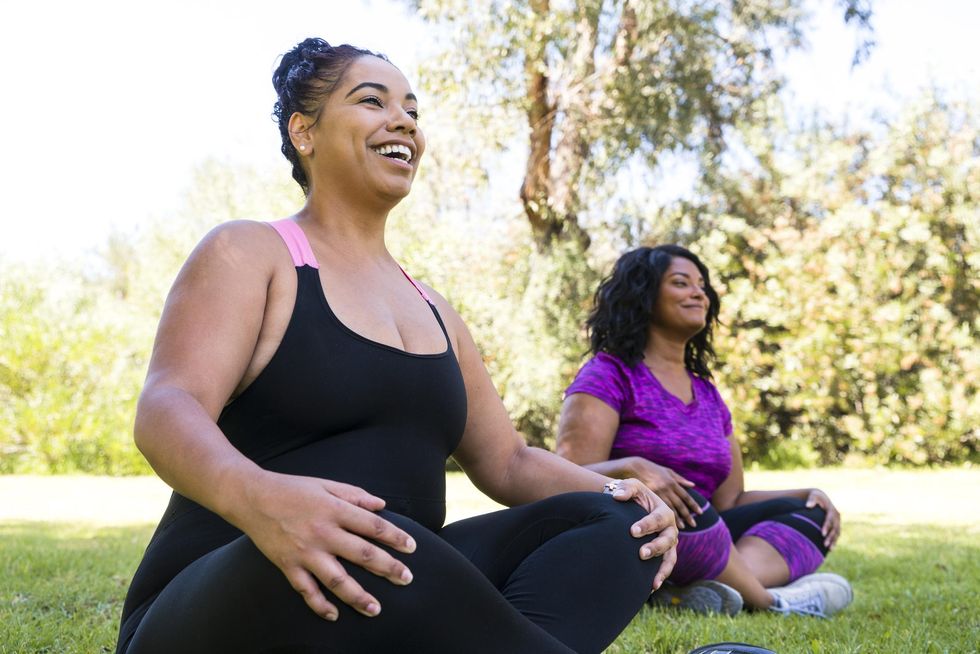 Cavan Images/Getty Images
2. Sensuality/Sexuality Doula
While the concept is rather new and seems to be carried by self-proclaimed sensualist and sexuality doula Ev'Yan Whitney, I believe this is one of the most necessary types of soul experiences. On their website, Ev'Yan states that their duties include the following: "[To] educate, facilitate, support, guide, and hold space for folks who are ready to step out of shame, confusion, and fear within their sexuality and want to come into authentic expression of their sexual, sensual selves—whatever that looks like for them."
For me, a sexuality expert could potentially be helpful to people wanting to be pregnant because the way we view sex and our bodies during and after pregnancy can be largely associated with the shame we've been taught—this is why I stand by it being one of the most imperative, overarching categories of service offered by a doula.
3. Death Doula
Death doulas are the obvious opposite of birth doulas. They may comfort people or their loved ones at the end of their life. They provide support in the way of simply listening and providing
a safe space
for clients to open up and express various emotions they may feel. Additionally, they work closely with hospice while working with the family to create "
end-of-life plans and legacy work
."
4. Antepartum Doula
While birth doulas come in during the labor and postpartum doulas come in afterward, antepartum doulas come in at any point for moms-to-be who need mental health support. Because yes, pregnancy blues is a thing, and no, not everyone enjoys the transition that is pregnancy. They also help out with moms who have medical restrictions, such as bed rest for those who simply need help due to having multiple children.
5. Postpartum Doula
Postpartum doulas sweep in after you've delivered your baby and support you in the 4th trimester, where both you and the baby are finding a new identity—yours more intertwined with your little bundle of joy. These doulas will come over to the house and hold the baby while you shower, clean the house, or take a nap.
Some might even bring you meals to be sure you're eating, which is just one way that they provide breastfeeding support. This is a service they offer regardless of whether you have a spouse or not, whether you have multiple children or not.

6. Abortion Doula
Abortion doulas pick up the slack and possibly are even more helpful than abortion clinic counselors who are required to read a state-mandated checklist, legally. They answer questions (often debunking bullshit myths) before and after abortion, and help arrange childcare and nutritious meals for their clients seeking abortion care.
They also offer calming touch and massage with their clients' consent to minimize pain, discomfort, or anxiety. I do, however, wonder how the scope of their role will shift in a post-Roe society.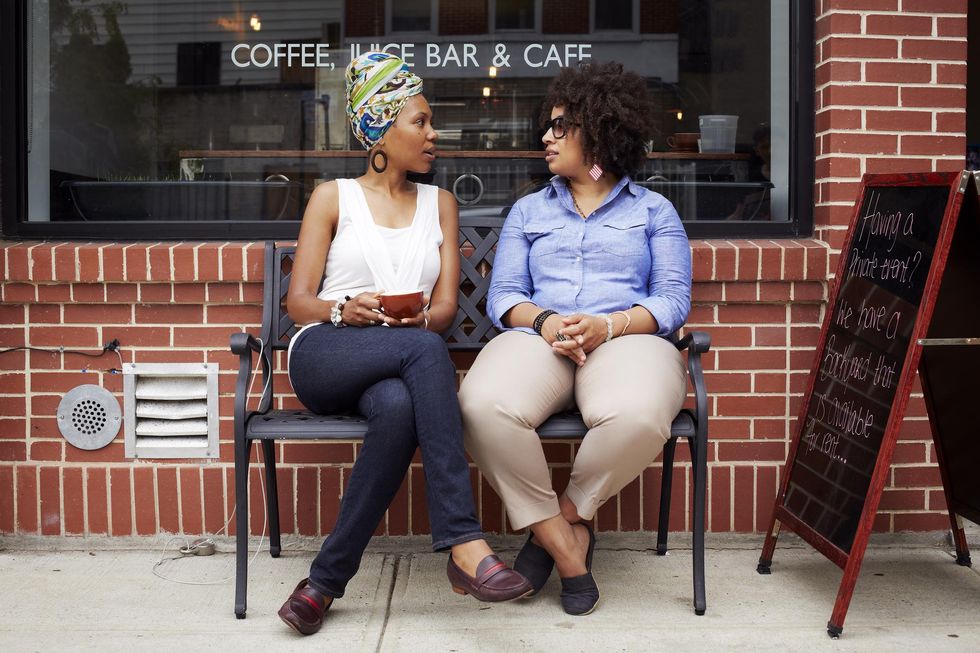 Granger Wootz/Getty Images
7. Fertility Doula
More and more people trying to get pregnant are seeking fertility treatments. However, even if you have never sought out fertility treatment, one thing the mainstream dialogue around the topic has taught us is that it's not an easy process. With that in mind, fertility doulas offer support to clients individually and with their families. Similar to every other type of doula, they provide resources, knowledge, and in some cases physical support.

8. Indigenous Doula
This is another all-encompassing type of doula here! An indigenous doula is here to accomplish advocacy that ensures indigenous people's cultural practices are carried out in every trimester of childbearing, including the fourth. They also make sure they have a positive overall experience, given the fact that so many minority pregnant people do not have the most positive birthing experiences.

9. Transition Doula
"Transition" doula is a very vague term, meaning it can be tricky figuring out just what it means. With a quick Google search, you might find death doulas also referring to themselves as transition doulas and even birth doulas who offer all the mommy services, from labor to postpartum (because it's…well…transitional). But it can best be understood as a gender doula, or a doula who provides companionship and such to the growing spectrum (queer, non-binary, trans, etc.). They are mainly there to support various transitions including but not limited to medical, non-surgical, and herbal.

Doulas are there to provide comfort and support during major life events. In a world of capitalism, they are as person-centered as possible with goals that prioritize helping underserved communities. In fact, during my pregnancy I've had the help of three doulas splitting the work of one—they've provided me with resources, meals when I couldn't find it in me to cook nutritiously, and will be by my side in labor and delivery.
And in some cases, you might be able to find a doula who offers a combination of these services, whether it be postpartum and antepartum, sexuality and postpartum, abortion and transition. Doulas are here to help and support the collective, not a capitalistic agenda and that's what makes them so great!
Featured image by kali9/Getty Images
If you frequent TikTok, you're well aware of its many different sectors–whatever it is that you're looking for can be found on the social media platform, from beauty tips and style advice to morning and evening routines. TikTok is also a great resource for relationship advice! It goes without saying that you should take what you find on TikTok with a grain of salt or double-check with your own provider depending on what advice you're seeking out.
One professional handing out a wealth of relationship advice is Jeff Gunther, LPC who I stumbled across via TikTok. Late last month, he dropped a TikTok entitled "8 questions to ask your sweetie before you become exclusive" that featured 8 top-tier questions to ask potential for a deeper dive before making things official-official.
Similarly to the topics that couples should discuss early on in dating to establish what might be non-negotiables, the questions that Gunther proposes to precede exclusivity in your relationships are a great indicator of whether to move the relationship forward or take a step back. "None of these questions are deal-breakers unless you want them to be deal-breakers," Gunther tells xoNecole. "I believe all the answers can be talked about and processed successfully before you decide to commit to a new partner. However, if the majority of these answers are not to your liking you may end up either delaying becoming exclusive or ending things so that you can go find someone who's a better match."
Additionally, Gunther recommends revisiting these questions and the responses every six months as a relationship check-in as a means to stay on the same page. "People grow and change in relationships and it's important [that] you're still a good match as you move forward," he explains.
Okay, but what are the questions? I'm sure you're wondering as I go on my tangent. Keep reading to learn more about the 8 questions to ask before becoming exclusive and why.
@therapyjeff

8 questions to ask your sweetie before you become exclusive.#mentalhealth #therapy #therapytok #relationshiptips #dating #datingadvice
1. What is your definition of 'cheating'?
As Gunther pointed out in his TikTok, the definition of cheating can differ from person to person and therefore from relationship to relationship. There are different types of cheating (i.e. emotional cheating, sexual cheating) and different levels of cheating (i.e. online affairs, sexual fantasies, financial infidelity). And because cheating has levels to it, one person might have a hard line of no intimate contact of any kind with a person outside of themselves.
Another person might be more flexible in their approach to things like flirting, watching porn, fantasizing, etc. In order to be aligned on what crossing a line and what respecting a line looks like, this question should definitely be discussed.
2. What kind of relationship do you want?
Relationships are not one size fits all and can be tailored to the ideal that both (or more) parties desire. In addition to the more traditional monogamous relationship, there are also nonmonogamous relationships like monogamish, solo-poly, a free relationship, and the more well-known polyamory. Also, just because people might decide to be in a monogamous relationship doesn't mean the 'structure' they are after in a relationship is the same across the board. Again, one size does not fit all.
There might be rules or boundaries that are necessary to put in place and respect if a relationship is to take place. For example, guidelines like sharing passwords or not sharing passwords might be discussed or if people share a living space, a boundary of what alone time in a relationship looks like might be established.
3. What type of kinky stuff are you into?
In regards to kinky stuff, Gunther briefly explains in his video, "You're not trying to yuck their yum, you're just trying to know what to expect." And that is the perfect way to approach this particular question. When it comes to discussing taboo topics, even in the safety of partnership, it can feel a little daunting, especially when there can be an element of sexual shame looming in the atmosphere. Approach this question with an open mind and allow people to express their fetishes, fantasies, and kinks freely. After that, it can be decided whether those kinks work for both parties or if they absolutely don't.
4. What's your biggest worry about me?
Though the nature of the questions doesn't seem harmful at all, it is possible for everyone's perception to differ. This immediately made me wonder what it looks like to have this conversation with ease–doing so in a way that creates as safe and comfortable of a space as possible rather than tension and guardedness. In particular, Gunther suggests that we "enter into this question with curiosity and do your best to be compassionate. We all have red flags. Most of us don't know what they are."
It can feel like a loaded question to prompt an ask that prompts someone to convey a concern, worry, doubt, fear, or red flag and it is easy for the response to trigger a desire to go on the defense. Instead of going on the defense, welcome that feedback as the gift that it is. He adds that the opportunity is in fact a "chance to reassure them or give them more context about something they're fearful about. This question allows you two to be honest about how you're feeling instead of keeping it bottled up and hoping for the best!"
5. Are you okay with being my primary support person?
As humans, we all rely on others for support from time to time. Because we have emotional needs, it is natural to look to a partner for support, especially in relationships. In relationships, the people in them tend to lean on each other more than those outside of the relationship. For this question, it is important to understand how emotionally supportive and available your potential partner may be in relation to the relationship. If the answer to the question is no and therefore there is more of a need to rely on your community than the other person in the relationship, Gunther prompts his viewers to ask themselves, "Am I okay with that?" If you are, that's totally fine. And if you're not, that's fine too.
6. What are you giving the most energy to right now (school, work, family, friends, this relationship)?
When thinking about pushing a relationship forward into exclusivity, what the other person realistically has the capacity for is an important element to factor in. Understanding where you and the relationship potentially rank on someone's list of priorities and how that impacts the health of your relationship and your happiness should be discussed sooner rather than later. "If your sweetie is focusing more on work instead of the relationship and you're let down with that answer it is 100% appropriate to ask them for a timeline of when they'll be able to prioritize you over everything else. It's also 100% appropriate for them to tell you that they don't have an answer."
Another example could be seeing one another frequently throughout the week is important to one person, but the other person doesn't have the bandwidth to accommodate or prioritize the relationship the way you would like to be prioritized -- that's something that needs to be discussed. Likewise, if there is room to accommodate different priorities and less in-person time together is something that could be respected (not just tolerated), that should be discussed too. Like the seasons, energy and priorities can shift, which is why doing relationship check-ins every six months or so is encouraged so that everyone stays on the same page.
7. Does anyone else think they're in a relationship with you right now?
This question right here! In today's dating landscape, gray areas can be commonplace and the status of a relationship could very well be up in the air, or at the very least unclear to everyone involved. If the two of you are casual and have still been entertaining other people, or even if there are some persistent exes looming, this question is very valid and should be asked before moving into the official relationship category. That way it is clear to both parties if the two of you are single-single or if there is some communication that might need to take place to make boundaries clear to people outside of your relationship out of respect for the relationship you are creating with each other.
8. What do you think is most important that I should be aware of?
And for the last question, it's an open-ended one that allows both parties to take the stage and share anything they feel is important to share with the other person. Overall, you want to be present in the conversation, even when you aren't necessarily fond of the feedback or response you're receiving. By being present and responding with curiosity, you come closer to making a sound decision regarding the potential of the information. This is always the case – the more information, the better you're able to make your decision.
Featured image by Hello Africa/Getty Images
We (the collective) get a lot of shit about how women ought to smell "down there." Hell, some of it comes from within — the idea that we're supposed to smell like buttercups and roses. When in reality, pussy has a smell and it's not "sweet." But we're not here to talk about this — not quite, that is. We're here to discuss the causes of abnormal smells that may be a bit pungent to ourselves or even others. Leave it to Nick Cannon to spark the dialogue here after he made comments on Lip Service, a podcast hosted by Angela Yee, about whether or not women know when they're "stinkin' up the room" or nah.
In the episode, he claimed his observations led him to believe approximately 80% of women need assistance when it comes to their hygiene. Specifically, he said, "80% of women probably need assistance when it comes to female hygiene," before adding, "There's this magnificent 20% that have no smell." And at the very end of the clip, you hear Angela point out that he may be giving women bacterial vaginosis.
Being as unbiased as I can be, this felt like a real lightbulb moment and not at all a dig at Nick's lifestyle choices. No, I'm not judging him for having multiple babies and multiple partners, but both of these truths do point to the fact that he's having unprotected sex with these women (see below).
Outside of potentially contracting sexually transmitted diseases — what does this mean for the women he's dealing with? What does this mean for anyone in a noncommittal partnership where one or both partners are having unprotected sex with other people? Can yeast infection and bacterial vaginosis, in fact, be passed via penile-vaginal sex?
Well, we hit Dr. Kerry-Anne Perkins, a board-certified OB-GYN with some of these questions and a few more. And while you may have guessed, the short answer is: yes!
Featured image by PixelsEffect/Getty Images
I've never actually tasted a 'Sex on the Beach,' but I certainly have imagined doing it. In fact, I've had a lot of sex fantasies, but this remains to be one at the top of my list. However, I continue to harbor some fear because it seems that beach sex is no easy feat.
Perhaps I've just seen one movie too many where it went awry and felt vicariously traumatized by the outcome. But now, I've decided it's high time to step outside of my comfort zone. I especially feel the urgency to deliver a few tips about beach sex after a friend of mine had sex on a beach in Mexico and got caught. In that instance, it was amazing how fast my thoughts transitioned from Sex Brought Me to the ER to Locked Up Abroad --- and I don't want that for any of us. When having sex in public spaces, you must consider that public nudity is prohibited in some public spaces no matter how exhilarating the thought of it is.
Regardless of why you're seeking out a beach sex adventure, I'm here to help you execute it in a way that ensures you have a fun time. Here's to hoping these six tips will make your sex on the beach as tasty as it sounds.
1. Hide in plain sight.
​Please don't get bust down in the middle of the day in the middle of the beach – unless you've found yourself a swinger's beach. I'm Team Fuck Those Kids just as much as anybody and I can even be Team Fuck The Police, but our goal here is to make sexy memories – not *claps* getting *claps* locked *claps* up *claps* abroad. Hiding in plain sight is probably the best way to make your fantasy come to life. Try having sex in the water, in a cabana, or wait until the sun has set. By then, it'll be difficult for people to make out your figures and the oceanic movements.
2. Bring protection. 
You might think I'm talking about condoms, and while that's vital I'm actually talking about protection from the good outdoors. You want to be equipped with bug spray and maybe even a blanket. If you've seen the way sand spreads, and gets in nooks and crannies you never even knew existed – you know why I'm suggesting a blanket. It won't completely eliminate the sand but it will help some. This might also add some extra coverage from sand fleas and such.
3. Think bigger than the basics.
​You have to be ready for anything. With that in mind, you might want to consider sex outside of penetrative sex. Not only might it be easier to execute without getting caught but it could be easier for your partner if they're feeling a little anxious about public sex. It can be difficult for us to get aroused when we're anxious. This can make a penetrative experience go sour if, let's say, a penis-presenting person is unable to stay erect due to nervousness. In this instance, non-penetrative sex speaks to oral and digital sex or even heavy-heavy petting. Dunno about you but I love a good teenage love affair, makeout sitch.
4. Slide and ride.
​Instead of being butt-naked for your beach romp, you might consider sliding your swimwear to the side when trying to access the nookie. You do want to maintain a certain level of stealth on the beach.
5. Respect the local customs.  
If you're out of the country, you may want to exercise greater caution if this is a spontaneous thing. The cultural differences outside the country could get you in big trouble, and most people fail to look into those differences and laws before traveling. If you're a Sex and the City fan then you remember the turmoil Samantha caused in Abu Dhabi – and none of us want that.
6. 'What's your fantasy?'
If your fantasy is strictly about sex on the beach and not an exhibitionist fantasy, then consider getting an Airbnb near a private beach. Crowds are more limited there and there will be significantly fewer people than if you were to be on a public beach. And quite frankly, I think it would be far more intimate.
Let's make things inbox official! Sign up for the xoNecole newsletter for daily love, wellness, career, and exclusive content delivered straight to your inbox.
Featured image by MesquitaFMS/Getty Images
There are undoubtedly two things in life that we're always chasing – our next bag and our next orgasm. But, as you might've heard a handful of times by now, orgasms during partnered sex for vulva-having folks can prove to be difficult for various reasons, all of which can be chalked up to time management. For a clitoral orgasm, our partners must spend more time warming up the clitoris before we can reach an orgasm. And even still, in solo sex, it can prove occasionally difficult for us to get ourselves exactly where we want to be.
Nevertheless, there's a cheat code for orgasms! This tried and true trick (plus hoisting my hips up with a pillow) tends to get me to the destination before I can even finish the countdown. So, what trick might I be talking about? Admittedly, it is less of a 'trick' and more of a 'pressure point.' In fact, it's been suggested by experts that applying pressure below or on the bladder will ignite your orgasm.
Apply Pressure to Your Lower Belly for Better Orgasms
​Even if you've never heard this pressure point, you may have likely experienced it if you're someone who explores physical touch, especially while engaging in solo sex. But how? Why? And, do our partners know about this pressure point for better orgasms? This external pressure point is so incredible and effective because of the size of the g-spot/clitoris. Perhaps you've heard the comparison of a clitoris to an iceberg? This is because only a small percentage of the clitoris is accounted for externally when, in actuality, there's more than meets the eye!
The g-spot and the clitoris are truly one large structure with different operating systems based on their location. The g-spot cannot be seen externally, as it wraps around the urethra, making the bladder an extremely sensitive and erotic place to touch for both penis-having and clitoris-having people. Think of a partner that's gone down on you while holding your lower tummy and then think about the great sense of pleasure that you may have felt. If you really give it some thought I assure you that you're having an NSFW, bone-chilling sex flashback as we speak.
And if you've yet to experience this superb sensation, I invite you to try it out… immediately! I would also encourage you to try exploring this sensation alone. As much as I myself enjoy it, it may not be a sensation that others enjoy (just like I've come across people who don't allow themselves to squirt or generally ejaculate because they don't like the mess that it leaves behind).
But I'd also like to add, that if and when you decide to try this posturing with a partner (or hell, even without), it's an excellent pressure point to hit for those of you that are into edging.
Whatever, whenever, and however you choose to give this external pressure point a go, don't ever say I didn't do anything for you.
Let's make things inbox official! Sign up for the xoNecole newsletter for daily love, wellness, career, and exclusive content delivered straight to your inbox.
Featured image by David Jakle/Getty Images
Relationships can be complicated, this is for certain! But, they get even more complicated when we keep trying to go with the flow of societal norms rather than doing what feels good to both ourselves and our partner(s). Yes, this is easier said than done and it also requires us to acknowledge limiting beliefs that we may hold about ourselves and our relationships. Fortunately, more and more people push the boundaries and norms in order to create a relationship that is tailored to the couple in it rather than greater society. We hear of more couples opening their relationships to polyamory (not to be confused with polygamy) and actively choosing not to have children and so much more.
Personally the more I know, the more inspired I become to live my truth and extend that truth into my relationship. Living and loving outside the lines really forces us to unpack what we once knew to be true in an effort to unearth what actually holds true for ourselves. For our relationships. But maybe you're someone who doesn't know the ways in which your relationship might look different, you simply know something is missing. For those of you feeling that way, here's a list that hopefully serves as a catalyst – 5 things to normalize in your romantic relationship.
I encourage you to take meat and leave the bones – meaning take what works and leave what doesn't agree with you. However, whatever you do, don't write it off without giving it some thought.
Featured image by Getty Images