Founder of a nearly decade old wellness practice and radical self-care ritualista, she is the epitome of her namesake Glow Maven.
---
Her doula and lifestyle expertise has allowed her to be the go-to guru to celebrity clients like Rebecca Minkoff, Tamera Mowry, and Venus and Serena Williams. Her and her services acted as a vessel of empowerment for Grammy-award winning recording artist Alicia Keys who cited her as the woman who helped her remind her of her power and glory as a woman cultivating and bringing life into the world. She breathes life into women in an effort to help them rise from the ashes of their former selves and into the divinity of their best selves. If you haven't heard her name before, you better get familiar.
Latham Thomas is the name behind the brand Mama Glow, a lifestyle brand and website that acts as a resource for new and expectant mamas looking to lead a healthy and holistic life. MamaGlow.com is a source that mamas can use in order to be inspired, educated, and partake in holistic services.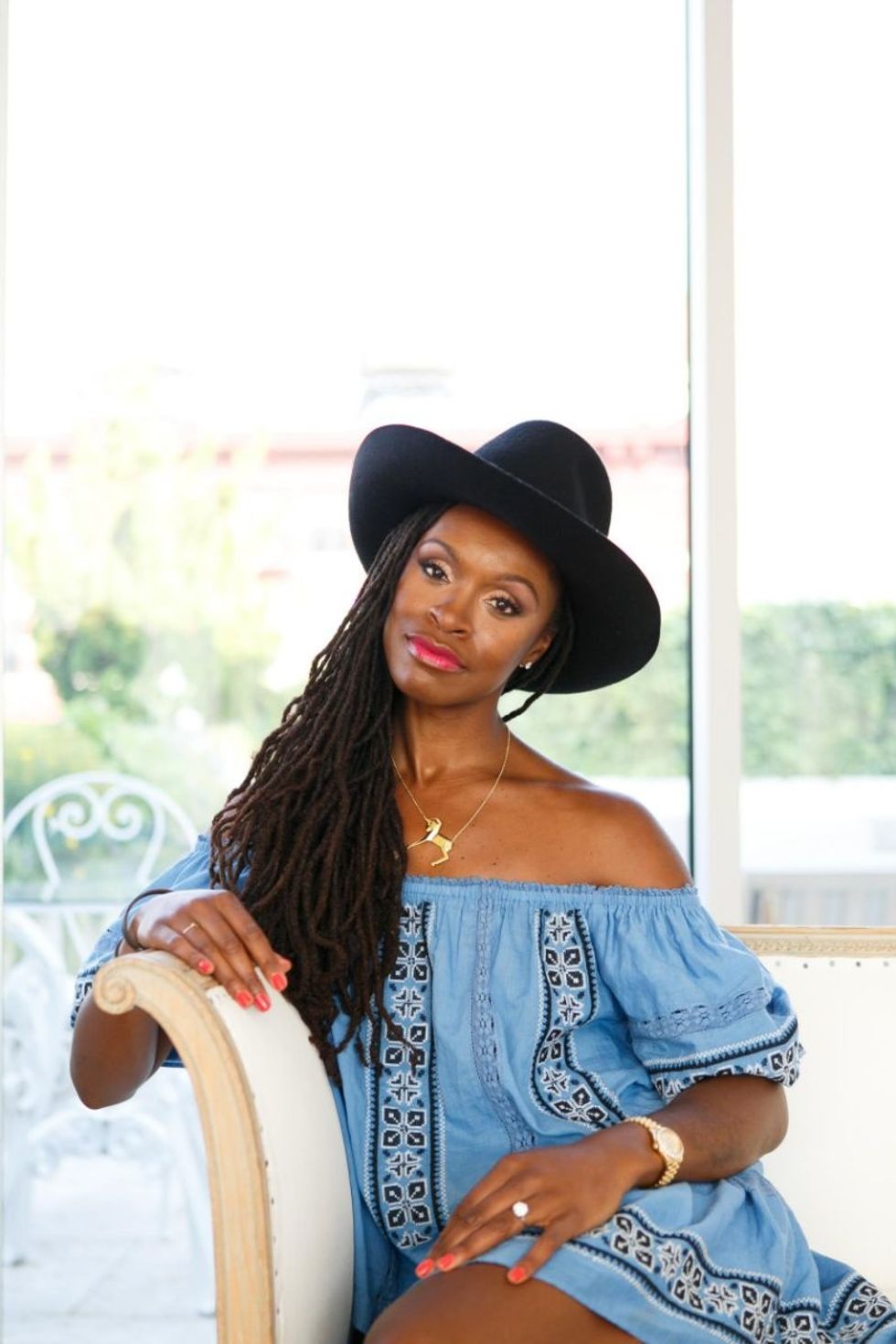 Syed Yaqueen
The Columbia University graduate is the best-selling author of Mama Glow: A Hip Guide to Your Fabulous Abundant Pregnancy, a wellness guide for expecting mothers that teaches women the ins and outs of her self-care principles – the biggest of which is the act of mamas taking the time to "mother themselves first". Admittedly, I'm not in the market for a doula, but Thomas in all of her doula dopeness glory appeared on my radar this past summer as she and Angela Simmons gave #glowtips throughout her pregnancy.
What resonated with me the most about Thomas, her mission, and her aura is that she can speak to all women and give us guidance in our lives on our spiritual, wellness, and physical journeys. She is devoted to appreciating the magic of the mundane things in life and practicing mindfulness. Thomas is a powerhouse of positivity that every woman deserves to be put on to. And now she is a best-selling author to a new book: Own Your Glow: A Soulful Guide to Luminous Living and Crowning the Queen Within.
We all deserve to grow and glow.
Read on and get inspired by her journey as an entreprenuer, becoming a soulful doula, becoming a mama herself, and birthing her Mama Glow brand to help keep all mothers out there glo'd up.
What sparked your interest in becoming a doula and yoga teacher?
I was led to doula care. It chose me. I was already working with many expectant mothers in my last practice, we offered nutrition, culinary support, yoga privates, and classes. Clients started asking me to attend their births because they wanted my nurturing touch to extend beyond the yoga mat into the delivery room. I had a vedic astrology reading where the guru told me "you're supposed to mother the mother." I knew exactly what he meant—I needed to take the practice to the next level and become a doula.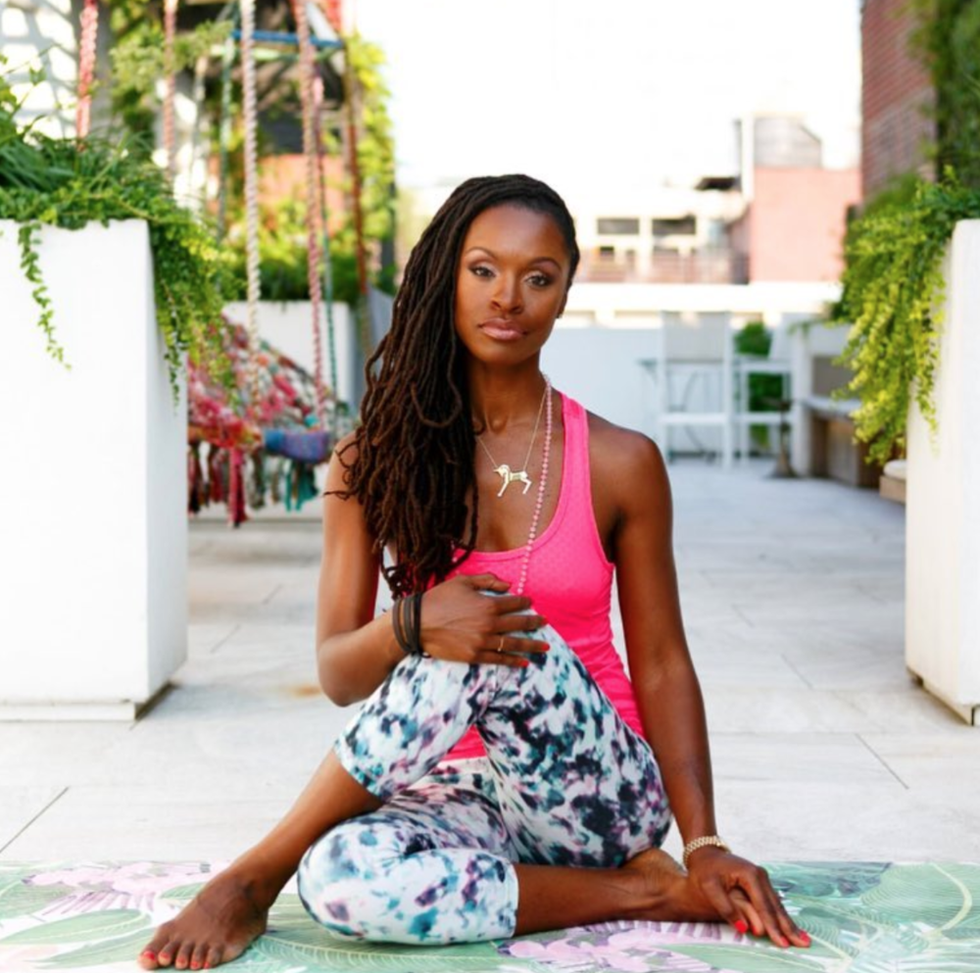 Syed Yaqueen
I started practicing yoga in college and shortly thereafter completely my 200-hour teacher training.
When I was pregnant with my son I would attend regular yoga classes and found them to be too restorative. I wanted to develop a prenatal practice that would challenge women as they prepared their bodies and minds for the demands of labor and motherhood. So Mama Glow Yoga was born.
How does yoga play an integral part of the pregnancy journey?
A dynamic prenatal yoga practice will support your health and well-being throughout pregnancy—as well as prepare you mentally, emotionally and physically for childbirth by building strength and flexibility in the body, a sense of wellbeing and relaxing the mind. And perhaps most importantly, it helps keep you comfortable. It helps to increase blood flow and alleviates some of the discomforts associated with pregnancy.
When I was pregnant with my son, my yoga practice was my saving grace. I developed my own prenatal practice that made me feel strong and capable. I learned how to tune in to what was happening in my body and ease my mind through meditation and deep breathing. Yoga also informed my birth ritual from beginning to end. I was able to relax into my breathing techniques at the onset of contractions, and I visualized the baby moving farther down the birth canal during each contraction. I knew that every sensation was taking me closer to bringing the baby into the world.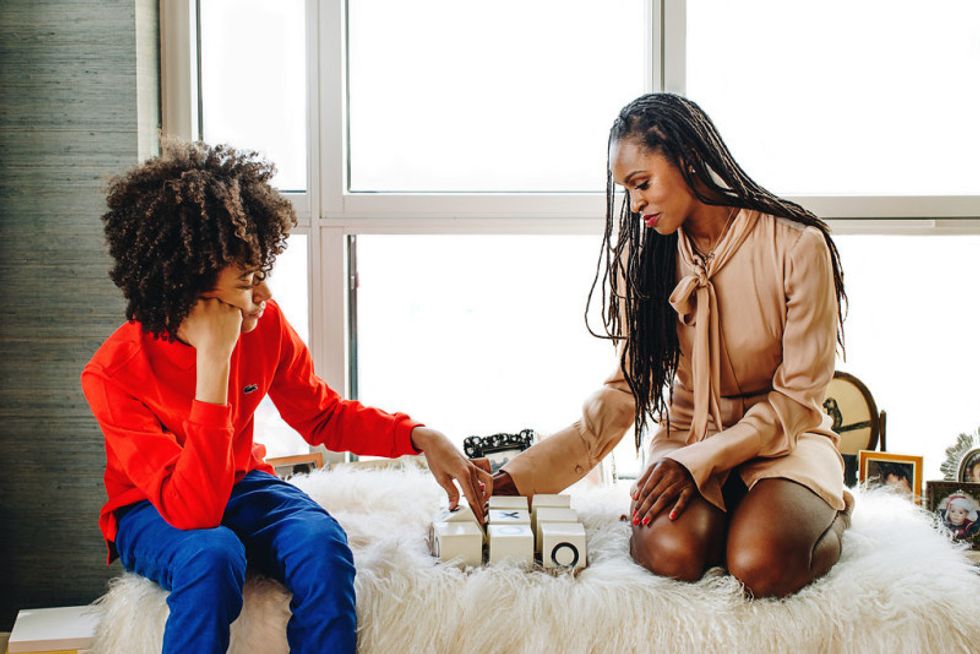 Mother Mag
"Birth is our rite of passage, and Mama Glow is our birthright."

What prompted you to start Mama Glow? How did you grow your following?
When I was pregnant with my son, who is now 13 years old, I noticed there was such a gap between the client and the practitioners. It was hard to find grounded, credible yet affirming information and people who would support me in the birth I dreamed of. I saw a need to celebrate the experience of pregnancy and motherhood, to elevate birth. I've been inspired since the day I gave birth to my son Fulano. Mama Glow, maternal wellness, and wellbeing isn't an interest, it's a lifestyle, a rubric to live by. I committed myself to growing a brand that served a larger purpose—to transform the way women perceive their bodies, to help women reclaim their bodies as sacred and give birth in an empowered way on their own terms. When my baby was sleeping, I would dream up ideas, write, and work on what would become Mama Glow. What started off as meet-ups in my living room and a film festival turned into a booming practice. I grew the following organically by just spreading inspiration and love, giving a peek into my world.
Our brand mantra is: "Mama Glow" is an abundant, radiant energy that comes from within. Birth is our rite of passage, and Mama Glow is our birthright—to walk in grace, power, and wisdom, to have understanding, reverence, and trust in our bodies. The act of standing in your power ignites a force within that glows from the inside out. It's a personal style that reflects confidence, beauty, radiance, and balance.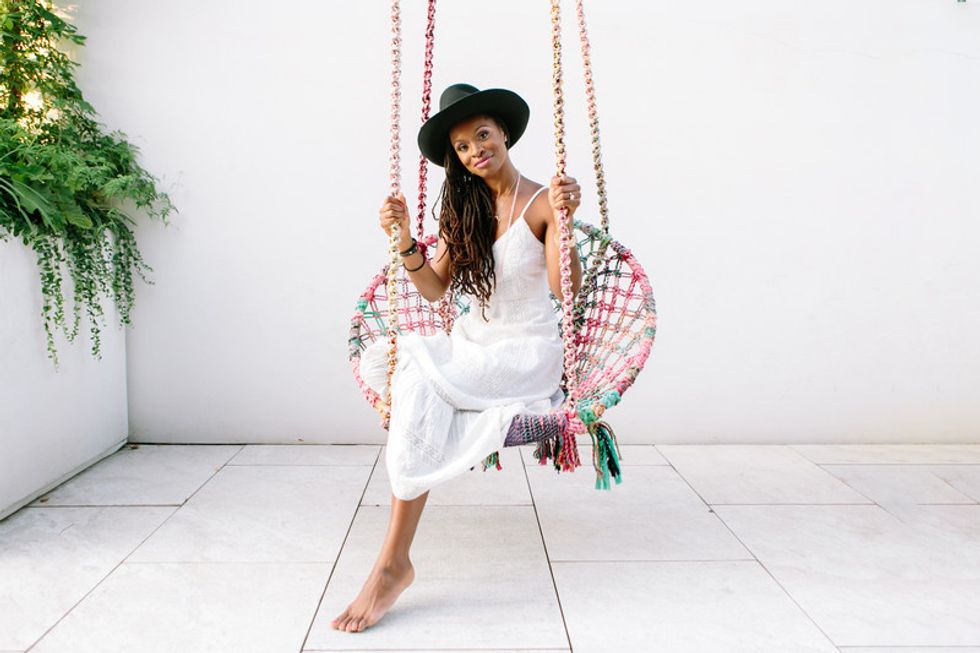 Syed Yaqueen
"The act of standing in your power ignites a force within that glows from the inside out."
Can you speak to the importance of minding what you put both on and in your body pre- and post-pregnancy?
It's just as important to mind what you put on your body as what you put in your body during pregnancy and postpartum. Pregnancy is the perfect time to mix it up with your beauty regimen. Pregnant clients often ask me what beauty products they should be using to cut down on their chemical exposure. What passes through your skin can potentially pass through the blood-placental barrier to your baby, so it's worth cleansing your vanity cabinet and stocking up on high-quality products. If you are intending to get pregnant, this is an essential part of the process that so many women overlook. There are countless brands out there loaded with chemicals that aren't so great for you, and certainly not good for your baby. Remember your skin is your largest organ, so you want to clean your beauty routine.
Pregnancy is a delicate process that is driven by the hormone estrogen. Common self-care and beauty products contain ingredients that disrupt the hormones, and can contribute to health problems long term. We have a non-toxic pregnancy guide that you can consult to make better choices during pregnancy and with your newborn.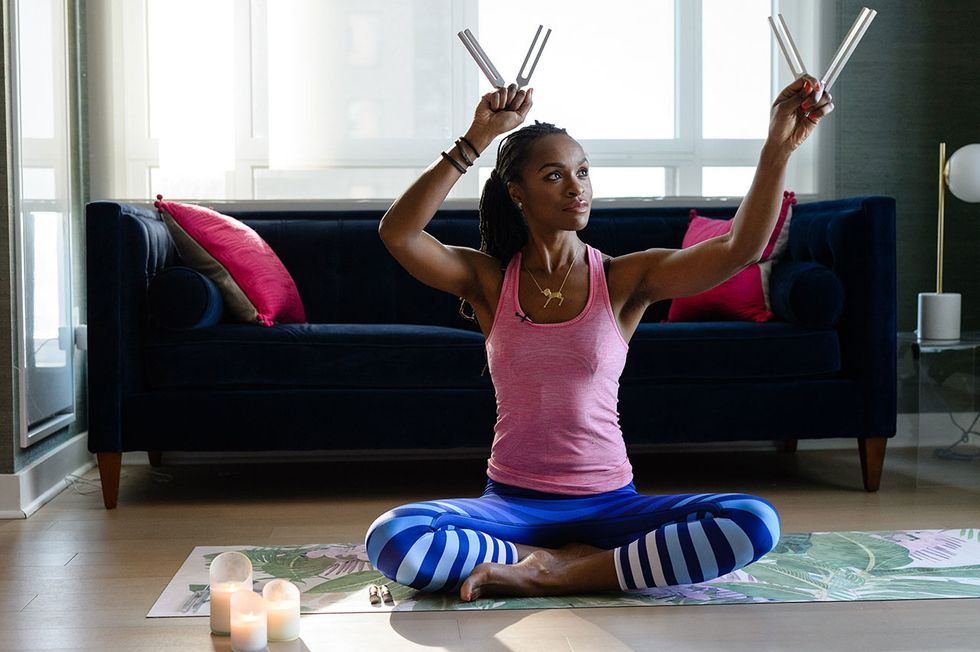 Mark Kuroda
What's the connection between spiritual and physical wellness during pregnancies?

Your spiritual wellbeing is directly correlated to your physical wellbeing. If we are not well in body and mind, we can not be spiritually fulfilled and vice versa. Developing a spiritual practice during pregnancy is a great way to honor the sacred process underway and it helps provide fortitude for what's to come.
Does yoga during pregnancy help with postpartum depression?

Prenatal yoga helps to restore peace of mind and the meditative breathing activates the parasympathetic nervous system, which controls our stress response sending happy hormones into our blood stream- helping to boost our mood. It can be a great tool to help mother's battling with postpartum depression. Yoga is about union, about connection, slowing down, tuning inward and choosing to engage with yourself on the deepest level, listening to your needs and using the movement as expression. Yoga allows us to find peace and calm when we can't calm our newborn or we're running late for a meeting. When you align your body, mind and inner spirit above all else, you not only set the tone for your day, but your personal practice can help you support others in your life.
"Yoga is about union, about connection, slowing down, tuning inward and choosing to engage with yourself on the deepest level."
A single mom residing in NYC, Latham Thomas is the proud mother of 13-year-old DJ prodigy and entrepreneur, DJ Fulano. Latham has been featured in a variety of media outlets including Vogue, SELF, Fast Company, Wall Street Journal, Essence, and Fit Pregnancy to name a few for her work and accomplishments with her revolutionary Mama Glow brand. Follow her on Twitter and Instagram.
Featured image by Syed Yaqueen