As Told To is a recurring segment on xoNecole where real women are given a platform to tell their stories in first-person narrative as told to a writer.
This is Racquel Kristi's story, as told to Charmin Michelle.
Our name? PopBliss.
We curate beautifully crafted $250,000 week-long secret wedding experiences for multiple couples in a group ceremony—with celebrity guest appearances, industry-leading professionals, luxury gifts, surprises, and excitement around every corner. Our couples and their guests are unaware of the details. All they know is the city and date. Keeping the details a surprise allows our couples to cherish a milestone while focusing on developing a strong union and starting their new journey in the best and most loving place possible.
It's their wedding day—just with five other couples, too.
We design an incredible, customized itinerary with more than six events, including the bridal brunch, cocktail parties, glam and dapper suites, tons of elite services plus a live-streamed wedding viewed across the country, keeping the bride front and center while highlighting the best of the host city.
Through our business model, we've created an unbiased community of couples who align with our core values, which become part of the longevity of their relationship—even after wedding week.
A little background about me: I'm a first-gen American, born to Jamaican parents and raised in New York. My mom was always naturally creative, and my father was always the business-minded dreamer. Most of my personality comes from and is influenced by each of them, but of course, I add a little of my own "curry" to the mix.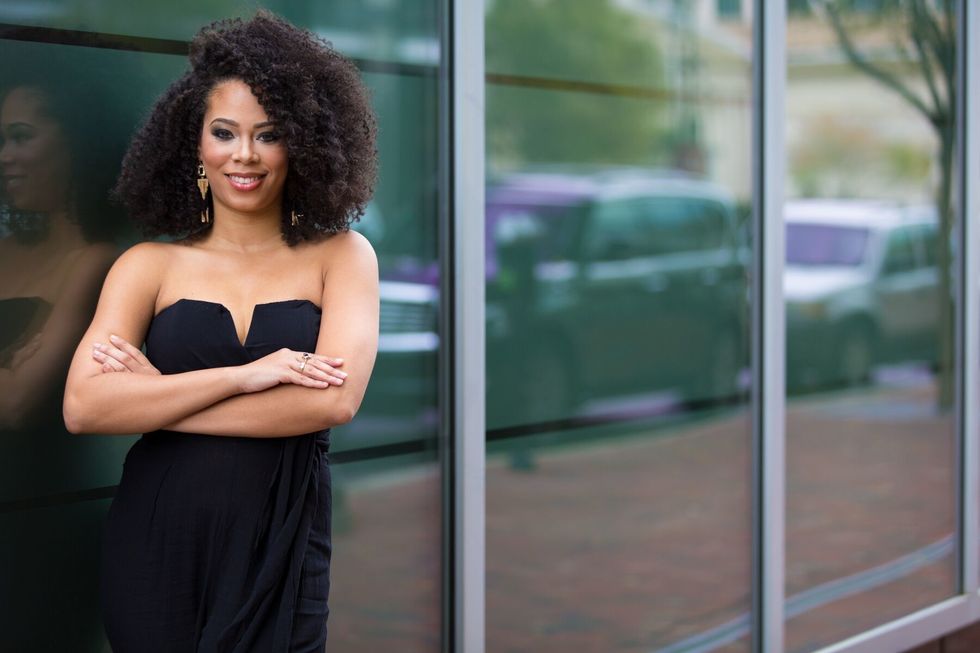 Courtesy of PopBliss
I remember the moment I fell in love with hospitality. My mom threw me a Sweet 16 party, and just by witnessing the planning and details she put into my special day, I remember being so enamored. I'd initially wanted to be an entertainment attorney. Ugh. All that quickly faded. A single party changed the course of my life.

I attended Howard University where I began taking classes in hospitality management, mostly because I thought owning a catering hall was what I wanted. I realized I preferred event production after watching The Wedding Planner (thanks, J.Lo!), so I became obsessed with all things event-related: I watched every show, read every magazine and book, and studied the top planners and designers in the world.
I needed to know it all, so I began my journey of getting it.
I wanted to create something no one could ever take away from me, but I didn't want to just be a wedding planner. I instead decided to become a celebration lifestyle brand.
And PopBliss was born.
Since launching, there have been many lessons learned, many setbacks, and many rewarding moments along the way. And most importantly, I've learned so much—good and bad. I remember my favorite wedding: New York, 2016. After several years of working endlessly, spending tons of money, taking lots of risks, enduring sleepless nights, and never giving up, there was a moment at our welcome party when I saw all the couples excited and dancing as they awaited their wedding day. I had a moment when I was lost in the full visual of what was going on. Like, I really built a brand, and everyone around me was appreciating it. It was amazing—a dream come true.
I created this. I did this.
It was surreal for me, and the absolute best moment of not only my event-planning career, but for appeasing that entrepreneurial little girl inside me who wanted to show all that she can do.
Reality soon set in, as we know that with group weddings, there are stigmas that come with it. Many women have their own fairy tale about what they want their wedding to look like.
Share a wedding event with someone else? No way!
People make assumptions. Some think group weddings are cheap and impersonal. Some think of it as a crowdfunding-style celebration or a fancy alternative to courthouse weddings or elopements.
In fact, it's the exact opposite. For us, we focus on the full experience of celebrating your union in a new, creative, individualized celebration that encompasses all that couples find important in their marriage and phase of life. We would never be described as "cheap"—are you kidding me? That would imply a lack of quality, which isn't the case at all. You can't knock something you've never experienced, and group weddings can be extremely magical.
And what's crazy is, I can remember one of my biggest career failures that made me believe otherwise. Just as success comes with the good, success comes with way more bad (whether your favorite entrepreneur admits it or not). I was planning a pop-up dinner party with over 700 guests, and well, let's just say Murphy's Law didn't play nice. Everything that could have gone wrong, literally did. I had thousands of dollars in an account that I couldn't access to pay vendors, our outdoor event site got rained on the night before, the caterer was five hours late, we lost sound, an ambulance had to take someone to the hospital, a team member of mine found out she had a terminal disease the day of the event—the list literally goes on and on. I thought Ashton Kutcher was about to jump out and tell me I was being "punk'd". Like, we got our butts handed to us. That was the day I learned high-level crisis management—and how quickly I could get to my local store for wine.
That was also the day I learned I was built for this.

When I'm overwhelmed, I walk away from whatever or whoever is stressing me and take a moment for myself. Then I do something that makes me happy, like watch a TV show or sit outside in the sun—basically, anything that allows me to collect myself and think through whatever is upsetting me. Also, water is my secret healer. Any time I seek clarity, I take a shower or go swimming. Putting yourself first involves being self-aware of the good and the not-so-good things about yourself. You have to consciously improve. I listen to many speakers on YouTube, and I have a gratitude journal that I write in daily. To relax, I cuddle in my bed and burn a good candle.

To top things off, my computer isn't allowed into my room. My room is for relaxation.
Ultimately, ladies, my world has taught me that love is love. No two people see love and marriage the same way. Both come in many forms and are never one-dimensional. The brides I work with are sure about themselves, what works for them, and what doesn't. They are confident in their unions, which in hindsight is a quality to have in order to be involved with group weddings. These women love celebrating who they are, and they want their style, their house, their partner, and their wedding to reflect that as well.
I've realized that your true love, your soulmate, your twin flame, or someone who might seem impossible to find, can be right in front of you and you never know.
Life gives you what you ask for and in no particular order.
It's not always "first comes love, then comes marriage, then comes baby in the baby carriage". Sometimes, it's all in reverse, but regardless of what your ideal love story looks like, the goal is to have healthy, happy, withstanding love. And if standing by five other couples while saying your vows is what that looks like, then there's absolutely nothing wrong with that.
PopBliss is currently accepting applications for couples who wish to tie the knot or renew their vows in a nontraditional, adventurous way. You may visit their website for more details.
If you have a story you'd like to share but aren't sure about how to put it into words, contact us at submissions@xonecole.com with the subject "As Told To" for your story to be featured.