An almost 30-year-old, soon to be divorced mom of two, going on an unpaid internship would be laughable to most. And most of my peers did (and still do) laugh at me when I tell them about what I'm doing. I realized that what anyone else thought or deemed acceptable by society's standards did not concern me. It would only stand in the way of me walking confidently in my path. So I ignored the nagging voice telling me to "get real" and give up my dreams, like so many times before, and pushed ahead to pursue a social media internship for the Curly Girl Collective, more specifically, for CurlFest, the world's largest natural beauty festival!
I first heard about CurlFest in the summer of 2016. As a new natural hair blogger eagerly doing research, I found several photos that women were posting on the 'gram under the hashtag #CURLFEST. All I remember was seeing big curly hair and bold festival style outfits on gorgeous black women of all shades with a lush green backdrop that I later would discover was Prospect Park in Brooklyn, NY. I was obsessed! I knew it was an event I wanted to attend, but I had no idea that two years later, I would be a part of it!
My original goal was to attend the festival in the summer of 2017, but life got in the way and I didn't even think to plan for it. Later in the year, life happened again but in a way that made me decide to take control and stop allowing life to keep happening to me and start allowing to happen for me. So when the Curly Girl Collective posted about needing social media interns, it felt like a no-brainer to put my name in the hat. I was not going to struggle or miss out on any more opportunities because of self-sabotage. I was going to bet on myself at every chance I got, and my first chance turned out to be a winner!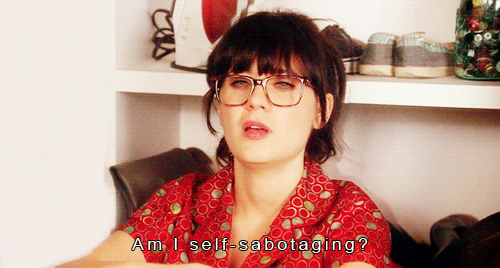 cdn.smosh.com
When I found out I got selected to be an intern, I was elated, but then the financial reality set in. How the hell was I going to pay for this? Or justify taking a trip to NY when I was barely covering my bills each month? I would have to secure my plane ticket, housing, and anything else I would need in NY.

On the surface, it felt irrational. But I knew that I had to do it in order to push myself to the next level.
So, I coordinated things with a friend of mine who was also going to CurlFest and was able to get an amazing deal on a plane ticket. She also found an Airbnb for a reasonable price. I knew things would be tight, but I was going to make it! At this point on my journey to CurlFest, I was confident and felt unshakable. I was determined to suppress that little nagging voice in my head telling me all the reasons why this was not going to work out, and I kept pushing ahead towards Brooklyn.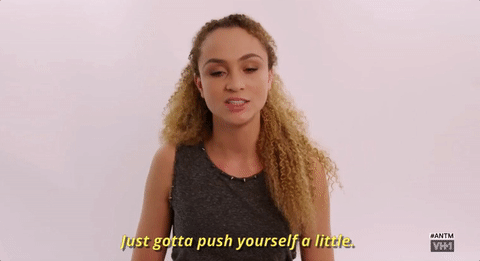 media.giphy.com
My entire CurlFest experience was a blur of excitement, stress, and lots and lots of walking. Our social media team jumped in and helped volunteers with preparing goodie bags and excitedly reflected on how our hard work was paying off! Our campaigns were creating buzz and one of the girls (shoutout to Amber) cracked the infamous IG algorithm, which played a huge part in us hitting goals we had to grow the social media presence of the Curly Girl Collective over the weekend.

The biggest hurdles I had to overcome in my time working with the CGC were self-doubt and a serious case of Impostor Syndrome. I've always questioned my abilities, despite countless examples of why I should not. As I've forced myself to reflect on this during meditation and writing, I realized that it wasn't so much that I am afraid of my abilities, but I am afraid of winning. I am afraid of walking in my greatness because it's so much easier to be small.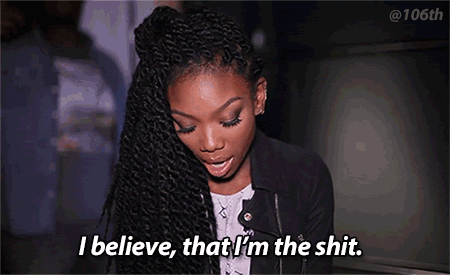 media.giphy.com
I remember hanging out with a girlfriend and repeating how much I could not believe that I was selected to work for the CGC. She laughed the first time, but the next time I said it, she called me out. She told me to quit questioning the opportunity that I was given and focus on showing and proving that they made the right choice. In that moment, it was clear that I was the only thing preventing me from moving to the next level in my career, regardless of the industry.

From then on, I did self-checks every time I gushed about how much I could not believe that I had gotten an opportunity. I appreciated the fact that I worked hard for the opportunities that I landed, they were not handouts. When I did this, my ideas began to flow more freely. I submitted work to the rest of the team and the CGC founder we primarily correspond with, and consistently got positive feedback.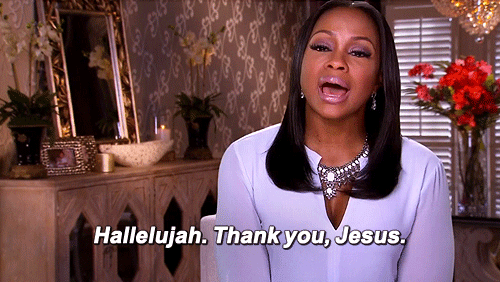 media2.giphy.com
I made the decision to embrace my gifts and blessings instead of questioning them and everything blossomed from there.

For years, I allowed negative self-talk and fear of failure to hold me back; so much so that self-doubt almost stopped me from pursuing the opportunity to work with CGC. This time though, I forced myself to focus on positive self-talk and anticipating success! It was scary, but I finally decided that I was going to start taking more chances on me. Period. I never saw myself actually making a living as a content creator, but now I do. Since returning from CurlFest, I have been sending out pitches, doing photoshoots, asking for help when I need it so that I can focus on my work, etc.
I finally started taking myself and my dreams seriously and in turn, I see God blessing my efforts. My road to Curlfest served as a catalyst to me walking in God's purpose for my life. It helped me to learn to trust myself, my decision-making process, and to quit doubting my gifts.
Most importantly, I finally gave myself permission to affirm my dopeness while still showing gratitude to the source.

After spending the last 28 years operating from a space of timidity, my decision to go to NY for the Curly Girl Collective/CurlFest internship was a bold move that provided the exact confidence boost I needed.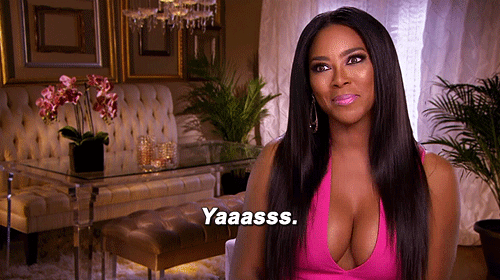 media0.giphy.com
I'm starting my life over as a single mother of two, pursuing a creative career, and killing it! Naysayers had me convinced that I couldn't hold things down on my own and that my dreams would have to be put on hold. But I know that motherhood gave me a reason to go harder for my dreams, not an excuse to forget them. CurlFest confirmed that for me and I was both humbled and emboldened by the experience.

Featured image by Shutterstock