---
How do you celebrate your anniversaries? While something small and intimate may be the way to go for some of us, some xoCouples plan extravagant getaways overseas and others --they celebrate their relationships by taking things a step further. It was a lowkey weekend for Brianna and Lamar, a couple celebrating their two-year anniversary in Ocean City, New Jersey. The pair headed to the beach to try parasailing for the first time with three other couples and two friends. Amid the excitement of trying something new, Brianna was in for a bigger surprise when her then-boyfriend decided it was best to propose to her hundreds of feet in the air.
Imagine the adrenaline rush that overcomes you when your partner proposes, but then drops your engagement ring into the ocean seconds later. Welp! "On the weekend of our two-year anniversary, he planned for us to go parasailing. That Saturday, July 25, we headed towards the beach and all seemed normal. We checked in and boarded the boat with excitement. There were three other couples, two friends and us aboard. We watched as three couples went and then it was our turn. It was an adrenaline rush, but once we were settled in the air things were calm and relaxing," Brianna recalls. "My now-fiancé starts fidgeting around and so cautiously I tell him to keep his hands on the strap. He didn't listen. He asks me to extend my hand and then proposes to me.
"I'm totally in shock, and excited. I said, 'yes'! As he tries to place the ring on my finger, he misses and it drops from his hand into the ocean. My heart dropped. I'm panicking and he's in disbelief. The other couples saw and were totally embarrassed for us."
In a state of shock, Brianna tells the story of keeping it cute while internalizing her shame upon arriving back on the boat with the couples who witnessed the embarrassing moment. "When we got back to the boat, I made no eye contact and headed for my seat. Before I could turn around I hear him say, 'Now here is the real proposal.' He pulls out the REAL ring, gets down on one knee and asks for my hand in marriage. Even with all he put me through, ecstatically I said, 'yes'! He's always had a natural flare for the dramatic!"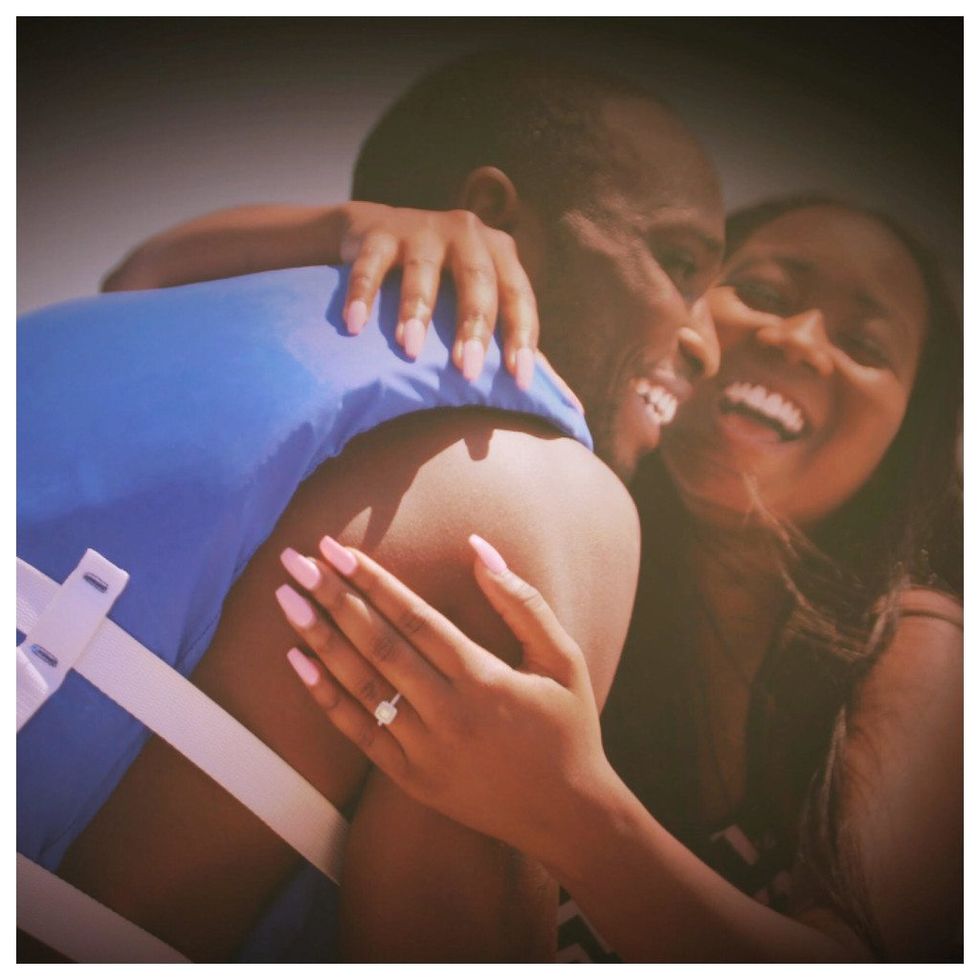 Two years, two yes's, and an anticipated wedding date on October, 15, 2016, this is the story of Brianna and Lamar's engagement and why she said yes!
Give us a glimpse of your relationship with Lamar after two years of dating.
Brianna: We see ourselves as privileged and blessed to have crossed paths. We've made such an impact in each other's lives just within these two years. We relate so well with one another, despite our two totally different personality types. I am analytical and observative, while he is more spontaneous and charismatic. Although we are different in that aspect, we both had humbling beginnings which is in part, the reason why we are so genuinely humbled and appreciative of the love we have for one another. We are literally the best of friends. We try to spend as much time with each other as possible because we thoroughly enjoy one another's company.
What were your thoughts for the weekend of your anniversary? Did you have any particular expectations?
Brianna: I had honestly given up on expectations shortly after I made a complete fool of myself when I thought he would have proposed to me on my birthday just a few months earlier. I am not big on celebrating my birthday and he knows this, but he planned a beautiful dinner, bought us tickets to see The Lion King on Broadway, and he bought and laid out an expensive outfit to wear on this "special" night. It all seemed like the perfect set and timing for him to pop the big question. I was positively sure that he was going to do it right then and there, but he didn't. After my internal pity party, I realized that I had selfishly created my own idea for his proposal and had unnecessarily disappointed myself. How did I even know if he was ready? I didn't. I was just trying to live out a movie screen fantasy and it backfired. After I let myself down, I let go of all expectations on being engaged in the near future.
When did you know Brianna was the woman you wanted to spend the rest of your life with?
Lamar: When she came into my life I was in a place that many people may relate to at one point and time in their life. Relationships seemed to be so redundant and disappointing. She taught me never to give up on love and showed me the true power and meaning behind it. She shined the light where there was darkness.
A lot of relationships begin with infatuation. Whether it's about physical appearances or just the thrill of unveiling someone else's mystery. I admit that I had been infatuated with her in the beginning, but throughout our relationship, she continues to captivate me. Her mystery can not be solved. She is perplex, yet intriguing, and suspenseful. You will never know or understand her on the surface if you do not follow and pursue her to a deeper level. Every day feels like a new chapter in her mystery.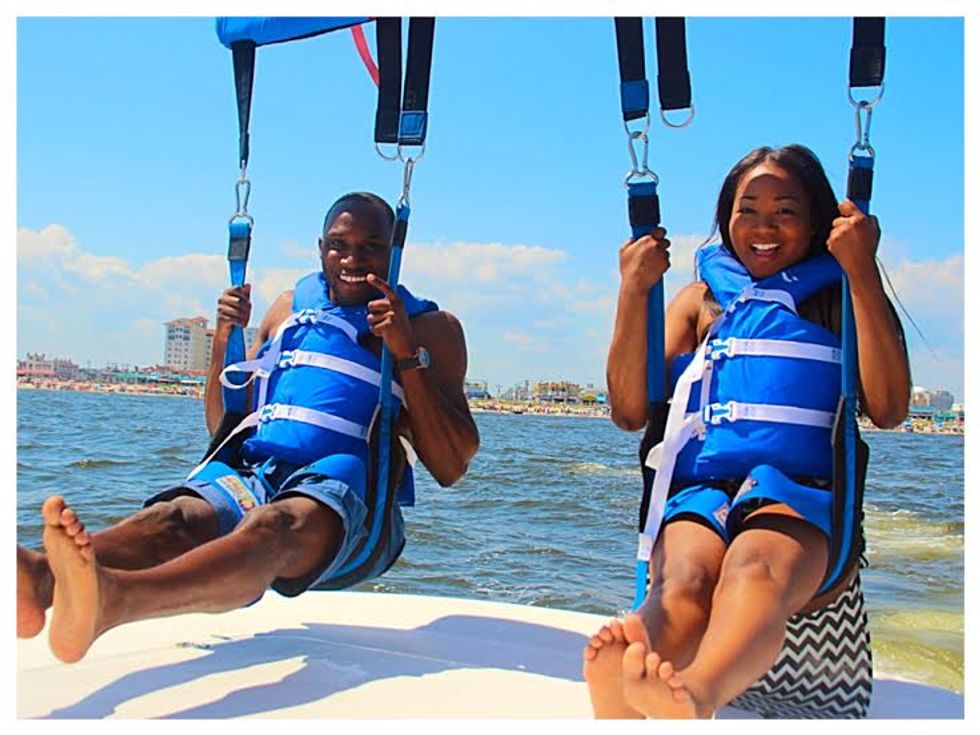 Have you two discussed marriage prior to the engagement?
Brianna: Marriage was always in the plan. I was raised as a Christian, and even though my beliefs have shifted over the years, marriage has always been the goal for me in a relationship. He actually approached me with this discussion one day. You can't make a man want to marry you/spend the rest of their life with you. This can't be forced, so I was very thrilled and delighted once he decided to initiate the conversation.
Lamar: I firmly believe in marriage also. Happy wife, happy life. I want her to be happy and feel secure in our relationship, and it makes me happy to know I'll be spending the rest of my life with the woman I love. In my perspective, marriage is beautiful. She's the only woman I see/want to see myself growing old with.
The two-in-one proposal was genius. Where did you come up with the idea of a failed proposal and switching it up to the real thing the second time around?
Lamar: I initially browsed the internet for ideas to propose, but every concept seemed similar in nature and approach. I have never been the type of person that likes to do what's typically expected. I am one for a good prank, but I also looked for substance as well. I wanted my proposal to be a representation of our infinite union, whether we have good days or bad ones. The importance lies in us remaining beside each other.
What were your thoughts after the fake proposal, but before the real deal?
Brianna: TERROR and embarrassment, were my emotions. "Oh sh*t" was the running thought in my head. I also found myself very frustrated with him, because I couldn't figure out why he would try to put a ring on my finger while we were dangling 1,000 feet over the ocean. Although, outwardly I displayed a great deal of concern for him. I was sure he had to feel slightly worse than I did. In a caring tone, I assured him that everything was ok, that we can wait for another ring, and that regardless of this small loss, we were still engaged to be married!
Even the boat's captain chimed in saying "Hey, all that matters is the answer, right?", which eased little, but not all of the tension.
Lamar: I wanted to make this moment memorable for her, while incorporating a little bit of my character as well. I thought it was funny. I was going to keep the momentum going, but once we were back to the boat, it was painfully silent and there was just this look of pity in everyone's faces. I thought to myself, I really must have done an excellent job with my presentation. I would have dragged it out, but I know my fiancé would have went from her concerned, yet calm and cool nature, to flipping out as soon as we got back to the car after she's had the chance to think about it.
You mentioned your fiancé has a natural flare for dramatics. What are some things that interested you about him?
Brianna: The first time Lamar invited me out, my friends and I met up with his friends at a local club/lounge. Him and I worked at the same company, so pretty much what I had observed from his business demeanor at the workplace was that he was a businessman, a leader, and a little on the serious side. I didn't quite take him as the adventurous type at first. When I stepped foot into the club, I noticed him–in the middle of the dance floor, with two beers in hand, tipsy and wild'n out of control. His two-sidedness intrigued me.
Lamar is gravitating. He's playful and animated, but strikingly, very well-rounded. He's as interesting as the Dos Equis man and as smooth as the Trivago guy. My fiancé knows how to move in a room, whether among friends or business acquaintances. He has plenty of friends who love and support him, as he does the same. He is also a very social and extroverted person who makes for fun times and adventure with practically anyone. I'd say, he's the perfect mixture of a good guy and a total asshole. This keeps things very exciting between us.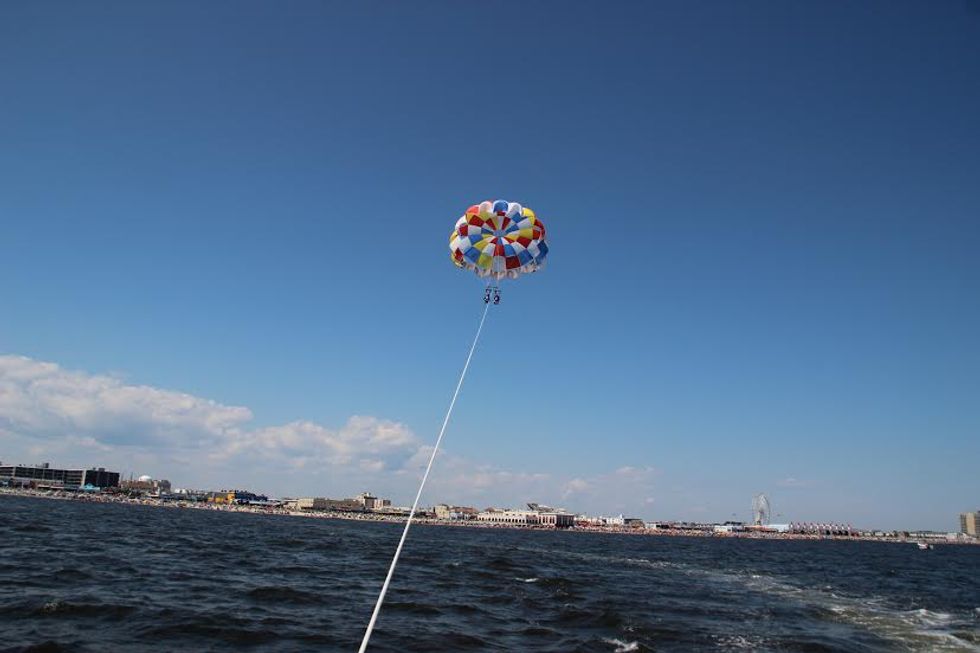 What are you two looking forward to in your marriage?
Longevity, appreciation, support, loyalty, adventure, passion, building a future together, continuing to grow, making memories, and having a real bond that lasts over time.
Do you have an amazing proposal story that you would like to share? Contact us at editor@xonecole.com, Subject 'Proposal Story.' Include photos and video (if possible)!
Read more amazing proposal stories in our She Said Yes! section!