I've seen it happen far too many times. Boy meets girl. Boy and girl embark on what eventually becomes a long term relationship. After a few years girl begins to wonder if boy is even considering marriage since boy seems to be quite complacent just being a boyfriend. Girl grows frustrated from waiting and eventually boy and girl break up. After some time, boy meets new girl and seems to wife her up overnight. Girl gets angry and considers catching a felony because she feels all she did was prepare her boyfriend to be someone else's husband. WTF happened?
---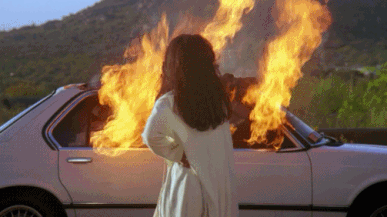 Why did he marry the next woman and not you? Let me reassure you of something I learned in a past relationship:
[easy-tweet tweet="The world is filled with plenty of good people who are not good for each other. " via="no" usehashtags="no"]
The world is filled with plenty of good people who are not good for each other. Now I know that's not very comforting when you feel like you've invested years into "upgrading" a guy only for him to turn around and give the good life to a new girl. It was only a few months ago that I listened to one of my best friend's vent about her child's father:
"I helped this ni**a get a passport. I've filled out job applications and created resumes for him. If it wasn't for me his stupid ass wouldn't even know what an "offer letter"  is and now he's spending his checks on this new b**ch and her kids?"
The same happened when a few years ago news broke that singer Ne-Yo was not only engaged but expecting a child with model Crystal Renay, a few fans weren't feeling very congratulatory as they questioned the "Let Me Love You" crooner's relationship choices. It didn't help that the mother of his children, Monyetta Shaw was recently featured on the Vh-1 series Atlanta Exes  at the time and revealed details about a decision she claimed she and the singer shared for her to undergo tubal ligation after giving birth to son Mason and daughter Madilyn:
"As a family we decided we didn't want any more kids. Once we learned that our second child was a boy, we were in the office high-fiving like 'Yes. We're done, The doctor hit us with the option."

"If we done, we done, we decided we didn't want anymore kids, we decided we didn't want anymore kids."
So when Crystal Renay took to Instagram last summer to post an ultrasound pic announcing her pregnancy with the singer whose legal name is Shaffer Smith, fans went all the way in on the couple in Shaw's defense, calling Ne-Yo a "disgusting animal" and even bringing up Crystal Renay's "porn past" with clips surfacing of her appearance in an adult video years ago.
Admittedly I had conflicting feelings about the situation. I couldn't imagine making a decision with a man I wasn't married to that we had completed our family and yet I'm the one who needs to undergo irreversible surgery, but I could sympathize with Shaw, who was clearly in love with a man she believed she would spend her life with. And as much as I gave Ne-Yo and Crystal Renay the side-eye, from what was revealed about the situation he didn't cheat on Shaw and he didn't make a baby with Crystal Renay on a break. From what we could see, the relationship with the mother of his children didn't work out, and he had moved on and seemingly found happiness with someone else. So why were some women so angry?
No woman wants to feel like she was treated like trash by a man only for him to move on and treat the next woman like treasure. There's something justifying about chanting phrases like "Once a cheater always a cheater," or "How you met him is how you'll lose him," in our heads when a horrible ex moves on to the next. I can remember plenty of times browsing through an ex's Instagram to see him experience one break up after the other and chuckling to myself, thinking, "That's exactly what the hell you get for thinking you could do better than me." It's not that we celebrate our sistas being dogged and degraded, but I believe there's a certain part in a very dark place of every woman who has been hurt that needs to be convinced it REALLY is him and not you. Seeing an ex move on to find happiness with the next woman challenges that false sense of confidence.
But here's the thing, helping a man become a better person is about wanting to build up someone you love so they can reach their full potential, not because you trying to "Easy Bake" the perfect boyfriend. It's about supporting your partner because you love them at the time, even if if that love doesn't last forever. And even if he takes all those investments and deposits them in the next relationship, it doesn't always mean that all you should be left with left with is resentment. Break-ups don't always have to be someone's fault and I truly believe some people bring out the best in one another, and some people bring out the worst.
It's also about timing and maturity. I've seen men who at 23, couldn't remember the name of the woman they had sex with two seconds ago. But later at 30, have settled down and are in committed relationships of trust and respect. As much as it gives us a sense of control and hope that we can change a man, the truth is only time and the man himself can do that, not the new girlfriend or wife. If that doesn't happen on your watch, you have to accept that it wasn't meant to be and move on.
There's a phrase that The Real co-host Tamera Mowry always uses that I love: "Man's rejection, is God's protection." I recently bumped into an ex and learned he got married not too long ago and as we caught up on all of our life changes, it didn't take long for me to recognize his wife was custom made for him. She didn't seem like a bad person, but she definitely accepted things in the relationship that I would have never gone for and I was reminded of exactly why we didn't work out in the first place. So if Ne-Yo up and lost his mind and left Crystal Renay today and tried to make it work with Monyetta Shaw, I wouldn't be surprised if it didn't work out once again. Sometimes you have to trust "the one that got away" was actually "good riddance."