xoNecole's Chief Mom Officer explores the 18-month post-pregnancy journey through the lens of our very own Chief Mom Officer, Shakyna Bolden. The series will serve as an inspirational and resourceful guide to help get through the early days of new motherhood as working moms knowing they are not alone in the hardships.
"I want to build my work around my life, and not my life around my work."
---
I typed these words in my iPhone Notes as I fed my newborn daughter one morning during the first few weeks of having her earthside. I didn't have much time for page-filled journal entries as my days were filled with nonstop feedings, soothing, and recovery…but I knew I needed to give those words space and life.
Prior to my maternity leave, I, like most working moms, was burning fumes juggling work and life. Since 2019, I've been running revenue operations here at this really cool company you may have heard of called xoNecole (hehe). I've been behind the scenes building our brand partnerships and negotiating deals with companies such as Ulta Beauty, Toyota, Target, Spotify, SheaMoisture, etc.
Featured image courtesy of Shakyna Bolden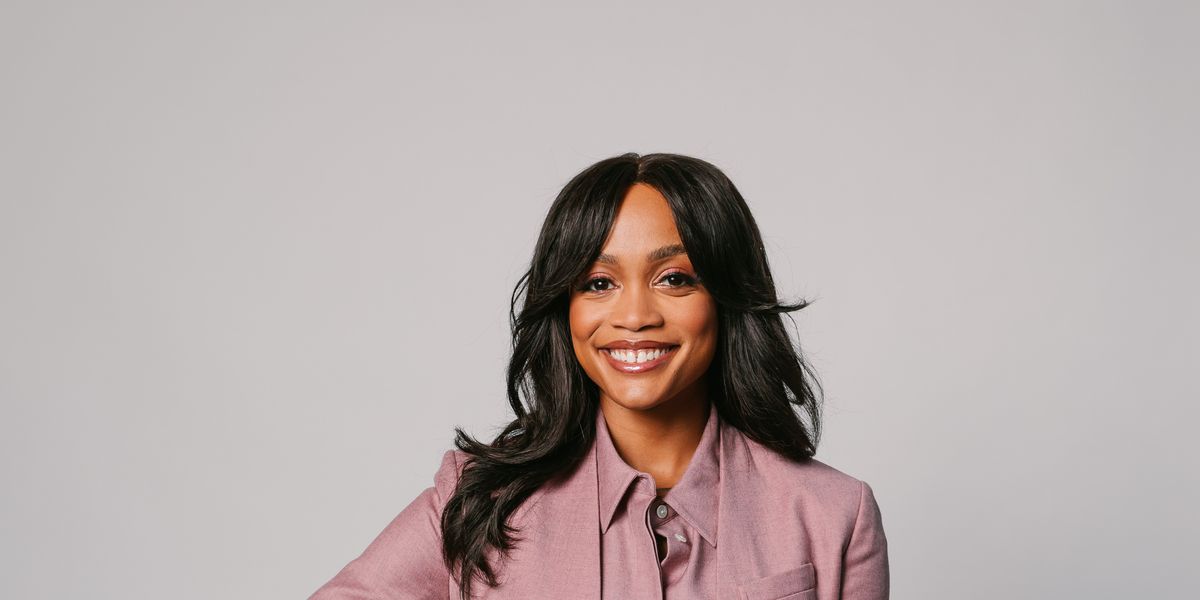 There are two words that Rachel Lindsay keeps returning to over and over again: Rest and renew.
The ambitious, self-described "type A" media personality just left one of her more prominent roles after three years, and instead of being anxious about the downtime, she's finally learning to take a few moments for herself.
When we talk via Zoom in late August, Lindsay, 38, has just returned from a lunch date with a friend, the type of midday social outing she'd never had time for previously. In a week, she'll be heading to Europe for an Eat, Pray, Love trip. It's the first time she's had time to go to Europe in five years.
"You ask me what I have time to do? Take care of me," she says, beaming.
In the past six years, Lindsay has made a lot of changes. After becoming the first Black woman to lead ABC's Bachelorette dating series in 2017, she fell in love with Bryan Abasolo, the man she chose on the show, and married him. Enamored with the world of entertainment but also accustomed to the stability that being an attorney provided her, she returned to practicing law in her native Dallas, Texas, while pursuing media opportunities on the side.
For a time, Lindsay would fly herself to Connecticut to co-host ESPN's Football Frenzy radio show. The role was perfect for the Dallas Cowboys fan and sports fanatic who majored in sports management and once dreamed of becoming an agent. In 2019, when she finally felt she'd saved enough money and made enough connections, she made the leap and left the legal profession behind, determined to bet on her entertainment dreams.
Working as an on-air correspondent for Extra was one of Lindsay's first big roles as a full-time media personality. In this job, she interviewed celebrities such as Halle Bailey and Anthony Anderson. She also notably conducted the controversial interview with Bachelor host Chris Harrison that subsequently led to his departure from the franchise. After Harrison told Lindsay he felt people needed to have "grace" for a contestant who had attended an "Old South" party, Lindsay publicly announced her plans to distance herself from the series.
Today, she cites changes in Extra's leadership and her responsibilities as the reason for her recent departure after three years. "I just didn't fit within the new regime," she reveals to xoNecole.
Lindsay is currently focusing her energy work-wise on her two podcasts with The Ringer Podcast Network, the Higher Learningshow with Van Lathan, and Morally Corrupt. Despite the extremely different subjects – Higher Learning touches on race and politics while Morally Corrupt finds Lindsay commenting on her favorite Bravo reality shows – she gushes when speaking about both, calling podcasting "the most liberating thing you can do."
On Higher Learning, she's challenged by her co-host, Lathan, to think in new ways. She's regularly in conversation with prominent figures such as Tracee Ellis Ross and Billy Porter.
Lindsay, a "Bravoholic" whose favorite Real Housewives franchise is Potomac and whose favorite Housewife is Nene Leakes, is no less passionate about Morally Corrupt, even if the subject matter is much lighter. "I've always loved reality TV because it was such an escape from my real world. Part of me admired people who could put themselves out there in a way that I believed I never could, until I went on reality TV," Lindsay says.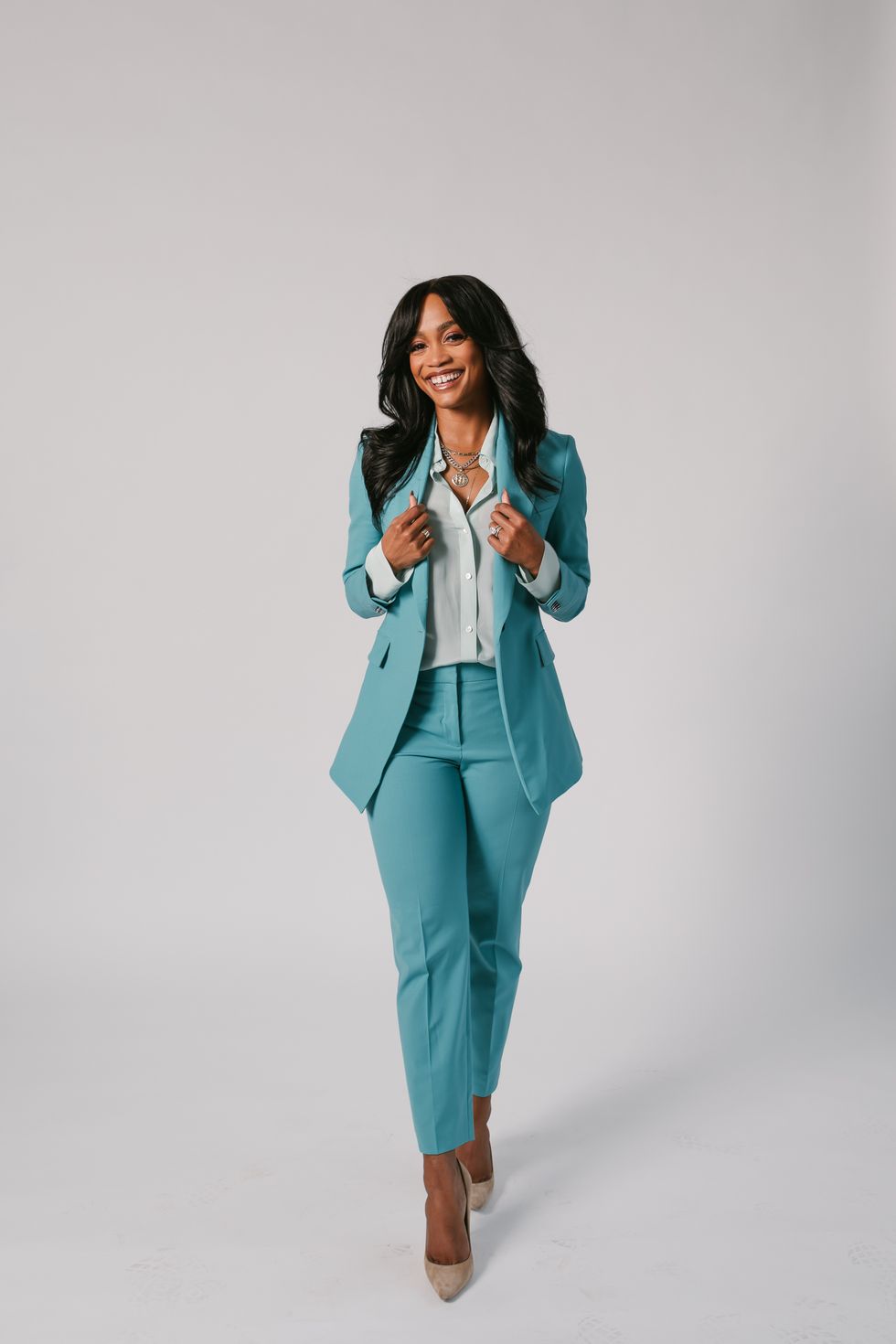 Courtesy of Rachel Lindsay
The podcast host says she never intended to find love when she went on The Bachelor, and she was surprised when she was asked to lead season 13 of The Bachelorette. Going from viewer to reality TV star quickly opened her eyes to the demands of being a public figure. After receiving initial criticism from viewers about choosing and marrying Bryan Abasolo, she realized she wanted to become more protective of certain aspects of her personal life.
"I quickly learned that we had to protect what we had, and stop trying to prove it to other people and convince people to know what we knew to be true," she says. "I wish I could share more of my relationship. But the moment you do that, you have to continue to provide more and you have to continue to answer."
In many ways, Lindsay benefited from being on a show like The Bachelorette, where the contestants are confined to a limited environment over a temporary amount of time. She says she doesn't think she could ever be on a reality show where she's expected to reveal all aspects of her life constantly. In fact, she says if she ever had pregnancy news or updates about her relationship with Abasolo, she wouldn't make a big public announcement.
Since walking away from The Bachelor franchise, the former Bachelor Happy Hour host says she's been approached to participate in recent seasons, specifically this year's season with Black lead, Charity Lawson. Lindsay says she ultimately declined to participate. "I just started thinking I can have a relationship with Charity – whose number I do have and I have talked to – outside of the show. I don't need to come on television to put that out there for other people," she says.
Reflecting on her life today, Lindsay is trying to learn the benefits of being still. She's not planning to do any on-air correspondent booked for the time being, and she's not planning to release another book, the followup to the collection of essays Miss Me with That or the fictional Real Love.
As her 40th birthday approaches in a couple of years, she's been thinking a lot about the popular quote, "You are, right now, as young as you'll ever be again" from the FX drama Fleishman Is in Trouble. If she does start on a new creative project, it might delve into this notion, she says. "I think I could do something in that space about adulthood and getting older and maybe questioning things in life because I think we all do it," she tells xoNecole.
Lindsay is not rushing the process, though. For now, she's remembering to rest and renew.
"We'll see what comes out of this state that I'm in."
Featured image courtesy of Rachel Lindsay

There are a number of sleep aids on the market promising that you're just one tablet, gummy, or tincture away from a restful night's sleep. Still, at times, the grogginess and inability to stay asleep after taking one in can almost make you wonder if all the milligrams of magnesium and melatonin are worthwhile.
But what if we told you that our body had a natural built-in snooze button that you can activate with the right pressure technique that will have you feeling calmer and catching Z's in no time?
What Is The An Mian and How Does It Work?
To understand An Mian, it's important to know its connection to acupuncture.
Acupuncture is a traditional Chinese medical practice of inserting thin needles into specific points on the body to stimulate various physiological responses. It is based on the concept of balancing the body's vital energy, known as "Qi" or "Chi," and the flow of energy through meridians or pathways in the body.
The An Mian pressure point (which translates to "peaceful sleep") is a traditional acupuncture point located on both sides of the neck, slightly behind the earlobes, and just below the base of the skull.
In traditional Chinese medicine and acupuncture, the An Mian is often used to address various conditions such as insomnia, anxiety, stress, and even headaches by stimulating the point through acupuncture techniques. Because it is believed that insomnia is an energy imbalance, Eastern medicine seeks to correct this "flow" through the use of acupuncture.
Some research suggests that activating this pressure point can help calm the mind, promote relaxation, and improve sleep quality, and is commonly used to alleviate sleep disorders and related issues.
Here's How To Activate Your "Snooze Button" 
If you're looking to hit the snooze button on your mind and body to get the sleep you deserve, follow these steps, and you'll be off to sleep before you know it.
@easternvitalityacu

Having trouble sleeping? Try this natural remedy to help you catch some z's! #easternvitalityacupuncture #parkridgeillinois #parkridgeil #norwoodpark #edisonpark  #holistichealing #holisticwellness #holisticliving #alternativemedicine  #holisticlifestyle #naturalhealth #holisticmedicine #foodismedicine #tcm #traditionalchinesemedicine #chinesemedicine #acupuncturist #acupunctureworks #acupuncturetreatment #acupuncturerocks #acupuncturelife #acupunctureheals #nutrition #holisticnutrition #TCM #fallasleep #troublesleeping #sleepproblems #traditionalchinesemedicine
Begin by forming an 'L' shape with your index finger and thumb.
Position your index finger directly in front of your ear, aligned with your earlobe.
Let your thumb rest naturally against the base of your skull, just behind your ear.
The An Mian pressure point can be found in the approximate area where your thumb is resting.
Use gentle pressure for a few minutes until you find yourself falling asleep.
Let's make things inbox official! Sign up for the xoNecole newsletter for daily love, wellness, career, and exclusive content delivered straight to your inbox.
Featured image by Viktor Cvetković/Getty Images