---
"This whole country is a strip club. Someone's dancing, someone's throwing the money." - 'Hustlers', 2019
I worked for investment bankers during the day then hustled them at night. If you've recently seen the movie Hustlers, just know that I worked in that exact kind of club environment. I now spend a great deal of time in the capital of New Jersey. It's a tiny township that was devastated by the 2008 financial crisis. It doesn't look like it ever recovered in 2019. Did the big corporations ever get brought to justice for ravaging an entire country? They did not.
It was the early aughts. I was fresh out of my fancy university with two degrees. Being a young performer in NY meant having many flexible jobs. A "culturally ambiguous" name to put on a resume and training in Linklater standard American speech didn't hurt. The look on their faces at the big banks when I walked in was always priceless. As a temp, I was Executive Assistant to C-Suite Executives in several of the big banks in NY. In old New York, the degrees allowed me to learn well as a young, single person.
As a young woman in corporate America, I was often ignored or spoken to with insolence.
People would have entire conversations as if I was transparent, filled with details that I should not have been privy to. Apparently, I was invisible unless I was being patronized by men in the higher positions. In response to one particular boss, initially, I'd just do things like forget to make his travel plans until the last minute. Eventually, I reported him to HR. Finally, I emphatically informed him that I was more educated than he was and even if I was not, I deserved to be treated with respect like a person. Then, I quit.
At night, letting almost everything they said slide off was the gig. It can be hard to constantly have the proverbial smile and nod while simultaneously avoiding being touched beyond your boundaries. Shape shift, life of the party, flirt, sift cash from pockets, shimmy, wash (or baby wipe) and repeat. If the way these men spent on corporate accounts was any indication of how they conducted business in general, I see why we went into recession.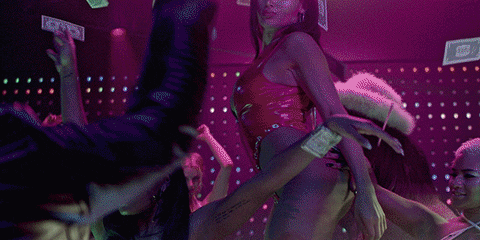 Giphy
Even paying for a stripper's time, the high of having a life that meant you could have anything that money could buy, seemed like their real addiction. Masters of the Universe who hounded their assistants to get reimbursed for lavish "business dinners at steakhouses". They spent money like it wasn't real every night and I got to be rushed to finish expense account reimbursements. Unlike my assertive real-life self, my stripper persona was whatever it needed to be to make the most money. It's not as easy as showing up, getting naked, and going home with bags full of cash. Although, as if invisible, I'd hear conversations about business deals I'm sure I shouldn't hear. I wasn't there to be acknowledged. I didn't care. I was there to work.

At the end of a good night at the club, I felt properly compensated for my labor. At the end of a bad night at the club (leaving owing money to the club), I'd question every life decision I ever made. But every single morning without fail, I'd cry in the bathroom stall before heading to my cubicle. I'd grin and bear my day away. It was made extremely clear about my low rung on the corporate ladder. I stopped temping in Corporate America. I chased good nights in clubs for a decade instead. I, too, left my upstanding job.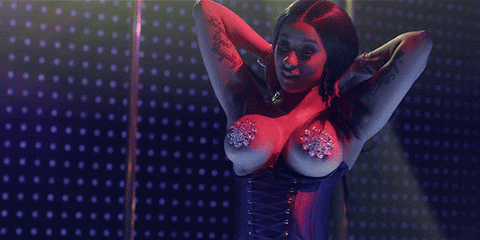 Giphy
Hustlers did a great job of showing the backstories of the women. How does a nice girl like you end up in a place like this? Because America is a place where you can work forty hours a week and not be able to pay all your bills. Every one of us has a unique life story. Hustlers shows that strippers don't just exist in a vacuum of spandex, stilettos and stages. People seldom consider the life of someone in sex work beyond the stigma, judgement of morals and the fact that they get some level of naked for a living. When I heard that the film hired the lovely Jacq the Stripper as a consultant, I was excited! She's someone who has actually done the job and speaks up for sex worker rights quite audibly. There are nuances that feel like inside jokes only other strippers will get. That gave the movie a nice authentic touch.

Then, watching the interview on 20/20 with the real life hustler, I hear that the story was made despite Destiny (played in the film by Constance Wu) turning down a lowball deal to sell the rights to her life story. This is how marginalized and stigmatized groups become silenced and made invisible. To profit from the lives of these women without permission or compensation falls right in line with experiences women have when working in the mainstream culture at large.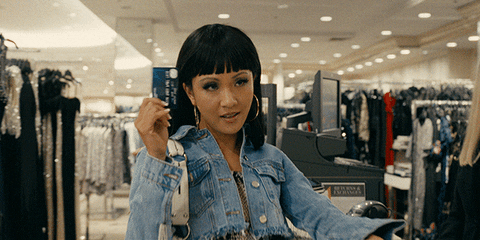 media3.giphy.com
Asserting myself in corporate America gets me fired (or quitting first). Submitting to an exoticized fantasy of myself gets me paid well. However, the true value of the whole human is never acknowledged. A filmmaker can be shouting women's empowerment while simultaneously silently stealing from the same women she's profiting from.

I love that there is finally a strip flick that goes beyond the stereotypical telling of the industry. I'd also be lying if I said that I don't love a good underdog-getting-over-on-the-man story as well. In the end the "bad guys" get their due. However, it should not be lost that the women whose lives Hollywood is profiting from will now have to hustle to get properly compensated for their own life stories in other ways, if at all. Destiny is working on her memoir. If the others don't create a way to leverage this moment, they get nothing from this theft. According to The-numbers.com, Hustlers has made $66,260,645 nationally, $9,800,000 internationally and $76,060,645 worldwide in box offices [at the time this article was written]. Payback? Do the masterminds of this crime spree deserve to be compensated for a film about it?
I frequent a community that is filled with abandoned houses, neighborhoods devastated by unchecked and unpunished criminal-level corporate greed. Would you be mad that someone got to keep their house because their stripper loved one paid it off? Like Destiny in the film, many of us have the ten-year gap on our resumes. Are you hiring someone with a ten-year lapse in work experience? I haven't danced for about a decade but consultant after business consultant has warned me not to talk about my stripping past. In 2019, shame and stigma are weapons of legalized discrimination towards certain groups.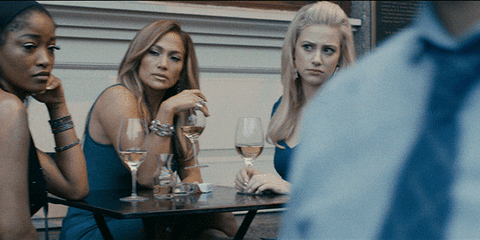 media.giphy.com
Stipppers and sex workers like, returning citizens, like sexual assault survivors, like those managing mental health, like immigrants, Native Americans and the LGBTQIA community (especially Black trans women), all exist in this world. It can feel like living on the outside looking in as society happens all around you.

Hooray for making a film where strippers are people, complex and flawed as all people typically are. But do better not to take advantage of people who are not in positions of power. There's no way to make drugging and stealing from people justifiable. There's also no way to make the greed-fueled capitalism that sunk this country in 2008 and continues to run this country today, defensible. There's no way punishing one and not the other could ever possibly be right. Hustlers film should duly compensate both the women whose lives this is about, dancers they did research from and the displaced workers of Show Palace in Queens where the film was shot. They were out of work for two weeks.
What would be amazing is if projects like this helped to remove the stigma from stripping and sex work versus profitting from dancers like they're a diregarded co-worker in the room you condescendingly underestimate and devalue. The director of the film is now hustling backwards, claiming she'll spend money at the club whenever she is in town and will donate a percentage of the film's earnings to SWOP. All an afterthought. Reminds me of working in good ole Corporate US of A. where what you provide is useful but you are dispensable. Is the character Destiny wrong when she says: "The game is rigged and it does not reward people who play by the rules"?
As long as they don't get caught, that is.
xoNecole is always looking for new voices and empowering stories to add to our platform. If you have an interesting story or personal essay that you'd love to share, we'd love to hear from you. Contact us at submissions@xonecole.com.
Featured image by Giphy