Imagine using all you've learned working a 9 to 5, taking a leap of faith into entrepreneurship, and finding success in working with major corporate clients—all before the age of 30.
This is Chelsea C. Hayes' reality. In 2014, she left corporate life behind to follow her dream of helping companies and everyday professionals use strategic communications to maximize success and sometimes resolve sticky situations.
---
The 28-year-old California native has been able to leverage her early career experience working in human resources for entities, such as GE and the Los Angeles Sparks, to launch her firm The Coaching Factory LLC, which boasts a client list that includes Eli Lilly, General Mills and NBC. Even Insecure actress Yvonne Orji has raved about her skills and glow up, and Hayes has since expanded her empire into coaching celebrities.
"My background is in corporate HR, so everything I do revolves around people. For such a long time HR was thought of as hiring and firing, but it's much more complex than that. It's very strategic," she said during an xoNecole interview. "HR is really about balancing the needs of an organization with balancing the needs of the incredible people within that organization. It's a really delicate balance and when you're good at it, people tell you. I've worked for some incredible women [in corporate diversity.]"
"I think in that process, I learned that whatever I did in life I wanted to revolve around people at work. That was the foundation."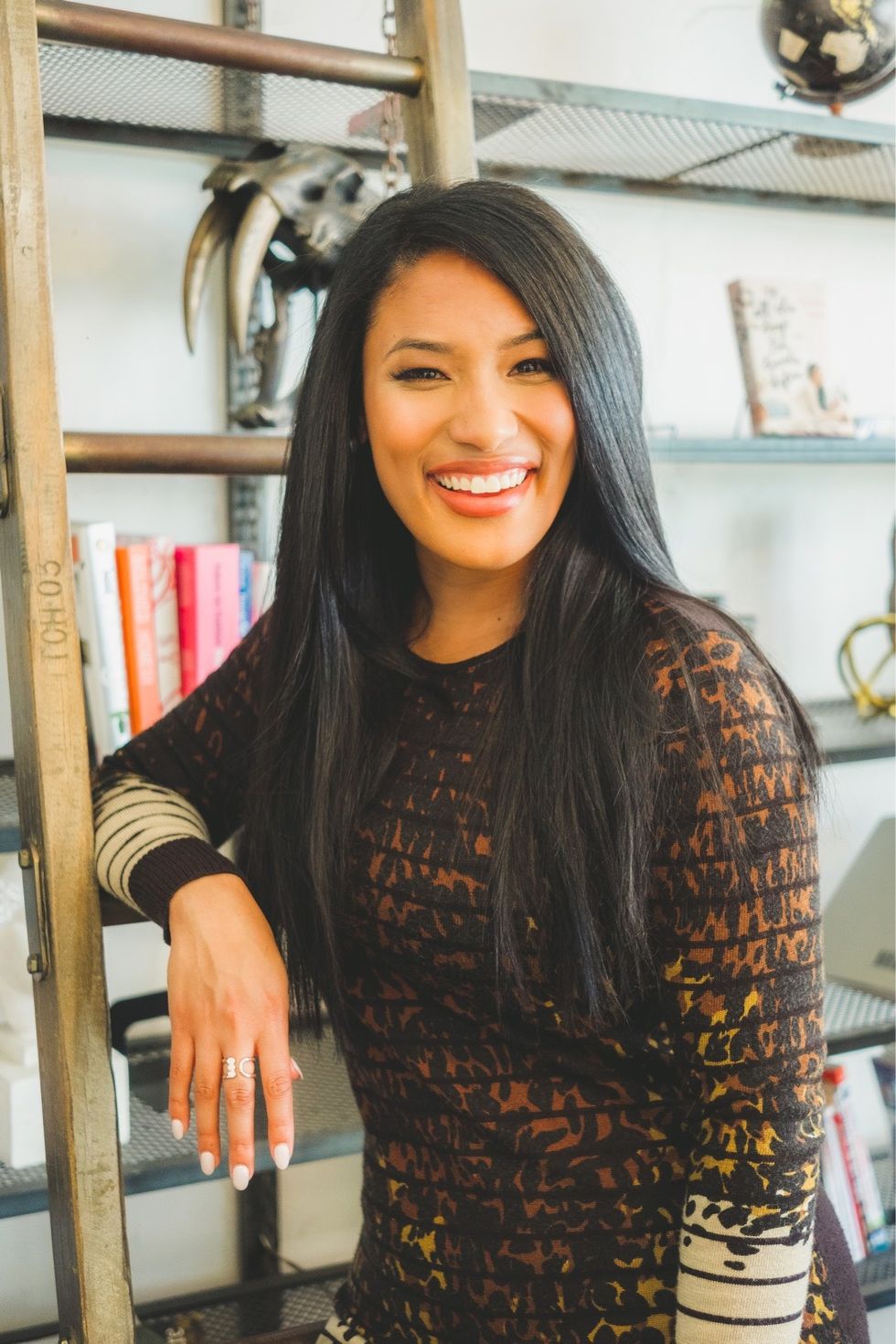 Chelsea C. Hayes, SPHR CEO & Principal Consultant
Courtesy of Chelsea C. Hayes
Hayes' rep with communications also landed her a feature by The Hollywood Reporter, where she rewrote the infamous Steve Harvey memo that brought backlash to the popular radio and TV host and had everybody from The Breakfast Club to Jimmy Kimmel to CNN weighing in on his harshly-worded, post-show guidelines for staff. Hayes was able to share her nuanced version to better communicate the message without sparking offense or negative publicity.

Don't get it twisted though. Entrepreneurship wasn't always in the plan for her.
Post-college, she had great jobs and made a good living, something all college grads desire in order to cash in on their educational investments. Hayes had earned not one, but two bachelor's degrees, and was fortunate enough to get a headstart in building a pretty impressive resume. She practically stumbled upon launching her own business after getting a chance opportunity to lend a helping hand to a friend who was working on a project with the LAPD. This friend, who knew about her experience in the corporate world, thought her to be perfect for the opportunity. (Talk about the power of a great reputation and good relationships.)
"I thought I would never be an entrepreneur because math and science was really challenging for me," Hayes recalled. "That worked out fine because I had really amazing bosses, and I felt supported everywhere I worked. And then, [I participated in] the LAPD project. It was a really great experience for me. That was my first client—though I didn't know it at the time. Afterward, they were talking about me, and I said, 'Do you think I can use your logo on my website to get other clients?' and they said, 'Absolutely.' So that was how this business was started. Literally every single one of my clients has been word of mouth."
"To be honest, I think word of mouth is the strongest [way to market the] business that you have."
Hayes leads seminars and trainings on HR best practices, leadership, strategic communications and management skills. She also helps celebrities fine-tune their messages and presence to ensure they protect their reputations and don't end up on the wrong side of a scandal or in a PR nightmare.

"I love that it's my job to go into companies and have fun with people. Of course, it is my job to teach them, but people want to have fun. Any entrepreneur is selling an experience," she said. "[Coaching celebrities] one-on-one is fun because every single day is so different … Sometimes it can be as simple as writing an email that they're having a tough time writing, or it's helping them manage their team when someone is not performing correctly and giving them the language to make that happen."
Being a young boss can have its challenges, especially in a male-dominated world of high-earning executives and entertainers. Hayes is no stranger to assumptions about her abilities based on her age, but she likes to combat insecurities and doubts with humility and a commitment to excellence. Hayes keeps a smile and holds on to confidence in her own abilities in order to provide the best services and grow her business.
"You have to be comfortable in your own skin. I'm a woman, I'm black and Chinese, I'm from the Bay. I don't care and all those things add to who I am and they make me more of who I am. My clients respect that and they love that. For me, I approach every single opportunity and every client with a sense that, [yes,] I have this to offer, but I've learned from every one of my clients. They are wicked smart, they have so much going on, and every one inspires me. I think approaching it from that aspect and from that place of gratitude and learning—people can sense that and feel that."
"So when you're young, they'll probably tell you that they're feeling a way about that. It's not personal at all. You have to let your work speak for itself."
In mastering getting out of one's feelings and communicating in a way that is professional yet engaging and effective, Hayes has been able to use her own tricks of the trade to challenge herself and her clients. Building great relationships by knowing the power of emotional intelligence in both written and spoken communication has been a saving grace for Hayes. She offers the following advice for other young women who are seeking to do the same in reaching their business and career goals:
"Be sure about what you're really good at and be sure about where you need growth. Be positive about [those things] every morning when you walk in the door," Hayes advised. "[Also], think bout what you want long-term and don't be afraid to ask for it."
"I work with so many women who are so confident and have literally almost 20 years of work experience and they are struggling asking for what they deserve."
Lastly, Hayes stresses the importance of following the single most important rule most successful women follow: take emotion out of it. "Assume everything is on the record… It's OK to feel emotion— to feel tired, exhausted and frustrated. Those things are OK. If you can, get a team to write [a difficult memo] for you. If you don't have a team [right now], wait for the emotion to pass, give it some time, and then write [the email] again… I learned these things early in my career and they helped me tremendously."
For more of Chelsea, follow her on Instagram.