If Jesus wept after being moved by someone's grief, imagine the tears that would've poured at seeing someone weep with joy!
---
We always say that we should stand and support our fellow sistahs, but Essence Atkins (Smart Guy, Deliver Us From Eva) put action behind her talk when she performed a powerful act of kindness when washing the feet of Radio One Promotions Coordinator Allison Peterson.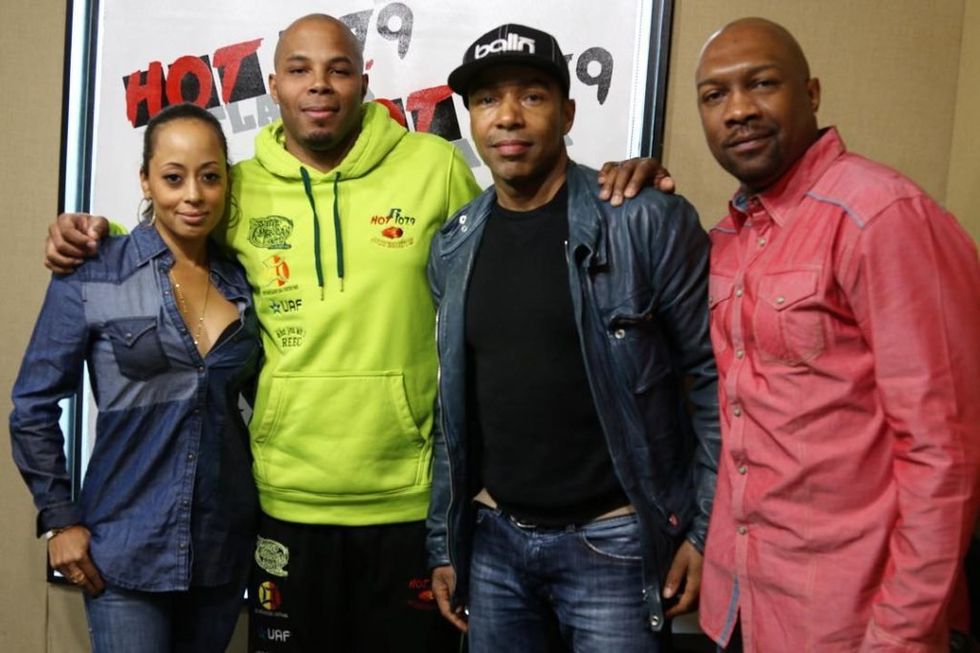 Photo Credit: Instagram, @Hot1079ATL
The beautiful actress was in Atlanta this past weekend to promote her stage play Things Your Man Won't Do along with fellow cast members Allen Payne (House of Payne) and Tony Grant (The Last Punch). During a promotional tour with Hot 107.9 and Majic 107.5, what started out as a joke of "what men won't do" turned into a "What Would Jesus Do? moment as Essence randomly got down on her knees to wash Allison's feet, just like Jesus did.
In the midst of amen's and hallelujah's Essence went into an impromptu speech sermon that made us shed some thug tears at the mere sincerity and beauty of her spirit—and let's just say that she took us to church!
Essence Atkins got down on her knees and washed my friend Allison Pecola Person's feet today which I believe is a wonderful way to exude a simple act of kindness. #WWJD #TYL

Posted by Michael Adeyeye on Friday, November 13, 2015
"This wasn't planned for me to do this, but sisters it's so important that we love on each other. I know I just met you today but I know the road that you walk, and I want you to know that you're beautiful. And I want you to know that I got you, and I support you, and I love you."
Wellllll. Oh she ain't done yet!
"And if we don't give that to each other ya'll we are lost, and will never be what we can be. So I get down here on my knees the way Jesus got down, and I give to you and say thank you for your strength, for your beauty, for your tenacity, for your integrity, for your intelligence, for your kindness. Thank you."
Yes, Come on Sistah Atkins! You better preach!
[Tweet ""Sisters, it's so important that we love on each other!" -@essencesays"]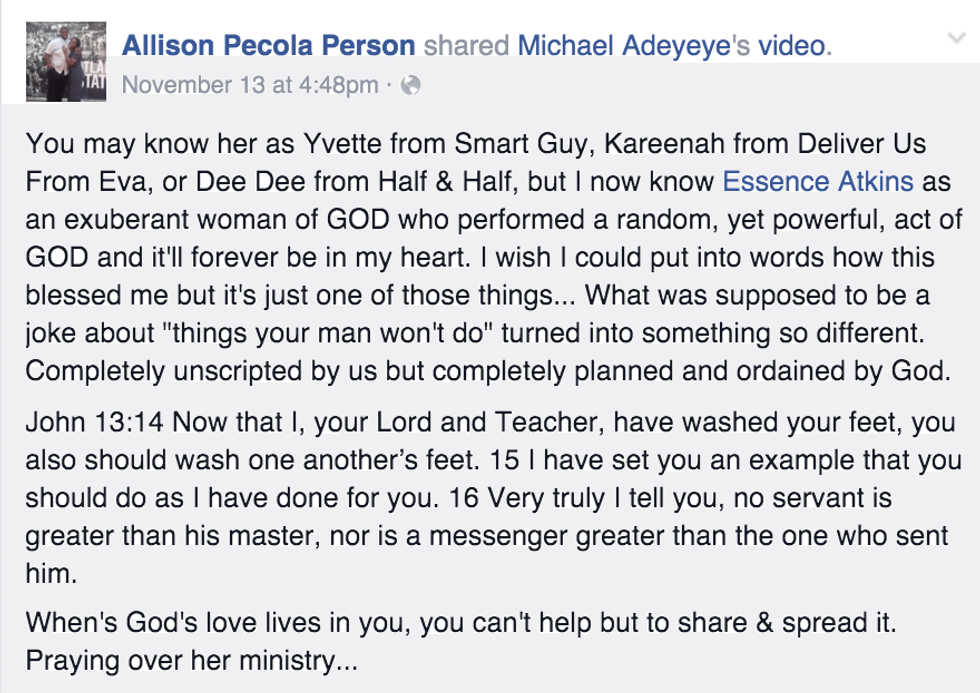 In case you slept through Bible Study, Essence's act of kindness is reflective of when Jesus washed his disciples feet (John 13: 1 - 14) during an evening meal just before the Passover Feast and before he was to be crucified and return to his heavenly Father. Despite dining with men who would soon betray and desert him, he used his final hours to demonstrate the extent of His love before his departure. Jesus, who was looked at by his many followers as a leader and the son of God, began to wash his disciple's feet—a task normally reserved for the lowliest of servants since back in the day people walked around in sandals on filthy roads and would need to wash their feet before a communal meal.
In this act, Jesus shows that "no servant is greater than his master, nor is a messenger greater than the one who sent him" (John 13: 14), and instructs his disciples to go into the world and do with others what he has done as an example to them, and also to bring others to Christ to be cleansed of their sins as well.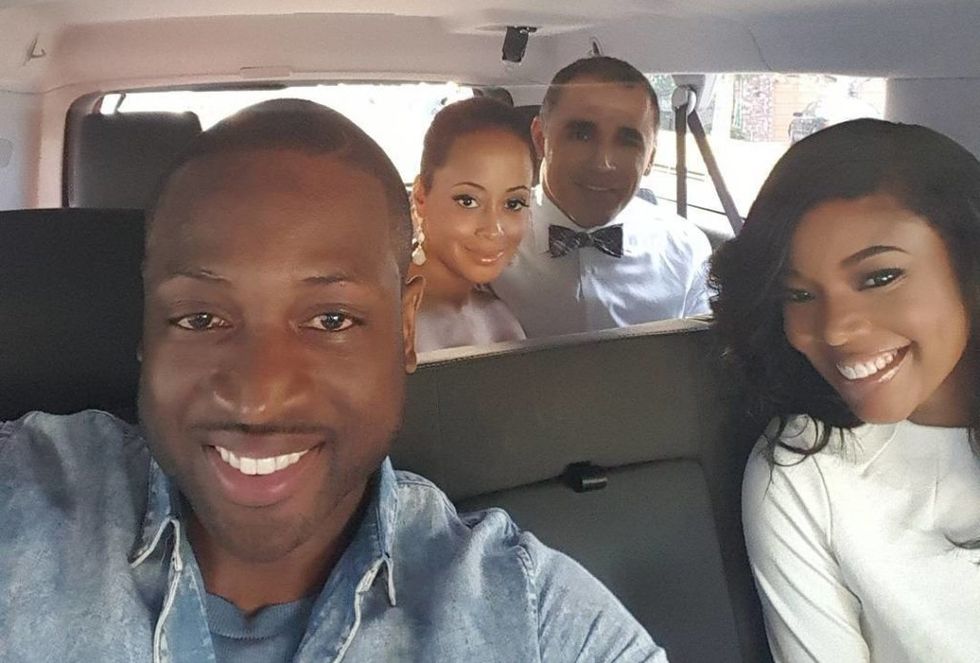 Photo Credit: Instagram, @GabUnion
It's such a powerful lesson, and who better than to teach us the word then Atkins, who just two years ago officiated the wedding of her besties Dwayne Wade and Gabrielle Union alongside her husband Jaime Mendez (Interesting fact: Essence met Jaime on Match.com at the age of 36—won't He do it?!)
We are blessed to be a blessing, and Essence is certainly a good example of a woman of God who is fulfilling her mission of being a humble servant.
Allison is also clearly living up to the accolades that Essence gave her, as her friends and followers took to her Facebook attesting that she is, in fact, a beautiful spirit and that her light, love, and strength radiate through her.
Both women are positive examples that nobody can dim your light and that we as women are stronger together uplifting and encouraging one another, than we are tearing each other apart through bitterness and hatred.
Keep shining Queens!
What act of kindness will you show today to your fellow woman?