What attracts an Aquarius man and an Aries woman to each other? Novelty. The Aquarius man, keenly aware of and concerned with his public persona, wants a woman bold enough to send a strong message to society about his societal interests, convictions and values.
Who else can stand such a challenge but the unapologetically bold and dynamic Aries?
---
What Attracts An Aquarius Man And An Aries Woman To Each Other? 
When it comes to the initial meeting between this pairing, there is no gray area: They either love each other or hate each other.
The Aquarius man, bored by "safe", predictable women, is immediately intrigued by Aries' intellect and boldness. She's different from the rest. He is instantly drawn to her and seeks to engage with her intellectually. Sure, she passes the test on the surface, but he needs to see if she can hold her own mentally. He'll verbally spar with her to gauge her perspectives on matters that are most important to him.
The key to an Aquarian man's heart is through his mind. When the female ram inevitably meets his high standards, he finds himself falling in love.
The Aries woman, a human bullshit detector who doesn't have the time or patience for an overbearing, underhanded man, will give Aqua a run for his money. She is not concerned with the sexist social norms placed on woman, and instead, seeks a life that is true to her own independent values. A natural-born Alpha who values independence, she refuses to repress her strong drive and sense of individuality for anyone, especially a man! Aries will give Aqua a run for his money.
She feels him out, at first wondering if his naturally charming, and boyishly unassuming personality is his attempt to run game on her. If interested, she is inclined to test his willingness to accept her for who she is. She may initially decide to just use him for sex, determining his sexual attitudes in the process. Ultimately, once she realizes she's found a man who respects her and who and won't make her feel claustrophobic in a relationship, she will fall in love.
Above all else, the female ram needs a man who will allow herself to assert herself in her relationship and in life.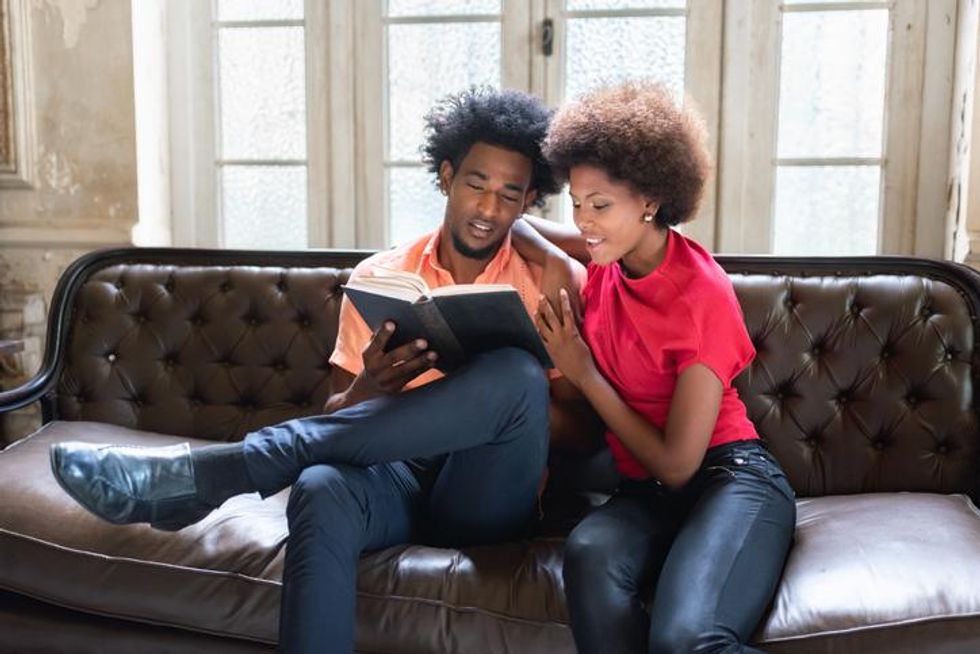 Getty Images
What Is Sex Like Between An Aquarius Man And An Aries Woman?
Sexually, a romp between these two is likely to flame or fizzle out from the beginning. Whether these two click or not in the bedroom, they'll know it immediately because neither sign is inclined to playing games or beating around the bush.
Aries women are attracted to direct, active and frequent sex. She's a straight-shooter who doesn't mind letting her man know exactly when and how she wants to do the do. The intellectually-driven male Aquarian will either be down for this dynamic or he won't, and he will let you know in no uncertain terms if he's willing to play the role that the female ram has designated to him. If he's not, the female Aries is off to the next - no hesitation!
Between the two, the Aries woman is likely to find herself pursuing sex the most in the relationship with her Aquarian man who, at times, seems like he has too much on his mind to engage in sex with her. Her relentless sex drive can easily wear him down. In contrast, he may find himself irritated by her constant need for it.
What Is A Relationship Like Between An Aries Woman And An Aquarius Man?
Publicly, a relationship between an Aquarius man and an Aries woman is dynamic, modern and cutting-edge. Behind the scenes - it is the same. A relationship between the female Aries and the male Aquarian is likely to run an unorthodox course with these two freedom-loving, open-minded partners exploring the gamut of human sexuality. Swinging, group sex, polyamory, pegging, etc. these two don't mind trying it all behind the scenes. The priorities here are freedom, discretion, and mutual fulfillment.
Aquarians like women who are out of their league, and the Aries woman - a natural born goddess - is well-suited for the task. Though distant in private, he likes to dote on his partner romantically in public. The Aries, quite comfortable on her pedestal, is happy to receive her man's praise for what it is. What she appreciates most about him is that, unlike most other men she's dealt with, he is not intimidated by her strength and isn't likely to try to control her or limit her freedom.
In all, this relationship isn't overly romantic. This is a more friendship-based dynamic that is comfortable, respectful and familiar. It feels safe, natural and uninhibited.
What May Cause An Aquarius Man And An Aries Woman To Break-Up
Where these two hit a snag is in their way of dealing with conflict. Aries, whose sign rules the head in astrology, is naturally inclined to want to address problems head-on. The problem is, Aquarius is difficult to pin down! Stubborn and fixed in his beliefs, the Aquarius male is unlikely to shift his stance on a matter. Instead, he is more inclined to stone-wall or emotionally shut down during a disagreement. This in turn can cause his Aries woman to feel as if she's been left "high and dry." At its worst, it is easy for her to feel emotionally and physically neglected in this relationship.
Ultimately, the freedom-focused, intellectual connection between the male Aquarian and the female Aries is what will help it stand the test of time.
Summary
A relationship between an Aquarius male and an Aries female is marked by a deeply intellectual connection based in mutual respect and admiration. This pairing will be successful so long as the bond is friendship-based and both are allowed plenty of flexibility and space to pursue their individuality and their unique sexual and emotional outlets.
Featured image by Getty Images