We have all lived through the good, bad, and ugly of love and relationships, and lately, I've noticed this influx of people who have no problem talking about every side of it in their podcasts.
---
I'm certainly here for it because for starters, it goes against the stigma that our generation doesn't value healthy love and relationships. But these podcasts also get into the nitty-gritty of every aspect that every couple can relate to; from the heavy moments to the ones that make us laugh because we literally just went through the same thing. Whatever you need, these podcasts will certainly get you and bae all the way together.
That Black Couple
The That Black Couple podcast, hosted by Daren and Jenn, is basically the epitome of all things Black love and relationships. Its motto is "A podcast about Blackness and adulting," and it certainly lives up to the hype while covering everything from love to pop culture and everything in between. Like, seriously. Some of their most standout episodes include toxic masculinity in relationships (come on!), whooping children, and how to know if you're getting proper sleep, as well as the setbacks that happen if you don't. And it's all from the viewpoint of Black married millennials in their 30's, which is something our generation desperately needs. So grab a snack, some Hennessy (that's literally what they tell you to do lol), and enjoy with your bae.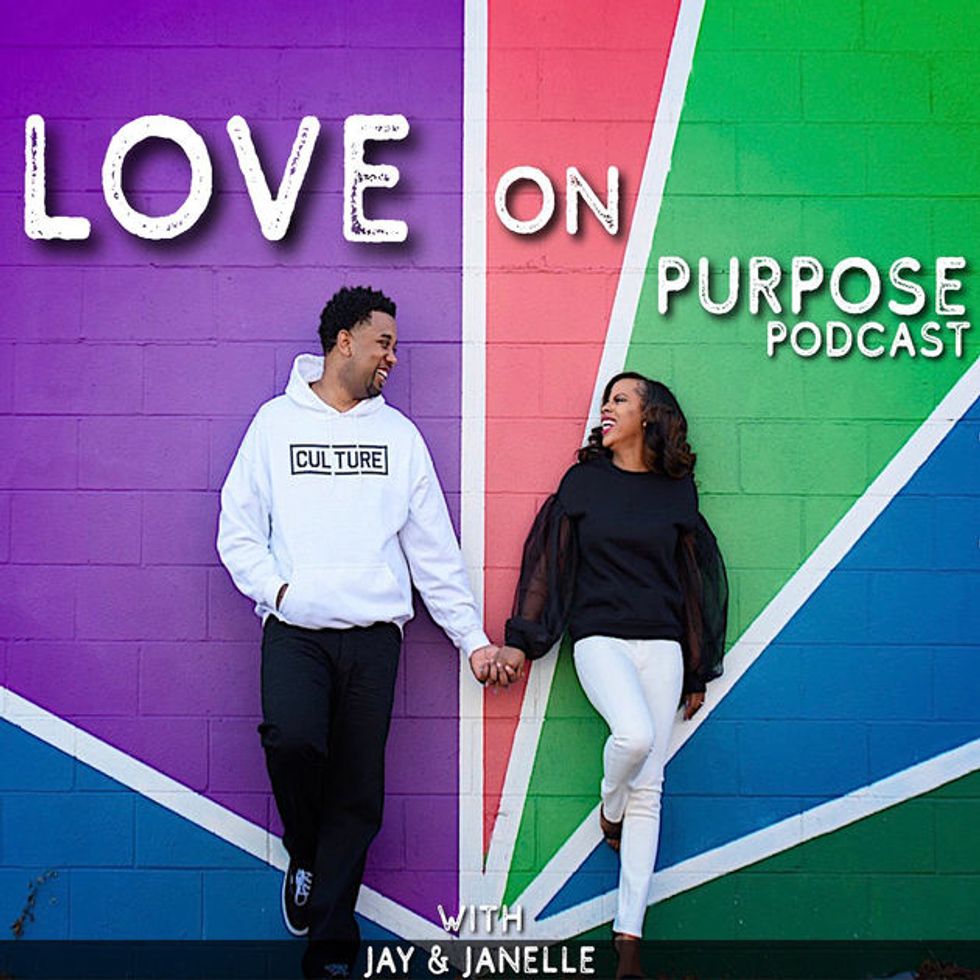 iTunes
This is a fairly new podcast. It's only a couple of episodes in, but I have to say, it certainly didn't waste any time in making its mark. Newlyweds Jay and Janelle Johnson might have only been married for a few months, but they're dropping gems that even seasoned couples can relate to and benefit from. I fell in love with this podcast immediately because they're so honest about the reality of marriage as they share so much about their life. They definitely bring the laughs as they reveal what they've learned as husband and wife (like one not knowing how to really wash dishes and the other being much more of a talker than expected). Get into it!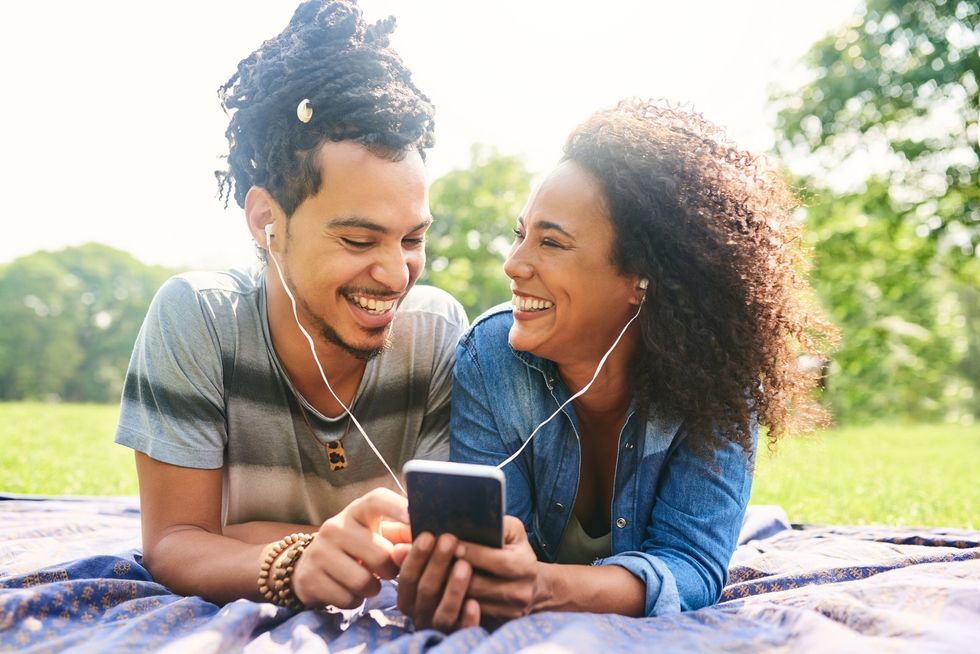 Getty Images
Yes, it does. And this podcast will never tell us any different. That's probably why it's a big hit. But it doesn't just dish on all things Black love, even though that's the main premise and perspective. The Instagram bio says it best: "A hilarious podcast for loving each other, figuring out adulthood, finding our inner Barack and Michelle." Isn't that what most of us want anyway? As for the episodes, they dish on everything from getting a dog, giving advice for couples that want to buy a house, and even had an episode called "Protecting Black Women." Here.For.It. If you really want to dig in, there is also a YouTube channel, a place where couples can submit their own stories, and a shop for #BlackLove gear.
Bonnets And Durags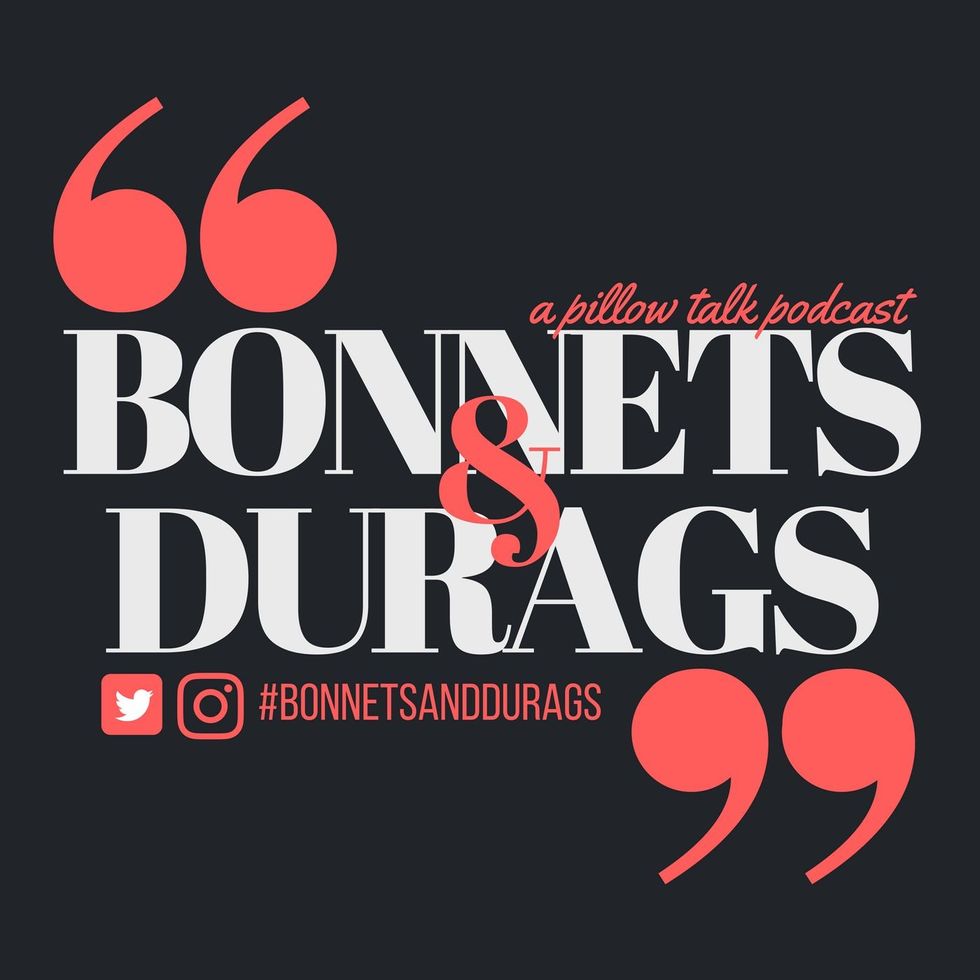 iTunes
The Bonnets and Durags podcast is a pillow talk show at its finest. A beautiful girl named Simone serves as the host and will easily become your best friend in your head after listening to one episode. Sidebar: Yes, a female does host this show solo for the most part, but she raises awareness and topics of conversations that both parties in relationships can take advantage of. Her main push is to spark conversation for couples and millennials in general, concerning topics that some of us have the tendency to avoid. Plus, she never fails to feature a guest who can represent a male's point of view. And don't sleep on her Nightcap playlist – (she's thought of everything).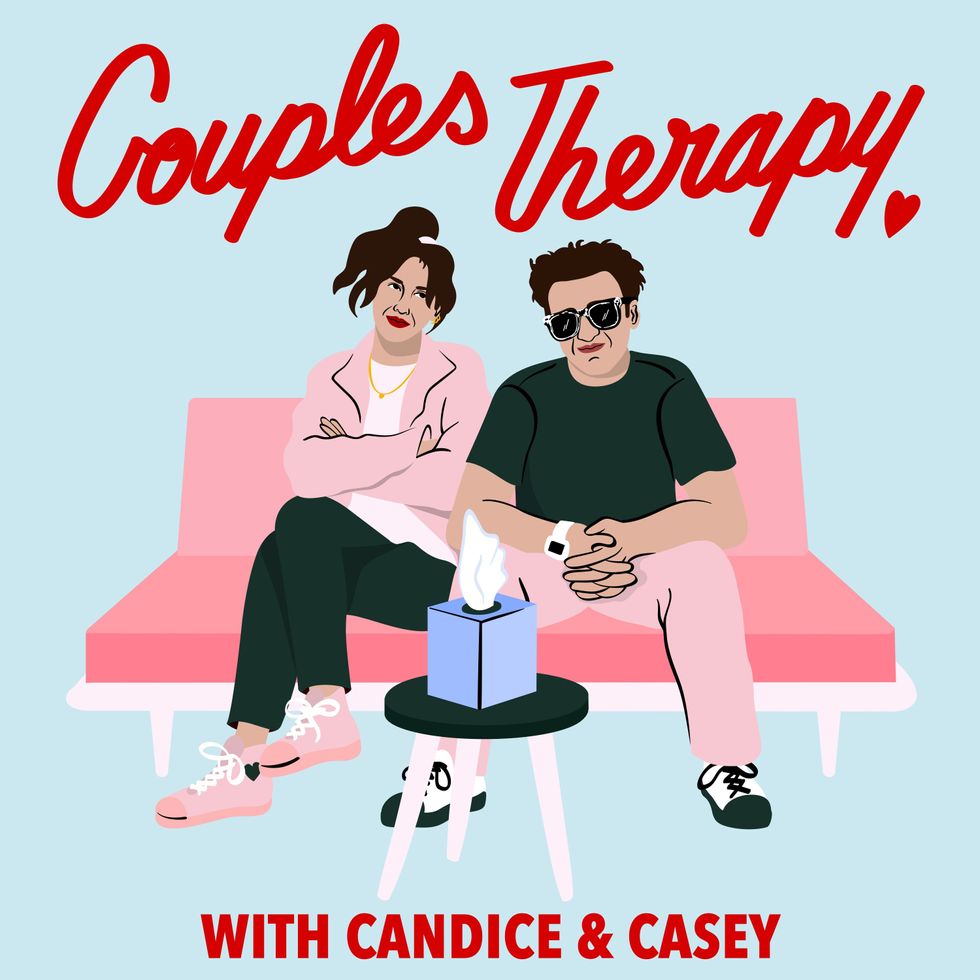 iTunes
What couple doesn't need therapy? In between sessions, feel free to sit on the virtual comfy couch of an amazing podcast. Candice and Casey get so candid that you'll feel like you're watching a VLOG of their life play out before your eyes. At the same time, this can be therapeutic because most listeners will realize they're not alone in the big and small things they deal with in their relationship regularly. In past episodes, they've gone further than just touching on topics and completely dived in head-first with their thoughts on forgiveness, disagreements/straight up arguments, and the possibility of getting too close and too personal with each other. It might be tempting to grab your popcorn and listen; but trust, you'll want to take notes too.
Dating While Black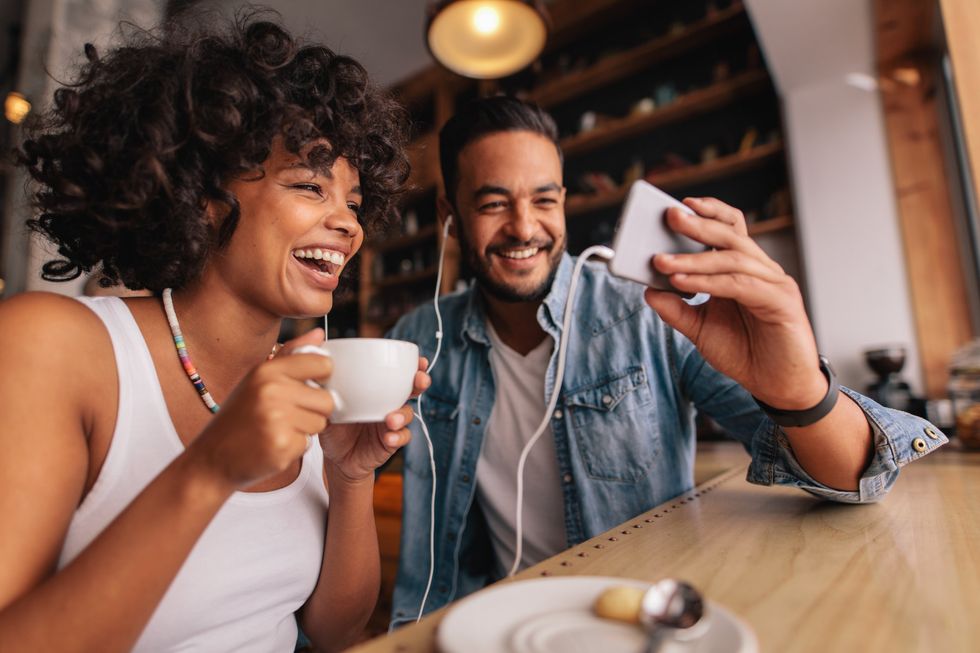 Getty Images
If we're real, dating is probably one of the hardest things that we'll do in life. And unfortunately, it doesn't look like it's going to ease up; at least not this year. Thankfully, the Dating While Black podcast gives us some sort of relief that the struggle is not only real but more common than we think. Between DMs, Snapchat, and cuffing season, the art of dating gets a bad rap, and this podcast stirs the pot in the realest way possible. While it focuses on the realities of dating, this is a great podcast for couples because they'll still be able to relate to the struggle.
The Friend Zone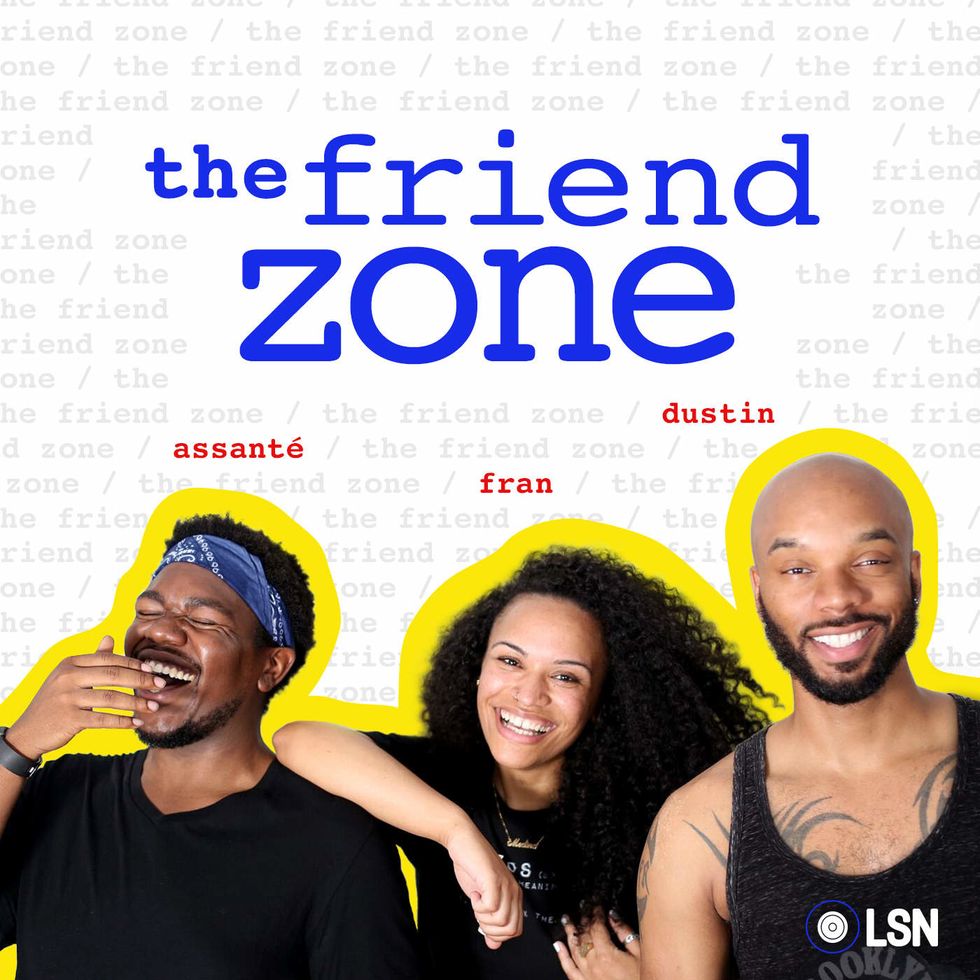 For starters, this is in no way a podcast hosted by a couple, or about only love, despite the name. But if anything, it will definitely be a good time for you and your boo if you're looking for a way to do life together. Considering it has three hosts – two guys (Asanté and Dustin) and Hey Fran Hey, listeners pretty much get every viewpoint on all things life, including love. But most importantly, the premise of the show is to discuss mental health, wealth, and even hygiene. Because, in their words, "who wants a musty brain?" For real, though.
Featured image by Getty Images.
Related Articles:
12 Must-Listen Podcasts For Women Who Want To Glow Up – Read More
14 Podcasts You Should Listen To With Your Girlfriends – Read More
10 Podcasts All Aspiring Girl Bosses Need To Listen To – Read More
Doing The Work Helped This Podcaster Surpass 2.5 Million Downloads – Read More