When we imagine arranged marriages in the traditional sense, our minds may trail off into stereotypes that reflect reluctant brides, invasive parents, with two coerced individuals, doomed to suffer in a loveless union. Not so romantic, right? But arranged marriages are not to be confused with forced marriages. See, the former centers the autonomy of choice: with two consenting adults, choosing to pursue one another for a lifetime - even after the allure of their parent's wise counsel fades. This was the case for content creators, Cam and Vicky Logan; who after 7 years of marriage illustrates what can happen when the potential for love is offered and accepted.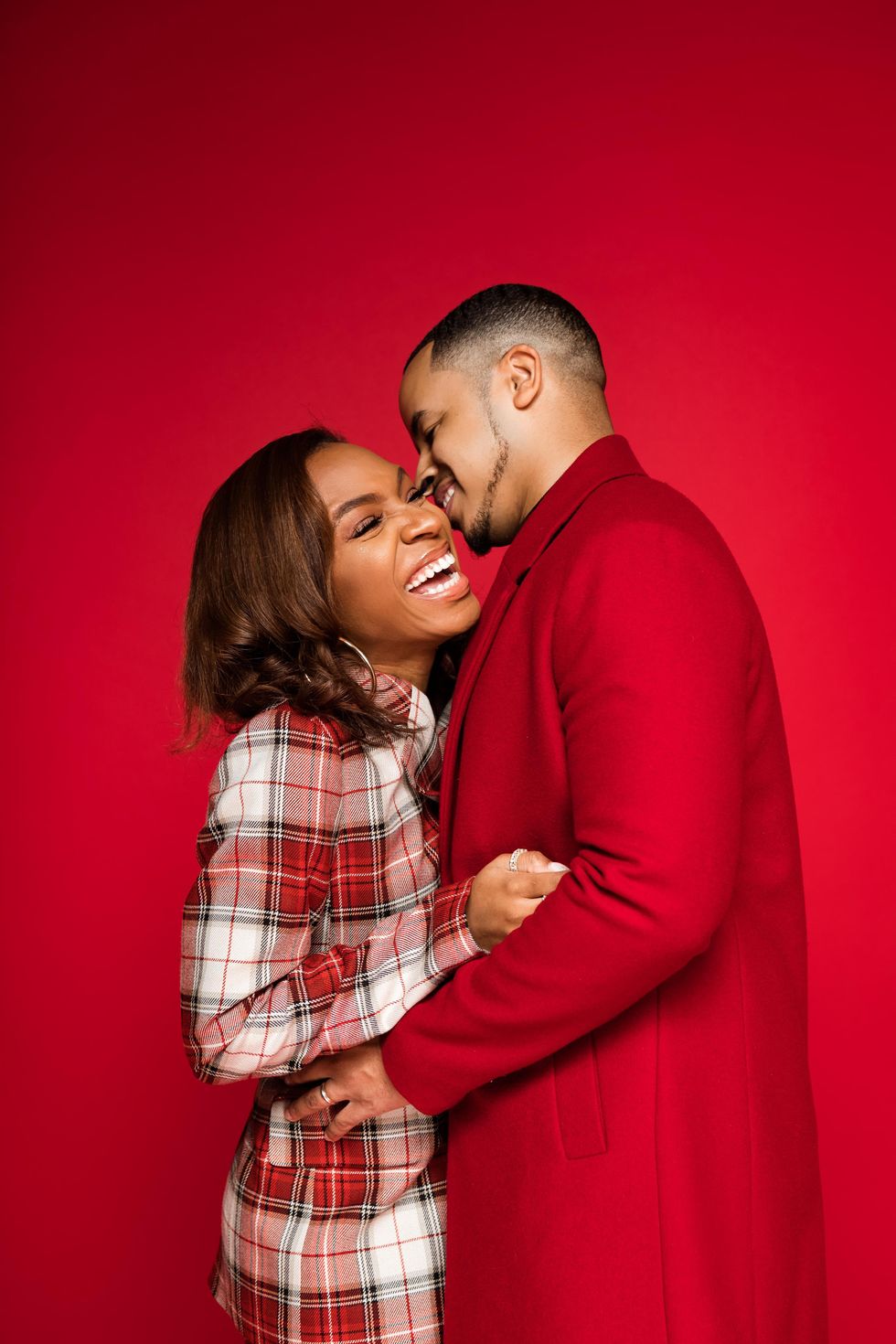 Courtesy of Vicky Logan
Cam and Vicky's parents were friends before the two of them ever met. Follow me: Vicky's father was celebrating his 40th birthday and invited Cam's father; it was there that Vicky met Cam's dad. Soon after the party, both sets of parents suggested that the two should meet, so Cam and Vicky started by adding each other on Facebook. Initially, there weren't any sparks that ignited their correspondence. In fact, Vicky shares that she never intended on dating someone who shared the same "Preacher's Kid" background that she grew up in, being that both her mother and grandmother were wives of preachers.
"I wanted a different experience and I knew how much work it would take," she shares. But what she didn't know was how God would use her expert-level background as preparation for the marriage awaiting her, "The joke was on me because since I knew how much it would take, it was just preparing me for doing the work with Cam."
Although reluctant at first, answering the call allowed her to step deeper into her purpose in becoming a helpmeet, which for Cam, was an answered prayer, "Growing up as a preacher's kid, various girlfriends didn't understand my necessity to be at church all the time, it's part of my life. As I got older and matured, I knew I needed someone that was going to understand this life in ministry and when I found out that she was a PK too, things started going off in my head like, 'Oh, this could work.'"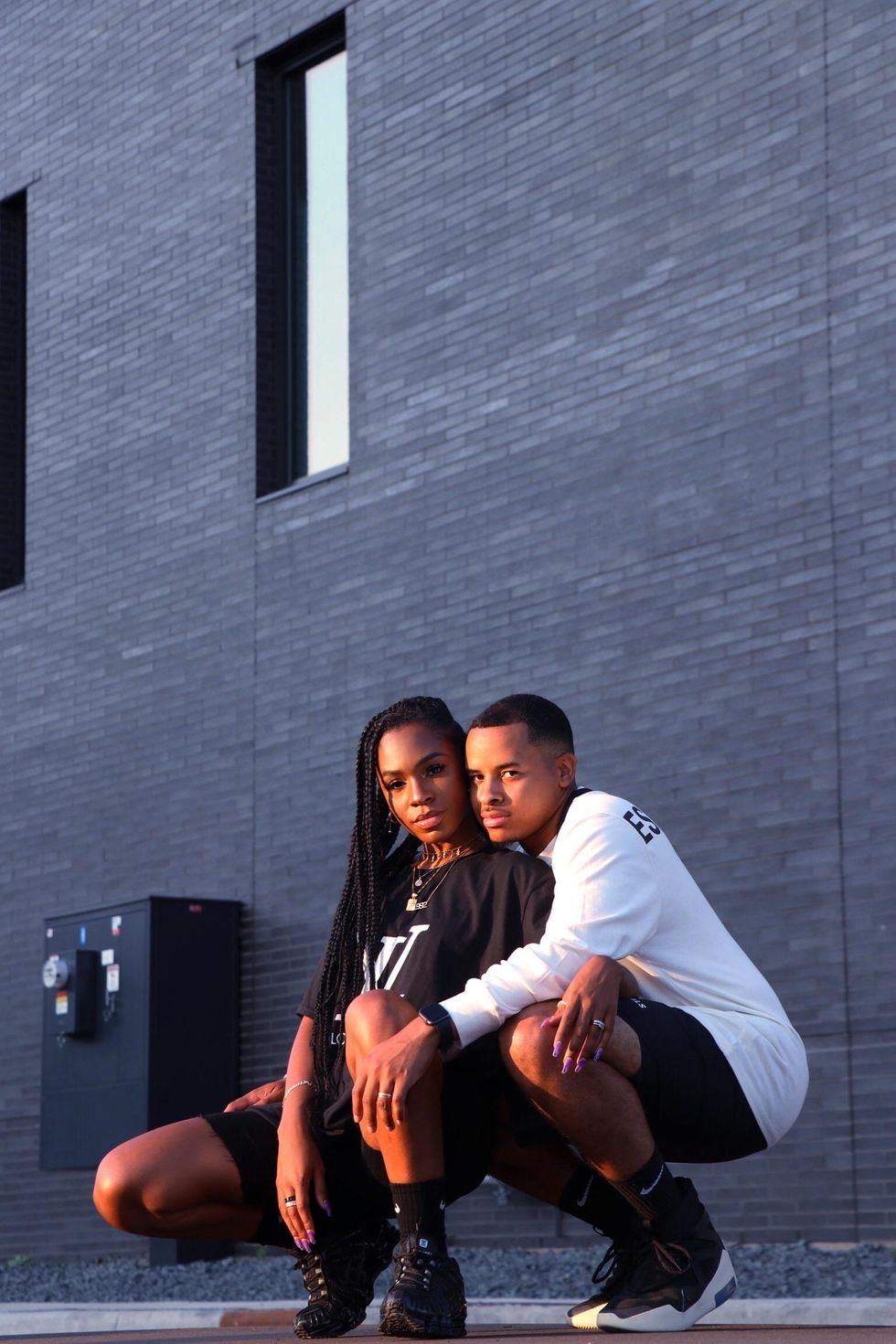 Courtesy of Vicky Logan
Their friendship grew even as the miles separating them widened, with Vicky finishing school in Texas, and Cam starting his post-grad life in Chicago. The distance between them allowed the space to be filled with what would fortify their relationship in the long run: deep and intentional communication. Still, the two had to get creative for things to work since, even in the early 2010s, technology still hasn't quite reached its peak, "We were recording videos on the back cameras of our iPhone 3s, we were on ooVoo and Skype. We communicated as much as we could to feel connected even though we were 1000 miles away," Cam says. Or as Vicky puts it, "We were definitely doing the most."
But you have to applaud the effort. Especially when you're young and dating at a distance, since, let's be honest, the innate reflex is to jump straight to the physical. Cultivating verbal and non-physical intimacy was fundamental for the two in their early days, "Since we weren't sexually attracted to each other at first, we were able to develop a natural, non-sexual friendship," Cam shares. "We genuinely talked about our interests and desires. It wasn't just, 'Aye girl, what you got on?'"
This approach laid a solid framework for their relationship because they were (and still are) truly friends, "At the end of the day, she's my homey, that's my best friend. Then you add the physical, sexual attraction and it just elevates how deeply we care about each other," Cam tells xoNecole.
"At the end of the day, she's my homey, that's my best friend. Then you add the physical, sexual attraction and it just elevates how deeply we care about each other."
One of the keys to making love work is building a relationship from a solid friendship. You never really know how important that can be until you're facing a difficult time with your partner, like a global pandemic, and realize there are some things that romance and sex just can't fix. As Vicky shares, you have to truly be in like with each other, "People like to ask me, how do we not get bored with one another? Well, we're friends! Do you get bored with your friends?" she shares laughingly.
The authenticity of their companionship not only beams over the phone but also through the camera. For over 10 years, YouTube has served as a digital archive for Vicky to document everything from ever-changing hairstyles, her colorful style hauls, and witty girl talk videos. So when the two got engaged in 2013, it was only natural for them to join forces to create their own vlog channel, Life With the Logans. As both platforms grew, there was one annual video that their community looked forward to the most: their Marriage Q&As.
Only in 2020, things were different. With COVID forcing everyone inside, Cam and Vicky decided to open their YouTube livestreams for their subscribers to ask them all things love and relationships advice. The response was so great, it springboarded their newest collaboration, the Everything is We podcast.
"We had a really good foundation because we spent a lot of time just being friends. Now, when we go through things as a married couple, we have our friendship to fall back on, it's not like our only connection was sexual or romantic. We had a true friendship where we enjoyed hanging out together, doing things together, marking each other laugh, no matter what we're doing, we're enjoying each other's company."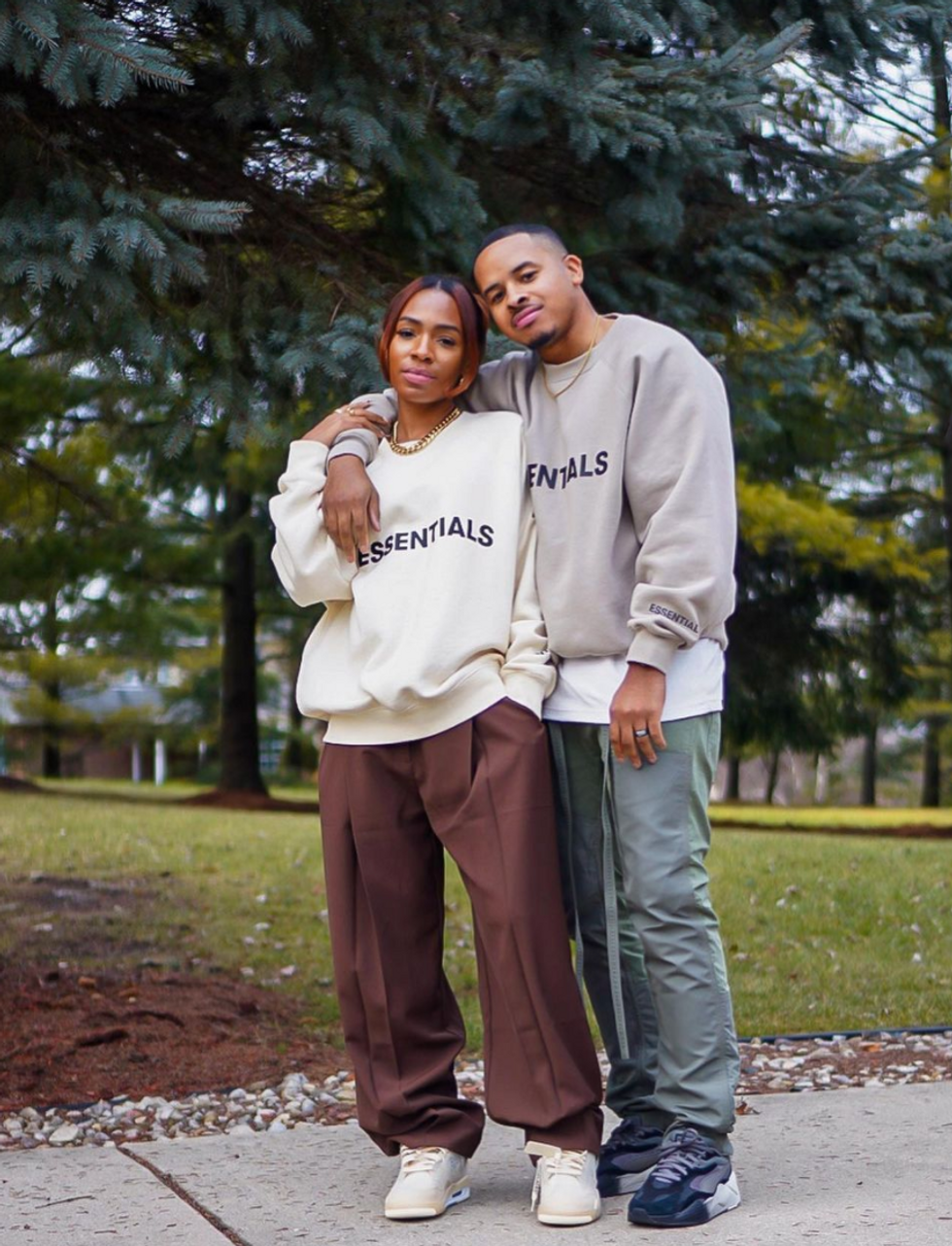 Courtesy of Vicky Logan/Instagram
On their faith-based, relationship-centered podcast, the two speak candidly about a range of topics from sex before marriage, toxic relationships, love languages, and even gender roles and submission. After 7 years of marriage, the two felt confident enough in their experiences to dish advice on their union from a place of transparency to host honest and open dialogue. "We know each other well enough to give people something of substance. This a 'we' thing, not just a 'me' thing," Vicky shares, explaining the origin of the show.
Creating as a "we" continues to add color and vibrancy to the Logans' relationship, with visual documentation being a vital part of how they keep record of their experiences together and connect with their audience. Vicky grew up with home videos and videotapes being essential in logging her childhood memories, so continuing that tradition was a natural progression for her and Cam's story. "I love documenting our relationship because I can always go back and see our memories happening on video. It keeps me grounded because I can see our progression as a couple," Vicky explains.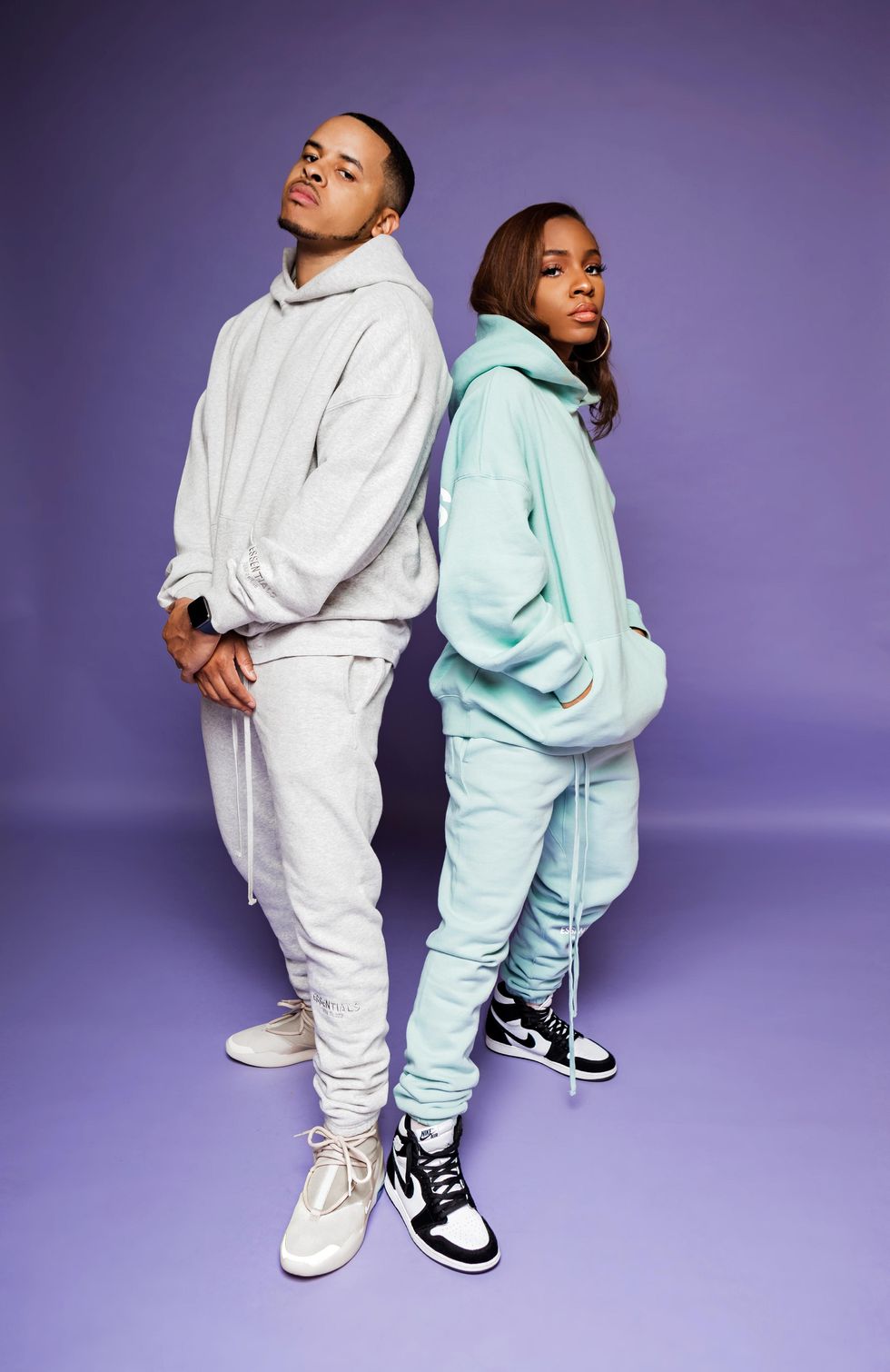 Courtesy of Vicky Logan
Documenting your life online for yourself and for the world to see comes with its own set of boundaries. For the Logans, that means staying true to their authentic selves and being present in the moments they share together. Cam expresses that who you are online should always match who you are in private. "I saw people that would vlog and become these public figures, and when they turn the cameras off, they're nothing like that. For me, in everything that I do, I want to be consistent."
Staying rooted as a content creator requires a deep level of self-awareness and routine check-ins with yourself. In fact, Vicky recalls a time early in her vlogging career where she found herself swept away in the process of creating a perfect memory, instead of participating in the moment. "When I was heavily into YouTube, I was vlogging so much, I felt like I have to go back and watch those videos to remember what happened because I wasn't present in the moment." She continues, "I was looking at my life through the lens instead of looking at it as my life. I never want to get back to that point. I try to prioritize being in the moment rather than creating content."
"When I was heavily into YouTube, I was vlogging so much, I felt like I have to go back and watch those videos to remember what happened because I wasn't present in the moment. I was looking at my life through the lens instead of looking at it as my life. I never want to get back to that point. I try to prioritize being in the moment rather than creating content."
When you've been with someone through your 20s and into your early 30s like the Logans have, evolution becomes the third wheel. Over the years, the two have seen each other grow and evolve as individuals with callings that stand alone and complement each other's purpose. Arriving at the place in a relationship where everything is truly about the we and not the me takes sacrifice, time, and the process of "dying to yourself" daily. That means pride and self-centeredness have no place. For the Logans, this required taking the time to learn how to truly love each other the way each person needs to be loved, not the way they assumed they needed to be loved. As Vicky puts it, "I think sometimes people come into relationships a little bit prideful and don't want to change."
But if the common goal is longevity, you have to forgo the "that's just the way I am" mentality. "We know that we're different people, but at the same time, we want to operate as a team," Vicky shares. "You have a partner for a reason: to help you."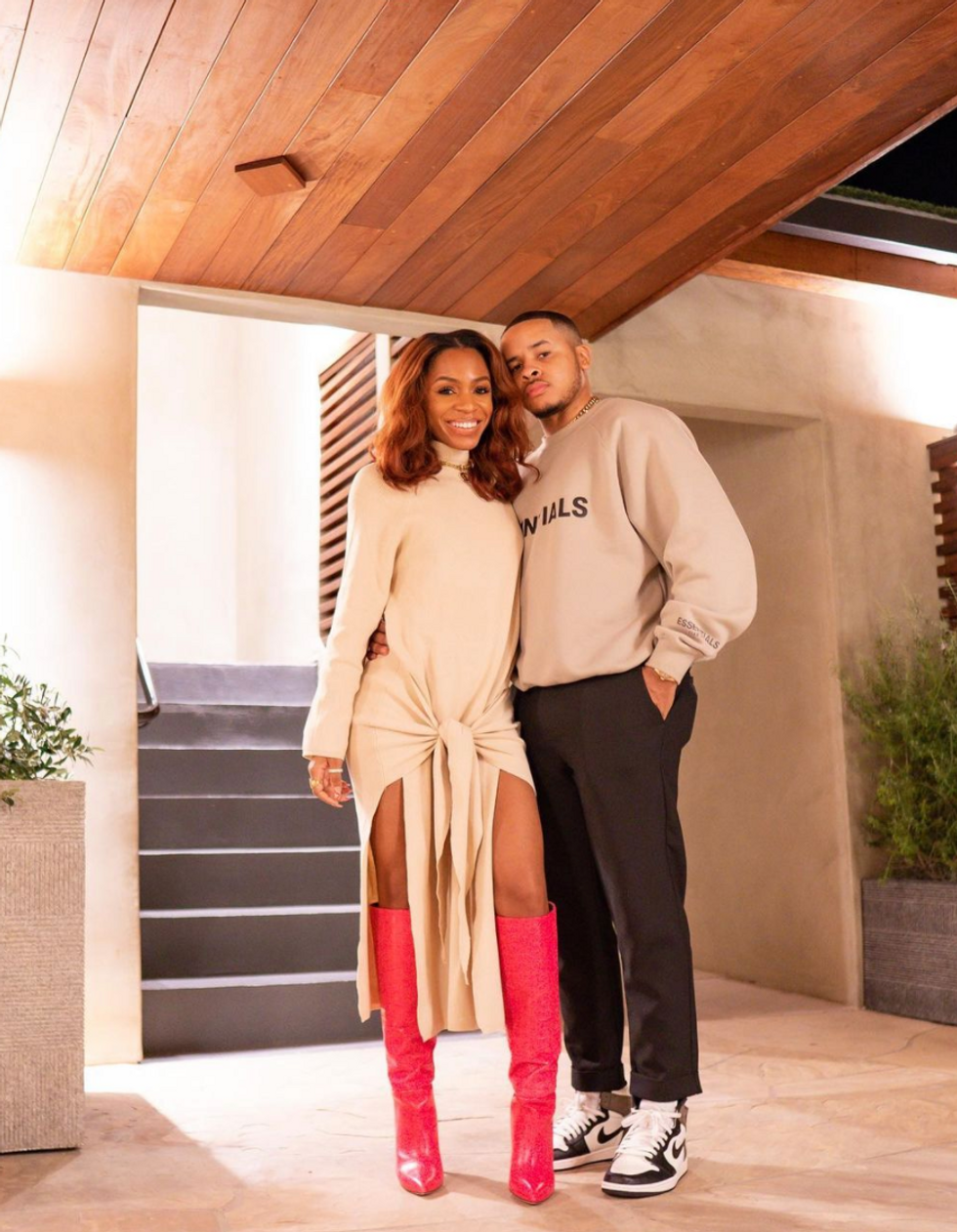 ​Courtesy of Vicky Logan/Instagram
If you follow the #CamToria hashtag on Instagram, you'll find that the Logans are far more than your typical "relationship goals", they're the embodiment of steadfastness. A marriage that hasn't rushed through the years or the moments that they've shared together, but has instead made the daily decision to partake in the witnessing of one another's blooming growth. "My life has changed just by being friends with Cam," Vicky reflects, "He truly loves people and I try to be like that more and more every day."
For Cam, experiencing Vicky's growth has been the greatest honor to witness as a husband, "[Vicky's] ability to literally go after her dreams... I don't know if people realize how difficult that is in a society that trains you to do what people tell you to do." He adds, "She's a boss, but remains humble and loving at the end of the day. She's constantly growing and I'm just happy to be married to her."
The freedom in having an unconventional love story is in the license it gives to a couple to tell a story that's never been told before. Although arranged marriages aren't something that's typically highlighted in the Black community, the Logans exemplify what can happen when you follow the wise counsel of your parents, while fostering the "it takes a village" adage. "I think our community could benefit from the fact that our parents are connected with solid people with solid foundations, values, and morals," Cam says. When you're building towards a future legacy, sometimes the best way to know where you're headed to by trusting the wisdom and guidance of those who have been where you're headed. Even if that turns out to be your own parents.
"I know that when we have children, that's definitely something I plan on doing," Cam says.

Featured image courtesy of Cam and Vicky

Keep reading...
Show less
Nobody really needs yet another reminder that the past year or so has been rough. We have more than enough articles, blogs, podcasts, and social media updates to remind us daily that life can throw you some real curve balls, forcing you to either hit or strike out. But even when you strike out, there's always that next throw—that next chance—when you can always turn things around.
Media personality Erica Cobb has remixed the whole concept of a comeback into a revival of determination where you think, "What loss? Failure? Where?" As co-host of TEGNA's Daily Blast Live, host of her own platform, Comeback.TV, and co-host of podcast Who Cares What They Think, she unapologetically sits in her truth, whether tackling conversations about xenophobia and colorism or chatting with women about their biggest moments of redemption.
Cobb, who has more than 15 years of skin the media game, once faced an almost three-year battle with depression, financial hardship, and employment challenges after losing a very high-profile job. She eventually found a way to take her own career lemons and make them garnish for one hell of a comeback margarita, now hosting a nationally syndicated show and giving voice to women of color who have also beat the odds.
She sat down with xoNecole for an exclusive interview to tell us the how, when and why of that journey, and how you can be the comeback star of your own story: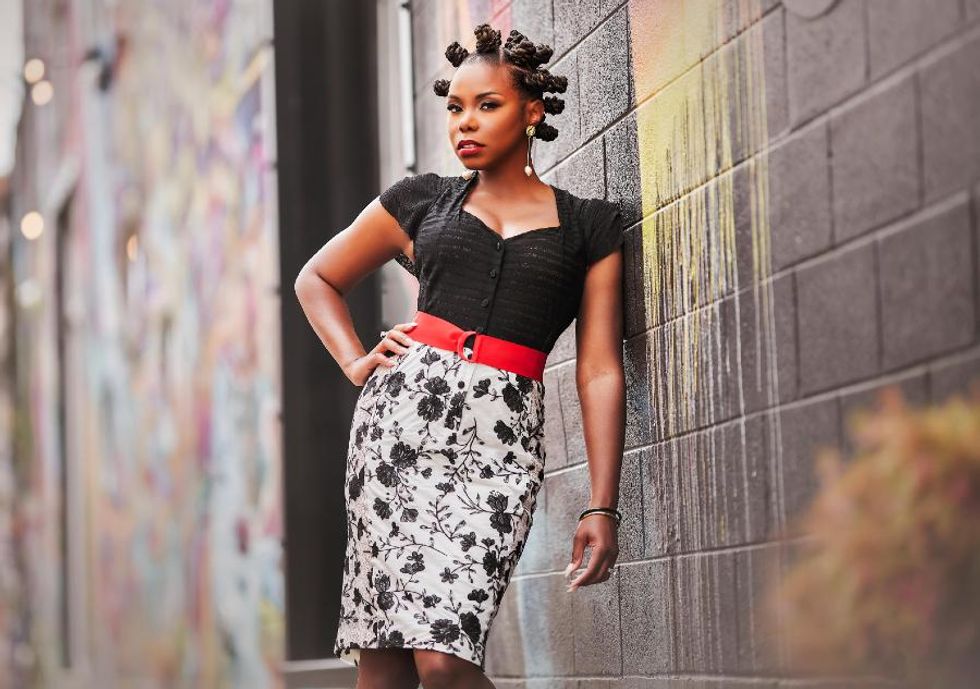 Image by Kymora Jaxson Photography
xoNecole: You're an experienced media professional who, in addition to your day job, started your own platform, Comeback.TV. You've also continued balancing several projects throughout the pandemic. What has that experience been like?
Erica Cobb: I always like to say [that] the comeback is never over because if you're a growing person, there are obviously going to be some setbacks along the way that you're going to have to, you know, come back from. The interesting thing about just how I started this brand, I was really the antithesis of where everybody else in my life or my peers were. I seemingly was failing when everyone else was really thriving and what I noticed, especially in the beginning of the pandemic, I just sat down. I sat down with my husband, and we had a conversation. I'm like, I know that this is going to be a year of loss and a lot of lack, but I know that this is where I thrive. So, I'm anticipating really growing myself, my career, and this brand over the next year. And that's pretty much what happened.
I ramped up who I was having on my podcast. I made a completely separate social media supplement to the podcast so that people could get it where they were. A lot of my people are on Instagram and Facebook, so I wanted to make sure that I was meeting the moment with them. At the same time, I also had to think about growth and what people were asking for, and what they were really asking for was a voice that would be confident in not only representing them, but representing them as just normal people. So when Lindsey Granger, my co-host, and I were like, 'Hey, we have this time, let's create something,' the first thing I said was, 'If we're going to do this, we're going to see this thing out.' That's when we created [the podcast] Who Cares What We Think. We're almost a year into it now, and that has seen a lot of growth as well.
xoNecole: We're always fascinated with processes and the steps to things. Many of us get stuck because we don't really know the how-to of getting unstuck. So, what's your process in terms of motivating yourself to continue creating your own opportunities and pushing past obstacles.
Erica: Well, I want to be cognizant of not being like, "Well, this is what you should do and [what] everybody should do," [because] obviously not all of these things are going to work for everyone. The genesis of me having my studio and producing comeback was that I had gotten into this pattern where I was laid off about every three years—either my contract wasn't renewed or I just was no longer going to stay with a company.
What I promised to myself was that I was going to find a way to become self-sufficient, because you'll notice when things go left, when things are out of your control —like you're working for someone else and they lay you off, or you're in a situation where there may be one person who can do their job and your job, so now your job becomes obsolete—it's always someone else making those decisions. And six years ago, I decided that no one else was going to make those decisions for me.
When you say that, people generally are like, "OK, but you can't just quit? Are you independently wealthy?" And the answer's no. But when you have to [push through], you always do. So when I had to figure out how I was going to make money as a radio personality who didn't have a radio station to work at, that's when I switched the script. So I always say, look at what your gifts are and look at where your talents lie. What makes you a great candidate to a third party? Why do they want you as a part of their team?
And then really look at that gift for yourself. How can I do what I do best for my own brand and company? There is going to be a niche for you that you can be self-sufficient in. Find your gift that everyone seeks you out for, and then invest in yourself. And when I say invest, that does not mean money. Investing mostly in the beginning is going to mean your time.

xoNecole: So, true! Investing in yourself plays a big part in shifting the plan when there's a major career transition, and you've had several successful ones. What was the common factor that helped you ride through them all?
Erica: I used to own a hair extension company, and it was myself and a partner who was actually in the beauty industry for quite some time. I had decided I was going to do that full-time and take a break from media. So I did that for a couple of years, and we built this store and this brand, and it was something that I was really proud of. It was also the first time that I physically saw something be built from my work, you know. There was an aesthetic piece to it. What I learned from that was there are a lot of elements that certain industries, like health and beauty, [where] they will do these, you know, big conferences and continued education, and anything they needed in order to get new clients or to learn new techniques.
Being in that space made me think about the continuing of education. The truth is, if you're in media, there are so many things that the generation that's coming up behind us know. It's second nature to them—social media marketing, etc. All these things are second nature for them, but for me, it's not. So, it's the idea of always thinking about how you can continue your education and what that means.
The other thing is, I think that people do not give themselves grace, and they expect things to happen overnight.
I stepped away from a job where I had 1.8 million listeners every single morning, but when I started doing content, I was lucky if I got 18 views. And a lot of people made fun of me, and they were like, 'Oh, how the mighty has fallen.' But you know, at the end of the day, I have my own brand, and I was able to increase by 65 percent during a pandemic because I was used to doing this thing consistently and not caring how many people watched it or didn't watch.
So I think that's something that's important, too. Give yourself grace. Don't fall into that 'I'm embarrassed by what's not happening.' Be really proud of what you're able to do because eventually it's all gonna come together.
For more of Erica, follow her on Instagram.
Featured image by Kymora Jaxson Photography
Keep reading...
Show less
What is it about an independent, sexually aware woman sends men running for the hills? It is often the question reserved for the fourth or fifth glass of wine, surrounded by your best gal pals; everyone left still wondering but feeling more connected in the end. Is it the success? The self-actualization? The imperishable confidence? According to Sheriden Chanel and Amer Woods, it's probably a combination of all three and they hold nothing back in the latest episode of xoNecole's Happy Hour Podcast.
In this week's episode of Happy Hour, co-hosts Sheriden and Amer break down their feelings on extravagant gifts for Valentine's Day, the double standard facing successful women, and a thorough deep-dive into everything 'hoe'.
"Regarding Heaux Tales and Hoe Phases", an episode that pays homage to the newest studio album released from songstress Jazmine Sullivan, the duo explores the juiciest topics surrounding what it means to be a hoe, with intellect and humor. The conversation leads to questions like, "Is there is an element of tricking in traditional marriage?" or "Are there different ways to have a hoe phase?"

The ladies touch on the topic of double standards within society and media that tell women they shouldn't be sexually aware, with the most recent example being the controversy surrounding Lori Harvey's dating life. But even though those double standards exist, both in society and in a relationship, it should not be a driving force in your love life. The importance of doing you, regardless of what anyone is doing, is constantly stressed by Sheriden and Amer.
"Personally, I want to be a woman. I want to stand on my own platform, as a woman. I don't necessarily want to compare myself to the man and what he's doing." - Sheriden
Listen to the episode now on Apple Podcasts or Spotify. Leave us a voice message on xohappyhour.com to share your story with us or ask a question for a chance to be featured on the show!

Featured image by Mecca Gamble for xoNecole
Keep reading...
Show less
The pathway to manifesting our ancestors' wildest dreams, is first led by becoming a living embodiment of their legacy. For storyteller, photographer, and podcast creator, Nneka Julia, it's the weight of three consciousness, "a Black American consciousness, a Nigerian consciousness, and a Cambodian consciousness," that when fused together, ignites the purpose and vision behind her work.
Being the child of immigrant parents, Nneka has been surrounded by examples of resilience that have informed every aspect of her creative pursuits. As a teen, Nneka and her family traveled to Cambodia, her mother's home country, to visit after the passing of her grandparents. It was on this trip that she'd pick up her camera for the first time, and everything would shift, "That trip really changed my life; it changed the trajectory of knowing what I was actually interested in doing. At that point in time, I knew what it meant to be able to capture my family on camera and memorialize them in that way."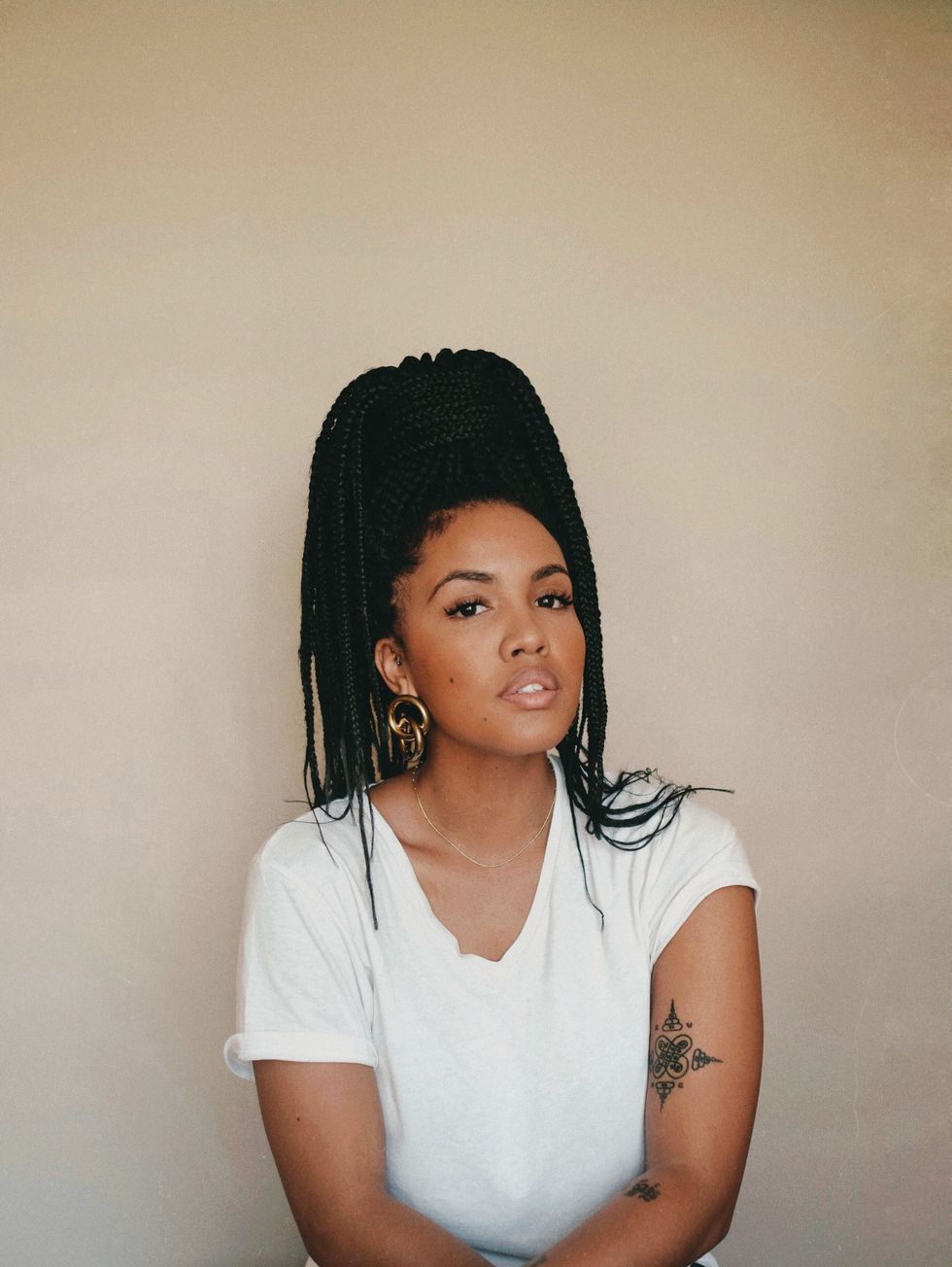 Courtesy of Nneka Julia
Nneka discovered the art of audio storytelling through her father's cassette collection of motivational speakers and self-help gurus like Tony Robbins, Les Brown, and Zig Ziglar. In a fateful twist, she would find herself utilizing this same form of storytelling, on her very own roster of podcasts, Passing Through and The Layover. While listening, you'll spot the unique sonic experience the podcasts offer: it's immersive. It's poignant and captivating. It uproots you from whatever location you happen to find yourself in while listening, and teleports you into exotic destinations and the memories that were made there.
The single-narrative podcast is filled with life lessons and tangible anecdotes that strip down the highly-curated nature of travel glamour shots, revealing the humanity in each story Nneka tells, "I think when we're online, it's easy to feel like everyone's life is so perfect and that we're alone. All this stuff is so much more important to me than the image; it's that you don't feel alone."
The mission that Nneka fulfills with her platform is necessary, especially at a time where a global pandemic has warped our sense of time and connection is hard to come by. Fortunately, this time has allowed Nneka to reset and share new stories in the upcoming fourth season of Passing Through, that reflect all of the life lessons and updates that have unfolded, "I'm very excited for the next season of Passing Through because it's going to cover quite a bit. I finally caught up with myself in terms of the stories, these are very recent things, this upcoming season is very present."

xoNecole: What was the inspiration behind starting your podcast, 'Passing Through'?
Nneka Julia: It started as a way to archive my thoughts, feelings and life lessons learned along the way from all the different people I've met and different places I've been. But now it's turned into this vehicle for people to understand that they're not alone in what they are going through.
I was tired of seeing the same things. When you see people curate and present an image of themselves that completely doesn't match what they're going through at the time, it can kind of warp your sense of worth. So how do I create a tribe in this digital space and how do I keep it real with myself while I'm doing it? We're all kind of archiving our lives online, but what if it was whipped out? What would I have to show my children? For me, legacy, become this ever-present idea and thought, and the things that I continue to go back to are written word and audio. I have to be able to create in this space not just for me, but for the people who come after me.
"For me, legacy, become this ever-present idea and thought, and the things that I continue to go back to are written word and audio. I have to be able to create in this space not just for me, but for the people who come after me."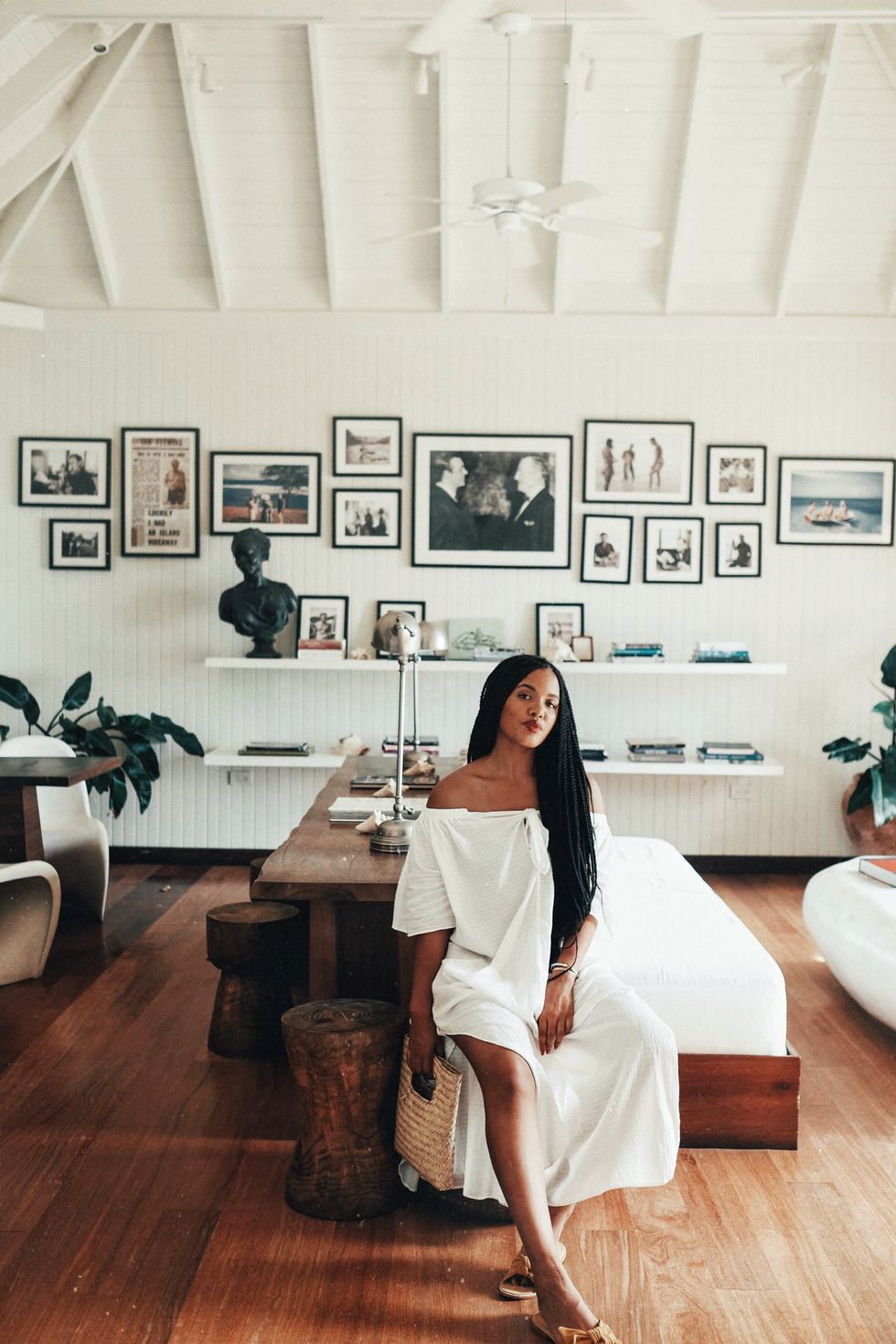 ​Courtesy of Nneka Julia
Coming from a Nigerian-Cambodian background, how has your heritage and being born to immigrant parents informed your work?
It has informed every aspect of it. I try to live by the saying that "to whom much is given, much is required," because my parents have given me so much. Not just to their children but to their community, and there's never been this ask for recognition or reward. For me, it's like I have their bones, but I'm wearing my flesh. That's really what it feels like. I owe it to them to carry us to the next level, tell their story to the world, and carry the legacy of our family.
Why is it important for you to share your space for others' stories to be told on your secondary podcast, 'The Layover'?
It was totally a byproduct of the live show we did for Passing Through in 2019. Now that I think about it, it was pretty wild to do: we were eight months into the podcast, people didn't know what the show was going to be, I could have Fyre Festival'd the whole thing. But it sold out at this great spot in Manhattan. I invited six black women to share their stories on stage, and it felt like church. I knew with the live show I didn't want to center myself, why not give other Black women a chance to share their stories?
For me, I've been to different storytelling shows and they've all been extremely white spaces, where the storytellers felt like they had to make people laugh and crack a joke. And I hated that. So I wanted to do away with that; I wanted people to feel like they could cry on stage, and feel whatever the story made them feel. Seeing that live with Passing Through, I thought we could do that on a week to week basis with The Layover, where people aren't scared to be vulnerable. cry, crack jokes, and run the full spectrum of who we are as Black women and WOC.
How has your work evolved since embodying photography to where you are now in the space of written and audio storytelling? 
I didn't realize that my creativity wasn't medium-specific, I didn't realize my creativity could come out in writing, it could come out in audio, photos, and multiple different ways; when I started off, I thought photography was it. As time went on and I started to travel more for pleasure and for work, I started to meet so many people and there are worlds within those people. You're not just meeting a driver in Bali, you're talking about his mother and his daughter, and where he's from and what his dreams are. Those things stay with you and it affects you. And I felt like photography, yes it was wonderful but if pictures are worth a thousand words, then how much are words worth?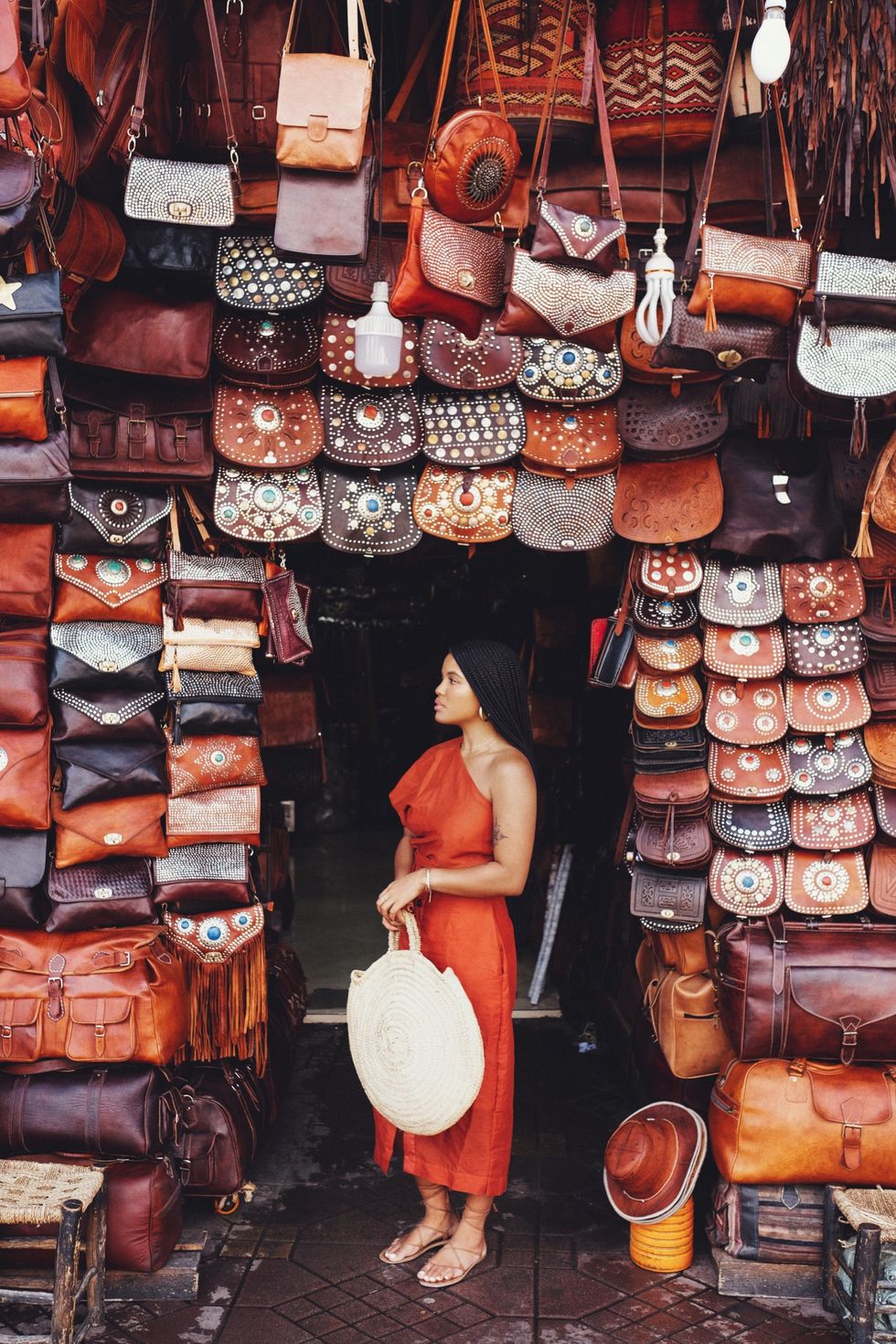 Courtesy of Nneka Julia
"If pictures are worth a thousand words, then how much are words worth?"
With travel being such an intricate part of the work you do and stories you tell, what have you learned from this season of stillness?
It's been a lot. I've never shied away from myself or solitude. So I can't say that this time has been incredibly difficult. Thankfully, this time has been a reset period. Before it used to be just "hustle, hustle, hustle," but now, we're living in strange times, so it's like you have to listen to yourself. Finding a comfortable routine has helped, but also finding solace that you're going to want to break those habits sometimes but you can always get back on the horse. Be graceful with yourself, but be targeted with hitting the small things like taking a walk, writing 50 words, reading two pages - those are my goals. And if I hit it, it's a success, if I go over, it's even more of a success. The atomic things add up, they all compound.
Although the future is so uncertain right now, what does the next frontier for you look like?
For me, the next step (at least in my career) would be adapting these stories into larger-than-life works. Something that speaks to more than just Instagram, something that engages all the senses. I absolutely love audio and written work, but film is all of both of things in one. So I'd love to and am planning to branch off into film, with the ultimate goal to tell my parents' story at scale as well. Communities are niching down. Anytime we go super digital, there's always the antithesis which is analog. With my future work, I want to go analog, so people are able to touch something, feel something, and have something.
For more of Nneka Julia, follow her on Instagram and check out her podcast, Passing Through.
Featured image courtesy of Nneka Julia
Keep reading...
Show less
If you feel insignificant, you better think again.
Black woman, black woman. You are everything, sis. And you're the focus of Happy Hour Podcast's latest episode. This week, the ladies invited Shivy Brooks to the table for a fresh, male perspective on all things black woman, specifically in reference to current events. A high school teacher by day and a self-proclaimed activist and thought-leader by night, Shivy brought the same heat of his weekly Teacher Talk Live show, to hang with co-hosts Sheriden Chanel and Amer Woods for an epic discussion of education, race, politics, culture, and everything in between.
Show Notes:
Intro:
Verzuz Takeover
Brandy and Monica Verzuz was life (Amer was #teammoinca, Sheriden & Shivy were #teambrandy) Who won?
Ray J is underrated and unappreciated.
IG, it's time to have the conversation to allow monetizing of IG Live!
A potential tour series?
Sheriden wants to see an Omarion Verzuz. Shivy would like to see Jay-Z + Nas, and Beyonce + Mary J Blige.
Cardi, Megan, + "WAP"
Are we allowed to live in multiplicities?
Society (men) doesn't like women to own their sexuality.
Video was everything, except....Kylie (ugh, yawn)
What are people doing to leverage the people around them?
Tyler Perry, Joe Budden vs. Charlemagne: ownership
Collaboration vs. competition
Crabs in the barrel mentality, oppressive society
We're not realizing we're actually fighting over crumbs
Black women need capital
For opportunity, why do we always seem to have to compete for capital (pitch competitions, contests, etc.)?
Believe. Black. Women.
Megan vs. Tory Lanez
Powerful black women intimidate men
Sheriden discusses having lots of responsibility growing up for people older than her, and shares the time she had to change clothes when around male house guests.
Black girls are hyper-sexualized and boys are seen as a threat.
Amer discusses intentionally not going into situations where she wouldn't be able to protect herself.
What does protecting black women look like?
Perspective from both the men and women on why men lie.
Women tend to cater to men to give them what they want to be together and be happy.
Game playing is avoided from being honest, is this savage-dating?
The normalization of online fights directly correlates to the treatment of viral mistreatment of black women.
Black women should be protected whether you know them or not.
Trans women, homophobia, and LGBTQ community.
Black people are conservative, and they forget that they are. Whew.
The non-reciprocation of black woman's protection of the black man.
Shivy asks: how much protection of black women is needed, if we instead empower them?
References Mentioned in this episode:
"We Failed Megan. Point Blank And Period." by Shellie R. Warren
I May Destroy You (TV Show)
All About Love by bell hooks
People Mentioned in this episode:
Rashan Ali
Flavor Flav
Desi Banks
--
Shivy Brooks hosts Teacher Talk Live every Tuesday-Thursday on his Instagram at 8pm EST. You can follow him at @callmeshivy
You can connect with us on Twitter, Facebook and Instagram at @xohappyhour and use the tag #xohappyhour to join the social convos.
Leave us a voice message on xohappyhour.com to share your story with us or ask a question for a chance to be featured on the show!
Featured GIF via Beyonce/"Bigger"
Keep reading...
Show less
If I were to poll a group of women, I'm sure many of us would agree that we live and work in a male-dominated society. At times, it can be challenging to make our voices heard, but for Megan Thomas - on-air host and producer at All Def, and podcast creator - she's found a way to successfully push through the "no's", pursue her dreams, and represent for the ladies.
For those who may not be familiar, All Def is a black-owned, multi-platform media company that gained its strength and popularity through the cultural power of hip-hop, comedy, and social justice. Since its inception, they have amassed millions of followers as well as partnerships with brands like HBO, MTV, and Spotify. While it's common to hear about some of their other great comedic talent like KevOnStage or Patrick Cloud, Megan has definitely represented for the ladies even when there were no other female hosts on the All Def platform. With shows like The Drop, Great Taste, and Squadd Cast, she continues to hold it down as one of the primary female voices and producers.
We recently had the opportunity to talk with Megan about what it takes to be successful in the industry, as well as what self-care looks like for her as a professional working mom.
xoNecole: Megan, tell me how you first got involved with All Def? 
Megan Thomas: I auditioned for a sports show back in 2015 for KevOnStage. They asked me, "Who are your top linebackers?" And I said, "I don't know." Needless to say, they never moved forward with the sports show. Then, around the end of 2015 they held auditions for the daily show, and instantly, in my heart I was like, "I got this." So, I auditioned again, and a week later they asked me to be the female host. So, I started hosting The Drop around early 2016, and after a month, they were like, "Hey, can you also produce The Drop?" I have a background in radio and producing, so I was like, "Yeah, of course." From there, I started appearing in and producing other types of content as well.
xoNecole: They went from asking you to host and then produce. What helped push you to say "yes" to these new roles and opportunities? 
Megan: I said "yes" because of "the spirit of yes" I have inside of me. Since I was a kid, I've always had it because I didn't want to be bored. I felt like if I had more stuff to do, then I would feel important. Plus, I believe everything you do in your life builds upon the next thing. If I hadn't been a producer in radio or produced all of this free stuff for years that I never got paid [for] while living in LA, I wouldn't have been prepared. Saying "yes", however, can cause issues because I will say "yes" to stuff even when I don't have the time. Now, I'm practicing how to say "no".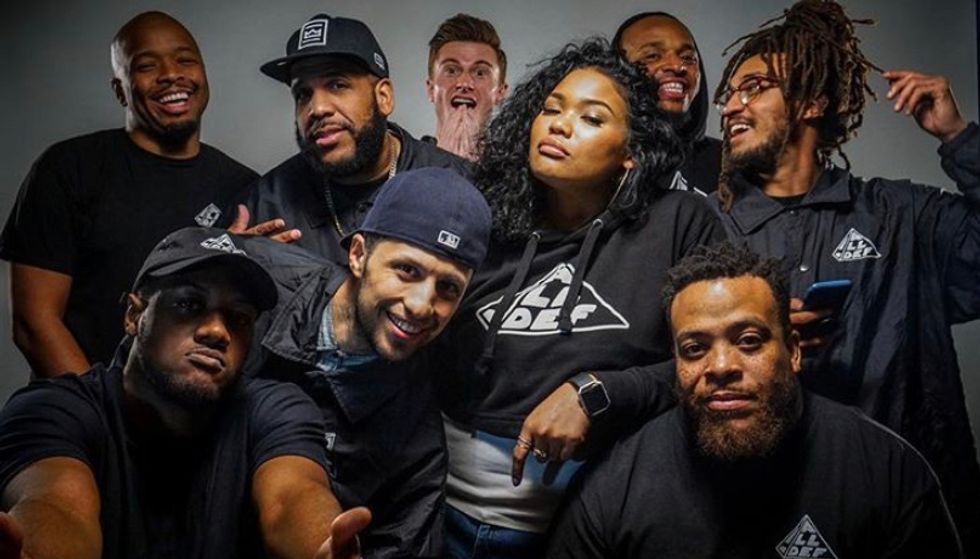 Photo courtesy of Megan Thomas
"I believe everything you do in your life builds upon the next thing. If I hadn't been a producer in radio or produced all of this free stuff for years that I never got paid [for] while living in LA, I wouldn't have been prepared."
xoNecole: Many of us as women, regardless of the industry or profession, can relate to being the only or one of few women of color in a male-dominated environment and how challenging it can be. How do you hold it down being one of few, and in some instances the only female, in your field? 
Megan: It's tough, because by nature, men don't always listen to women. So, you have to demand respect as a woman and do everything in your power to make sure they respect you. I know the guys that I work with are really good-natured men. They love women and they're kind to women, but there are times when they talk over me. I'll even say a joke and no one will hear it, but someone else will say the same exact joke and get all the laughs in the room and I'll be like, "Yo, I said the same exact joke verbatim."
They're my brothers for sure, but as a woman it can feel isolating because there are times when I want to talk about certain stuff and they're like, "No, only guy stuff." On the flip side, I bring a perspective that they don't have insight into because none of them are women. They may have daughters, girlfriends, and wives, but they've never been a woman so their perspective may be one-sided.
That's why I'm working on doing something that's more geared to women on the channel. I'm not sure what that looks like just yet, but I know women love funny stuff too. We like shows like Roast Me, and there are good female roasters out there. Our demographic is mainly black, urban males, but a lot of women watch the channel as well.
xoNecole: What's the most enjoyable thing about working with a team comprised of mostly men? 
Megan: The laughter and the jokes. I've had corporate jobs and there's code-switching you have to do, but not with this group. They're just funny, and I can be myself. I'm so blessed that I get paid to work with people who are funny, and we get to make other people laugh.
xoNecole: I know the ADD followers love a good roast. Has anyone ever said anything that really cut deep, or is it pretty much no holds barred?   
Megan: You have to have tough skin. There have been times when things hit deep, but I also understand that I'm in the public. Growing up as a chubby kid, I had to be smarter, have [a] quicker wit…I just had to be better. So, that helps with rolling stuff off my back.
xoNecole: Besides helping a group of funny, talented men stay on-task, how's it going with managing life as a mom as well? 
Megan: Honestly, I'm learning as I go through this process. Communication is key – it's absolutely necessary to communicate things especially when it comes to scheduling. Preparation is also very important. If I know I'm going to be out of town, I'm a stickler about what my son eats. I take responsibility for preparing everything so that his dad [Megan's fiancé] knows what to do while I'm gone. If God blesses us with another one, I'm sure I'll be more relaxed about that.
xoNecole: What does self-care look like for you as a working mom? 
Megan: Mommy time – sometimes, it's a playdate and other times it's my fiancé staying at home with our son so that I can have some alone time. As moms, we just need to get away sometimes. I have to have time to just be me.
Asking for help – whether that's from my village, professionals, etc. For instance, I know I had postpartum [depression] the first year after giving birth. I would read the symptoms and knew that I had it, but I didn't seek help because I thought asking for help meant failure. When the truth was, had I asked for the help, a lot of the burdens would've been alleviated.
Grace – I have to give myself grace, and remind myself that everything isn't going to get done. I used to beat myself up if I didn't finish everything on my task list. I used to carry that burden, but Jesus said, "His burden is light." So, I give it to Him. All of it helps with self-care because it helps me be kinder to myself.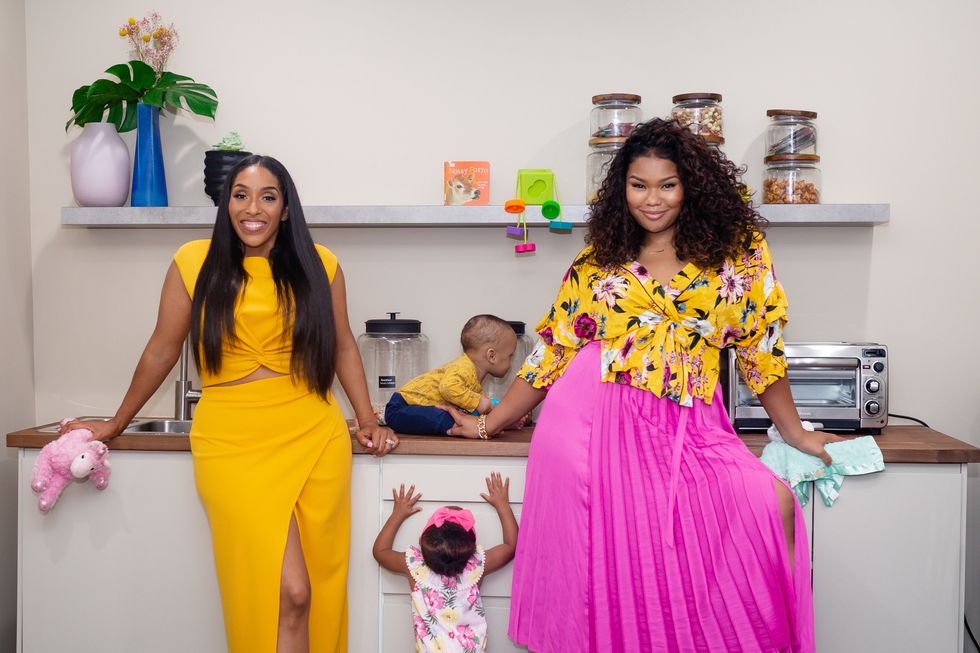 Photo courtesy of Megan Thomas
"I have to give myself grace, and remind myself that everything isn't going to get done. I used to beat myself up if I didn't finish everything on my task list. I used to carry that burden, but Jesus said, 'His burden is light.' So, I give it to Him. All of it helps with self-care because it helps me be kinder to myself."
xoNecole: I know you have your podcast, "Mommy Needs A Break", which I'm sure so many women can relate to. Is that part of your self-care routine as well?
Megan: Yes, I knew the day after my son was born that I needed something. I remember looking at him in awe and praying that he made it to tomorrow…every single day. I immediately gravitated to the idea that I needed an outlet because being a mom consumed my mind, my life, and everything beyond the norm. For example, my baby would be sleeping, but I would be on the internet researching all kinds of stuff. Needless to say, that can drive you crazy. So, I told myself, "I need a break from this." I knew my co-host, Marisa Johnson, was going through the same thing. So, we started the "Mommy Needs a Break" podcast for mommies who just need a break.
xoNecole: I love hearing about your successes as a producer, host, and mom, but tell us about a time when you had to navigate through a season of "no's."  
Megan: I've had years and years and years of no's. Only recently did I start to have some yes's. There are a lot more no's than yes's. I've been in this industry since 2006, so it's been 14 years, and just within the last four years I've been able to get a gig to support myself.
Even during all those years of no's, one thing I used to tell myself after all those auditions was: "Megan, you are enough! God gave you what He gave you. Nobody else can be you and you can't be anybody else, so just do what you do and do what you do best." I've learned that when it's your time, it will be your time, and nobody will be able to take that away from you.
xoNecole: What advice would you share with ladies who, like you, are pursuing their goals and dreams, or who aspire to get into the media/entertainment industry? 
Megan: Do it your way. You don't have to wait for somebody to give you the green light. You have a phone with a camera and YouTube. There's no reason why you can't do this within your own capacity.
Be authentic. I am Black and Korean, and when you grow up Black, what you do affects other people. So, I do this for my people. I'm glad that things are changing in this industry, but you have to be yourself. It should be OK to see me on camera with my big, curly hair. That's why I'm OK with not working in old Hollywood if that means I have to look a certain way, because being authentic is important.
Be ready and willing, and let God guide the path. I feel like God gives us nuggets and glimpses. That's why we have certain passions and things in our heart that we feel like we're drawn to. It's God's way of showing you the path that you're going to be on. I didn't necessarily put in my heart that I wanted to be in comedy (even though I saw the vision for it). That was God-given, but I still had to be open and ready for when it happened.
Do it consistently. Set a schedule for yourself. Whatever that schedule is, keep to it and eventually people will notice what you do.
You are enough. While you can admire other people and observe the things they've done as research or inspiration, don't think that it's going to be your story or your journey. God has something specifically for you. You are unique and special, and your story will look different. So, embrace that. Otherwise, you will succumb to the feeling of not being enough.
The road is long, but success is at the end of it. I worked in LA for four years before I could finally afford to support myself with one paying job. I had three jobs at any given moment and worked tirelessly for free just because I wanted to break into this industry. There were a lot of times when I wanted to give up. I was tired and worn out, but I wish someone had told me to keep going and that there is success at the end of it. You can't give up, because tomorrow might be the day that you hit your goals.
For more of Megan, follow her on Instagram.
Featured image courtesy of Megan Thomas
Keep reading...
Show less