It was 2007. Nina Parker—depressed and tired of answering phones as a call center agent for Verizon Wireless—cashed in her two weeks worth of vacation the following day, and drove to Los Angeles from Sacramento with a few thousand dollars in the bank and no place to live.
At 27 years old, she was starting over.
"My mom was like, 'You know you don't have to do this. You're in your 20s. You have a degree'," Parker says. "I wasn't married nor had kids. She was like, 'I don't understand why you're suffering everyday.'"
It's not that she was completely unsure of her passion in life. She grew up turning cardboard moving boxes into television sets, interviewing fellow classmates about their thoughts on drugs, and gaining valuable experience as an intern at a local news station. The San Francisco State graduate even had a job offer right out of college at NBC in Las Vegas, but turned it down in hopes of snagging a coveted gig as a MTV VJ. She packed her bags for New York City but quickly learned that a degree isn't a guarantee for immediate success.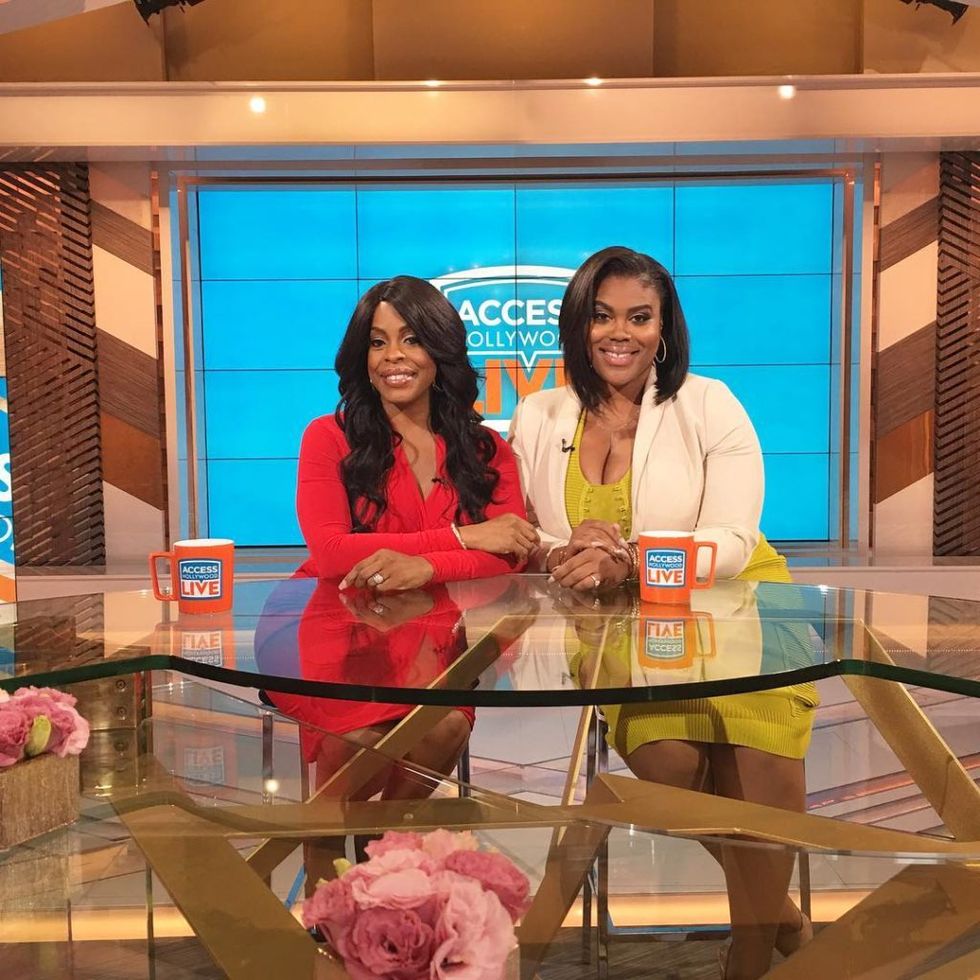 Photo Credit: Nina Parker
"I was fresh out of college, arrogant, and they were like, 'Girl, you don't have any experience to do anything like that'," Parker says. It's hard to believe that the Access Hollywood contributor who got her big break as one of TMZ's first on-camera talent once struggled to find a job and shied away from the camera.
Hustling Hard
Parker arrived in L.A. with a dollar and a dream and was working as a temp in television when she got word that a new celebrity gossip site was hiring. Without hesitation, she submitted her resume despite her lack of experience working in entertainment news, and was offered a position as a runner. At the same time she was also up for a full-time opportunity with Paramount, who she had been temping for, but despite the pay being more, she chose the position that appeared to be less logical.
"I had to go where I felt I was going to be the most true to myself."
"At the time it was half of the money that I was making being in a corporate job, and I was like I want to do this because it spoke to my spirit to be there. I had to go where I felt I was going to be the most true to myself. I had decided when I moved to L.A. that I wasn't going to let money be a deciding factor for anything. I was okay with struggling for the short term to get a long-term goal that I knew would pay off later," says Parker.
A couple of weeks into her new gig, Parker was fired. "I was a horrible runner," she says. "I was really late with tapes and I didn't know most things Angelenos knew so I was really slow. Harvey [Levin] basically fired me and said that I didn't know where I was going, so I went to the bathroom and I cried."

Her instinct—and her ego—told her not to give up. After apologizing to the managing editor and expressing interest in writing and producing, she was brought back on as the writing PA, and within four months was promoted to producer. But it didn't come without its sacrifices. Working in a start-up entertainment company meant 12-hour workdays, including weekends and holidays.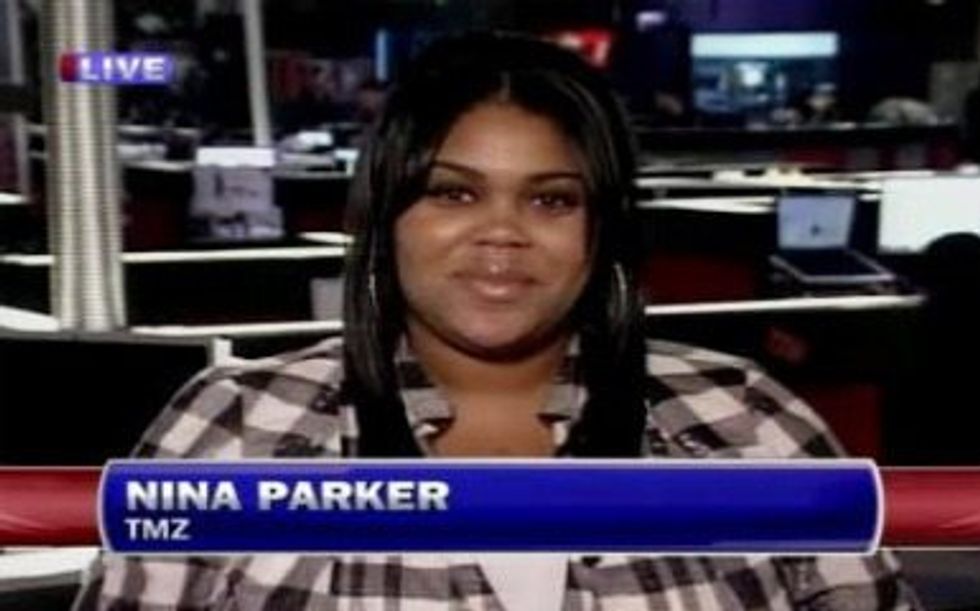 "I didn't have a line for how hard I was willing to work," says Parker. "Sometimes people turn that switch off like I only want to work 40 hours a week, and to me if you're chasing a dream, you're always working on your craft. If you're not at a job all day, you should do something that day that benefits your craft. If you can outwork people, you're already winning because there are a lot of people who are really smart that aren't where they're supposed to be because they refuse to put in the work, and it's not going to be 40 hours a week."
While she excelled in her new position, Levin had another plan for the humorous and outspoken Parker, and found her to be a perfect candidate for the TMZ pilot show that they were shooting. But Parker, still battling with the insecurities of her 70-pound weight gain during her time in Sacramento, politely declined.

"I was very insecure, and basically you have this little Jewish man giving me this Black power speech where he's like, 'You have a voice, there's other black women that need to hear you, I think you can relate in a way that people understand. You're not afraid of me. You like to debate, and we need you on the show so I'm not really asking you that was just a courtesy, you're doing it.'"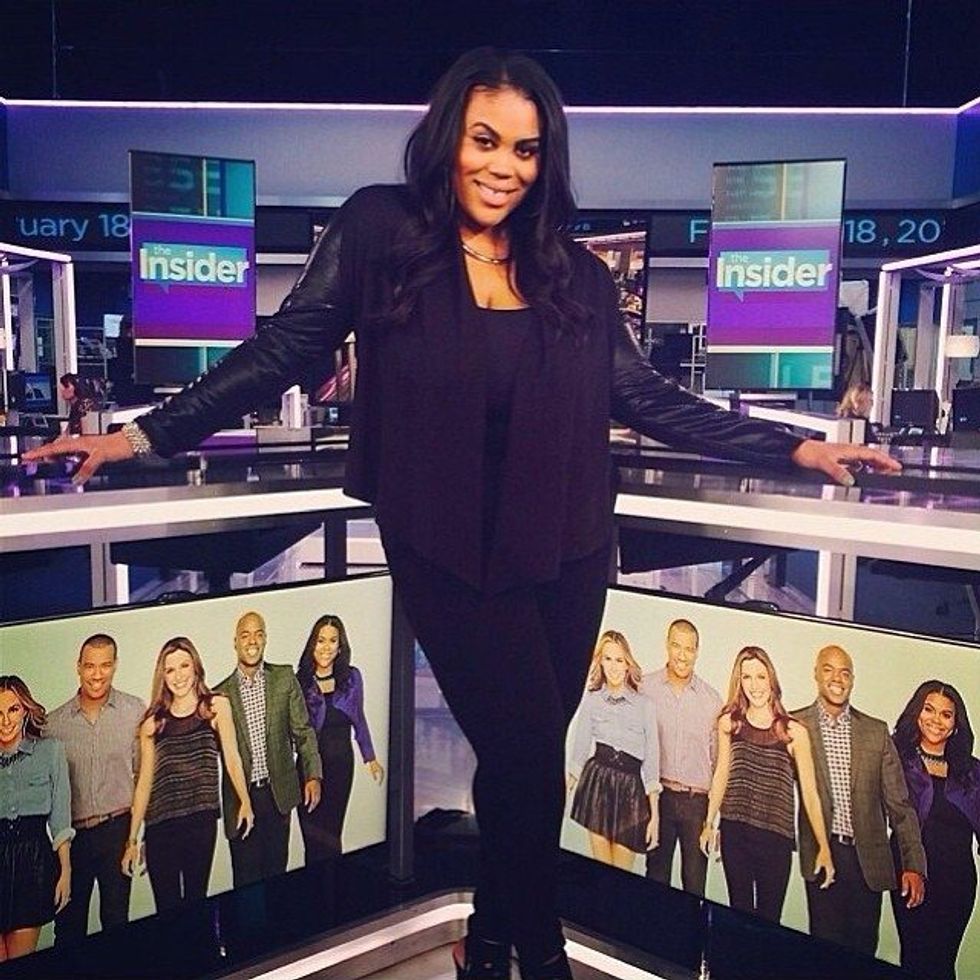 Photo Credit: Nina Parker
As Levin predicted, Parker was a star in her own right, breaking stories and being a part of a new wave of reporting where people no longer relied on traditional television for their entertainment news—even if it meant spending 12-hour days outside of courthouses and hospitals hoping to be the first to catch a celebrity-sighting.
"I had gone from having to clock in and out to use the bathroom to being able to be free and do something that was entertainment," Parker says. "I'm bringing back this tape that's being watched by millions of people, so it was enough to motivate me to stay on that path. It was a crazy job to be coming out of Verizon Wireless, but it was refreshing to me after feeling like I wasn't in my purpose to now feeling like I wasn't doing what I wanted to do 100% but I knew I was on the path."
The Glow Up
Before hitting the set of Access Hollywood, Parker takes a few minutes to get her hair and makeup touched up, but she remembers when just a few years ago she couldn't afford to even get a touch up because her hustle was more important than her hair.
"Oh I died, I died!" she says with a laugh, sharing that she often sacrificed being social while living paycheck to paycheck. "It was hard. I had moments where I was at a check-cashing store."
Having a minimal budget meant that she had to get creative, such as hosting game nights with friends in lieu of going out, and finding side hustles to help make ends meet. "Ultimately I started getting involved in other projects and so it was like now I have multiple streams of income, so gradually it just got better and better. The buildings went from a bad neighborhood to a gated community. It definitely changed, but I had to be patient."
Parker's patience paid off as she began to build notoriety as a face of TMZ. But after five years, it was time for a change. She left the show in May 2011 without a job or an agent, but she did have valuable relationships that she had cultivated over the years. After taking time off for the summer she reached out to a Vice President at CBS through social media, who informed her that The Insider was looking for an Internet reporter. By the fall, she had secured a new contract.
"If you're good to people and they see you working hard, they give you opportunities that not everybody would have."
"This is why you have to network because in the real world you can't just hit up the VP of a network. If you're good to people and they see you working hard, they give you opportunities that not everybody would have."
While the position required Parker to be the face of their website, Parker made it her mission to also be involved in the television meetings, where her unique perspective as a woman of color caught the attention of the higher ups, who began booking her for shorter segments before offering her a television correspondent contract just a few months into working with the show.
"Sometimes you have to go in a place and if it's not necessarily the job that you want initially, you have to create it. You have to meet with the people inside and get them to respect you with your opinion and your work and you're able to translate that into something that pays off in the long run."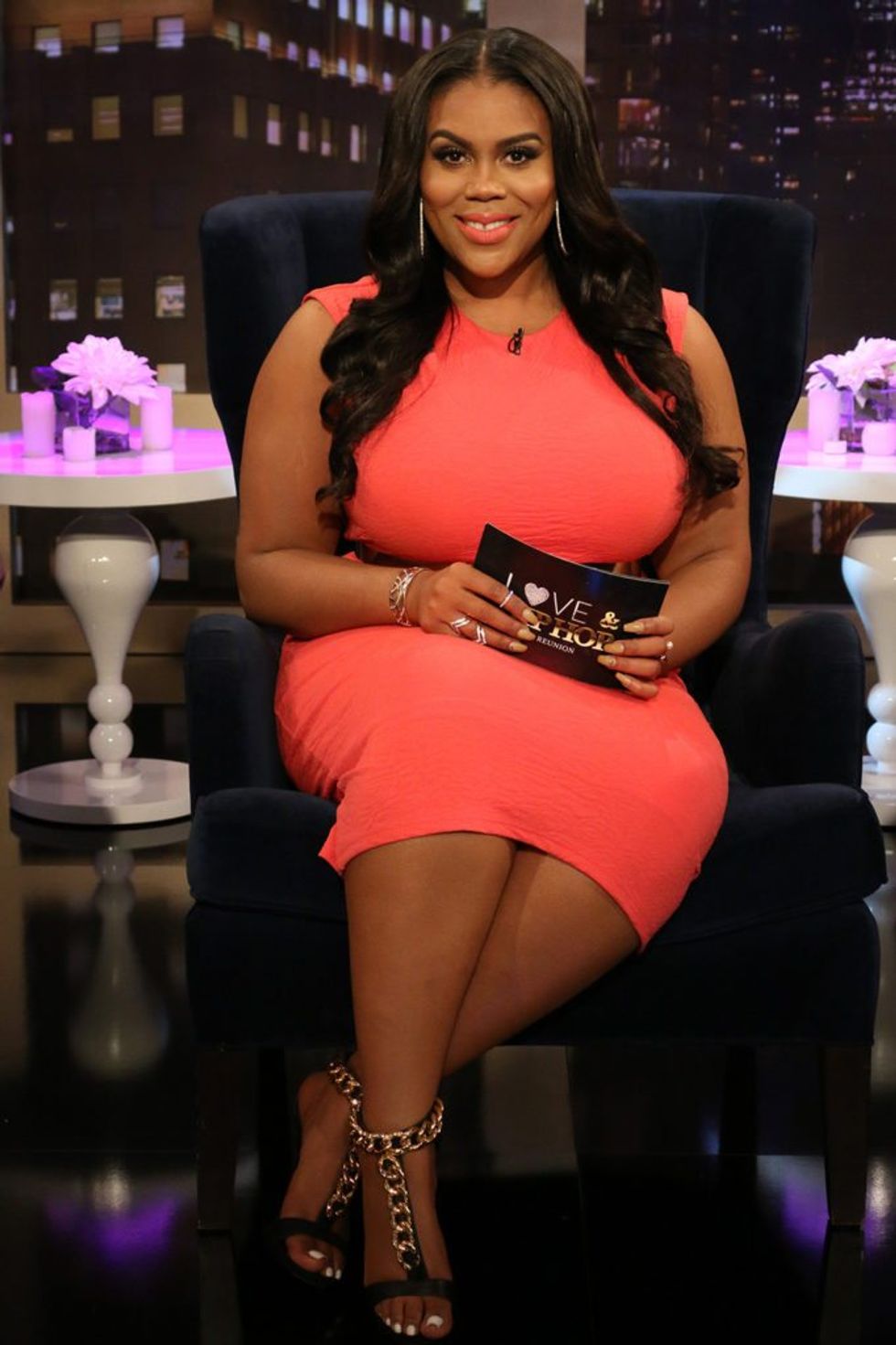 Photo Credit: Nina Parker
After a couple of years she left The Insider and went on to host the Love and Hip Hop: Atlanta reunion as well as begin contributing to Access Hollywood Live. But more visibility also meant more criticism. "They're like who is this girl think she is as if being curvy eliminates me from having an opinion? As if a gap in my teeth means I'm less intelligent. As if because I don't have makeup on means I can't be passionate about my people."
It forced the woman who was once too shy to be in front the camera to turn her insecurities into empowerment. "I was like I don't care what this person says. I'm going to be on your TV and I'm going to tell you how I feel," she says. "You can say whatever you want, but every time you turn on the TV at this time you're going to see my face and you're going to hear my take. I can't imagine allowing the opinions of people I don't even know to affect my day to where I can't function properly. I wish I would let a stranger have that much power over me to determine my success. You're going to watch me get all of these checks."
"I can't imagine allowing the opinions of people I don't even know to affect my day to where I can't function properly."
Standing her ground and being a voice in an industry where women of color are few has given Parker a new purpose.
"I didn't have a lot of black women in this industry, as far as television news, that I could look up to and be like I want to do that. So, for me, it was important to be like, 'We don't have to get on TV and agree with everybody else. We don't have to agree with mainstream media, we don't have to placate anybody.' You can come and say what you have to say if you have a strong opinion and not offend anybody and give them a different point of view to look at. My experience, that's all I can speak about. I can't speak about a white experience. I had people in the community tell me how proud they were that I held my own."
Staying true to who she is and her vision has opened doors in ways she only once dreamed about. This year, you can catch Nina as a guest host on E!'s The Daily Pop and covering red carpets at The SAG Awards, Grammy's and more.
"I mean, [Latinos and Latinas] do make 55 million plus in the country. No big deal. You should throw us in a movie… https://t.co/NgMMpGOwWt

— E! News (@E! News) 1516588005
For someone who pressed the reset button on her career at a time when many are just settling into their positions, Parker is proof that there is no age limit to finding and walking in your purpose.