What happens when you put a handful of talented black actors in a room with super-producer Will Packer? You get the recipe for one of the most hilarious movies in theatres this fall, Night School.
---
The film's all-star cast features some of the hottest names in the industry, including Kevin Hart, Tiffany Haddish, Yvonne Orji, and Bresha Webb and teaches us an important lesson about the power of persistence.
When the film begins, we meet Teddy, a manipulative salesman with a silver tongue who lives a lavish lifestyle, that is, until he encounters an unexpected disaster at his workplace that results in him losing his job. His wit was enough to get him to the top of the food chain as a locally owned grill business, but without a highschool diploma or a college degree, he is unable to secure another job that offers a salary cohesive with his expensive way of life.

In an effort to impress his girlfriend, played by Megalyn Echikunwoke (CSI: Miami), and maintain the facade of a success, Teddy enrolls in night school at his almost alma-mater to get his GED. It's at Piedmont Point High school where our smooth-talking protagonist meets his match in his new night school teacher played by Tiffany Haddish: Carrie Carter, who has a short fuse and no time for Teddy's BS.
We caught up with the cast of Night School at the red carpet event on Monday (September 24), and they all agreed that this movie is true testament to the positivity that came come from life's second chances. On the red carpet, Kevin Hart told xoNecole: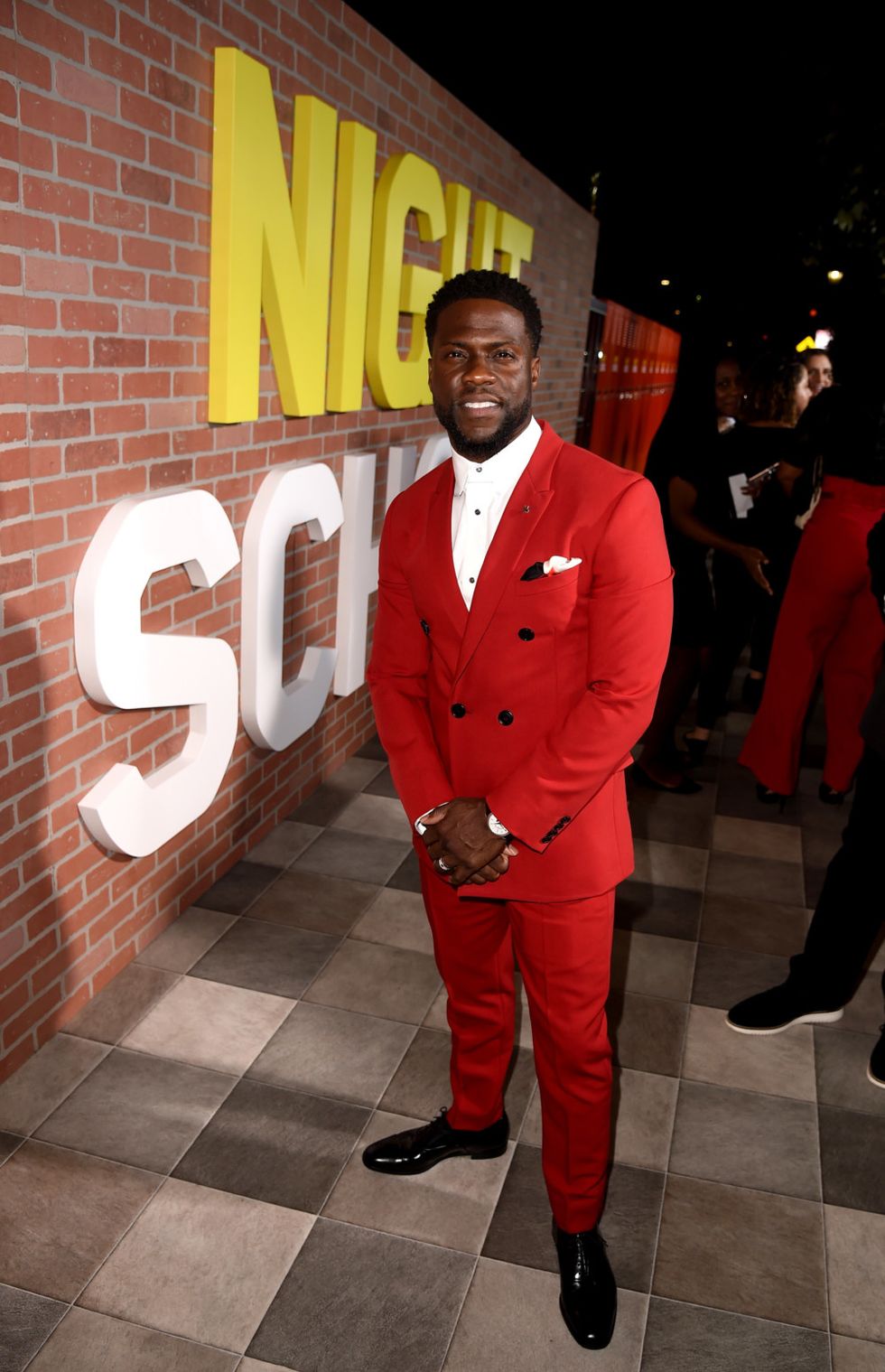 Kevin Hart is dressed to the nines in a bold red number.Getty Images
"It's not just about the funny, it's about the message within the funny. Second chances are okay, there's nothing wrong with not getting it right the first time. Coming back the second time and doing it again is welcome. So many people look down on those situations, this is a movie that highlights it. And it also highlights that it's okay to be yourself, flawed and all. Be you and be true to you and ultimately people will be there for you. And you'll see that in Night School."
Tiffany also shared her own words of advice for anyone interested in taking a second, third, or fourth chance at pursuing the life of their dreams:
"Figure out exactly what it is, like what is the goal, and do something everyday towards it and you will eventually achieve it. If you can do five things towards it everyday, you'll get there. Look at me, I did one thing everyday to make it in this business, and bam! Here I am. Really I did 10 things everyday, but still, I put in the work."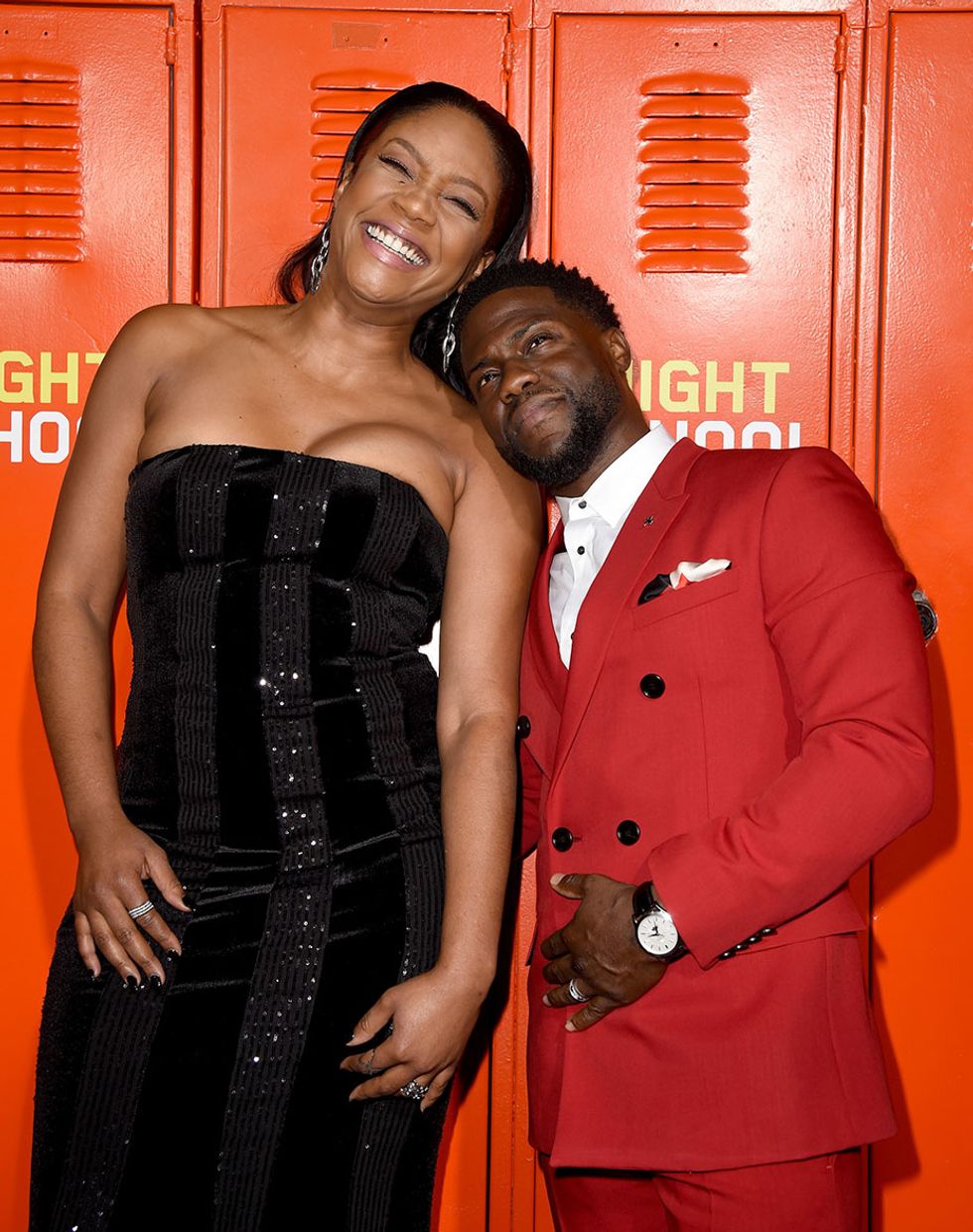 The film's leads Tiffany Haddish and Kevin Hart.Getty Images
"Figure out exactly what it is, like what is the goal, and do something everyday towards it and you will eventually achieve it. If you can do five things towards it everyday, you'll get there."
Insecure's Yvonne Orji, who plays the best friend/coworker of Kevin's love interest in the movie, also came to slay at the Night School red carpet. She had a word for anyone thinking about giving up on their dreams without a fight, she told xoNecole:
"Listen 2014, life was hard. And it was just like, 'Are we about to give up? Are we about to not make it?' I got a second chance and second wind, sometimes you need all of them working and propelling you to go further. Listen, I didn't think I had that much fight in me. When the all chips are stacked up against you, find something in you that's beyond you. I know for me that was Jesus, just telling me like, 'Don't you dare give up.'"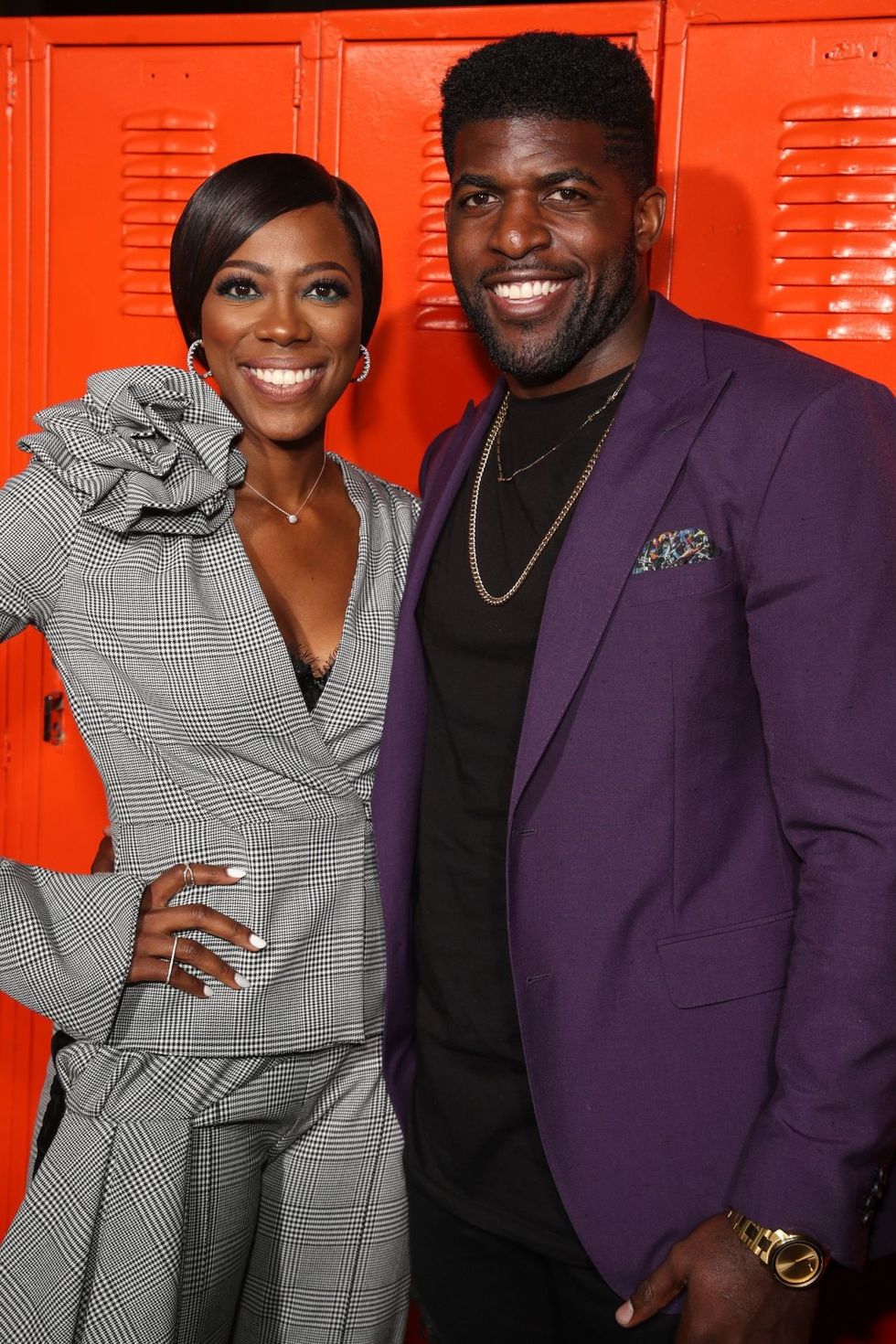 Yvonne with her main squeeze Emmanuel AchoCelebzz
"And I think that's what Kevin's character goes through in this [film]. Don't give up, if at first you don't succeed try and try again. Everyone who has a dream, especially in Hollywood, there's those times you want to give up. Even, heck, being single, it's like 'There aren't any good men out there.' Don't give up girl."
This all-star film is sure to be one for the books and is a reminder that it's never too late to go after the life that you deserve, even if that means ending up in Night School with a quirky teacher and a class full of misfits. You just might learn something.
Check out our exclusive coverage from the premiere below, and make sure to catch the full movie in theatres everywhere this weekend!
Featured photo by Getty Images