---
Kenya Moore is getting real. Not The Real Housewives of Atlanta "real," where the lines between scripted scenes and real-life feuds are often blurred and distorted for public consumption, but the kind of real that forces you to really dig deep within yourself, confront your flaws, analyze your decisions and make peace with your mistakes—the real that many are afraid to embrace.
As a staple cast member of one of reality TV's long-standing franchises, we've caught glimpses into the life of the former Miss USA pageant winner as she ducked and dished out her share of shade and arguments, as friendships and relationships were tested, and as meltdowns and breakups played out over the last few seasons in front of millions of viewers.
But the Kenya that we see an hour a week doesn't define the woman that she is or aspires to be.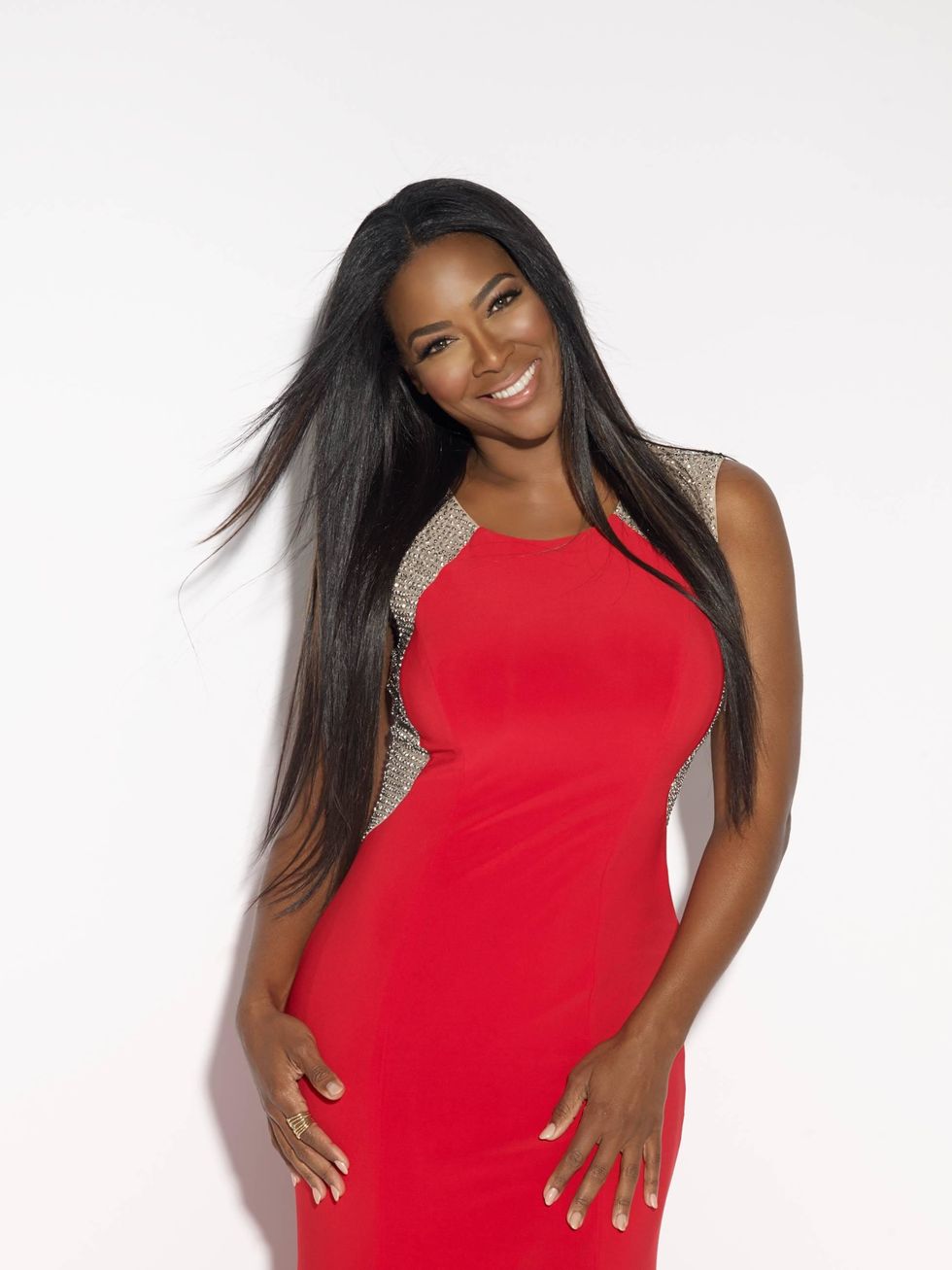 Courtesy of Kenya Moore
Because when the camera stops rolling, she's most certainly still a woman—one who desires love, motherhood, and fulfillment that television alone cannot provide.
To get what she desired, though, Moore had to look in the mirror.
Her self-confrontation led her to the office of her therapist. It was there that she was able to break down the walls that the ghosts of her pasts and the spotlight of her present had caused her to build up, and it was there that she would repair the parts of herself that could both accept and give love in return. "I had to really take a look at my life and why I made bad choices in the past and try to do more work on myself before I was ready to get back into the world of even meeting someone serious," she says on our brief call. "I had to look at my previous behavior and go back to the mistakes I've made, and do an overhaul and be really honest with myself about my past, and not bring past mistakes into my future."
Her self-reflection led to the realization that some of those choices—many of which have played out on air—didn't always stem from a healthy place. "Sometimes women make choices because we don't want to be alone," she says. "I think that's the biggest mistake that women make is that 'Oh, I don't want to be the girl that they say can't get a man or can't keep a man,' and you kind of succumb to peer pressure or pressure from your family members or co-workers. I think that's the biggest mistake that women make, making choices for themselves based on other people's opinion of them."
"Sometimes women make choices because we don't want to be alone."
Discarding other people's presumptions has been a challenge for Moore as she fought to keep her marriage to businessman Marc Daly, whom she said she met through their mutual friend Chef Roblé a year prior to their exchange of vows, away from naysayers. Her fellow castmates and fans questioned the validity of her relationship due to her keeping tightlipped on her union, not realizing that when you treasure something, you go to whatever lengths necessary to protect it.
"I just didn't want any nonsense to interfere with how someone feels about me," says Moore. "I wanted to have an honest and genuine relationship where I could be 100% me and someone doesn't buy into what a blog says about me or radio host or talk show host— people that just have an opinion on the internet—say about me. I wanted him to know who I was without all of the distraction, so I would never change that for anything, because I think it allowed him to really see my heart and judge me for who I am, the woman that I am now and not the woman that people form opinions about based on a reality TV show."
Still, despite her attempts at shielding her new beau from public scrutiny, Moore shares in an interview with Bravo TV that their first couple of weeks as newlyweds was everything but peaceful. "We were targeted with so much hatred, negativity, and interference at that time, and I was overwhelmed and emotionally drained. The things that people did to try to hurt us were incredible to me. I was breaking down over the things people would say to him about me in hopes of tarnishing his image and love for me…As a wife, I've had to learn that what is between us is between us. We are in this together, and he is my heart. We fight battles as a team, and together we have to deal with what comes our way. We are one. We solve our problems together and privately."

"As a wife, I've had to learn that what is between us is between us."
She confesses that it was Daly's character qualities that attracted her to her husband, which arguably are the same characteristics that helped the couple weather the storm. He was very honest and caring in a way that she hadn't experienced before. He was protective in a way that she needed him to be, and supportive on a level that allowed her to evolve into the best woman he knew she could be.
To get the love, the marriage, and, one day, the family that she deserved, though, required Moore to change in every aspect of her life. No longer was she operating solo, now she had to consider how every action and reaction affected those that she loved.
"My character preservation and also my brand is more important to me now more than ever. It's important how my children see me, too, so I have to navigate how that will work for me and my family moving forward."
A part of her growth also meant accepting that sometimes those that we desire love from the most aren't always capable of giving the love that we deserve. Throughout the show we've watched Moore battle with abandonment from her mother at just three days old, to the extent where she attempted to confront her on camera without success in hopes of building a relationship with her estranged parent. She tells me that her own lack of relationship with her mom only motivates her more to be the best mother that she can be.
"Most people say that I'm very nurturing and I'm warm and I'm kind; I just want to be that same person to my children. I want my children to be better than me and make better choices. I think most people want that for their children, they want them to be better than them."
The Kenya that walked onto The Real Housewives of Atlanta six years ago is most certainly not the same one that walked down the aisle just six months prior. She's a little more humble and a little less naïve about the ways of the world, but also more forgiving, because as she will tell you, she's no more perfect than the next person. "I've worked so much on the areas that I think most of my closest friends would agree that I need to work on, but no one is perfect, so I just strive to continue to be a better person everyday and the best wife I can be. It's a new role for me and I make mistakes, but making choices for my family as a team is important to me."
The reality star recently announced some exciting news in the form of a pregnancy announcement. She and her husband Marc are expecting their first child. The big reveal happened on on The Real Housewives Of Atlanta's season 10 reunion special. "We will definitely be welcoming a boy or girl in late this year," Moore shared. "Oh my God, I said that! I don't want to talk about the details because I'm still very nervous about everything so I want to get past a safe place."
For the 47-year-old who thought that true love was just a fairytale and no longer an option, Moore has proven even to herself that to attract what you want you first have to become what you desire—and that means removing the masks, doing the work, and fearlessly embracing the better you.
For more Kenya Moore, follow her on social @thekenyamoore.
Featured image via Kenya Moore/Instagram