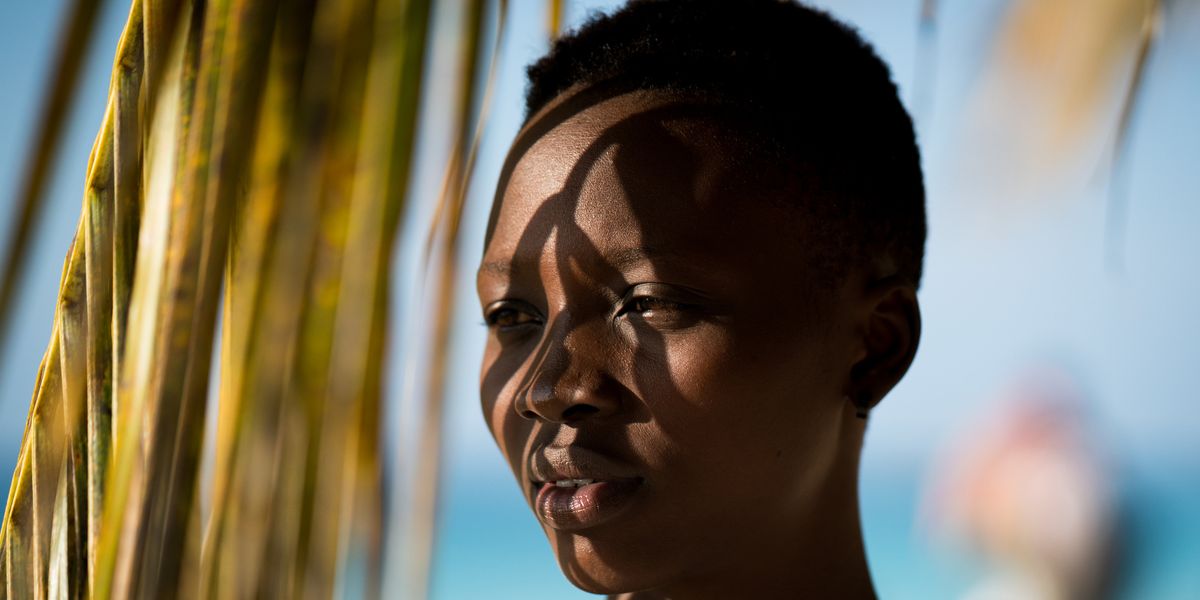 Shopping
The Best Body Products For Healing Sunburn & Sun Damage
---
As I write this, my skin is a scaly mess because I decided I wanted to get the best tan possible while laying naked on Negril's Seven Mile beach . Mind you, this is weeks later. Now, I know that belief that black women can't get sun cancer is a myth even with our built-in melanin protection. Luckily, I was smart enough to apply Supergoop's Glow Stick Sunscreen to my face. But, I hadn't accounted for the sunburn I got on my boobs or the peeling alligator skin I am now trying to figure out how to manage because I didn't apply any SPF to my body.
Which is what brought me to writing this round-up — ya girl needed soothing, healing options fast, and I figured I am not the lone brown girl out there in need of giving their skin a little TLC from the summer sun. With that, I've rounded up a list of products you can use from head to toe (including your scalp ) after a day (or days) of fun in the sun.
*This list is specially curated by the xoNecole team and some links are affiliate links. If you purchase an item from an affiliate link, xoNecole might earn a small commission.
*Some links are affiliate links. If you make a purchase, xoNecole may earn a small commission.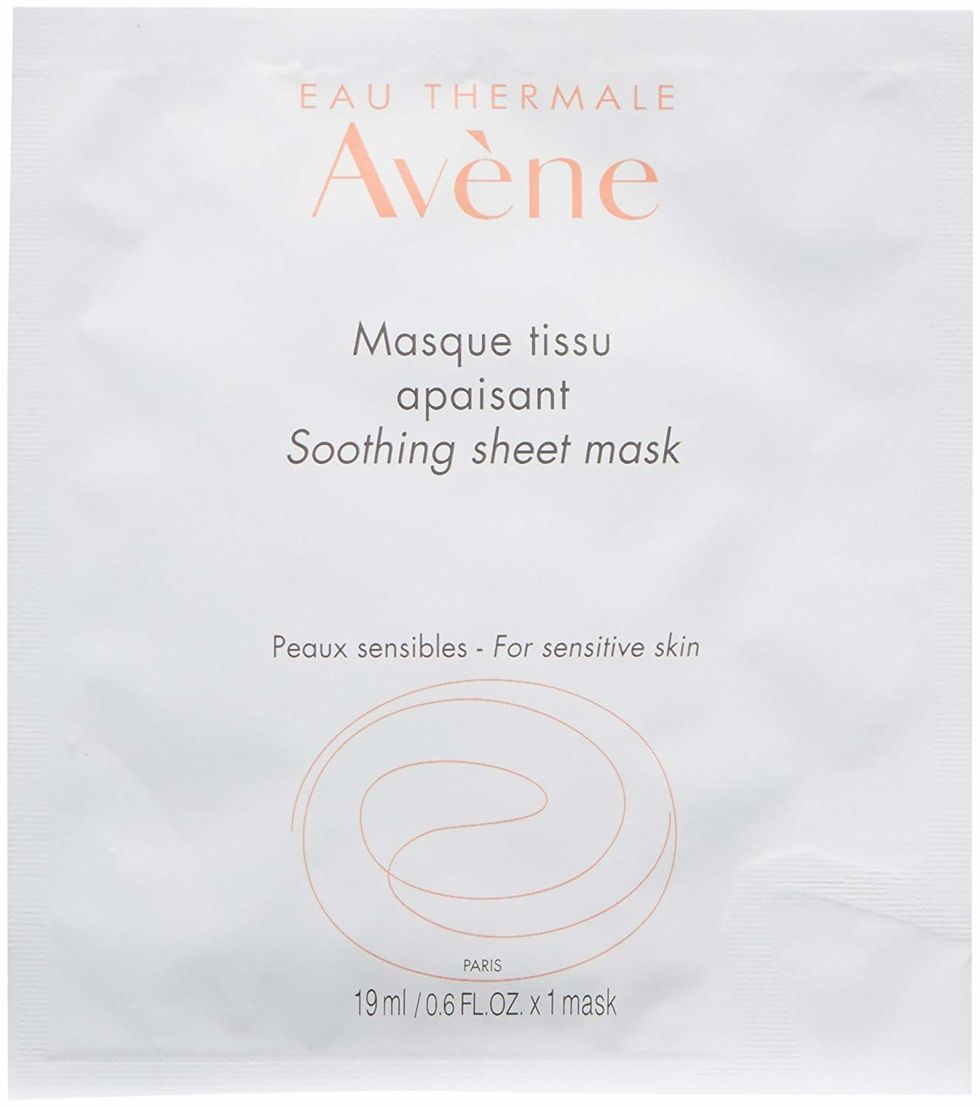 Eau Thermale Avene
I am a huge fan of Avene. Their products are made with sensitive skin in mind. When I saw their sheet masks, I knew I had to give them a try. They do not only lend themselves to self-care, but their hypoallergenic, non-comedogenic, fragrance-free masks soothe red, irritated skin in no time.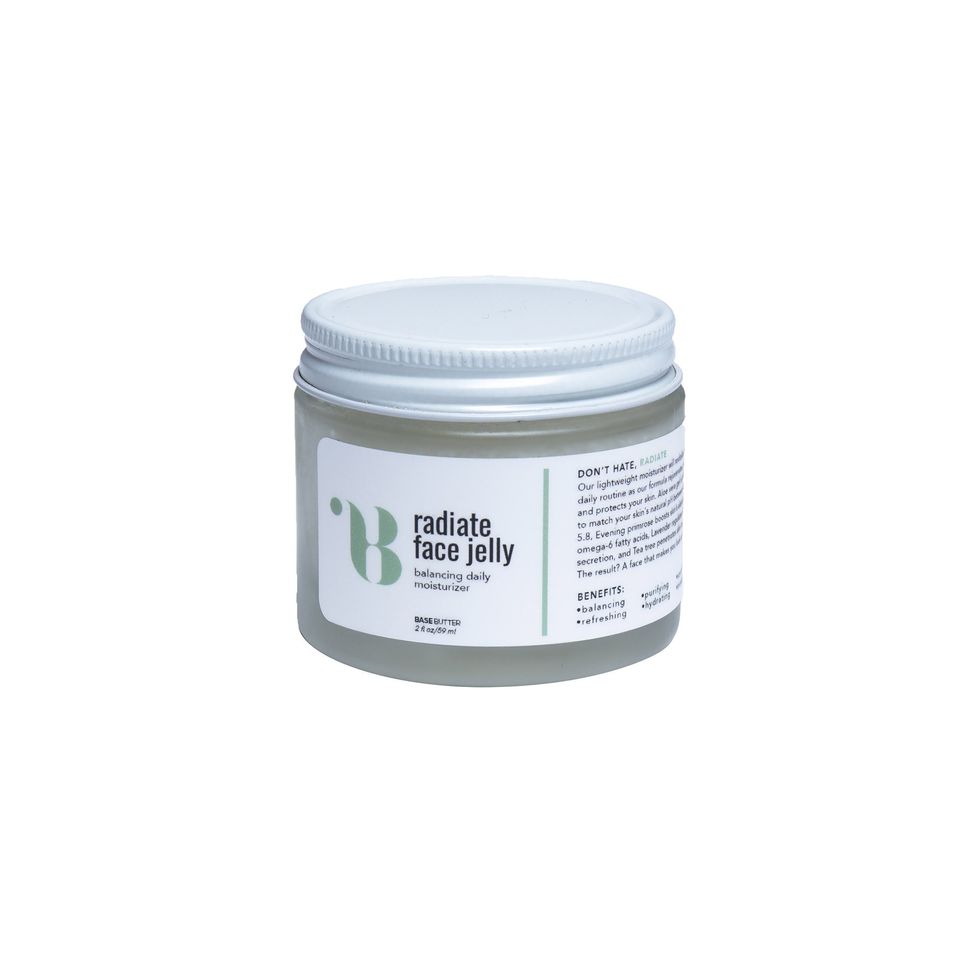 Base Butter
Aloe is always a must-have after you've overdone it in the sunshine, and Base Butter's holy grail moisturizer is made with aloe as a key ingredient along alongside lavender and witch hazel which balance and soothe distressed skin.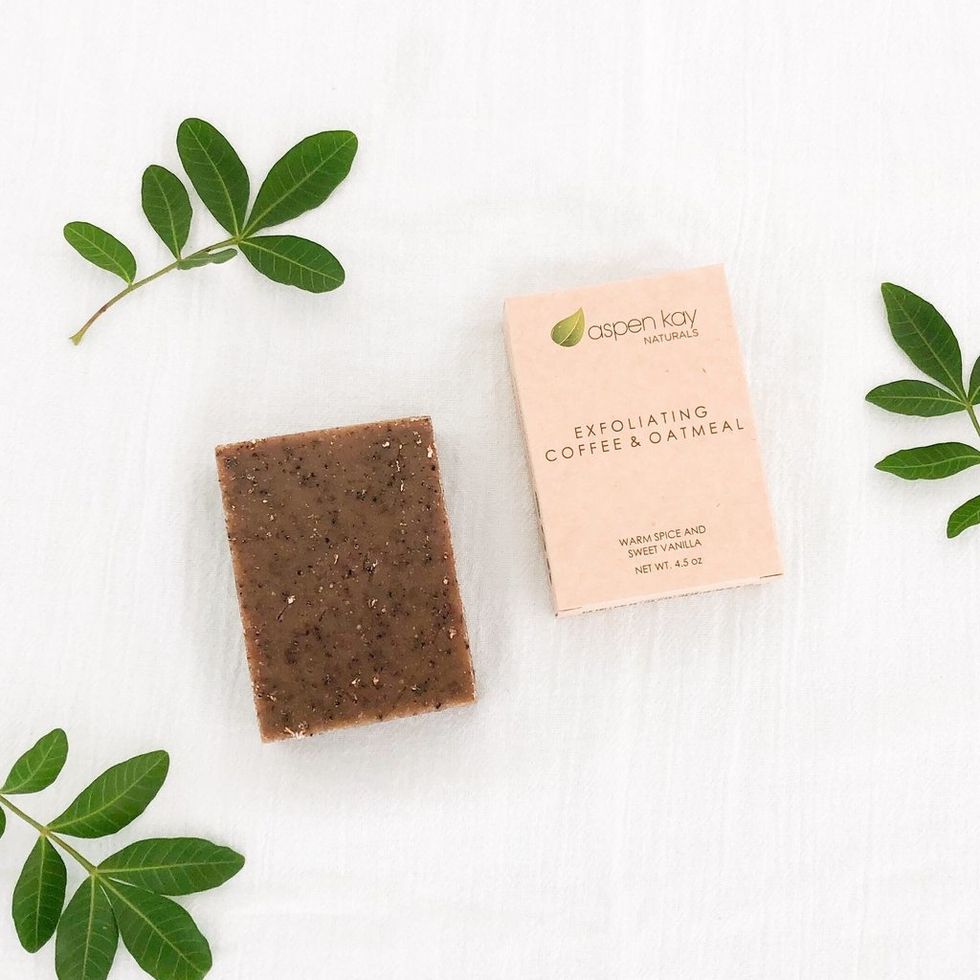 Amazon
One of the best ways to cool your body down and ease sunburn is a cold shower. Using a bar of soap or body wash with oatmeal can calm and nourish the skin, think about how oatmeal can soothe the stomach; the same applies to our skin.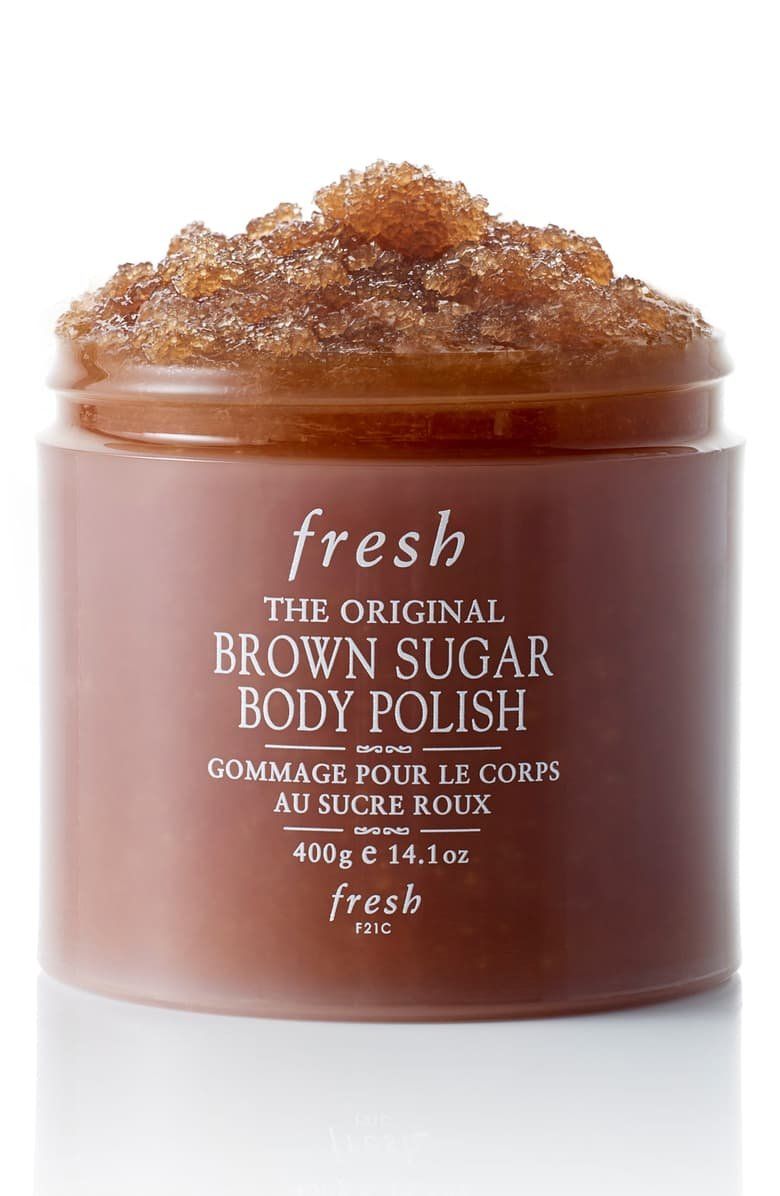 Nordstrom
FRESH is one of my favorite beauty brands because their products are made with good ingredients that warrant an elevated price point. Now, I wouldn't recommend scrubbing blistered, or skin that is broken as that would make things worse. Once the pain subsides, you'll want to get the damaged layer(s) of skin off with a gentle scrub. Made with brown sugar crystals and jojoba oils, this scrub will help revive troubled skin.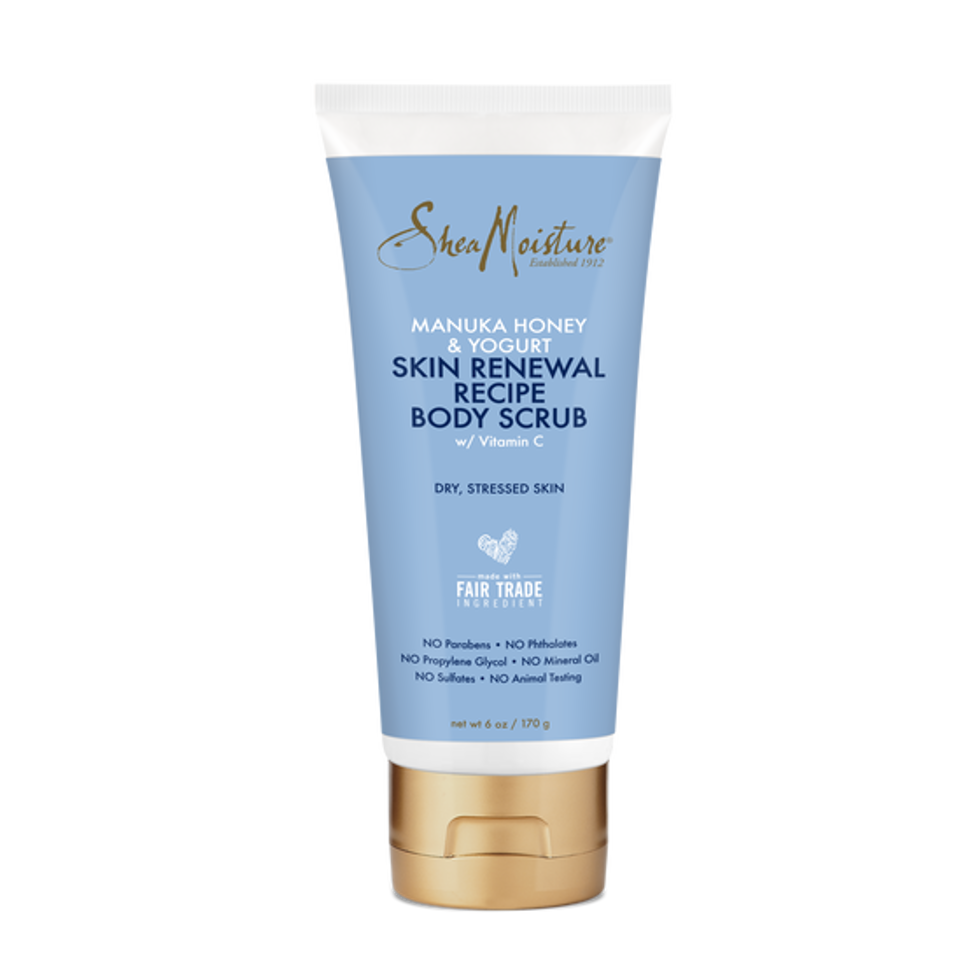 I would like to personally thank this scrub for soothing and getting my flakey skin together. This scrub feels more like a yogurt and honey creme with a hint of exfoliation, which was just what my skin needed.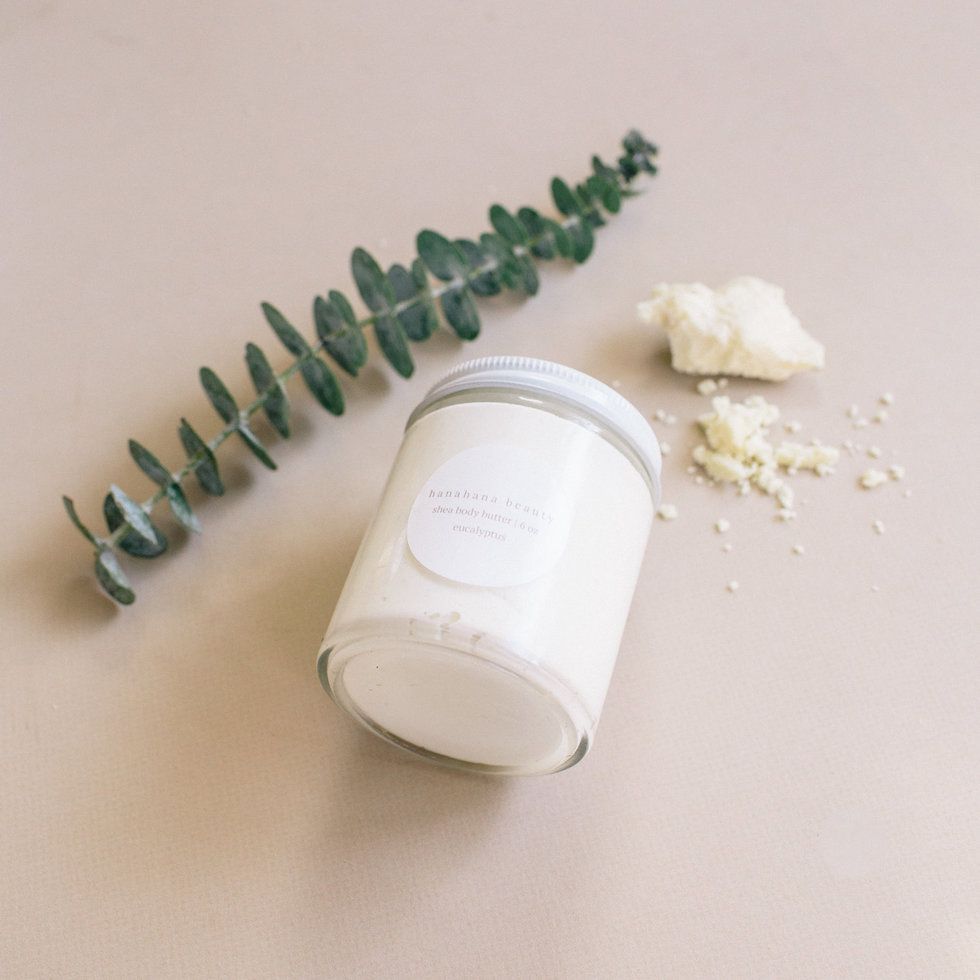 Eucalyptus Shea Body Butter
With shea butter and eucalyptus as ingredients, your skin will thank you. If your scalp got burned, you could use this to oil it as well.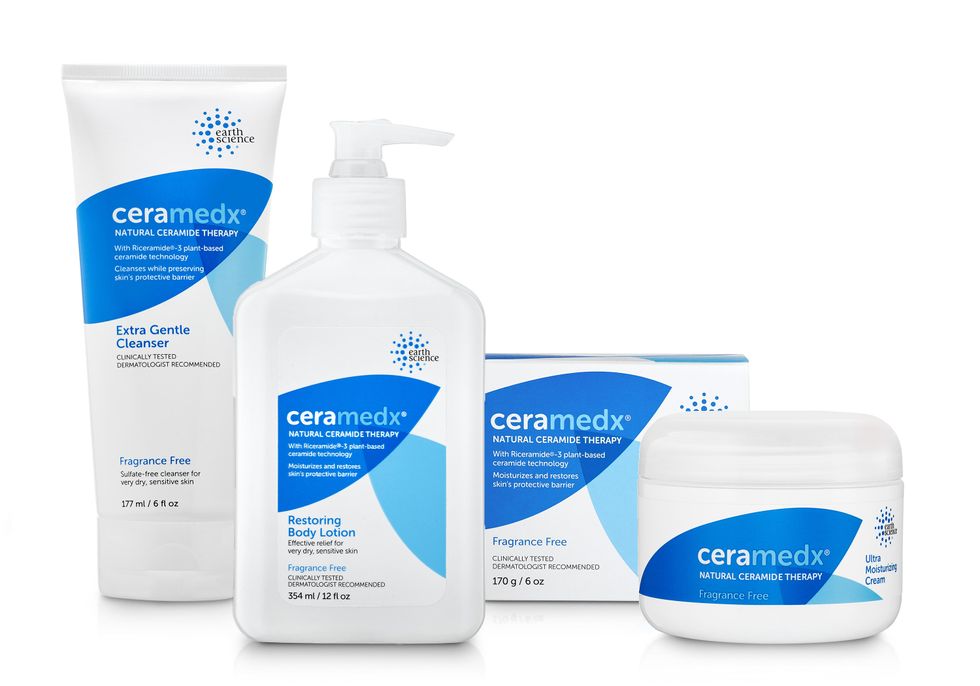 Ceramedx comes highly rated by skincare professionals. Thanks to its blend of plant-based ceramides and hyaluronic acid, it helps soothe everything from allergic reactions to eczema.
Featured image by Shutterstock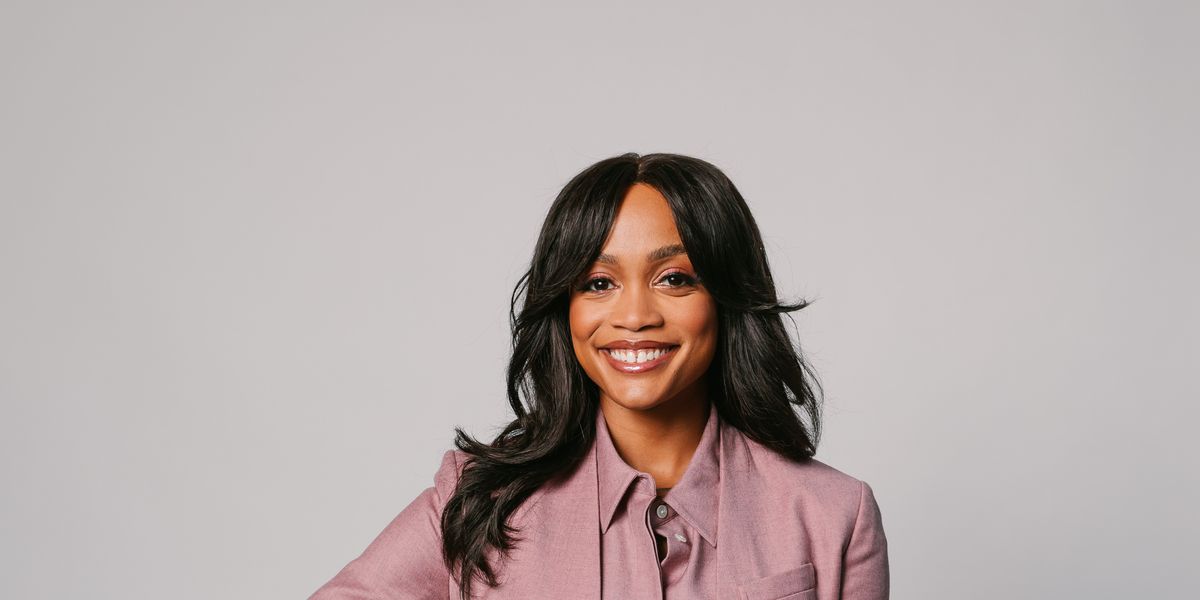 There are two words that Rachel Lindsay keeps returning to over and over again: Rest and renew.
The ambitious, self-described "type A" media personality just left one of her more prominent roles after three years, and instead of being anxious about the downtime, she's finally learning to take a few moments for herself.
When we talk via Zoom in late August, Lindsay, 38, has just returned from a lunch date with a friend, the type of midday social outing she'd never had time for previously. In a week, she'll be heading to Europe for an Eat, Pray, Love trip. It's the first time she's had time to go to Europe in five years.
"You ask me what I have time to do? Take care of me," she says, beaming.
In the past six years, Lindsay has made a lot of changes. After becoming the first Black woman to lead ABC's Bachelorette dating series in 2017 , she fell in love with Bryan Abasolo, the man she chose on the show, and married him. Enamored with the world of entertainment but also accustomed to the stability that being an attorney provided her, she returned to practicing law in her native Dallas, Texas, while pursuing media opportunities on the side.
For a time, Lindsay would fly herself to Connecticut to co-host ESPN's Football Frenzy radio show. The role was perfect for the Dallas Cowboys fan and sports fanatic who majored in sports management and once dreamed of becoming an agent . In 2019, when she finally felt she'd saved enough money and made enough connections, she made the leap and left the legal profession behind, determined to bet on her entertainment dreams.
Working as an on-air correspondent for Extra was one of Lindsay's first big roles as a full-time media personality . In this job, she interviewed celebrities such as Halle Bailey and Anthony Anderson. She also notably conducted the controversial interview with Bachelor host Chris Harrison that subsequently led to his departure from the franchise. After Harrison told Lindsay he felt people needed to have "grace" for a contestant who had attended an "Old South" party , Lindsay publicly announced her plans to distance herself from the series.
Today, she cites changes in Extra 's leadership and her responsibilities as the reason for her recent departure after three years. "I just didn't fit within the new regime," she reveals to xoNecole.
Lindsay is currently focusing her energy work-wise on her two podcasts with The Ringer Podcast Network, the Higher Learning show with Van Lathan, and Morally Corrupt . Despite the extremely different subjects – Higher Learning touches on race and politics while Morally Corrupt finds Lindsay commenting on her favorite Bravo reality shows – she gushes when speaking about both, calling podcasting "the most liberating thing you can do."
On Higher Learning , she's challenged by her co-host, Lathan, to think in new ways. She's regularly in conversation with prominent figures such as Tracee Ellis Ross and Billy Porter.
Lindsay, a "Bravoholic" whose favorite Real Housewives franchise is Potomac and whose favorite Housewife is Nene Leakes, is no less passionate about Morally Corrupt , even if the subject matter is much lighter. "I've always loved reality TV because it was such an escape from my real world. Part of me admired people who could put themselves out there in a way that I believed I never could, until I went on reality TV," Lindsay says.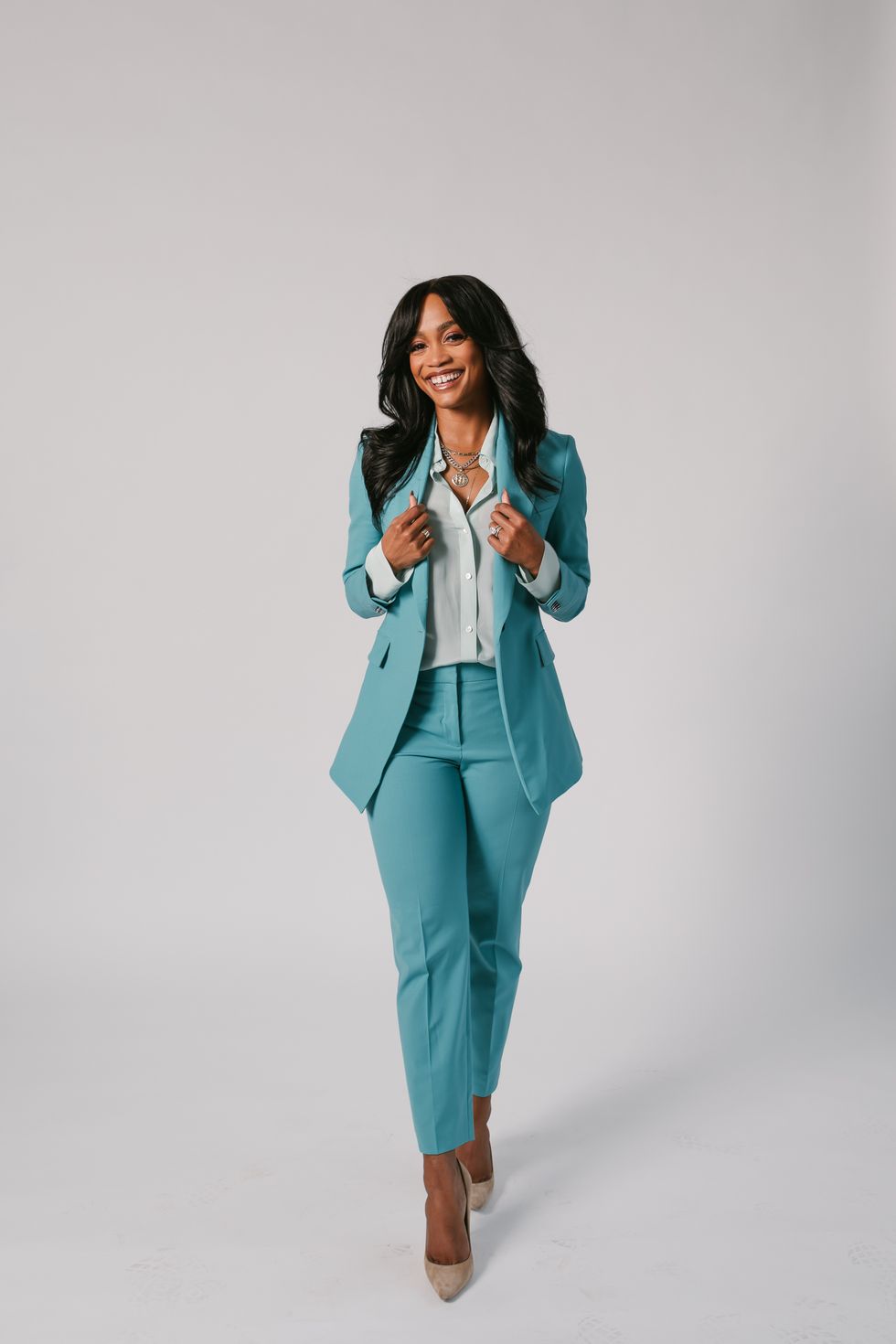 Courtesy of Rachel Lindsay
The podcast host says she never intended to find love when she went on The Bachelor , and she was surprised when she was asked to lead season 13 of The Bachelorette . Going from viewer to reality TV star quickly opened her eyes to the demands of being a public figure. After receiving initial criticism from viewers about choosing and marrying Bryan Abasolo, she realized she wanted to become more protective of certain aspects of her personal life.
"I quickly learned that we had to protect what we had, and stop trying to prove it to other people and convince people to know what we knew to be true," she says. "I wish I could share more of my relationship. But the moment you do that, you have to continue to provide more and you have to continue to answer."
In many ways, Lindsay benefited from being on a show like The Bachelorette, where the contestants are confined to a limited environment over a temporary amount of time. She says she doesn't think she could ever be on a reality show where she's expected to reveal all aspects of her life constantly. In fact, she says if she ever had pregnancy news or updates about her relationship with Abasolo, she wouldn't make a big public announcement.
Since walking away from The Bachelor franchise, the former Bachelor Happy Hour host says she's been approached to participate in recent seasons, specifically this year's season with Black lead, Charity Lawson . Lindsay says she ultimately declined to participate. "I just started thinking I can have a relationship with Charity – whose number I do have and I have talked to – outside of the show. I don't need to come on television to put that out there for other people," she says.
Reflecting on her life today, Lindsay is trying to learn the benefits of being still. She's not planning to do any on-air correspondent work for the time being, and she's not planning to release another book, the followup to the collection of essays Miss Me with That or the fictional Real Love .
As her 40th birthday approaches in a couple of years, she's been thinking a lot about the popular quote, "You are, right now, as young as you'll ever be again" from the FX drama Fleishman Is in Trouble . If she does start on a new creative project, it might delve into this notion, she says. "I think I could do something in that space about adulthood and getting older and maybe questioning things in life because I think we all do it," she tells xoNecole.
Lindsay is not rushing the process, though. For now, she's remembering to rest and renew.
"We'll see what comes out of this state that I'm in."
Featured image courtesy of Rachel Lindsay

Whether it was your group chat, social media feed, or your favorite media outlet covering the spectacle, I'm pretty sure you've come across the viral Black wedding between actress KJ Smith ( Sistas , Raising Kanan ) and actor Skyh Black ( All the Queen's Men , Sistas ). From their grand entrance to Jay-Z, Kayne West, and Beyoncé's song "Lift Off" to KJ's standout dance routine and the endless celebrity appearances, it's an addictive TikTok scroll you can't help but delve into.
But what many people would be surprised to know is that the couple's original wedding plan was nothing like what it grew to be. What started as her simply scrolling through posts to get ideas eventually transformed into what the internet knows now as #TheBlackExperience. In an exclusive conversation with xoNecole , KJ walked us through her planning process, the morning of her wedding, and what she thinks of the online response.
Some women have their whole wedding planned out, from the bridal gown and venue to the bridal party and playlist. However, KJ was not one of those people. "I didn't foresee a wedding in my future," she reveals. "I was just gonna be the boss chick, rich auntie . I didn't force love in my life until recently. I never had an idea of what a dream wedding would look like, it was easier for me to elope."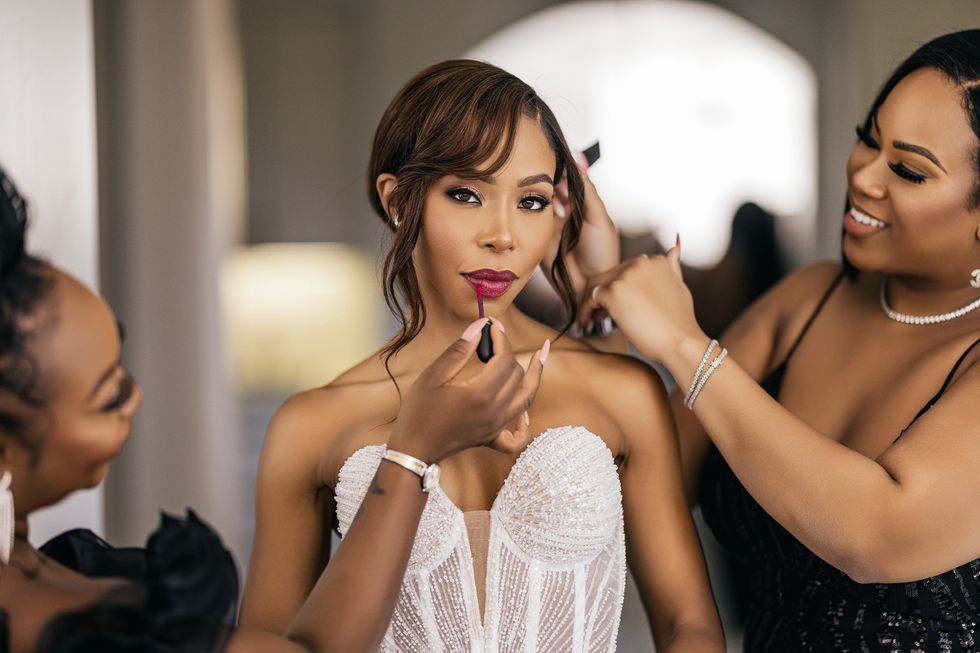 KJ Smith
Photo by Stanley Babb/ Stanlo Photography
And to many people's surprise, that was their original plan – until Skyh brought up a valid concern. He was raised by his grandmother and thought she should be at the wedding, and naturally, that led to KJ wanting her grandmother to be there as well – then her mom – and later her sister – and, you've gotta invite the besties too, right? From there, the guest list continued to blossom. Much like the updo and pop of color bold red lip , she wore on her special day, which was initially on her Pinterest board as a soft glam look with her hair hanging on her shoulders, KJ is okay with changing her plan if it brings her and her loved ones happiness.
So let's get into the wedding, which took place in Malibu, CA. The first thing you should know about the celebrity couple is that they're non-traditional. They know, and they don't care. So, in true unconventional fashion, they shared the morning of the wedding together.
"I woke up with Skyh, we walked our dog, had black coffee, and said good morning to the people who stayed at the venue with us," she says.
Now, it was time for hair and makeup. While she was getting glammed up, she had Black-owned McBride Sisters wine and champagne (which ties into The Black Experience theme) on deck with her mom and friends, had her besties help rework her vows, retried on every outfit (sis is very Type-A), took photos, and ended the early-celebration with prayer and meditation. It seems very non-Bridezilla, I said.
"Yeah, I was the most unbothered bride ever. Everyone was just so supportive. As entertainers, we go on red carpets all the time. We actually have a production company," she explains. "The get-ready process was like a day at work, but with people we love the most. Being entertainers, we didn't feel stressed at all, but my excitement was so high."
Things moved quickly, and before she knew it, it was time to line up to walk down the aisle.
"Yeah, I was the most unbothered bride ever. Everyone was just so supportive. As entertainers, we go on red carpets all the time. We actually have a production company. The get-ready process was like a day at work, but with people we love the most. Being entertainers, we didn't feel stressed at all, but my excitement was so high."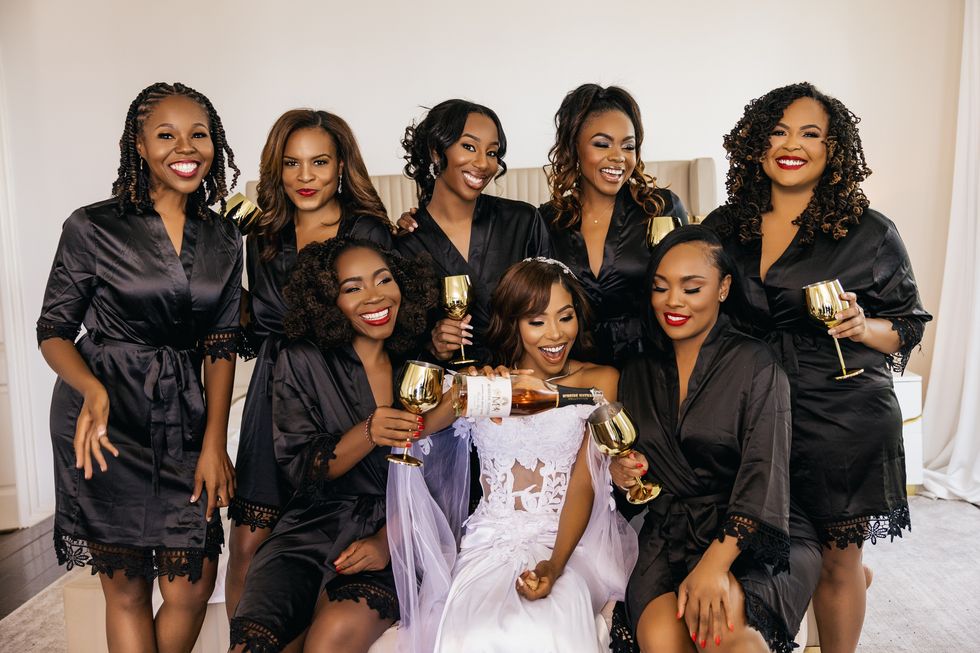 KJ Smith and her bridal party
Photo by Stanley Babb/ Stanlo Photography
Since everything started with their grandmothers, the couple wanted to ensure they honored them and planned to keep an element of their wedding traditional . Although we've all seen the reception videos and photos online, you may have noticed visuals from the wedding itself are harder to find.
"We planned for it to be traditional, but we're not like that, so we tried to create those moments. We jumped the broom and had a salt ceremony (where the bride and groom individually pour salt into a glass container, symbolizing their lives becoming one.) But honestly, still, nothing was traditional about it."
She goes on to explain that her mom caught the holy ghost coming down the aisle, her glam team was on deck, and she became so nervous with excitement that she had an anxiety attack – something she struggled with for years, she explains tearfully. Her friends had to literally cheer her down the aisle because of how overwhelmed she felt until she eventually calmed down.
"Skyh was standing there with his hand on his heart; we have our own little language, and I could feel the support," she shares.
It was surprising to hear all these emotional moments happened before the party we saw online. That is until she once again got into the backstory.
"As a Black woman actress, for so long, it was popular to be mysterious and secretive, but that's not who I am or what I like. Plus, we both wanted to create an experience for everyone there. We are the people who always host family and friends," she says. "Like for me, the first order of business was getting sandals for the women so they can dance all night long. We had oxtail, D'ussé, and a coffee and sativa lounge – which is part of Skyh and I's lifestyle and routine. We wanted to bring them into our world."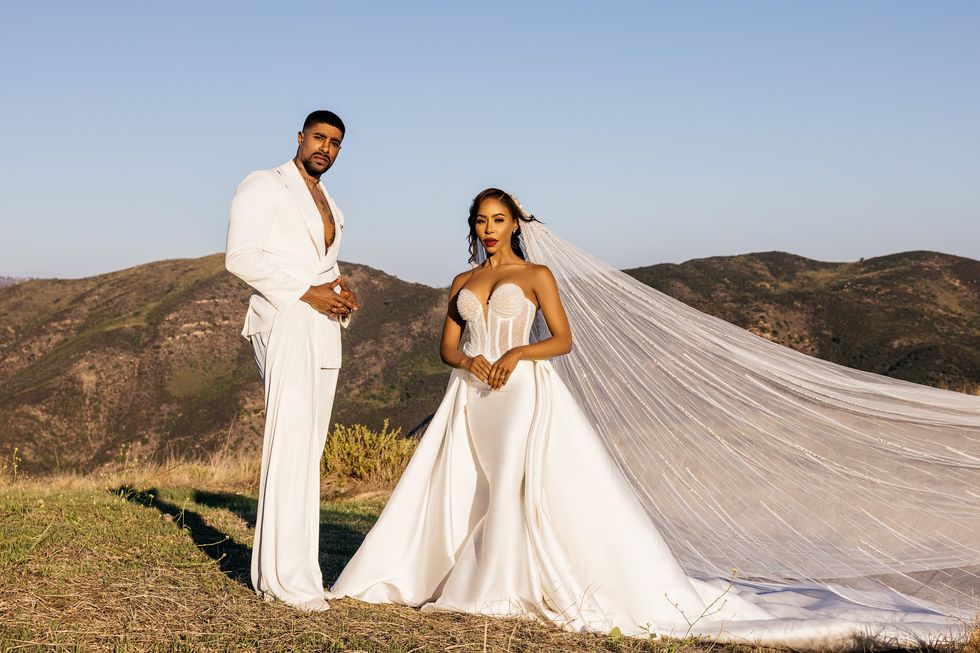 Skyh Black (L) and KJ Smith (R)
Photo by Stanley Babb/ Stanlo Photography
She went on to discuss the dance routine she did for her husband at the reception, which has taken over the internet. Apparently, that's another thing that didn't go according to plan. According to KJ, she had promised a performance at their joint bachelor/ bachelorette party, but her outfit got stolen from her car. So, Skyh ended up performing for her – complete with a strip tease. Still, she never forgot her promise to dance for him.
So, she hired her friend as a choreographer, learned the routine, made friends and family watch it endless times, and attended Beyoncé's Renaissance show a few days before for a confidence boost. It ended up being a show to remember. But that wasn't all the night offered. Lil Mo performed, and the guests received special goody bags featuring their favorite Black-owned products like journals, hair care, and more.
"We made sure everyone was taken care of all night. That kind of stuff makes us happy. I wanted everyone there to experience the joy and love I have for myself, my partner, and for them. I wanted them to feel full and whole, and they had the time of their lives," she says.
But naturally, the internet is going to internet, and while there were countless people praising the event and applauding the newlyweds, some thought it was too over the top. I was curious to know her thoughts on some of the criticism.
"It's cool. We did what we wanted to do. I've decided to share my world with people. Just how I went on social media platforms and found inspiration, I want people to do the same," she explains. "I don't think it's fair to my supporters not to give that out. There's so much I wanna share with brides, specifically Black brides. I love that people are adding it to their Pinterest boards."
"I wanted everyone there to experience the joy and love I have for myself, my partner, and for them. I wanted them to feel full and whole, and they had the time of their lives."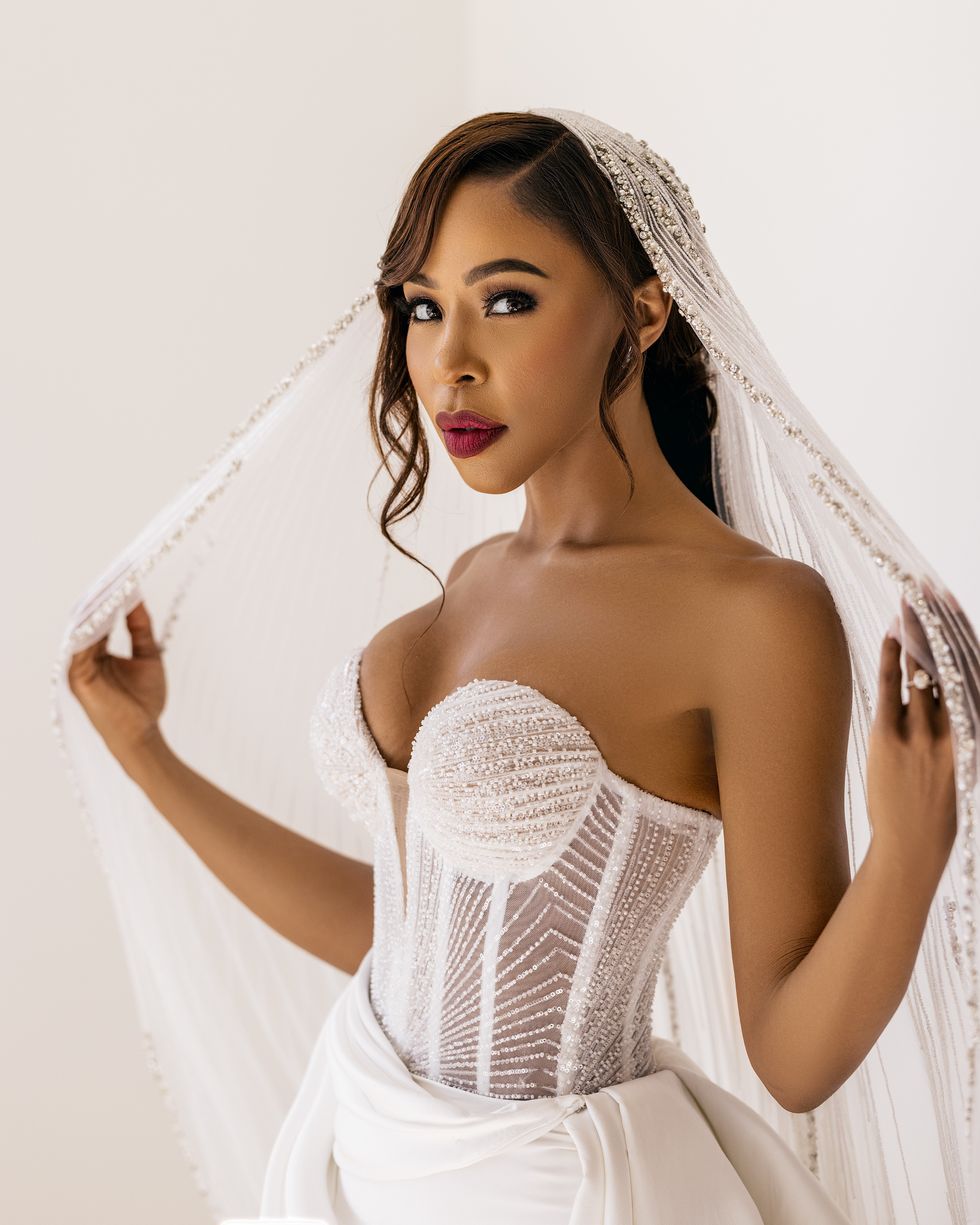 KJ Smith
Photo by Stanley Babb/ Stanlo Photography
"I'm happy with it because we did what we wanted to do. They can do what they wanna do. Don't be cruel, though, because you will get blocked," she said, laughing.
The more I spoke with her, the more her sense of freedom shined through. People are always going to have their opinions, but at the end of the day, it's you who has to live your life, and it seems like the couple realizes that and embraces that power. She also stressed the importance of not living for others and the lessons life has taught her.
"I've been to countless weddings, and I've been in countless weddings . I'm a generally older bride. So when women in my demographic get married, and you and your husband are busy working people like us, you deserve to have the one you want to have," she shares.
"This is what we wanted to do. Our loved ones love and support us. We did so much to honor them, but we also wanted to start our own tradition, legacy, and creation. I'm not going to be pulled back into ideas of the past when I'm trying to create a future with my partner. "
If you'd like to see more of the couple, you probably won't have to wait long. Although no content is planned yet, she admits to being an oversharer. "Me being open and transparent about my experiences lets people know it's okay to have flaws; it makes you human, and for many years, I didn't believe that was okay. I had pressure to be perfect, and I'd crumble every time," she explains to xoNecole .
Now, she owns her flaws and uses them as a superpower to connect with her community and feel and express her love.
"Some people give us [Skyh and KJ] a hard time because they say we just seem too perfect. I'm like, why is that a bad thing? I love the people I love. From my man to my mama, to my friends - unabashedly. We move through time and space how we want to move. If we did it another way, we'd let ourselves and our union down."
Feature image by Stanley Babb/ Stanlo Photography