You want to know what I've learned about being a blogger on the Internet? Keep your relationship to yourself. That whole "less is more" approach? It's true.
---
It's no secret that we're in an age of all things oversharing and social media. We share our style choices on Snapchat and our "private" dates on Instagram. We allow people that we've never met, yet call "friends," into our lives daily through our words on Facebook. We're constantly giving to others in some form on Twitter through the conversations we have with anyone who can relate to us via retweets. But what do we keep for ourselves? What do we hold sacred and is privacy valued?
As a creative, my means of an outlet is found in writing, helping me with acceptance of a situation and healing through words. A few years ago, I shared personal stories of the status of my relationship and while the intent was never for a mass following for my platform, my readership grew because of the shift in content. People found a connection to the words, but did I also give others an opportunity to connect their thoughts to my experiences?
In retrospect, I gave readers work they, too, could relate to and others, a source of entertainment, a chance to offer unwarranted insight, and a sense of entitlement. Once I stopped writing about the events happening behind closed doors, I received emails on what happened thereafter, the status of my partner and I, and inquiries on advice I had no answers to. I gave the world a way in and people felt comfort in staying in my business–a door I ultimately opened myself. I had to live with the decision to expose a troubling point in my relationship, although I could always delete the words as if it never happened. I kept the posts up, but for a while, I had a hard time coming to terms with finding closure in my words and people having access to reopen wounds at their convenience.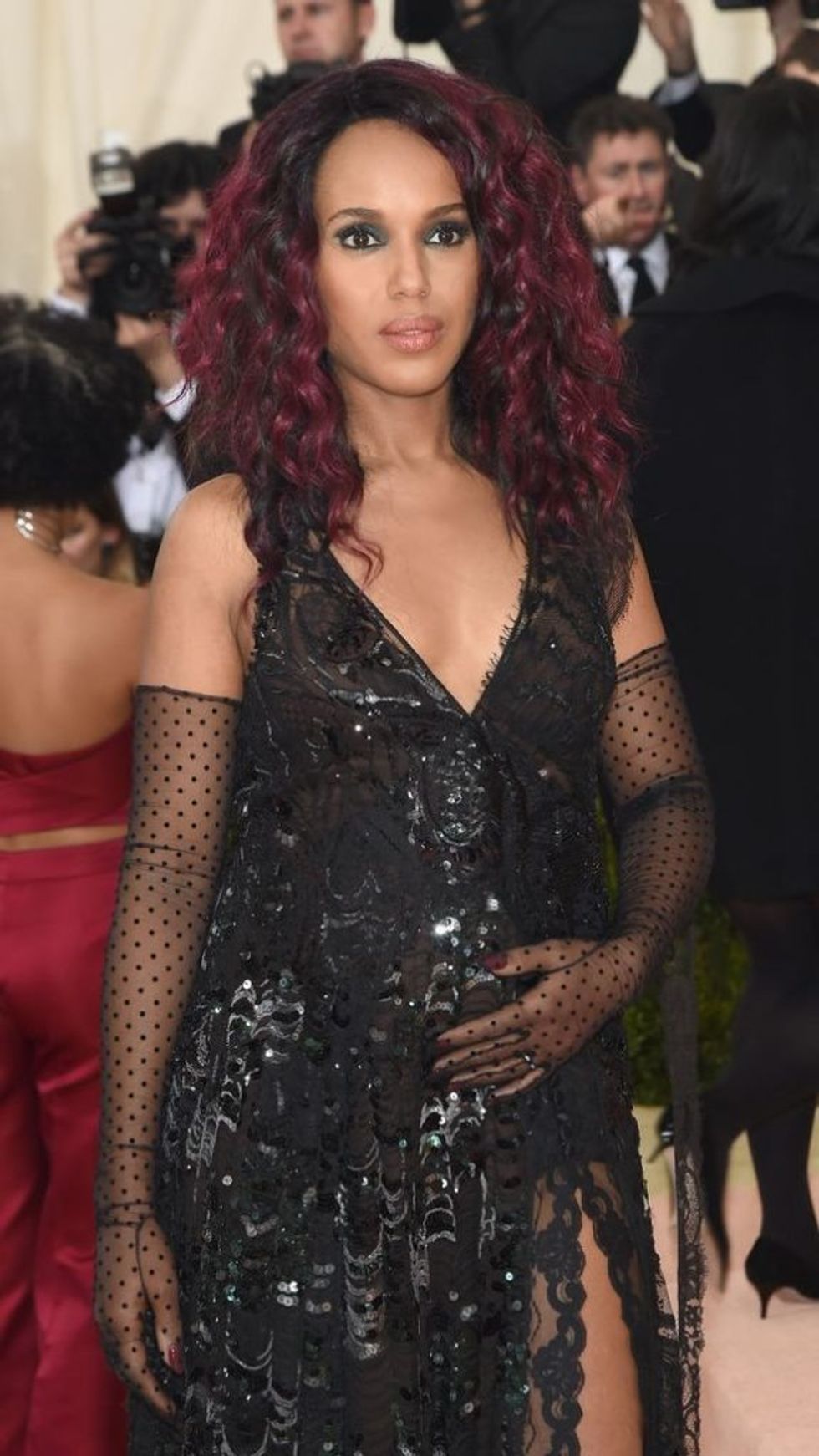 Kerry Washington reveals she is pregnant with baby #2 at the MET Gala 2016
So, it's no surprise to me that more people are finding a need to not fall into the hype of documenting every moment for the world to witness. Not only does disclosing it for a myriad of reasons, but the underlying message is one of "keeping something for yourself," a sort of rare doing for millennials. Kerry Washington is no stranger to living a life of privacy despite being the star of one of modern day television's biggest primetime shows. Her two-and-a-half-year marriage came as a surprise when her marriage certificate was obtained by E! News in a hush-hush ceremony after only a year of dating her husband, Nnamdi Asomugha. Before their first anniversary, Kerry welcomed baby Isabelle, the couple's first child together (the birth certificate was obtained by TMZ) and the second child at the end of 2016.  Instead of releasing photos to People magazine for a slot on the first cover and a hefty check on the side, the actress has yet to show children to the world.
Related: Kerry Washington: 'I Didn't Grow Up Thinking I Was Pretty'
The root of Washington's desire to separate her private life from her professional one stems from a 2013 interview with Glamour where the star pinpoints the exact moment she deviated from the norm of opening up about her relationship.
Glamour:

"OK, so relationships. In interview after interview, you always use the same phrase: 'I don't talk about my personal life.'  I'm curious about the discipline that it requires to be so tight-lipped."

KW: "I learned through experience that it doesn't work for me to talk about my personal life. I've had earlier times in my career when I did talk about it. I was on the cover of a bridal magazine [InStyle Weddings, in 2005, when Washington was engaged to actor David Moscow]. But I couldn't just turn around and say, "I only want to talk about the good stuff, but not the bad stuff." So I just thought, OK, no more."

Glamour: "You even managed to get married in June without anyone knowing."

KW: "Absolutely! I'm walking around in the world with my ring. And when people say congratulations, I say thank you. But I'm going to continue to not talk about it and just let it unfold."

Glamour: "It must have been satisfying to pull off a wedding with no press around."

KW: [Laughs.] "I don't want to sound smug about it…but the point is to do what's best for me. I have girlfriends in this business who talk about their personal lives, and it works for them, and I love it. But not for me."
Maybe it's a fear of failure in the public eye or maybe it's not wanting your child to grow up reading salacious headlines in tabloids on affairs that should have never left the four corners of your home. Either way, Washington's personal decision to let the masses play the guessing game on her union to Asomugha is the epitome of mastering the art of discretion for all of the right reasons. She is barely photographed with him. 
Read: Don't Share Your 'New Bae' with Social Media for 180 Days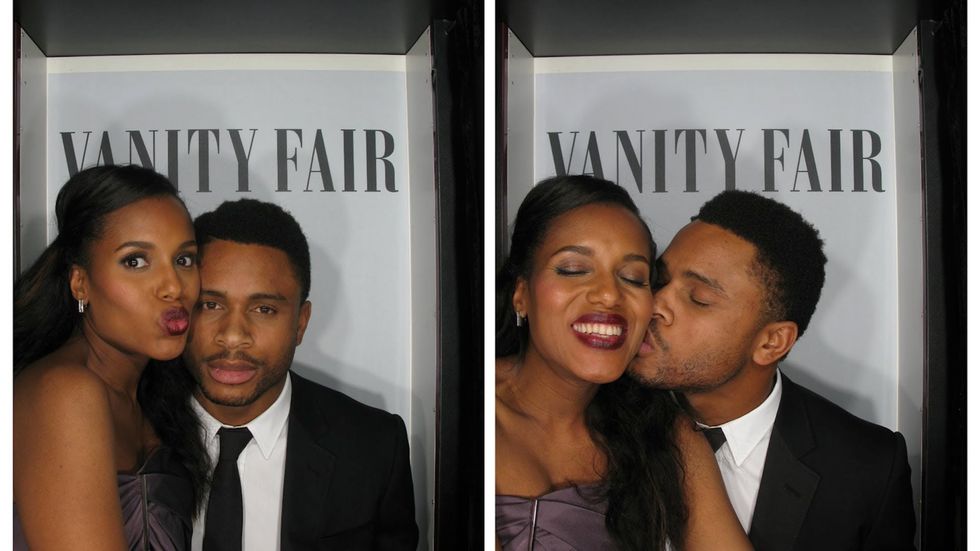 At a SXSW appearance earlier this year, Kerry sort of addressed the year-long rumor that her marriage is on the rocks by reiterating her stance on keeping mum.
"I think—and this is something Reese Witherspoon has talked about a lot—it's a little different for me because I don't talk about my personal life. Social media has actually been great for [other celebrities'] relationships with the weeklies or the gossip sites because people say things and they say, 'That's not true! Just so you know, that's BS!'...So I'm thinking in some ways, it's been great because people are able to maintain their voice. If I don't talk about my personal life, it means I don't talk about my personal life. That means not only did I not tell you when I was getting married, it also means if somebody has rumors about what's going on in my marriage, I don't refute them, because I don't talk about my personal life."
It's a lesson learned for anyone who has joined the wave of oversharing in today's world, but that's not to say that the desire to upload a photo or two doesn't create a huge pressure for celebrities in particular who feel permitted to share with the very people that support their work, eventually sharing the intimate portions of their everyday lives–hey, Beyoncé. Bey was always known as a mysterious force in the entertainment biz once she began her relationship with Jay-Z and the addition of Blue Ivy heightened the media's need to get the inside scoop on Beyoncé's life.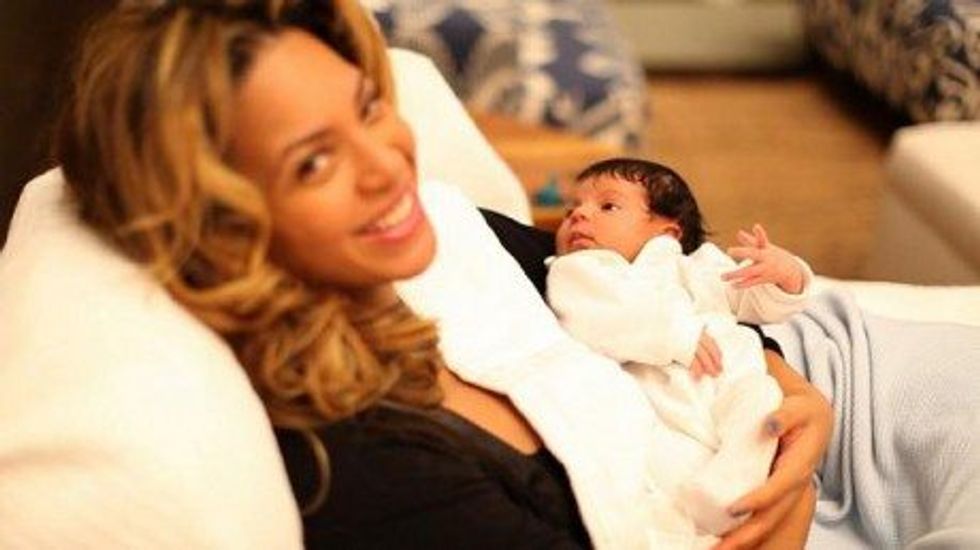 Hearing Baby Blue for the first time on "Glory" and seeing her on the singer's Tumblr page (where the Carter's shared the message, "We welcome to share in our joy. Thank you for respecting our privacy during this beautiful time in our lives.") introduced us to a never-seen-before Bey. Fortunately for fans, the world has watched Blue grow up through personal photography shared by her mother and auntie on social media. But while sharing her greatest accomplishment with a harsh world has introduced us to Beyoncé shedding more layers and exposing who she is outside of the performance realm, some mothers like Kerry Washington find a hard time allowing the world into that private part of their lives.
Related: Are Celebrity Children Safe From Cyber Bullying?
On that same panel discussion for SXSW, Mrs. Washington tackled the importance of her child being able to make decisions of her own and I had to agree with her perspective behind her why.
"It's like I have these itchy fingers where I want to just show my daughter because she's so cute and instead I like, send it to my shrink or send it to my mother. I'm like, 'Look at this picture! Look how cute, look at this picture!' Get it out of my phone into the world, but not on social. So I get the desire to do that, but I want her to make her own decisions in her time and I feel like she already has a lot to navigate in life being the daughter of an actor and a former football player that she has a lot going on, so she should be able to enter this world when it feels right for her and not make that decision for her. Who knows that the next generation of Snapchat will be when she's allowed to have a phone, you know? Who knows?"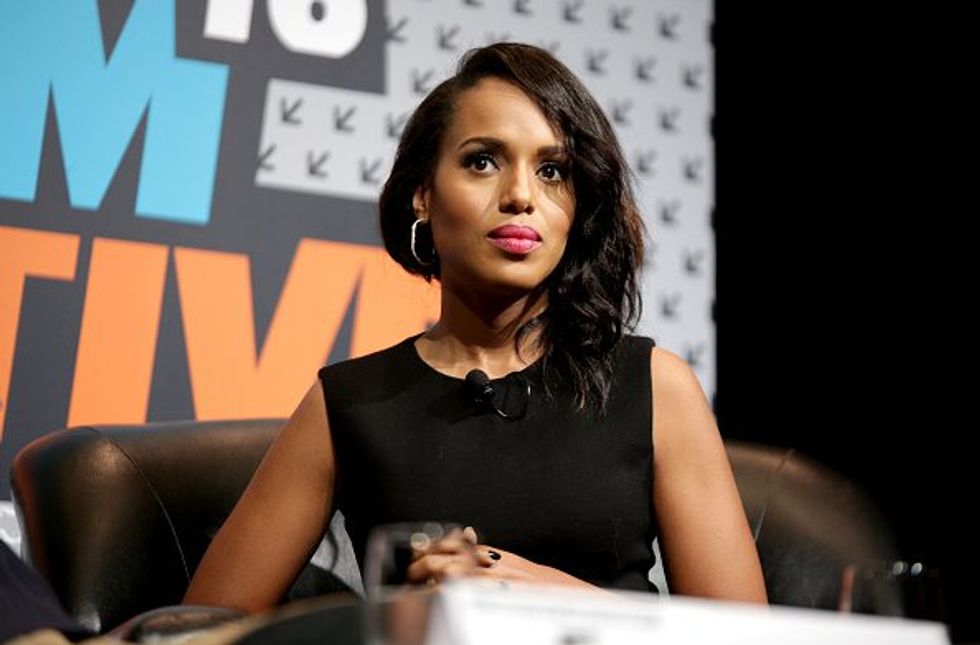 Photo Credit: Heather Kennedy/Getty Images for SXSW
As a parent, I can appreciate KW's decision to hold out on showing off her daughter and passing that power off in Isabelle's hands. How many of us are making decisions for ourselves and not for others who will in turn, feel obliged in weighing in on the intricate and intimate moments of our lives?
Whether you're a personal blogger like myself, an average Joe and Jane simply uploading random snapshots of your life online, or a celebrity seeking to prove a normal life like the rest of us, the truth is there is always room for judgement when divvying parts of your life up for an audience. Everyone's a critic and sometimes allowing the unknown in causes us to feel like something's bound to go wrong at some point. Truth be told, some people are actually banking on it. Just keep your business out of it.