Seven years ago, our founder Necole Kane shook up the internet when she abruptly announced that she was shutting down her popular celebrity gossip blog, NecoleBitchie.com, to pursue a more purposeful path. As a result, xoNecole was born. Seven years later, Necole is making yet another bold move by saying goodbye to xoNecole and focusing on her next pursuit: helping women experience better periods.

---
Today, the media mogul and entrepreneur announced that she is passing the baton here at xoNecole.com, which will live on under its parent company Will Packer Media while Necole grows her period supplement brand, My Happy Flo, full-time. "As a brand, we are truly excited to see Necole flourish in this exciting new chapter of her career," says Alix Baudin, President and COO of Will Packer Media. "With her product My Happy Flo, Necole has provided relief and education to so many women. Will Packer Media is proud of what Necole has done both at xoNecole and beyond, and we support her endeavors moving forward."
As a serial entrepreneur, Necole is all too familiar with the grief that comes with saying goodbye to a business. Though this new time comes with a mixed bag of emotions, Necole is embracing change as she always has: with open arms. "I've grown so much as a person through the articles and the writers on xo," she says through our Zoom call. "So I am so thankful for every single contributor, every single person who has been on the team, and the staff that has been a part of the vision. Every single person matters that has gotten the brand where it is seven years later."
She continues: "I'm thankful to Will Packer Media for believing in me, allowing me to live my dreams of seeing my site grow to unimaginable heights while also allowing me to see what stability looked like for five years because I didn't know. I spent my whole career grinding and in survival mode as an entrepreneur. So those five years gave me a taste of what it felt like to at least be comfortable. And now I'm going back to uncertainty and discomfort, but that season is always necessary before the big reward comes."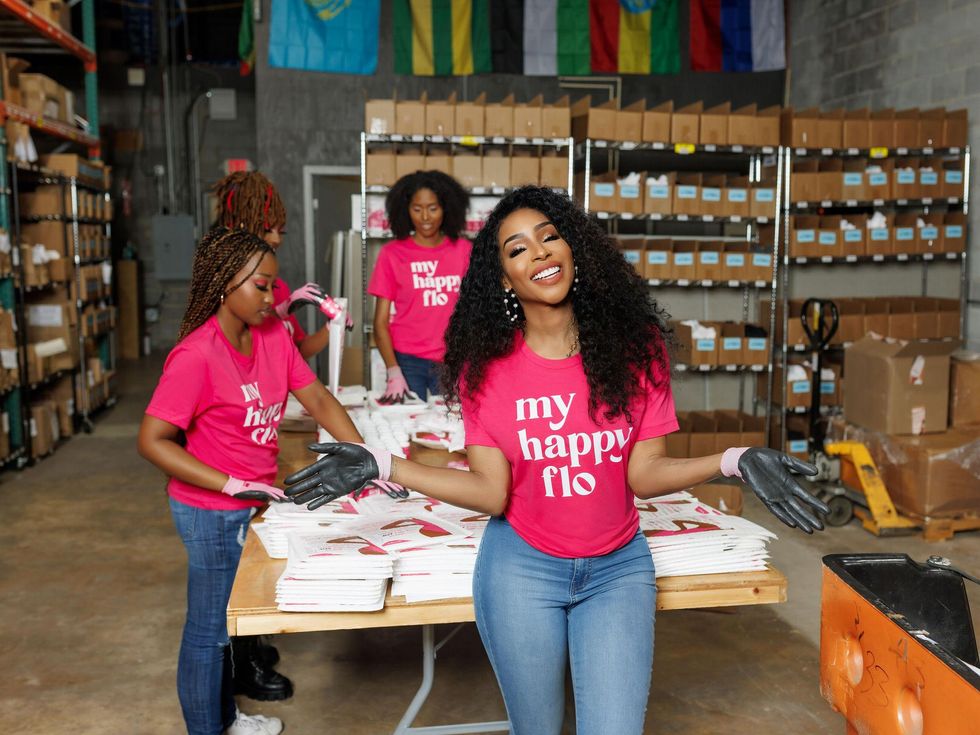 Necole Kane launched My Happy Flo in 2021 inspired by a number of friends diagnosed with fibroidsJlavii Photography
Necole is known for taking the heart on her sleeve and making it a brand. Her vulnerability, instinct, and passion for helping folks live their best lives have been the secret ingredients in her career
and
her life. Since launching her first website, Necole Bitchie, in 2007, our girl has made several major life transformations. We've watched her shut down her popular gossip blog and launch a brand new lifestyle site, move cross country several times, and even enter her first-ever
body building competition
. It's no wonder that she's built a reputation as the queen of career pivots. Keeping with the pattern in Necole's life, her next career move is taken right from a page of her own personal story. "When people ask me what has been my secret to success, I say it's cultivating communities and creating brands that address exactly what I need," says Necole. "I create the void that's in my life. I need a community, I need a safe space, and I need to elevate my health."
To no surprise, My Happy Flo is a labor of love in every sense of the word. When Necole turned 35, she started questioning her legacy and didn't want to be remembered solely for being a gossip blogger. With her mother passing away at the age of 41 from breast cancer, and Necole getting closer to her '40s herself, she decided to take preventative measures to safeguard her health. The year she decided to retire from celebrity gossip, she moved to Arizona to embark on a wellness journey. During that time, she started seeing a holistic doctor that completely changed the game for her. "I enrolled in holistic nutrition and hormone health certification programs and learned about what causes different forms of cancer and how to heal through foods and vitamins," she continues. " I was able to learn about the different hormonal imbalances and discovered that having an abundance of estrogen in your body, or estrogen dominance, contributes to breast cancer and fibroid growth. I felt like I unlocked this wealth of knowledge concerning our hormones and how it contributes to many reproductive conditions that I didn't know before."
Starting a holistic supplement brand was an idea Necole had been mulling over while burying herself in research about plant-based remedies and vitamins. But it became urgent when four of her friends had been told by their doctor that a hysterectomy was the only solution for their fibroids - one of which was a newlywed hoping to start a family. "[Through research] I learned that 80% of Black women will be diagnosed with fibroids by the age of 50," Necole says. "Most of the women I've talked to feel as though their period concerns were being brushed off by their doctors, or they were being pushed on birth control that came with a long list of side effects and eventually made their conditions worse, so I just knew it was the right time to launch My Happy Flo. I didn't know how I was going to run a period brand while running a media company, but God worked things out. He was like, 'I'm going to give you the vision. And then I'm going to give you the tools to see this vision through.'"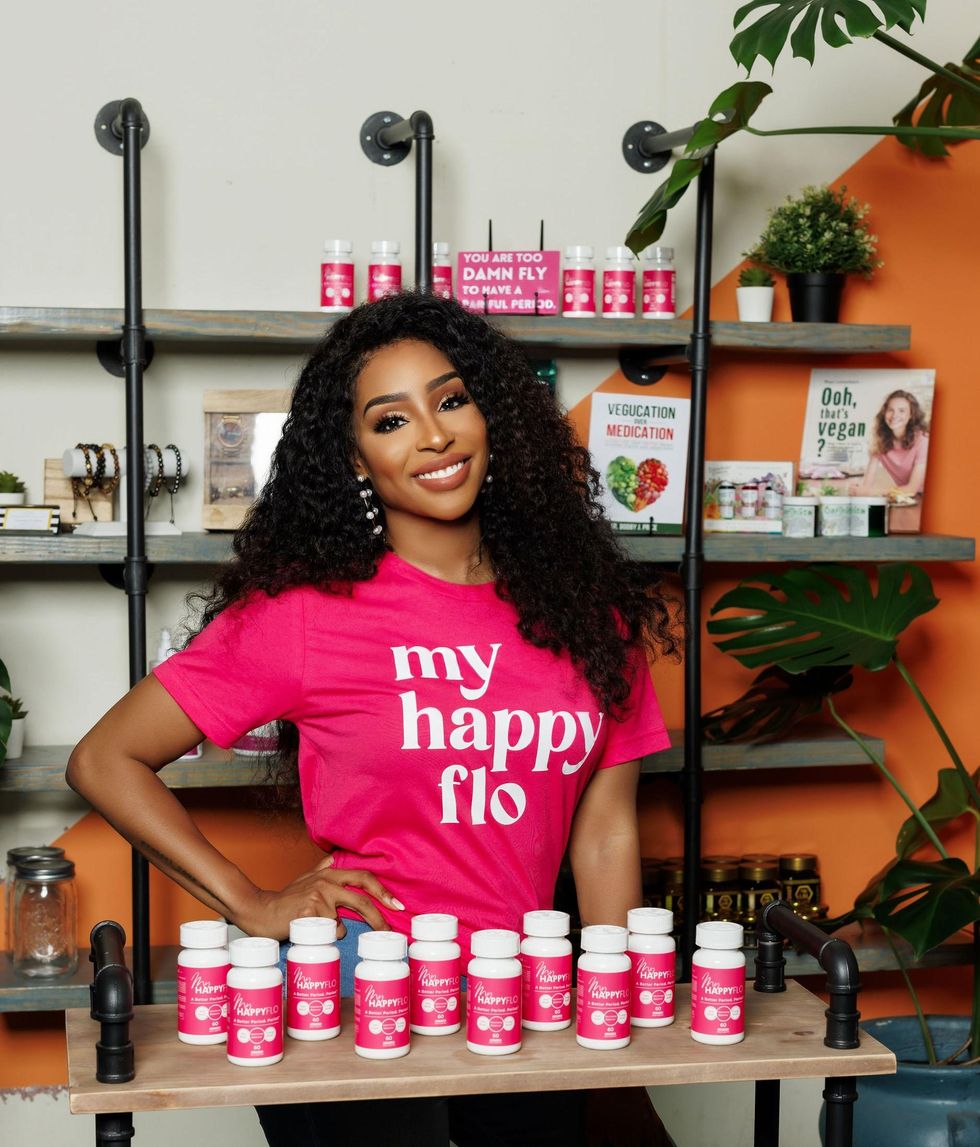 JLavii Photography
My Happy Flo is a plant-based supplement made from a blend of all-natural ingredients including DIM (Diindolylmethane) and Indole-3-Carbinol found in cruciferous vegetables such as broccoli, cauliflower, kale, and cabbage. It also features essential vitamins and minerals like Vitamin D3, B12, Iron and Magnesium. The research-backed ingredients were curated with common nutrient deficiencies in black women in mind, and work together to improve hormonal balance, while helping to alleviate uncomfortable period symptoms like heavy bleeding, cramping, bloating, and mood swings. One customer even came back to report that her 11 fibroids had completely vanished after 6 months of taking My Happy Flo. Though Necole has yet to put advertising dollars behind what some reviewers have pegged as "a miracle in a bottle," thousands of customers are already singing its praises. "We occasionally poll our customers and they've revealed that having a painful period affects their self-confidence, body image, intimacy, relationships, and job performance. So this product is about allowing them to have a better quality of life. And we do that by helping them improve certain aspects of their hormone health because our hormones rule everything."
While speaking with Necole, I noticed she is like an encyclopedia when it comes to vitamins, supplements, and hormonal health, and her face practically lights up as she talks about it. She is even enrolled in a menstrual cycle coach certification so that she can become an educator and empower her following. "I want to take a lot of my experience in media and translate that into My Happy Flo," says Necole. "I want the brand to feel like a girl's night or happy hour with friends and you're talking about your health. For people to be able to talk about their period and reproductive health openly and honestly with no shame."
Above all, she wants to spread the word that period pain is not normal. "Our menstrual cycle is like the body's report card and heavy bleeding and PMS symptoms is like our check engine light. It can be the first sign of an underlying condition," she insists. "There's just so many conditions [like] PCOS, endometriosis, fibroids, and even thyroid disorders [where] a painful period is the first sign of these underlying health conditions. It is not normal to bleed through tampons by the hour, or have periods lasting more than 7 days, but we have just learned to deal with it. These symptoms serve as a smoke alarm and is letting you know that there's a fire going on somewhere else in the body."
Divine intuition has never steered Necole Kane wrong. And though she's aware many will have questions about her next steps, she assures her followers that she's still here to serve. Moving forward, Necole has her sights set on building My Happy Flo into the megabrand that she believes it can be. On her wishlist is a full-fledged line of products with holistic solutions for PCOS, insulin resistance, hyperthyroidism, and other hormonal imbalances as well as in-person events, video content, and getting government funding to launch menstrual education programs in schools. Until then, she assures xoNecole readers that she's never too far away. "I want my community to know when they read this and see that I'm leaving, that I'm still here, but serving them in a different way."
To learn more about My Happy Flo visit My Happy Flo.co or follow them on Instagram!