If you let Twitter tell it, chivalry is dead. Every other day, we see some unfortunate men with microphones and internet connections talk about women needing to "humble themselves" and "submit". They want you to meet them at the Popeye's parking lot and watch them eat a two-piece while you sit there hungry and call it a "date." Bring back shame! Bring back romance! Bring back begging on your knees for women's hearts in R&B!
---
READ MORE: BLACK WOMEN, WE DESERVE MORE

But even if we can't be like Mary J. and Glorilla and declare ourselves FNF in real life, fear not: the streaming world is chock full of romantic stories that will warm your cold, dead heart, and remind you that love is real, and it's all around us. Here are three love stories to stream right now.
Mr. Malcolm's List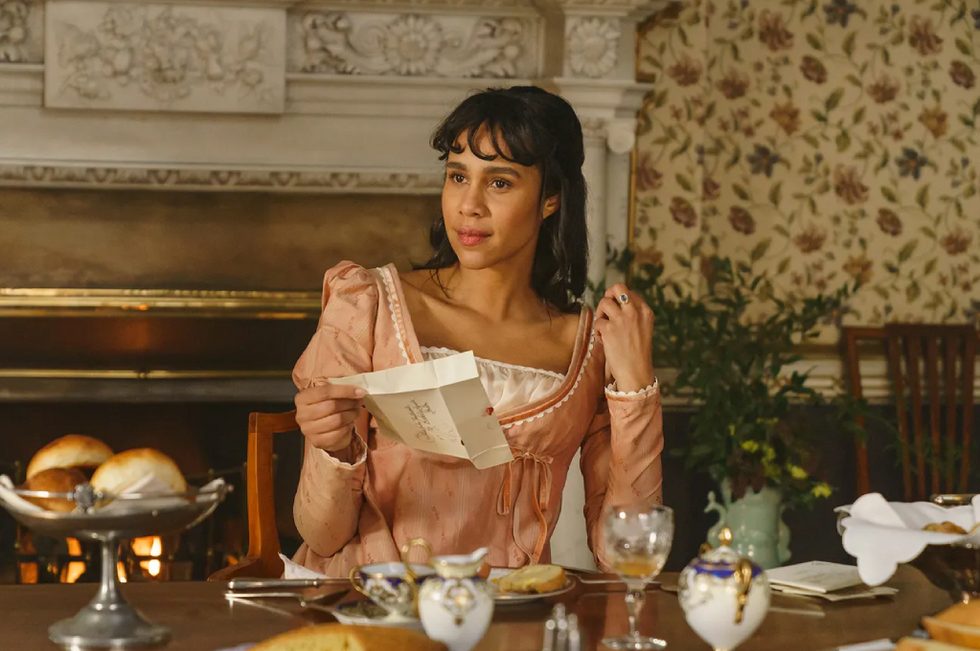 Zawe Ashton as Julia in Mr. Malcolm's List
I admit, I had given up on the onscreen regency-era romance genre. As casting for these projects has become more inclusive of the many Black people who were in Britain during the era, a la Bridgerton, I've noticed that even as Black men get to be love interests, Black women barely exist, let alone get to be the lead or have the romance. (Dark-skinned Black women are particularly absent from the onscreen regency era romance, Shonda Rhimes' criminally underrated 2017 ABC series Still Star-Crossed starring Lashanna Lynch being an exception.) And to even desire to be a Black person of nobility at that time, one would have to be at least complicit in the atrocities of imperialism and a likely beneficiary of the spoils of trafficking Africans. So, I'd moved on from the genre as "not for me."
Then I set all that aside and enjoyed the hell out of Mr. Malcolm's List. With a story so sweet and romantic, it reminded me of why I fell in love with the genre in the first place.
Sope Dirisu is swoon-worthy in the starring role of Mr. Jeremy Malcolm, the wealthy, eligible bachelor with a 10-point list of requirements for a wife. Zawe Ashton is deliciously devious as the scorned Julia Thistlewaite who vows revenge against Mr. Malcolm, but winds up on a path to true love that she never expected. Even as his Malcolm's Mr. Darcy-like arrogance leads to a well-deserved humbling, you will absolutely melt when the real reason for the film's title is revealed at the end.
Mr. Malcolm's List is streaming on Prime Video Now

From Scratch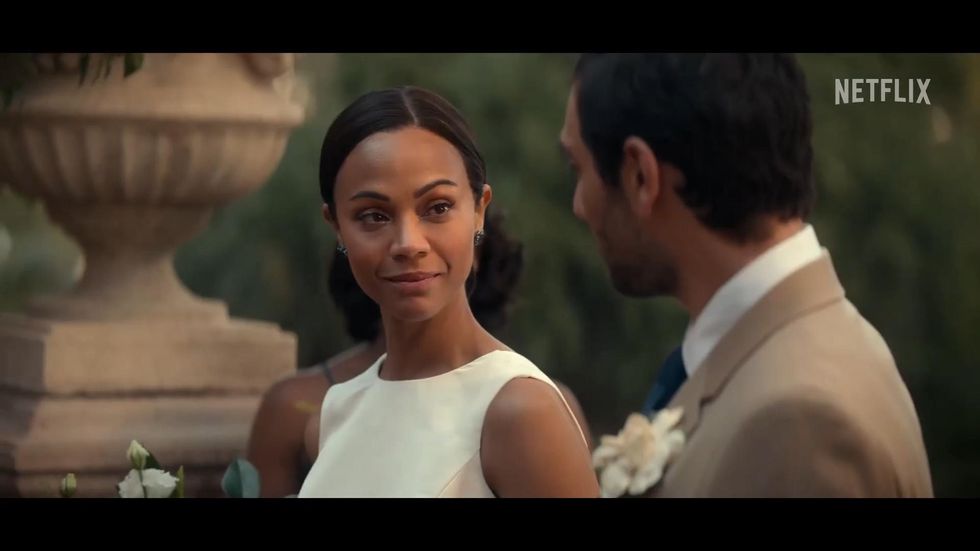 Zoe Saldana in From Scratch
Netflix
From the true story of author and TV writer Tembi Locke and adapted into a limited series for Netflix with her sister Attica Locke as showrunner, From Scratch is the kind of love story you watch if you need to unplug your tear-ducts. Starring Zoe Saldana as Amy (a version of Tembi), From Scratch follows a young woman who has dropped out of law school and moved to Italy to pursue her passion of painting. In Florence, she not only discovers she's a very good artist, she also meets Lino (Eugenion Mastrandrea) a very hot Italian chef who sweeps her off her feet.
Just when it seems that the biggest obstacles they'll have to face on their road to happily ever after would be their racial and ethnic differences and their families' disapproval, Amy and Lino face their worst opponent yet: time. In From Scratch, we see how real love can stretch people and empower them to be the best versions of themselves--all while improving the lives of people around them. Danielle Deadwyler turns in another stunning supporting role as Amy's sister Zora (a fictionalized Attica) and this love story shows the bonds and depths of sisterhood in times of joy and grief.
This is no fairytale, but this based-on-a-true-story love is definitely one for the ages. Bring all of your tissues and settle in for a heartbreaker of a binge.

From Scratch is streaming now on Netflix.
Anything's Possible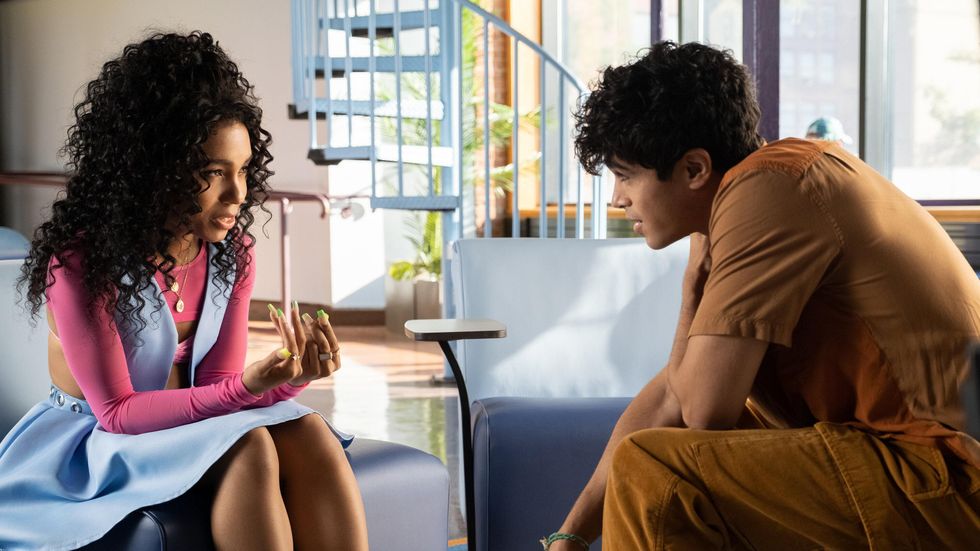 Anything's Possible
Prime Video
This YA rom-com is unlike anything we've seen so far. Starring Eva Reign and Abubakr Ali, this love story follows trans teen Kelsa (Reign) as she falls in love with her art classmate and fellow dreamer Khal (Ali). On top of the consistent pressures of high school and the looming fear of college and the future, Kelsa and Khal navigate transphobia from their friends and classmates and find love and self-acceptance.
Directed by Billy Porter in his debut as an auteur, Anything's Possible will have you laughing and crying at this very sweet young romance. Though not every love story is meant to last forever, Anything's Possible shows how a beautiful first love can shape the way you experience love and life well into the future.
Anything's Possible is streaming now on Prime Video.
Let's make things inbox official! Sign up for the xoNecole newsletter for daily love, wellness, career, and exclusive content delivered straight to your inbox.