*Warning: this piece contains spoilers for Black Panther 2: Wakanda Forever*

Wakanda Foreveris in a no-win situation.
The sequel to the Marvel Cinematic Universe juggernaut Black Panther has the monumental task of honoring its fallen king, Chadwick Boseman, and the character he played, T'Challa, all while continuing on the Black Panther mantel, introducing new characters Riri "IronHeart" Williams (who will have her own Disney+ series) and the antihero Namor and his underwater kingdom Talokan.
It's impossible to do all of these things well in just one movie, though co-writer and director Ryan Coogler's effort is valiant. The love for Boseman is palpable, and Wakanda Forever gives us the opportunity to mourn him together, just as we celebrated him in community during Black Panther's 2018 run.
Though I left the theater in tears after both Black Panther and Wakanda Forever, back in 2018 I wasn't immediately sure why. This time around, it's much more clear what hurts: Black people can't win in the MCU.
Black People Can't Have Peace
Much of the Black joy around Black Panther was rooted in the idea of Wakanda as the AfroFuture realized. The most advanced nation in the world, shielded from the evils of white colonization, enslavement, extraction and exploitation of resources, Wakanda represented all the beauty, glory and majesty of who we could've been, unshackled and without limits.
And yet, all of its leaders are assassinated by outsiders. First, it's King T'Chaka, who meets his end at the hands of white Sokovian terrorist Zemo in Captain America: Civil War. Then it's T'Challa, who's blipped away for five years by Thanos' snap in Avengers: Infinity War (before returning back to life in Avengers: End Game and dying of an unnamed illness in Wakanda Forever). Finally, it's Queen Ramonda (Angela Bassett) in Wakanda Forever, assassinated by Namor (Tenoch Huerta) and left face-down, drowned in a flood of his making. It's a graphic and disturbing image, not just for the characters – particularly her daughter, Princess Shuri (Letitia Wright), who has now lost every single member of her immediate family – but also for the already-grieving audience.
We came to the film expecting to grieve Boseman, whose untimely death from cancer in 2020 we've been processing ever since. And we came expecting to grieve T'Challa, knowing that the #RecastTChalla movement had been unsuccessful because, for the filmmakers and cast, Boseman is more than a character who inspired legions of young people. He was an actual person and friend, deeply loved and deeply grieved by his Black Panther family. Acknowledging his death and honoring him with the film rightfully meant more than continuing on with a new actor in the role. All of that, I'd expected and accepted.
But the assassination of Ramonda was cruel and unnecessary, for both the characters and the audience.
Yes, it's a fictional death, and Angela Bassett played the hell out of it. But with the death of Boseman, our fictions and our realities have too closely intermingled. Killing Ramonda and leaving Shuri orphaned exemplified our all-too-real experience of Black grief in this country. We can't even burn our mourning clothes before the next tragedy strikes. To still experience this, even in the AfroFuture? That's cruelty.
But it's the MCU, and superhero origin stories need cruel deaths. T'Challa's, apparently, wasn't enough. Shuri's subsequent journey of being consumed by grief in Wakanda Forever then, mirrors that of T'Challa's in Civil War–both of which lead to a dissatisfying end.
Black People Can't Have Vengeance
In 2016's Civil War, Boseman's T'Challa has just witnessed the assassination of his father, King T'Chaka, leading him on a path of revenge, that ultimately ends with him sitting on a hill, having a peaceful chat with his father's killer, Zemo. T'Challa sees how vengeance has destroyed Zemo and lets the terrorist live, choosing the road of forgiveness.

T'Challa's insistence on vengeance being no way to live continues in Black Panther and contrasts with his uncle N'Jobu (Sterling K. Brown) and cousin, the Black American N'Jadaka, AKA Erik Killmonger (Michael B. Jordan). N'Jobu, who had been a Wakandan spy in America, had found sympathy for and community with Black American freedom fighters. He married a Black American woman who was imprisoned as a revolutionary (according to a deleted scene) and was planning to use vibranium to break her out and arm Black Americans in their fight against their white supremacist overlords. His own brother T'Chaka finds that plan so offensive that it's worthy of N'Jobu's immediate arrest and then execution when he resists, without much discussion, let alone tribunal. T'Chaka's murder of his brother leaves a young Killmonger without a father or a mother.
All grown up, Killmonger comes to Wakanda for the first time to avenge his father N'Jobu. Killmonger also seeks revenge for Wakanda's isolationist tactics, watching from the safety of their secret borders as Europeans kidnapped West Africans and sold them into slavery in the Americas, colonized most of Africa, and terrorized Black people globally with white supremacy. His keloided body marks the inner corruption vengeance has left on his soul–and there is no doubt, his murderous, misogynistic tactics are less about liberation for all Black people and more about replicating the white power structure with a Black male face as king.
When Killmonger fights T'Challa to maintain control as Wakanda's king and Black Panther, T'Challa kills Killmonger. As Killmonger dies, T'Challa offers to heal Killmonger, but he's just too broken and damaged by the impact of slavery and white supremacy on his people in America, too consumed by vengeance to ever be healed, to ever go back to his African home. Trying to get Black people together to get revenge against white people will never fly in the MCU.
Shuri learns as much in Wakanda Forever when her anger and grief over the loss of T'Challa from an unnamed illness leads Namor to believe she will be a good ally to him and his people, the Talokan, who have also suffered because of white supremacists' efforts to destroy their people. He asks her to burn the world with him in order to protect their people from further distress. She isn't keen on it, and she's also not in control; Ramonda is calling the shots. When Namor murders Ramonda, Shuri goes all in on a plan to destroy Namor and the Talokan.
Her deep-seated need for vengeance leads her to meet Killmonger when she goes to the ancestral plane on her journey to becoming Black Panther. It's at first a welcomed surprise to see him and to see the film allowing a young, dark-skinned Black woman the fullness of her rage on screen. Seeing Killmonger and watching as her rage sets the ancestral plane ablaze, suggest perhaps we might see Wakanda Forever correct the MCU's constant propaganda that "Black people must forgive our oppressors!" Plot twist: it's the same old story.
"Vengeance has consumed us," Shuri says after she's got Namor on the ropes, a spear at his throat. She drops her weapon and her vengeance, for the sake of the Wakandans who are getting their asses kicked in the middle of the ocean by the Talokan. "We cannot let it consume our people."
Shuri has lost everything and everyone, and even still, Ramonda's spirit randomly shows up as a deus ex machina to remind Shuri that vengeance is not appropriate. "Show him who we are," Ramonda says. What is that, if not the same tired Black respectability politics we've been fed since slavery?
Black People Can't Have Unity
Just like in slavery, unity among Black people is the greatest threat to white supremacist power and has been intentionally thwarted for centuries. It's no different in the MCU. I accept that Killmonger wasn't actually radical, and his faux-tep philosophy would not have led to Black liberation, but T'Challa didn't listen to his partner Nakia's (Lupita Nyong'o) correct takes on Black unity and liberation either.
Nakia wanted to use vibranium to help the people of Africa, and often left Wakanda to go and help people in other African nations as a spy. Does that inspire T'Challa to do her work at a larger scale at the end of Black Panther? No. He builds a STEM program and community centers for some underprivileged Black kids in America; skips right over the African Union or any attempts to unite and empower the Continent; and incomprehensibly takes his knowledge of vibranium to the white supremacist United Nations instead.
In fact, outside of fictional Wakanda – which appropriates many African nations' languages and cultures to make up the look and feel of Wakanda – there are zero positive depictions of real Africa in the MCU. In Civil War, we see Nigeria's capital city Lagos completely destroyed (and mispronounced!! several times!!) by the Avengers. In Black Panther, Nigeria is reduced to Boko Haram traffickers of women and children. In Wakanda Forever, there's mention of a Wakandan hub in Ghana, but we don't see Ghana outside of the hub, which is guarded by Dora Milaje. We don't see any other part of Africa in the MCU, and the message is clear: Wakanda has advanced itself so successfully because it has isolated itself from the rest of Africa. It's giving: "not like the other Blacks."
But the worst offense takes place inside of Wakanda's borders at the end of Black Panther.
King T'Challa, who was thought dead, has arisen, meaning he was not defeated by Killmonger and the challenge for the throne should continue. But Killmonger has no interest in a fair fight; he's already been crowned king and Black Panther. Inexplicably, this leads to a Wakandan civil war.
Killmonger just got there like the day before; T'Chaka and T'Challa have been mainstays in Wakanda for decades. W'Kabi (Daniel Kaluuya) is T'Challa's best friend. All of the tribes joyously celebrated T'Challa being crowned king the week before. And yet, W'Kabi leads his tribe and others into war against fellow Wakandans and many, many are killed, including members of the Dora Milaje. This is the problem of having an all-Black setting in the MCU: action movies need battle scenes, so a lot of Black people will be killed on screen and even Wakanda itself will have to get trashed.
Wakanda is the most technologically advanced nation in the MCU; they've never been colonized, and still their ways of handling conflict are steeped in age-old white supremacist tactics of violence, domination and control. The math don't add!
To make matters more disgusting, Nakia and T'Challa have brought a white CIA agent into Wakanda, Everett Ross, who is not only given life-saving treatment for his injuries and a tour of Wakanda's secrets as a literal AGENT OF THE CIA, but he's also given weapons by Shuri to shoot down Wakandan pilots in the civil war. The entire reason T'Challa won't help African nations or the Black diaspora is to protect the safety and security of Wakanda – which completely goes out the window when a random white cop is down bad?
Coogler, Oakland's own, is very well aware of the history of the CIA, FBI and global police efforts to destroy Black liberation movements, and particularly the Black Panthers. But it's the MCU; the "good white cop who has Black friends" is their entire MO (seeCaptain America, Iron Man, Thor…). Still, Agent Ross's seemingly irrevocable invitation to the Black Panther franchise cookout is an affront and jokingly calling him "colonizer" doesn't make up for it.
Contrast the Wakandan civil war with the Avengers in Civil War, where the Avengers split into two factions and fight each other. When one Avenger gets seriously injured, the fighting stops. They love each other too much to kill each other. Wakandans – who literally only know each other because they've been isolated from the rest of the world for their entire existence – kill each other with ease. What message does that send about Wakanda, about Africa?
Meanwhile, as Black countrymen are killing each other, Zemo, the white man who murdered their king, is still alive and well.
And so are the white French soldiers in Wakanda Forever who attack Wakanda's hub in Ghana, armed to the teeth and looking for vibranium. The Dora Milaje disarm them and bring them – handcuffed yet unscathed – into a United Nations meeting to help Queen Ramonda make her point about how corrupt these white countries are.
Yet Okoye receives no such leniency from Ramonda when Okoye valiantly loses her fight against a gang of Talokan warriors with superhuman strength who kidnap Shuri and Riri. Ramonda strips Okoye of her rank as general and banishes her from the Dora Milaje, ignoring pleas for mercy from the Council. Ramonda also mentions that Okoye's "treacherous" husband W'Kabi is in banishment after siding with Killmonger during the civil war.
All of this begs the question: What is justice in Wakanda and how does the most advanced nation on earth dole it out to its own? Murder and banishment and war are all we see.
This continues in Wakanda Forever when Namor approaches Wakanda to team up against white colonizers. I'll admit, when Namor shows up dripping in vibranium because Wakanda wasn't in fact the only special place where vibranium formed, I thought, Man…Black people can't have nothing! Still, I was all for a film exploring the joint struggle of Black and Mayan communities and how we're naturally allies. But it's the MCU; Disney would pull the plug on the whole franchise if Marvel actually let Black and Mayan people team up to take down white supremacy for real. So Wakanda Forever spends the majority of its action with the Black and Mayan people killing each other, becoming allies at the very last possible minute, without showing what "allyship" actually looks like. Guess we'll see what the MCU allows in Black Panther 3.
But as for Wakandan and Black American unity, that future is still to be seen. In Black Panther, Okoye spits the word "Americans," and with Killmonger's death and the heartbreaking message that Black American descendants of enslaved Africans might just be too messed up to reconnect with Africa, Black Panther surely makes no space for an end to the Diaspora Wars.
The only other Black Americans in that film are some nameless boys in the 'hood in Oakland, whom T'Challa attempts to rescue through his charitable STEM program. Get 'em while they're young, I guess. But if Black Americans can only receive Wakandan charity rather than exchange of ideas, of cultures, of language, there's no hope for unity.
The inclusion of Riri Williams in Wakanda Forever, however, may be an attempt at correction, as she's the first Black American young woman character in the franchise. She's not quite an equal to the Wakandans we know, as she's a 19-year-old college kid. But she is also a prodigy and a mentee for Shuri, and I'm here for their Black girl brilliance and the growing bond between them. But Shuri won't let Riri take her IronHeart suit back to America with her. Shuri is still in control.
Even Wakanda Forever 's introduction of Haiti and Black life in the Caribbean to the MCU still puts Wakanda in the position of teacher, as Nakia is the headmaster of the school featured there and in charge of educating Haitian children. Coogler choosing Haiti as a site of healing and connection and writing that Nakia and T'Challa name their son Toussaint to honor the revolutionary history of Haiti seem like narrative steps toward Wakanda's community building in the Diaspora. But knowing Haiti's current real life level of devastation after the 2021 hurricane, I need some receipts that Wakanda is doing more to empower Haiti than just running one self-sustaining school.
Further franchise installments should account for the incessant lack of Black unity both inside Wakanda and throughout the Diaspora. Without colonization and white supremacy, Wakanda should've been leading the charge on how to show care and solve intracommunal conflict.
But, again, it's the MCU. That means these movies can't possibly be revolutionary beyond the veneer of representation.
Black People Can't Be Free
And sure, representation matters, but then what?
What was gained by the extremely mild showing of affection in Wakanda Forever between Dora Milaje warriors Aneka (a wasted Michaela Coel) and Ayo (Florence Kasumba), two queer characters in the comics whose relationship is diminished to a two-second peck on the bald head? Is it enough to know that Black queer characters exist in this world, even if they can't do anything particularly queer so that Marvel can increase the odds that China will let the movie open in its country? (Surprise! China wasn't ever gonna let them do that, anyway.)

What was gained by taking Okoye, who found such pride, joy and beauty in her bald head in Black Panther, and reducing her looks to punchlines in Wakanda Forever? This happens both inside Wakanda by M'Baku in front of the Council, where this leader is supposed to be respected and revered, and outside Wakanda by the young genius Riri who couldn't think of a better comeback than calling her bald head ashy. This passes as comedy in 2022?
What was gained by making M'Baku king and setting up the reveal of a secret 6-year-old son for T'Challa? These choices seemed like throwing bones to the #RecastTchalla crowd who mourned the loss of Black male power more than anything else. Sure, the idea of a secret son could bring some comfort that the T'Challa character will live on in the future and that Shuri does still have one relative left. But more than anything, it makes its secret-holding characters look especially cruel.
For a year, the son was grieving the loss of his father, as were Ramonda and Shuri and all of Wakanda. They could've been grieving together. Wakanda Forever opens with this gorgeous, all-white funeral for T'Challa, emphasizing the Wakandan tradition of grieving and healing in community, which only makes Nakia's nonsense reasoning for not bringing the boy to attend the funeral and meet his aunt all the more unbelievable – especially considering the turmoil that Killmonger being disconnected from Wakanda had caused.
But the worst grandmother of the year award goes to Ramonda, who not only knew about her secret grandson and didn't tell her grieving daughter, but she also sent his only living parent off on a dangerous rescue mission, leaving the child behind in Haiti (with whom?!). It's such an unsavory series of choices that goes against so much of what we've learned over two films about these characters and their love for Wakanda, in exchange for an emotionally manipulative surprise ending.
It only further highlights the fact that these characters haven't been developed enough and neither has Wakanda. Besides letting women fight in battle and rule the kingdom when the men they're connected to become ancestors, we don't know much about Wakandan culture and values outside of the royal walls, since we never meet any regular degular Wakandans. Is there homelessness? Free healthcare? Hopefully flood insurance? We don't know. But even without the infiltration of white supremacy and colonization, it seems that Black people in Wakanda are only free to a degree. And that's by design.
Outside of the MCU, these films wouldn't have had the tentpole, blockbuster reach or success; they wouldn't even exist. Still, they could've been so much more than the fashion, the memes, and the need for representation that initially brought us together behind this franchise – though that 2018 moment in history was a gift that can never be replicated. We wanted a king and Chadwick was a beautiful one. We wanted Black women exercising agency and power. We wanted dark-skinned beauty representation and we got all of that, so we let some anti-Black, anti-Black American and anti-African sentiments cook.
But we deserve more. We deserve a story about Africanness and Diasporic Blackness that's not hampered by the white gaze that would refuse us peace, justice, unity and vengeance. In the MCU, no matter who's at the helm, that's just not possible.
Let's make things inbox official! Sign up for the xoNecole newsletter for daily love, wellness, career, and exclusive content delivered straight to your inbox.
If you let Twitter tell it, chivalry is dead. Every other day, we see some unfortunate men with microphones and internet connections talk about women needing to "humble themselves" and "submit". They want you to meet them at the Popeye's parking lot and watch them eat a two-piece while you sit there hungry and call it a "date." Bring back shame! Bring back romance! Bring back begging on your knees for women's hearts in R&B!
READ MORE: BLACK WOMEN, WE DESERVE MORE

But even if we can't be like Mary J. and Glorilla and declare ourselves FNF in real life, fear not: the streaming world is chock full of romantic stories that will warm your cold, dead heart, and remind you that love is real, and it's all around us. Here are three love stories to stream right now.
Mr. Malcolm's List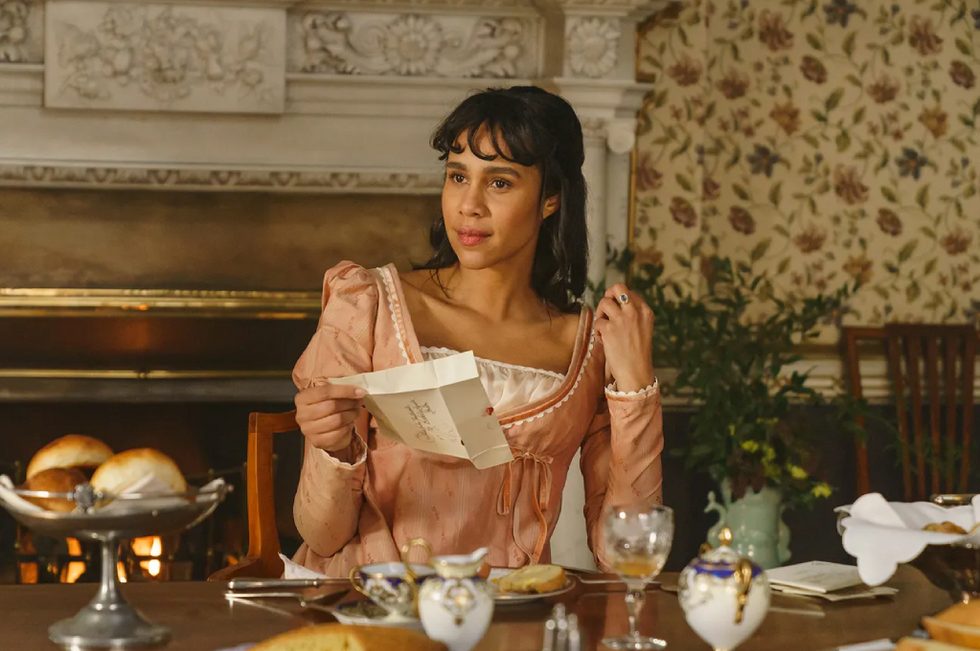 Zawe Ashton as Julia in Mr. Malcolm's List
I admit, I had given up on the onscreen regency-era romance genre. As casting for these projects has become more inclusive of the many Black people who were in Britain during the era, a la Bridgerton, I've noticed that even as Black men get to be love interests, Black women barely exist, let alone get to be the lead or have the romance. (Dark-skinned Black women are particularly absent from the onscreen regency era romance, Shonda Rhimes' criminally underrated 2017 ABC series Still Star-Crossed starring Lashanna Lynch being an exception.) And to even desire to be a Black person of nobility at that time, one would have to be at least complicit in the atrocities of imperialism and a likely beneficiary of the spoils of trafficking Africans. So, I'd moved on from the genre as "not for me."
Then I set all that aside and enjoyed the hell out of Mr. Malcolm's List. With a story so sweet and romantic, it reminded me of why I fell in love with the genre in the first place.
Sope Dirisu is swoon-worthy in the starring role of Mr. Jeremy Malcolm, the wealthy, eligible bachelor with a 10-point list of requirements for a wife. Zawe Ashton is deliciously devious as the scorned Julia Thistlewaite who vows revenge against Mr. Malcolm, but winds up on a path to true love that she never expected. Even as his Malcolm's Mr. Darcy-like arrogance leads to a well-deserved humbling, you will absolutely melt when the real reason for the film's title is revealed at the end.
Mr. Malcolm's List is streaming on Prime Video Now

From Scratch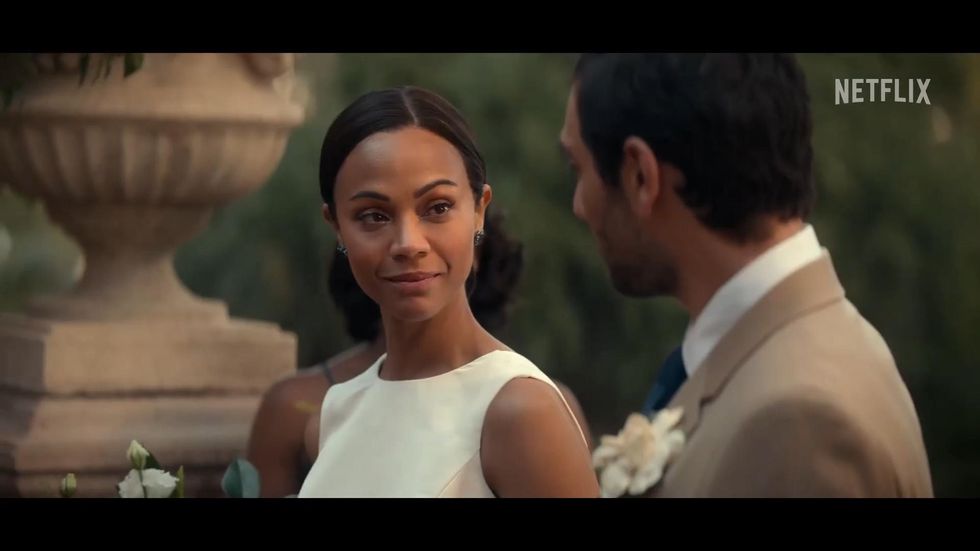 Zoe Saldana in From Scratch
Netflix
From the true story of author and TV writer Tembi Locke and adapted into a limited series for Netflix with her sister Attica Locke as showrunner, From Scratch is the kind of love story you watch if you need to unplug your tear-ducts. Starring Zoe Saldana as Amy (a version of Tembi), From Scratch follows a young woman who has dropped out of law school and moved to Italy to pursue her passion of painting. In Florence, she not only discovers she's a very good artist, she also meets Lino (Eugenion Mastrandrea) a very hot Italian chef who sweeps her off her feet.
Just when it seems that the biggest obstacles they'll have to face on their road to happily ever after would be their racial and ethnic differences and their families' disapproval, Amy and Lino face their worst opponent yet: time. In From Scratch, we see how real love can stretch people and empower them to be the best versions of themselves--all while improving the lives of people around them. Danielle Deadwyler turns in another stunning supporting role as Amy's sister Zora (a fictionalized Attica) and this love story shows the bonds and depths of sisterhood in times of joy and grief.
This is no fairytale, but this based-on-a-true-story love is definitely one for the ages. Bring all of your tissues and settle in for a heartbreaker of a binge.

From Scratch is streaming now on Netflix.
Anything's Possible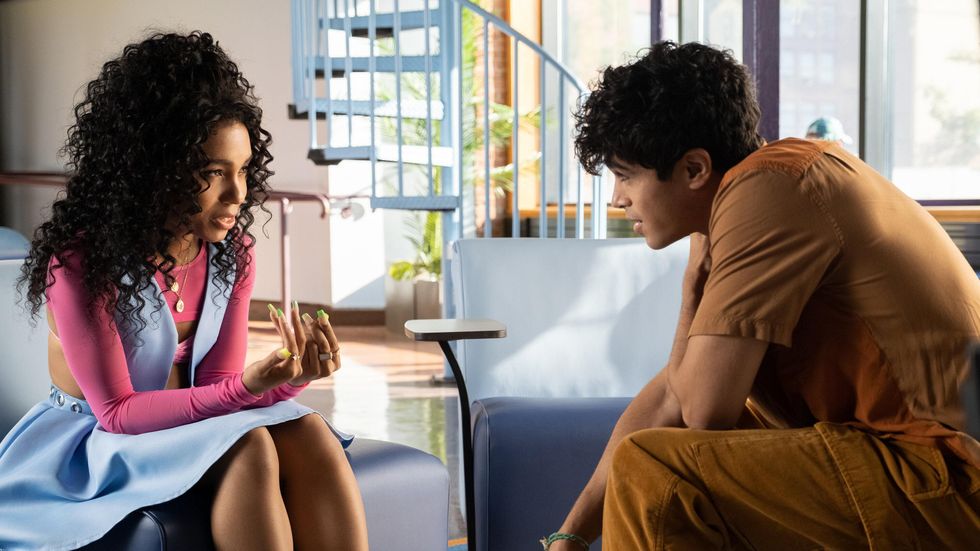 Anything's Possible
Prime Video
This YA rom-com is unlike anything we've seen so far. Starring Eva Reign and Abubakr Ali, this love story follows trans teen Kelsa (Reign) as she falls in love with her art classmate and fellow dreamer Khal (Ali). On top of the consistent pressures of high school and the looming fear of college and the future, Kelsa and Khal navigate transphobia from their friends and classmates and find love and self-acceptance.
Directed by Billy Porter in his debut as an auteur, Anything's Possible will have you laughing and crying at this very sweet young romance. Though not every love story is meant to last forever, Anything's Possible shows how a beautiful first love can shape the way you experience love and life well into the future.
Anything's Possible is streaming now on Prime Video.
Let's make things inbox official! Sign up for the xoNecole newsletter for daily love, wellness, career, and exclusive content delivered straight to your inbox.
Sitting in the theater getting ready to watch Nopefor the third time, I was excited, like a good film nerd, to see my friend's first-time reactions to the fun UFO horror-comedy. My heart sank immediately when a trailer for the film Till, which follows the life and legacy of Emmett Till's mother, Mamie, started playing first.
My knee-jerk reaction, of course, comes from years of watching film and TV that have exploited Black trauma onscreen and were created with little (if any) consideration for what could emotionally trigger the Black audience. The 1955 murder of Emmett Till is so heartbreaking and inherently violent; would this film make us live through that violence on screen?
Fortunately, no!
This week, before watching Gina Prince-Bythewood's incredible The Woman King, a featurette for Till played in place of a trailer and it soothed my fears.
"There will be no physical violence against Black people on screen," the film's award-winning director and co-writer Chinonye Chukwu says in the featurette. "I'm not interested in relishing in that kind of physical trauma. We're going to begin and end in a place of joy," she says.
Starring Danielle Deadwyler (whose heartfelt performance on HBO's Station Eleven stole the show) as Mamie, Till is a celebration of Mamie's tireless activism which sparked the civil rights movement that continues today and ultimately culminated in President Biden signing the Emmett Till Anti-Lynching Act into law just a few months ago in March 2022. "Mamie Till Mobley is a hero," says Alana Mayo, president of Orion Pictures, the production company behind the film. "I'm really, really committed to making movies not just by us, but for us," Mayo says in the featurette.
After a private screening of Till, this week, Trayvon Martin's mother, Sybrina Fulton, tweeted that the film was "#Powerful" and "a must see."
Mamie's story of courage in the face of unspeakable tragedy deserves to be told--especially as we continue the fight for civil rights today. Knowing that the Black filmmakers behind the film are centering Black joy and aiming for our empowerment through the film makes a world of difference.
TILLis in theaters October 14.

Let's make things inbox official! Sign up for the xoNecole newsletter for daily love, wellness, career, and exclusive content delivered straight to your inbox.
"
Issa Rae is ethereal when she walks into the Black-woman-owned hair salon in downtown LA to star on xoNecole's first digital cover. The salon seems named for her: Melanin on 6th. The glow on her skin that you see in photos is no filter; that's all her light. She's wearing a burnt orange bikini top and slacks from The Sei's prefall '22 collection like she invented the color. But her hair is the real show stopper.
With this cover shoot, we knew we wanted the images of Issa to tell a hair story, celebrating her role as a natural hair icon. Since she became a viral sensation in 2011 for writing, directing and starring in her YouTube webseries The Misadventures of Awkward Black Girl, Issa's natural hair has been a focal point. Her subsequent starring role in the HBO series she created, Insecure, launched her into Hollywood stardom. Her commitment to rocking and styling her natural hair – in the face of an anti-Black industry and world that seeks to degrade and even punish us for our hair – revolutionized the way natural hair is portrayed on screen.
"I hadn't seen that length of hair, that texture, be featured on television from a lead before [Insecure]," Issa shares later that day during the filming of an episode of xoNecole's podcast She Comes First. "And so, I do feel like we were able to change the game. And I feel honored that [Felicia Leatherwood, Issa's longtime hairstylist] was able to be a part of it and showcase what she does amazingly."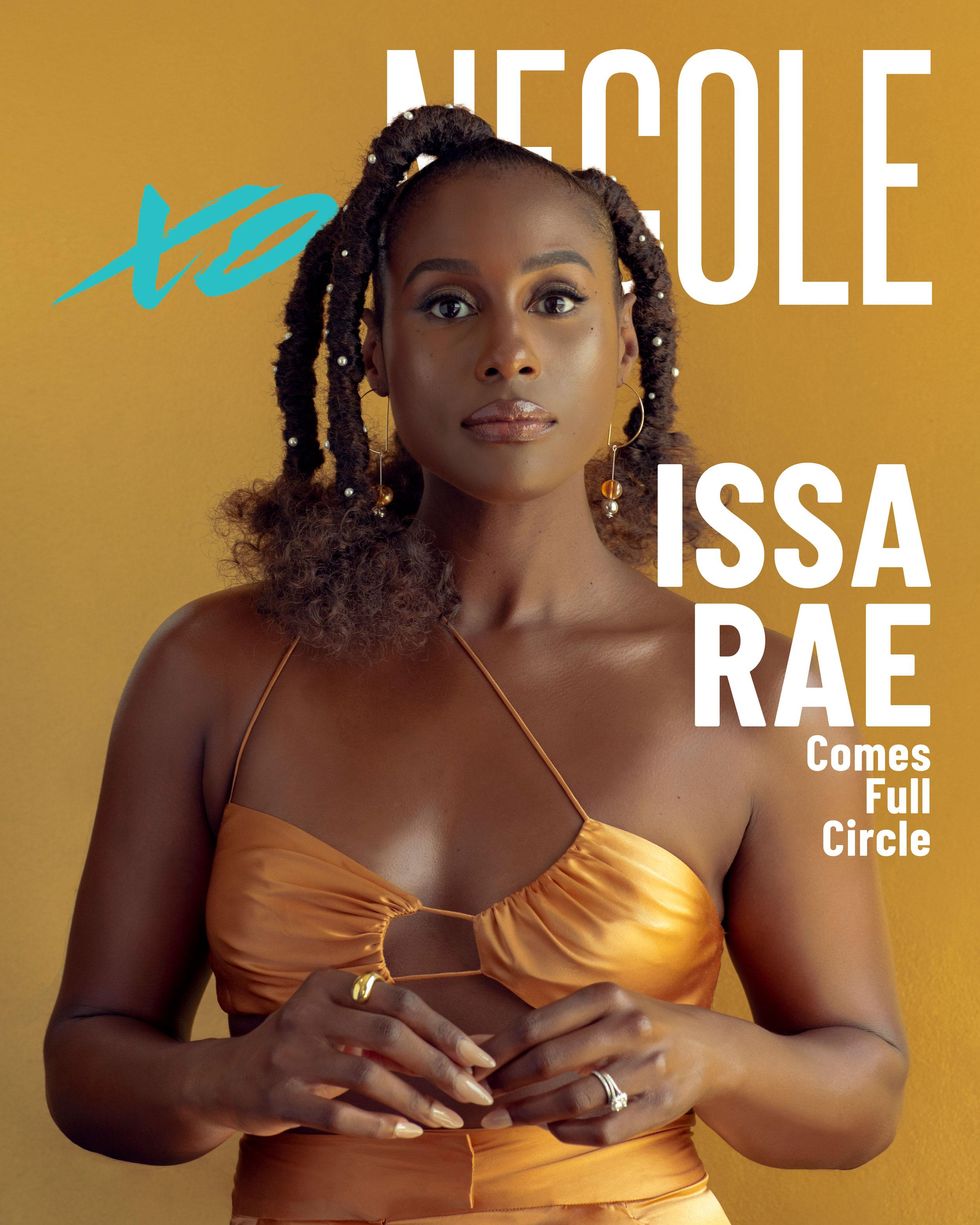 xoNecole September 2022 Digital Cover
Photo Credit: Cécile Boko
Fashion Credits: Earrings by Jalxndra
Top and pant by The Sei
Ring by Khiry
Leatherwood is on hand for our shoot, and has sectioned Issa's natural locks into four unicorn ponytails, each wrapped with afro kinky hair to elongate Issa's hair and create what Leatherwood calls an "extraterrestrial," AfroFuturistic look.
"[It's] an African American version of the West African Thread style," Leatherwood explains of elaborating on the tradition of wrapping thread around hair to stretch it. For an extra glamorous touch, Leatherwood has added white pearl beads throughout each ponytail. This style, she says, "represents the past and the future."
It also encapsulates the essence of Issa. Born Jo-Issa Rae Diop in Los Angeles, California, to a Senegalese father and a Black American mother from Louisiana, Issa spent her formative years moving between LA, Senegal and the suburbs of Maryland. She details in her 2016 New York Times best-selling memoir named after her webseries that the culture shock of moving back to LA included her classmates mocking her natural hair. She found comfort watching Black women rock natural hair styles on TV shows.
"When I moved to Los Angeles and the kids said I talked white but had nappy hair, I found a sort of solace in knowing that Freddie from A Different World and Synclaire from Living Single were napped out, too," she writes in her memoir. "I could be worse things."
It's part of the reason Issa describes her relationship with her hair as "tumultuous" during our podcast conversation: "I love my hair at the end of the day, and I love how versatile it is. But for me...I just like ease and comfort, and there's times where it doesn't feel easy and comfortable. But I just love all that it can do. So, it's a genuine relationship," she says. "We have ups and downs."
By the time HBO approached her about creating an original series for the channel, Issa was confident enough in herself that she couldn't be swayed by the Hollywood machine. "I was like, [HBO,] 'You all are letting me be in my show,'" she says on the podcast. "I wish somebody would tell me that I couldn't wear my hair a certain way. By that time, I was, like, confident in the fact that it's my hair, it's my show – there's nobody that can tell me anything."

She also knew that she wanted to have the same impact on viewers that Freddie and Synclaire had on her. "I wanted to be what I wanted to see on TV; what younger me wanted to see – what I needed to see," she says. "So, there wasn't really a question for me about wearing my hair in that way."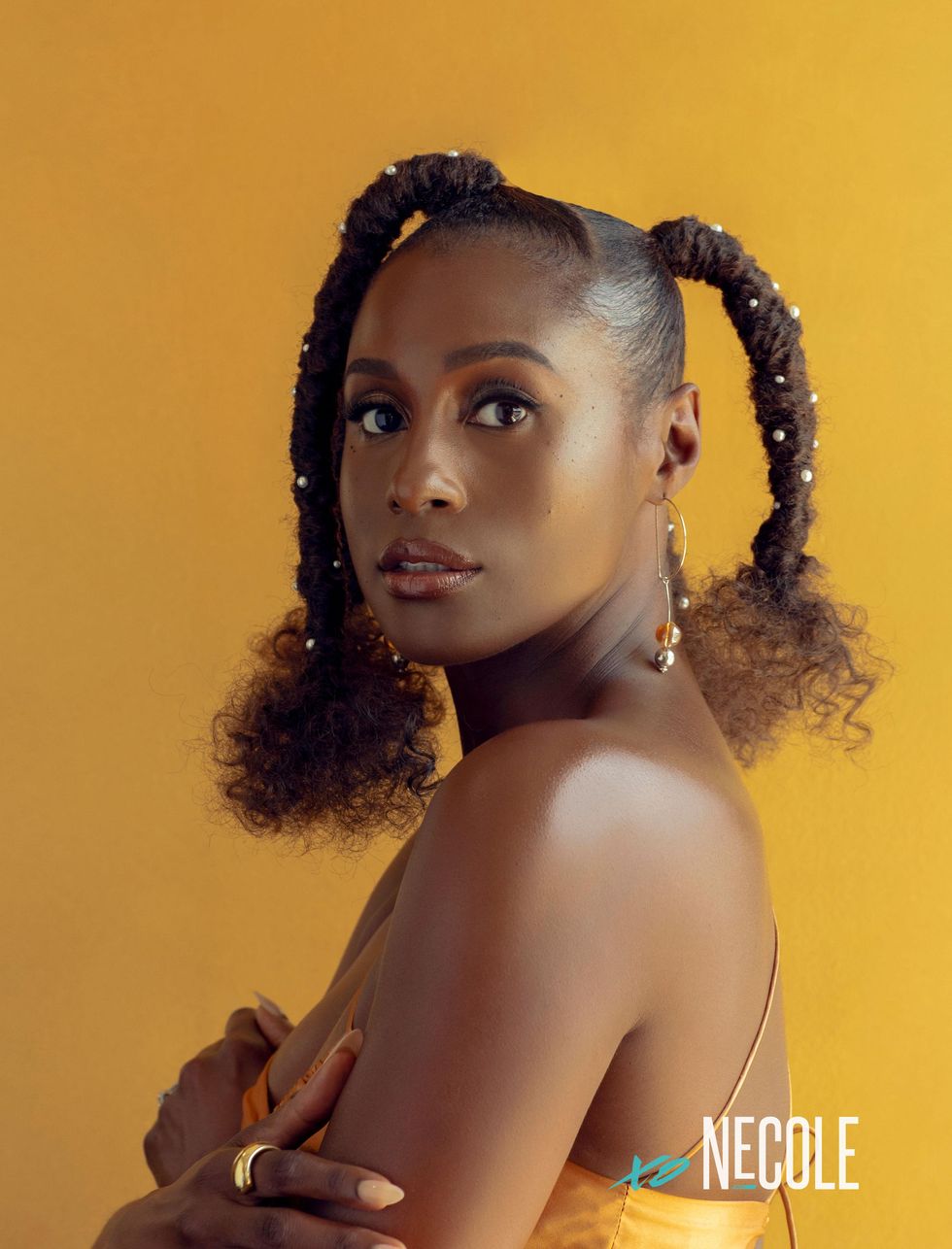 Photo Credit: Cécile Boko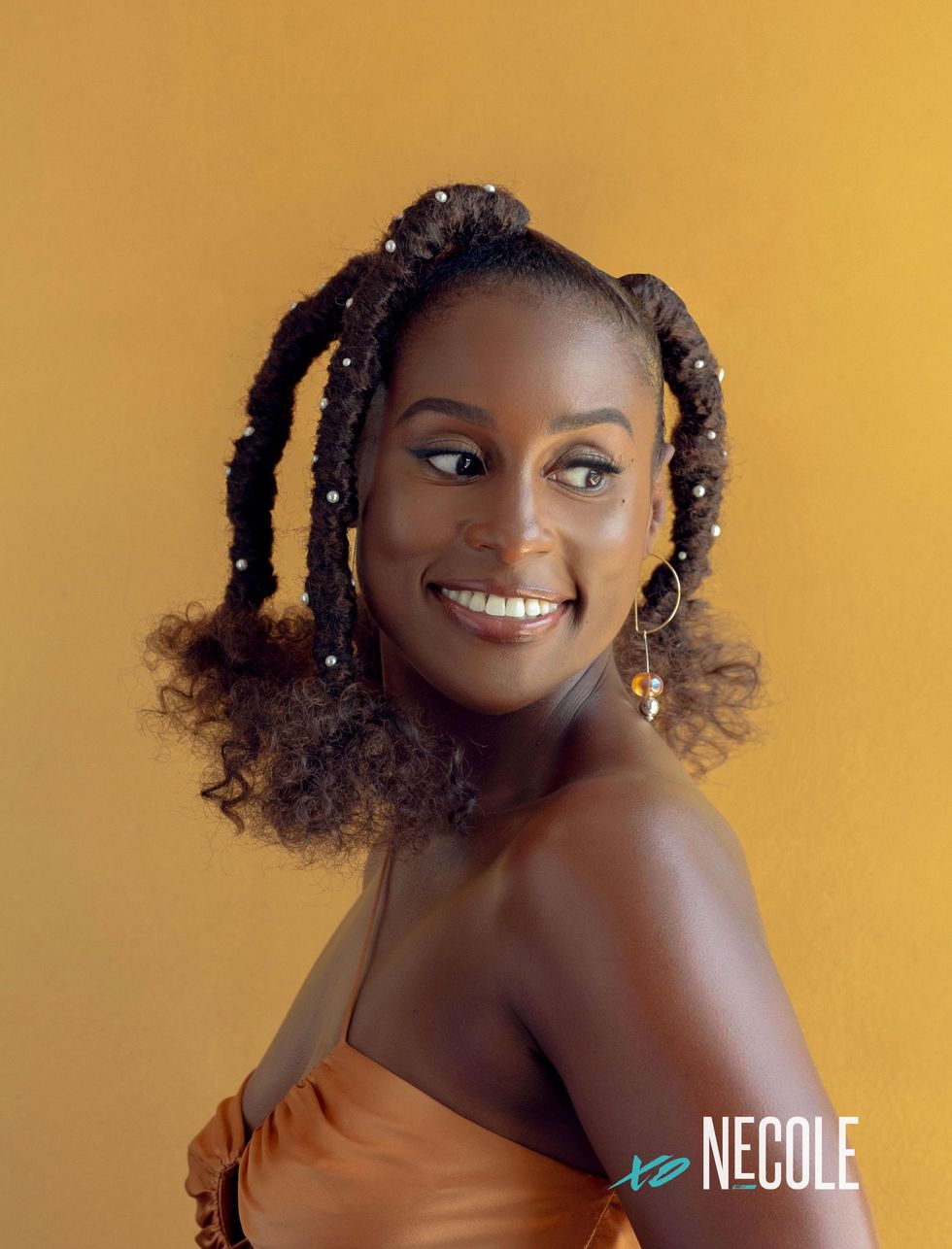 Photo Credit: Cécile Boko
The second look for Issa's shoot is a stunning lime green Prabal Gurung gown. Leatherwood has transformed Issa's four unicorn ponytails into Bantu knots in the shape of a mohawk, using kinky hair by Latched and Hooked. She's pressed small black faux diamond studded earrings into each Bantu knot. As Issa lounges, self-possessed, on a lush dark green velvet couch, posing effortlessly, exuding glamor, I get teary-eyed, recalling a passage from her memoir.
She'd recounted a time in her childhood when her grandfather had made a cruel comment about her appearance in front of her frenemy. "Yet another reason why I didn't fit in; or why the boys in my school looked past me; or why I'd never be considered as pretty as my friends."
If only little Jo-Issa could see herself now.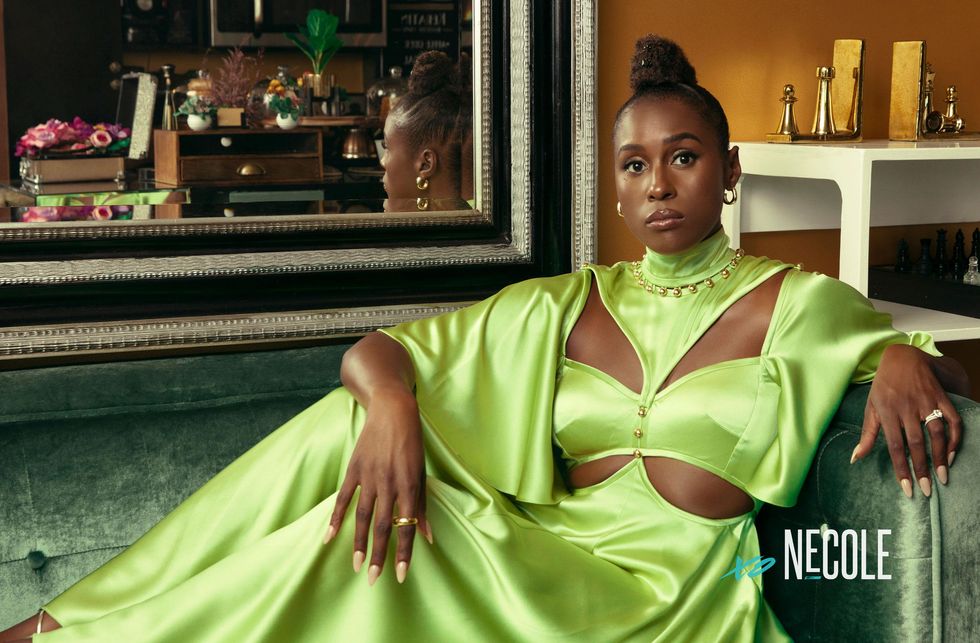 Issa Rae wearing Prabal Gurung for xoNecole
Photo Credit: Cécile Boko
Fashion Credits: Earrings: Stylist Jason Rembert's own
Dress by Prabal Gurung
Ring by Khiry
Besides being acknowledged as one of the most beautiful people on the planet, the Hollywood mogul has a portfolio of community-oriented businesses that celebrate our culture and the things she's loved since childhood. After inspiring Black women to rock their hair natural, she's become the face and co-owner with her sister-in-law, Hanna Diop, of a Black natural hair care company, Sienna Naturals. After obsessing over R&B and hip hop and being in rap groups of her own growing up, she now owns the music label Raedio, where artists have complete ownership of their masters.
Raedio and its artists also supply the music and music direction for her hit shows and films, from Insecure and The Photograph, to her latest HBO Max series, the reality show Sweet Life: Los Angeles and scripted show Rap Sh!t.
Loosely based on the City Girls, Rap Sh!t is Issa living vicariously through the fictional female rap duo Shawna (Aida Osman) and Mia (KaMillion) as they make their way from obscurity to viral fame. It's "for the best," she says, of why her own rapper dreams didn't work out. "I didn't know that I was not talented [at rapping]." Though she's not acting in this series, she did create, write and produce season one.
"I love female rappers so much," she says. "Even to be able to collaborate with some of my favorite rappers to write the music for the show, to craft the sounds…I feel like in some ways, I'm living through them."
Two of her favorite rappers that she worked with on the show are, of course, the City Girls, JT and Yung Miami, who are also credited as executive producers on the series. The series also shares a name with one of their earlier tracks.
"We had that first initial meeting where we were kind of picking their brains about what we were going to put in the show, what they thought that was acceptable, and told them we were going to lean on them for Miami culture," Issa says of their collaboration, which, spoiler alert for the season one finale, features Shawna being pursued by police for credit card fraud. In real life, JT did a bid for credit card fraud from 2018-2019.
This also encourages speculation that fan favorite character Lamont (played brilliantly by RJ Cyler), who's the father of Mia's daughter, might meet his demise in season two, as the father of Yung Miami's child was killed in real life. Whether the series will portray this heartbreaking event is yet to be seen; but what we do know is that, in an Issa Rae production, Black trauma will not be exploited.
"There's absolutely nothing wrong with trauma, obviously," Issa shares of her philosophy on portraying Black life on screen. "It happens; it's a real thing, and we're not shying away from that," she says. But, there are limits.
In season one, Mia has an horrific encounter with two white men where the threat of sexual assault is real, yet we never see the scene on screen. We watch her slowly unravel, knowing that something happened to her in that hotel room, but what, we can't be sure of – until Mia tells Shawna what happened in a later episode. The writers had a conversation about whether to show the events in some form and decided against it.
"You know what happens to her," Issa says. "I don't need to see her live through that. And I think, for me, I always rely on that understanding that we have as Black audiences," she says. "And I think that's the advantage of creating for Black audiences; it's like, 'Oh, we know. We understand the language.'"
Even in the development process of the show, Issa received feedback asking about why we don't see what Mia experienced. Her response was "No, no, no, no, no, no. We got it. We don't need that," she says. "There's plenty of other shows that will do that and will do it gracefully. But it's just not for me, for this show."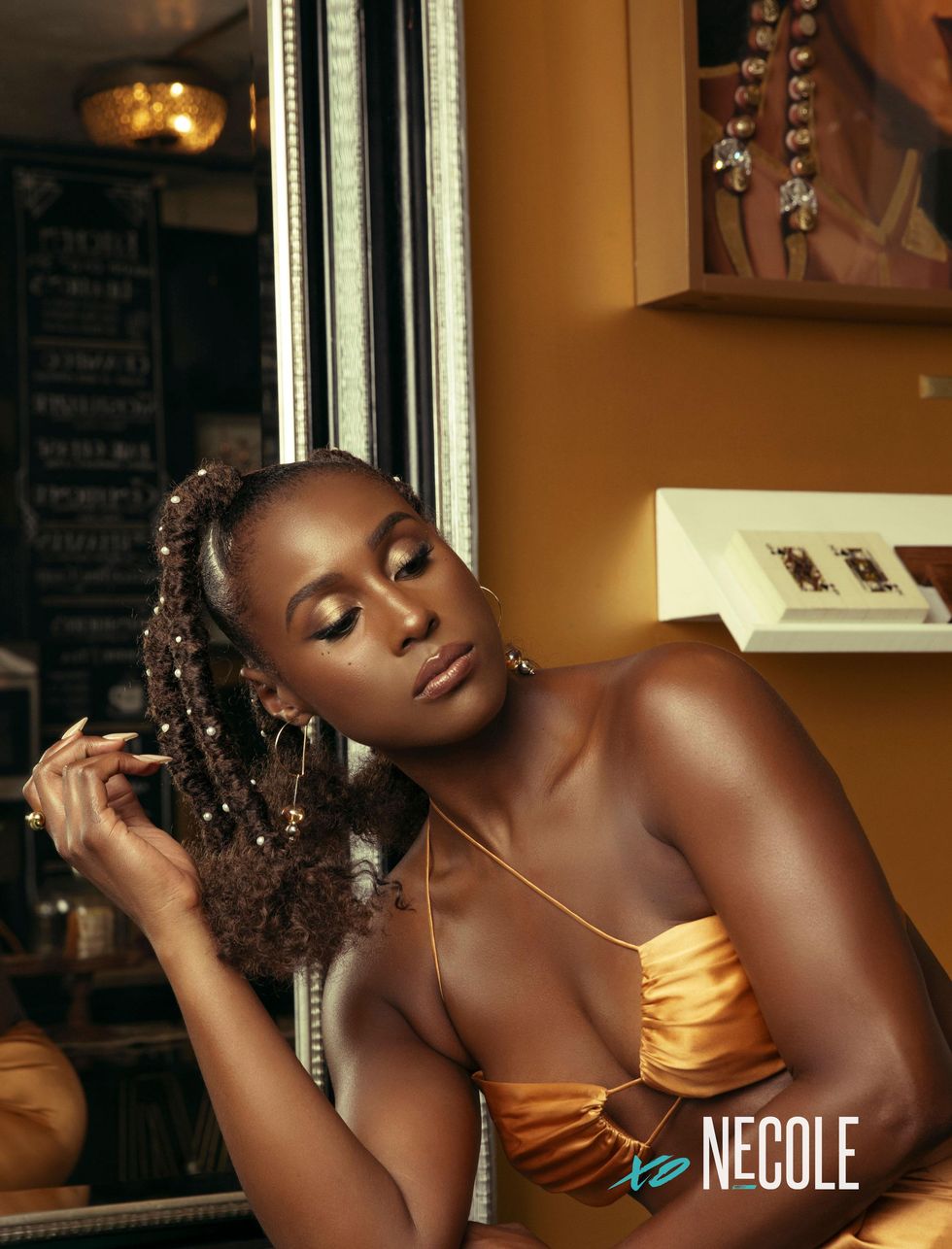 Photo credit: Cécile Boko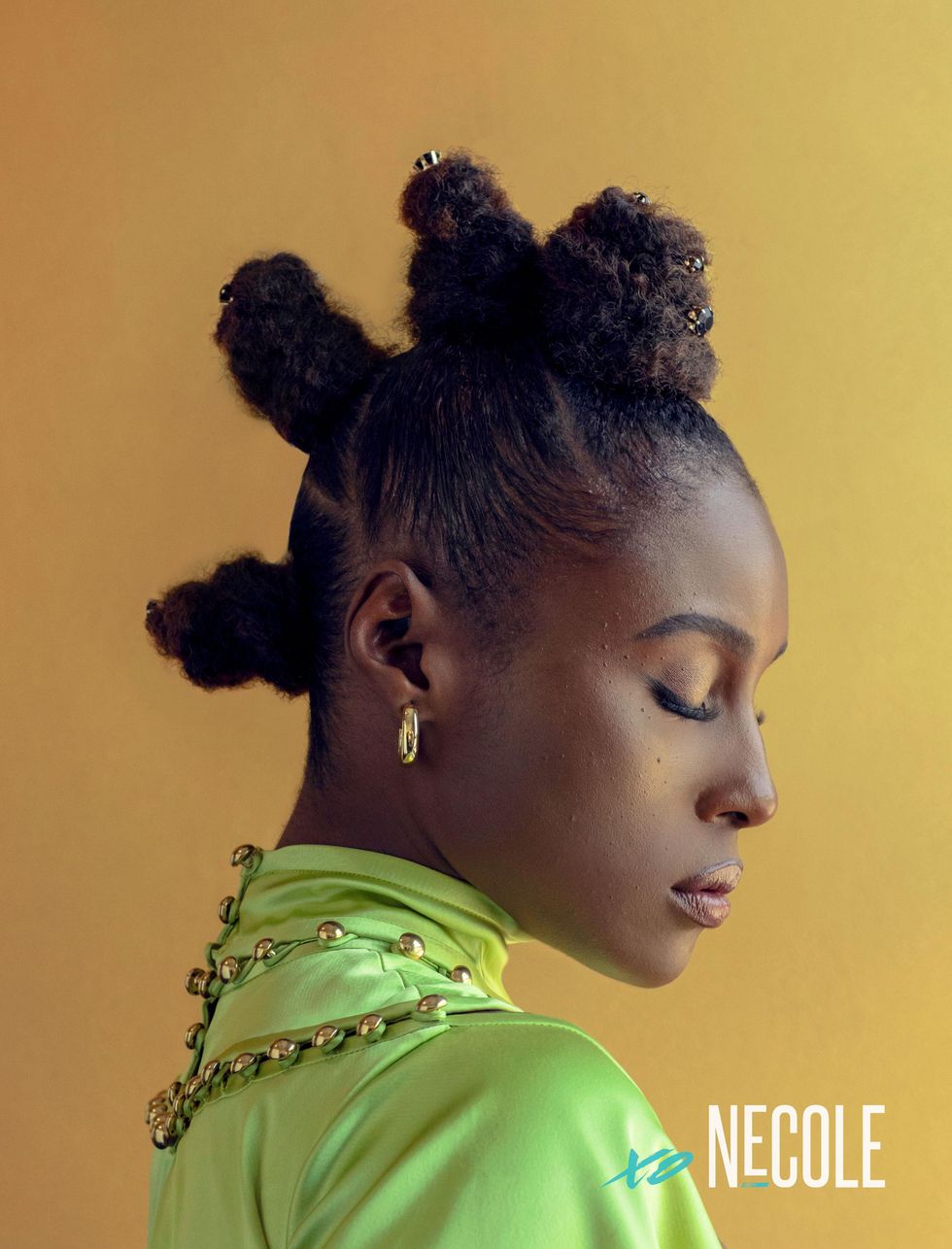 Photo credit: Cécile Boko
In her on-screen productions, music ventures, hair care line, Hilltop Coffee + Kitchen chain, and more, the through line is a deep and obvious love for Black people and community. "That really comes natural to me," she says. It's no surprise, since she comes from a family whose Senegalese traditions include allowing guests to stay in your home for as long as they want. She's also named after her late aunt, Rae Louise Hayward, who created the annual Art of Living Black exhibit, which showcased upcoming Black artists in the Bay Area. If there's one thing Issa's going to do, it's put Black people on.
Mere days before Los Angeles shut down at the beginning of the pandemic in March 2020, I attended one of Issa's Find Your People parties at her Hilltop Slauson Ave. location. The event's purpose was to help Black and people of color writers, producers, editors, directors and cinematographers connect. It's just another example of the way that she makes space for other Black artists and artists of color who are intentionally shut out of the industry. It also builds on the advice she's been preaching for years: that creatives should network laterally rather than fighting for the attention of those creatives at the top. "The intentionality [of my business ventures] is something that I place at the forefront," she says. "I don't want to get involved if it doesn't mean anything to me."
For all of her passions that lead to business ventures and community opportunities, Issa has become very good at setting boundaries and saying "no" to protect her own peace.
"When I'm real with myself, it's so easy to just be like, 'Oh, I can't do it. I'm sorry. But, I can recommend you to this person.' I'm great for a recommendation…and then it's up to them to decide if they have boundaries or if they want to be open and help out," she says. "But for me, I love saying, 'No.'"
It frees her up to do the things she needs and wants to do. Ever since overworking herself right up to her wedding last year in the south of France, she's also learned how to take time off when she needs to. "I've just been really intentional about making sure that I have at least one day of the week to myself, and a day to procrastinate, which is always like a half-work, half-I'm-not-writing-today day. That's been really great."
Though we all saw her beautiful wedding photos on social media last year (where many people also saw her long-time boyfriend-turned husband for the first time), Issa has been famously private about her relationship, dropping a few anecdotes about him in her memoir and not much else since. She does share, however, what makes her feel like she's being loved well.
"It comes in the form of community, but also just support," she says. "I realize, in my relationships, generally – friendships, familial – I love knowing that I have a shoulder to lean on. I love people taking my mind off of stuff. I love a good hug," she says. "It's just about being able to just lose myself in someone and be my full self with someone, and that makes me feel loved."
In the final moments of our chat on the She Comes First podcast, I divulge to Issa my own full-circle moment with her. It's been eleven years – almost to the day – since my first interview with her, fresh off the success of The Misadventures of Awkward Black Girl,season one. I had my own lifestyle blog back then, and could only imagine how my dreams of being a professional writer would take off, just a year later. She too had big dreams for herself. I remind her of what she said in our 2011 interview about what she hoped her legacy would be:
"That people will think of me as someone who made it happen for herself; That I challenged what was; That I inspired people to believe that you can create your own stories and your own characters; The only one stopping you is you. So, just do it. Nike."
She laughs at the words of her former self and talks back to her. "What the fuck?! First of all, girl, you were six months into [the success of Awkward Black Girl], so that's crazy," she laughs. But still, she spoke her legacy into existence and fulfilled it. And she's just getting started.
With four shows streaming on HBO Max (including A Black Lady Sketch Show, which she executive produces), two Emmy nominations, and a stable of music, film and TV projects under her HOORAE entertainment banner, Issa says she still has "so much" she wants to achieve.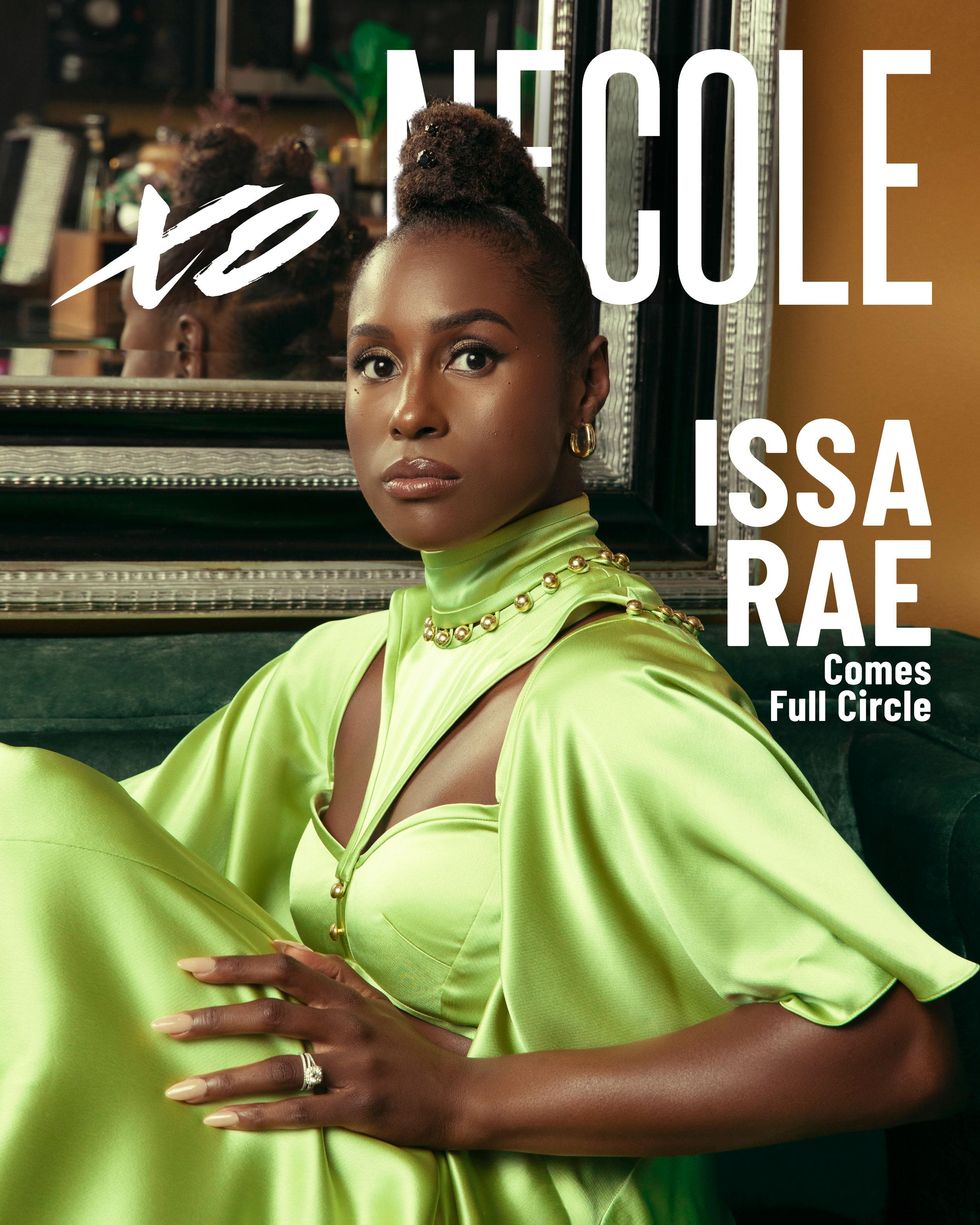 xoNecole September 2022 Digital Cover
Photo Credit: Cécile Boko
"I've created two shows, and that's it. So, I want, obviously, more in the television space and I want to be able to have my movies and just really see what else I can do, honestly; see what other stories that I have to tell, in addition to the slate that we're producing," she says. "But for me, it's just constantly about challenging myself and seeing what I have to say and what I have to offer."

When I compare her Thursday night shows streaming on HBO Max over the summer to her mentor Shonda Rhimes "owning Thursday nights" at ABC, (back when Rhimes had hit shows Grey's Anatomy, Scandal, and How to Get Away with Murder airing back-to-back) Issa calls it "blasphemous!"
"I still strive," she says. "I'm chasing after Shonda." But if Issa's life thus far is any indication, the race she's running will keep on bringing her right back to herself.
Read all of the stories in the Issa Rae: She Comes First editorial series here.
Credits
Editor-in-Chief / Creative Director: Brooke Obie
Executive Producer: Tracey Woods
Photographer: Cécile Boko
Photo Assistant: Joyce Charat
Digital Tech: Kim Tran
PA: Luiz Carlos "Apu" Gomes
Video Director/Editor: Third and Sunset
DP: Sam Akinyele
Art Direction: Ronda Thompson
Audio: Taylor Tosh
Stylist: Jason Rembert
Stylist Assistant: Christina Arroyo
Tailor: Matthew Reisman
Hairstylist: Felicia Leatherwood
Hair Assistant: India Hammond
Makeup Artist: Joanna Simkin
Manicurist: Eri Ishizu
Location: Melanin on 6th
Let's make things inbox official! Sign up for the xoNecole newsletter for daily love, wellness, career, and exclusive content delivered straight to your inbox.
*Warning: spoilers for the plot of Nope below!*
Not even my momma could make me go back to Bible study, but if there's one thing Jordan Peele can do, it's the seemingly impossible. So here I am reading the book of Nahum again because Peele has started his latest horror-comedy Nope with a quote from the minor prophet, and it's the key to understanding the film:
"I will pelt you with filth, I will treat you with contempt and make you a spectacle." Nahum 3:6.
In context, the "I" in this scripture is God and the "you" are the citizens of Nineveh, the prosperous capital of King Hezekiah's empire. Nahum's name may mean "comforter," but his visions from God for Nineveh are anything but. Nineveh is a wicked city and Nahum's God is "jealous," "violent" "angry" and "vengeful." "The Lord will not leave the guilty unpunished," Nahum writes in chapter 1:3. "His way is in the whirlwind of the storm."
It's judgment day for the people in Nope. And God appears to be a flying saucer that hides behind an unmoving cloud in the sky over Agua Dulce, CA, about 40 minutes outside of Nineveh, er, Hollywood. Since the horror takes place in Agua Dulce, it proves that the monster of Hollywood is less about location and more about a system of beliefs and behaviors; an industry where profit is God, and God is fed by a steady stream of recorded images and performances, at all costs.
Our first shot is on the set of a 1998 TV show that's being taped before a live studio audience. But when we enter the scene, there's no audience. Only a woman's legs are visible from behind a sofa, one Keds tennis shoe on, one shoe off and mysteriously balancing itself on its heel, a splotch of blood on the toe. A bloody chimp wearing a birthday hat, knocks against her foot to wake her. She doesn't wake. He knocks his hat off his head. The party's over, but the sign that says APPLAUSE still blinks in the background.
The Erasure of Black Hollywood History
We came to see a spectacle. A summer blockbuster comedy-horror should be nothing less. And after the title card rolls, it begins, in Agua Dulce, in the present day, on the Haywood horse ranch.

Otis Haywood Sr. (Keith David) and his son, Otis Jr., or OJ (Daniel Kaluuya), are training the horses they use in Hollywood productions. Apparently, the business has been facing some financial issues as of late, but Otis Sr. has a plan so they don't have to keep selling off horses to keep the business afloat. All they have to do is "execute" it. Seconds later, the sky darkens and what sounds like bullets start raining from the sky.
When it's over, OJ sees it was an assortment of loose change that's fallen from the sky. A single key has stabbed a horse in its hindparts. And his father has fallen off his horse, a nickel, emblazoned with the motto "In God We Trust" has gouged out his eye and lodged in his brain. This is a story about capitalism, insatiable greed and its casualties.
In the hospital, Otis Sr., lies dead, pelted with filth, missing an eye, covered in blood. Peele's camera lingers on his horrific image. A spectacle. But what has Otis Sr. done to deserve God's judgment, if Nahum 3:6 is to be believed? It's soon evident that Nahum's God and Nope's God may not be one and the same.
Six months later, OJ has taken over Haywood Hollywood Horses and has his horse Lucky filming a commercial on set with a famed cinematographer. The white star, Bonnie Clayton, seems terrified to learn that her Black man horse trainer is named OJ, and he faces a series of other racist microaggressions from the all-white crew as he waits for his sister Emerald to show up and lead the animal safety meeting. In the meantime, OJ tries to tell the assistant director not to look the horse in the eye (because it puts the horse on defense) but the AD ignores OJ's authority. OJ is lost without his father and doesn't have his commanding presence or full command of the horse. It's clear that the Hollywood machine is what's really in control. OJ shrinks himself, not wanting to be perceived; in our modern culture that's obsessed with performing and documenting every detail for an audience, OJ still uses a flip phone. But all eyes are on him, and it's showtime.
Fortunately, Emerald (a dazzling Keke Palmer) finally shows up to lead the safety meeting and tells the Black history Hollywood has erased. The first moving picture ever created was of a Black man riding a horse. The white man, Eadward Muybridge, who filmed it is credited. The name of the horse is recorded as Annie G. But there is no record of the Black horse jockey's name. While this is true history, and the Black jockey's name has been successfully erased IRL, in the Nope universe, that Black horse jockey's name was Alistar Haywood, Emerald and OJ's great-great-great-great grandfather.
Why Otis Sr. Gets Killed
Their father, Otis Sr., made it his life's work to build Haywood Hollywood Horses as an homage to their erased ancestor, and to bring his name back to the forefront of history by retelling this story at every safety meeting, just as Emerald is doing now (we see Otis Sr. recite this same script on an old VHS tape Emerald watches later in the film). Otis Sr. was iconic in the industry; he changed the game for Black stuntmen and trainers and paved a path for his own children in Hollywood. But the industry changes, and productions rely more and more on CGI. What do they even need real horses for anyway? With less available productions needing horses, Otis Sr. was facing financial ruin, selling off horses to keep the business afloat. Then he was felled by the almighty…nickel. But that's showbiz. It chews you up and spits you out, despite your best efforts – especially if you're Black.

Through that lens, "I will pelt you with filth…I will make you a spectacle," is less a judgment from an angry God but a warning. If you put your heart and soul into a dirty business like Hollywood, whether through violent erasure or collateral damage, you might not make it out alive.
OJ and Emerald learn as much when they're promptly fired from the commercial shoot after the AD once again looks Lucky in the eye and Lucky bucks and scares the star and her crew. Tension builds between the siblings as Emerald's desire for fame and fortune leads to her neglecting the family business. Since they didn't make the money they needed, OJ and Emerald take Lucky to be sold to the wild-west-themed amusement park, Jupiter's Claim, nearby their ranch. The amusement park is owned by Ricky "Jupe" Park (Steven Yeun), a former child actor who starred as Jupiter in a huge wild west 1996 show Kid Sheriff.
As OJ tries to negotiate with Jupe a way to buy back Lucky and the other ten horses he's sold so far since Otis' death, Emerald can't help but be distracted by the Kid Sheriff memorabilia in Jupe's office. Jupe is more than happy to change the subject, as he has no intention of selling the horses back to OJ (surprise, they're dead already). Though he did make OJ an offer to buy the ranch altogether, to expand his theme park, OJ is not interested in selling out.
The Spectacle of Gordy's Home
Jupe loved the spotlight as a child star and is desperate to recreate that magic again, preying on people's nostalgia with his theme park. And what better metaphor for Hollywood than the Wild West? We learn that Jupe is also infamous for being a child star on another hit but short-lived show with a tragic end, Gordy's Home. The 1998 show starred the chimp we saw in the prologue of the film as Gordy. During the "Gordy's Birthday" episode, a balloon popped at 6:13 PM and it triggered the chimp who goes on a rampage, killing most of the cast and maiming his child co-star Mary Jo Elliott's face, but leaving only Jupe unharmed.
The chimp tries to fistbump Jupe, as that was their special handshake during the show, but in the midst of the fistbump, police storm in and shoot the chimp dead, splattering blood all over Jupe. The applause sign is still flashing, but it's dead silent in the studio. The audience has long-since scattered from the carnage like Josh Hawley running from the rioters he incited on January 6. Were they not entertained?
It's a memory so traumatic that Jupe can't even access it when Emerald asks him what happened on set. Instead, Jupe refers her to the Saturday Night Live sketch made about the tragedy starring Chris Kattan, a spectacle of a spectacle. (Kattan did actually play an ape character, Mr. Peepers in real life on SNL). He's sharing this while showing OJ and Emerald the secret museum he has of Gordy's Home memorabilia, including the one, blood-spattered suspended shoe which he keeps upright in a glass case. A couple paid him $50,000 to spend the night in his museum and he was more than happy to profit from that trauma.
Jupe invites them to come back in a few days for the "brand new live show" he's doing that he promises is going to change people's lives. But OJ and Emerald have their own agendas. OJ goes home to feed the remaining horses and do all the work that needs to be done on the ranch, while Emerald is more interested in drinking their dad's liquor and having fun for the one night she plans on being in town.
While Emerald has inherited her father's on-stage charm, OJ's the only one who's inherited Otis' responsibility and loyalty to the ranch. That's because Emerald always felt slighted by her father. On Emerald's 9th birthday, for example, Otis Sr. had promised to give her the horse Jean Jacket to train, but instead, Otis got called to the set of the blockbuster movie The Scorpion King, so he let the older OJ help train Jean Jacket for the film. That's when Emerald gave up on the business, feeling invisible and invalidated by her dad. But OJ, she remembered, saw her and acknowledged her pain. That strengthened the siblings' bond. As she recounts that memory, the chill between them softens, just in time for us to meet the flying saucer that killed Otis Sr.
What's a 'Bad Miracle'?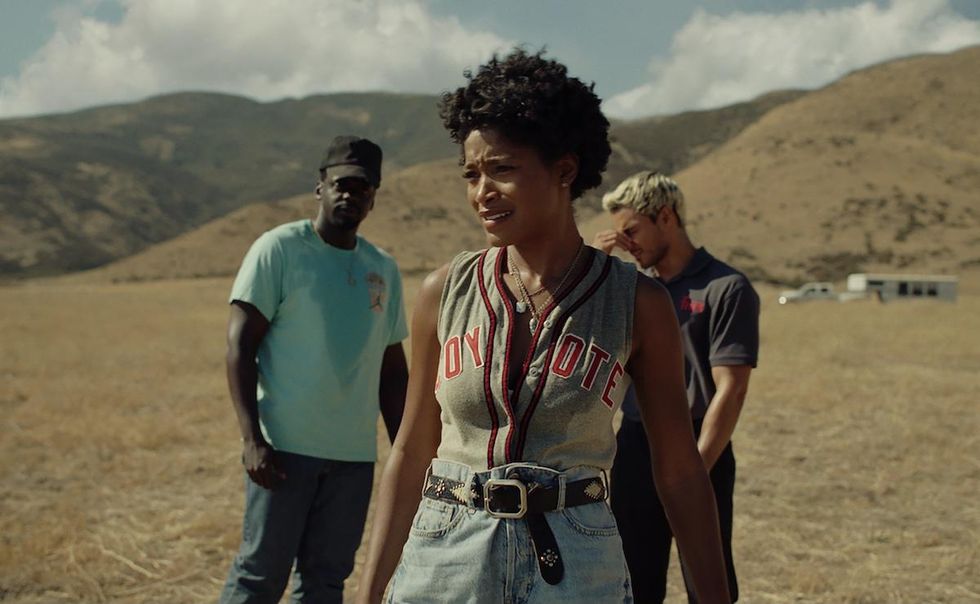 Keke Palmer as Em, Daniel Kaluuya as OJ, and Brandon Perea as Angel
Universal
OJ is outside trying to figure out what's spooked their horse, Ghost, into running away. Across the valley, he sees all the lights on at Jupiter's Claim and hears Jupe speaking into a microphone. Jupe's practicing for the new live show he mentioned to OJ and saying that six months ago (the same length of time since Otis Sr. was killed) he witnessed a phenomenon. Before Jupe can say much about what he witnessed, all the lights go out. OJ watches as the lights and music that Emerald is playing upstairs all go out too. Something is hovering over them that looks like a spaceship, a UFO. OJ runs from the sky saucer and hides in the shed as Ghost screams in terror and gets taken up in the "whirlwind of the storm," as Nahum describes in 1:3. "No animals were harmed in the making of this production," is a mandatory requirement in our modern times, but who can confidently say that when what should be wild animals are inherently broken down for use in the Hollywood machine?
The next day, OJ and Emerald are convinced that they've had an encounter with a UFO, a "bad miracle" as OJ describes. Emerald suggests they get camera equipment to record proof of aliens so they can sell it and make the money they need and become famous. While fame is more Emerald's speed, OJ just wants to keep the ranch and the business going to honor his father's legacy and his great-great-great-great grandfather's as well. This time, the Haywoods would not be erased from history.
They venture out to California's iconic Fry's Electronic store (which went out of business as they were filming last year) to buy equipment and meet Angel (Brandon Perea), the store clerk who offers to install the cameras for them. He's obsessed with aliens and UFOs (or their new government name UAPs) and isn't quite convinced by Emerald and OJ's insistence that they're not trying to catch a UFO. While Angel and OJ set up the cameras around the property and point them directly at the sky, Emerald has stolen a decoy horse wrapped in a colorful pennant banner from the amusement park. Since the UFO disappeared Ghost, she thinks the plastic decoy horse can draw the UFO out again.
The Oprah Shot
That night, as they prepare to get what Emerald calls "the Oprah shot," OJ runs into what he thinks are aliens, but turn out to be Jupe's three teenaged kids dressed in bizarre alien-chimp costumes from the upcoming live show that Jupe's preparing. The kids are pranking the Haywoods because Emerald stole their decoy horse. As they scurry away and Emerald falls asleep watching a YouTube clip of Oprah's 1994 show about alien abductions, the flying saucer returns.
It comes down and eats the decoy horse, but a praying mantis has landed on the camera pointed at the UFO, blocking their Oprah shot. Angel, who has been illegally watching Em and OJ's camera feed from his desk at Fry's calls Em to tell her that the camera closest to OJ has gone out and that the other camera on the roof is covered by the praying mantis. While OJ is trying to survive and the UFO swirls up another of their horses, Clover, Em does her best to make the praying mantis move, but it only moves seconds after the UFO leaves.
First thing in the morning, Angel drives over, certain that there was alien activity on the ranch. Emerald and OJ let him in on their plan to capture footage of the UFO with his help. OJ and Emerald try to bring in the famous cinematographer from the commercial shoot they got fired from, but he declines to help and eerily tells Em about her obvious thirst for fame, "That dream you have where you're at the top of the mountain, all eyes on you, it's the dream u never wake from." All the while, OJ's grown suspicious of what Jupe has planned for his live show and decides to drive over to get Lucky back.
Meanwhile, Jupe's live show has begun in broad daylight before a stadium audience. He even has his childhood co-star from Gordy's Home Mary Jo Elliott make an appearance in the stands, wearing a hat with a veil that covers her maimed face and neck (reminiscent of what Oprah guest Charla Nash wore to cover herself during a 2009 interview on the Oprah Winfrey Show after surviving a horrific chimpanzee attack). He explains that every Friday for the past 6 months at 6:13 PM, a strange phenomenon occurs. It's the same time that the Gordy's Home chimp went on his rampage in 1998.
When I Googled 6:13, the scripture Matthew 6:13 popped up first, a line from The Lord's Prayer: "And lead us not into temptation, but deliver us from evil." Jupe was failed as a child by the adults who made Gordy's Home and broke a wild animal's spirit for profit. Now as an adult himself, he's also fallen into capitalist temptation and is an active part of the evil. There will be no deliverance.
The Spectacle of Jupiter's Claim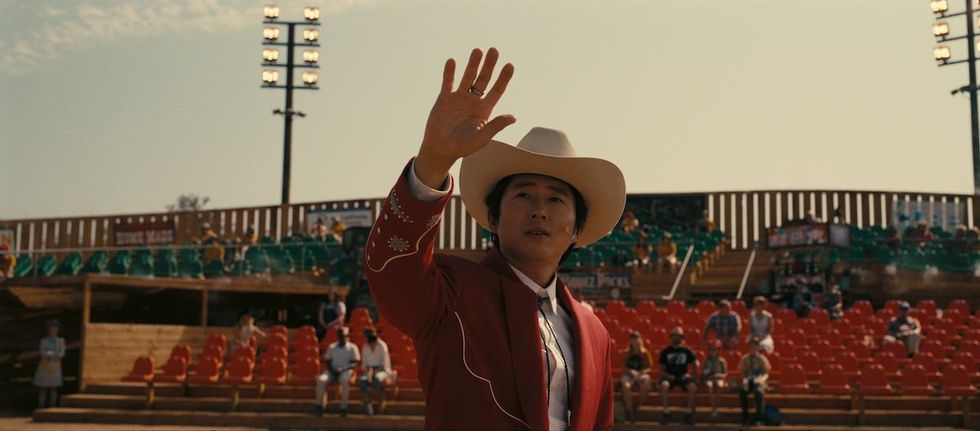 Steven Yeun as Jupe in Jupiter's Claim amusement park right before the spectacle
We now see why Jupe has manufactured alien-chimp costumes for his kids to perform in the show and merchandise to sell afterwards. Everything at Jupiter's Claim is a capitalistic endeavor. This is his path back to stardom. Though Jupe is obviously still traumatized by his childhood tragedy, he seems to have not learned that wild animals can't be tamed for human profit and enjoyment for long.
Instead, Jupe believes his survival back in '98 means that he has a special relationship with wild unknowable beasts. He tells the crowd that there are aliens in the clouds surveilling them and he calls them "the watchers". His obsession with fame makes him unable to contextualize the alien as anything other than a spectator. The alien-beast in the clouds "trusts" him, he reassures his audience, who don't see what's coming until it's too late. Jupe lifts the veil over a glass cage where he's holding Lucky as bait for the alien-beast to come out from behind the clouds. But the alien-beast is playing by its own rules and Jupe cannot tame it.
As it hovers over the arena, the wind blows, lifting Mary Jo Elliott's veil and giving us "the Oprah shot," a call-back to Oprah's 2009 interview with Nash where she revealed her face to Oprah on her own terms. But Mary Jo gets no such agency. Nor do the audience members, who were only promised a show, not any details about what kind. It's no matter. Jupe, his wife, his three kids, Mary Jo, and all the children, adults and crew in the audience get sucked up by the alien's whirlwind. This is the inevitable outcome of our spectacle-obsessed culture. No matter who you are, you can still get caught up.
Inside the Belly of the Beast
This is the first time we get an inside view of what's only been a flying saucer up to this point. Like the prophet Jonah, cast into the belly of the whale when he refused to be God's messenger in Nineveh -- but with a much worse outcome -- the spectators become the spectacle as we watch them in the alien's esophagus getting crushed and digested, wailing in unending terror and pain.
OJ arrives at the destroyed amusement park to see rows of cars in the parking lot but no one around. He makes his way to the arena, which is littered with trash, but otherwise empty–except for Lucky, who's still in the glass cage. OJ tries to get Lucky out, but every time OJ makes himself visible, the alien comes down from the clouds to try to eat him. OJ tries to hide but the force of the wind kicked up by the alien knocks him unconscious. When he awakes, he calls Em to try and warn her, "It's an animal. it's alive. it's territorial and it thinks that this is its home." Too late. Before he can finish the sentence, the alien has hovered over the ranch looking for Em and OJ. While OJ's loading Lucky in his truck to make it back to Em and Angel at the ranch, Em and Angel are under attack.
A "bad miracle," it turns out, is a plague, and the cries from the dying people fall out every time the beast opens its mouth to rain down torrents of blood and debris of biblical proportions on the house, terrifying Em and Angel who are trapped inside for hours. OJ tries to get to them but as soon as he drives the truck close to the ranch, it shuts off, as the beast sucks out all power and electricity. Stuck in his truck, OJ barely survives when the beast spits out the decoy horse and sends it through OJ's windshield. The beast is smart. It knows OJ and Em tried to trick it and get it on camera so it punishes them by pelting their home and truck with filth. Welcome to Hollywood's dirty game. They're in the thick of it now.
When the famous cinematographer sees on the news that all the people in Jupiter's Claim have mysteriously disappeared, he decides Em was telling him the truth about aliens and comes to help OJ, Em and Angel capture proof of the alien beast. He brings with him an analog IMAX camera that will not be impacted by the electricity going out when the alien beast gets close.
The Rules of the Beast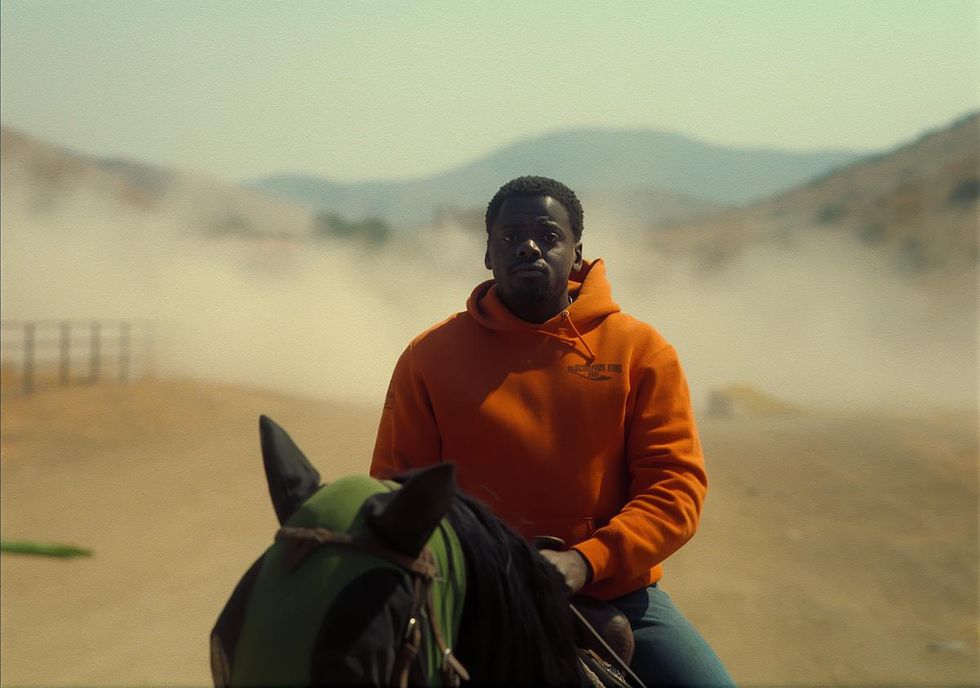 Daniel Kaluuya as OJ riding Lucky
OJ has formulated a plan to draw the alien beast out, using himself as bait, because he believes he understands the animal's rules: don't look it in the eye. Its spectacle is so grand and mesmerizing, you won't be able to look away. But you can scare it off with things it doesn't like, such as the pennant banner that was wrapped around the decoy horse that the alien beast couldn't digest. OJ calls the alien beast Jean Jacket, after the first horse his father let him train, and he wears his orange The Scorpion King crew hoodie as an homage to his father who taught him all he needed to know, and his ancestor. He symbolizes in this moment, all of the erased Black cowboys and Black stuntpeople and below the line talent in history. It's also the hoodie from his first horse training gig. He's reminding himself that baiting Jean Jacket is just like training a horse. "Anything that got a spirit can get broke," he says. But this time, Em also gets to take part in the training of Jean Jacket. This is her legacy too. "What we about to do, they can't erase that," he promises her.
A terrified Angel wants to be reassured that they're doing this work to capture proof of Jean Jacket for a greater purpose than wealth and fame. He wants to know they're going to help people and possibly even save lives. It's evident that he's shaken to the core by the dangers of Hollywood spectacle and therefore does not get consumed by it when OJ successfully lures Jean Jacket out the next day.
They've installed battery operated sky dancers, (waving inflatable tubes) all around the path where they want to lead Jean Jacket to get the Oprah Shot. Angel and the white cinematographer are in place, filming using digital cameras and the cinematographer's analog IMAX camera. Em is in the shed, observing the feeds from the digital cameras, though Angel has forgotten to hook up a feed to the analog camera because he was busy stealing batteries from the dead people's cars at Jupiter's Claim to power the waving inflatable tubes. No matter; it's now or never.
OJ puts a fly mask over Lucky's head to protect him from looking up at Jean Jacket and rides out across the plain with the cinematographer recording analog, and recreating the Haywood ancestor's experience of Horse in Motion. But as OJ's about to lure out Jean Jacket, a TMZ "reporter" on an electric motorcycle drives up on Em. She tries to get him to leave so he won't mess up their plan or steal their Oprah shot, but it's TMZ. They live for spectacle and will not be turned away for anything, let alone their own well-being.
As TMZ Guy gets closer to OJ, Jean Jacket nears and TMZ Guy flies off of his electric bike that no longer works under the force field and he lands horrifically in the dirt, his body a mangled spectacle. OJ sees TMZ Guy survived the crash, so he rides to him to try to move him out of the way before Jean Jacket comes, but the TMZ Guy won't be moved until OJ takes a picture of the aftermath of the crash. "Don't you want to be famous, Scorpion King?" TMZ Guy asks OJ, reading his hoodie, but he mistakes his own desires for OJ's.
OJ never wanted that. He wanted to be seen and not be erased. He only wanted his family legacy secured. TMZ Guy couldn't understand that, and neither could Jupe. Both men's stories are Peele's indictment of our culture's inability to even suffer without trying to flip it for profit. "Not me dying," he might as well have Tweeted out to his followers in his final moments. But alas, there's no phone, and he's resisted too long for OJ to save him. And because TMZ represents the worst of the worst of this Hollywood cesspool of exploited images for profit, TMZ Guy is wearing a mirror ball helmet, which reflects the beast back to itself and anyone else who looks at it. It puts OJ in danger to get too close to him. So, TMZ guy must die. OJ leaves him with a "my bad," and rides off on Lucky as Jean Jacket consumes TMZ guy.
Next, Jean Jacket chases OJ, and OJ brings it directly in the path of Angel and the cinematographer to get the shot. At the moment when Jean Jacket seems like it's going to swoop down and eat OJ, he unfurls a colorful balloon parachute with a pennant banner attached to it to scare off Jean Jacket and give OJ a chance to ride to safety. It's brilliant. It's perfect. The legacy is secured!
Damn the white-washed history
But, of course it isn't. A veteran in Hollywood, the white cinematographer knows the game is the game and that he's got the power as a famous, white man who's holding the camera and telling the story through his lens. He tells Angel, "You don't deserve the impossible shot," even though Angel helped him get it, Em brought him in on the plan and OJ literally made himself bait for it. Like Muybridge did to the Haywoods' ancestor, the cinematographer is ready to do to them. "You'll be alright," he says more to himself to ease his conscience than to Angel. The cinematographer takes his camera, climbs a hill, and records Jean Jacket, head on. The night before, he'd sang a slowed-down version of the old kid's song from the 1950s, "Purple People Eater," where the monster had promised not to eat the song's narrator because he was "too tough." The same agreement does not exist between Jean Jacket and the cinematographer. He's already lost and he knows it, as the beast's whirlwind sweeps him up into its esophagus, camera still rolling.
Angel survives the whirlwind but is worse for wear, tangled up in tarp and barbed wire, but at least not in Jean Jacket's guts. Jean Jacket obliterates the ranch house and Em gets caught up in the whirlwind briefly but spit out, never looking Jean Jacket in the eye.
To give Em a fighting chance at survival, OJ breaks the rules and looks Jean Jacket in the eye. The OJ that shrinks himself is gone, empowered by his family legacy. Jean Jacket unfurls itself as we've seen it do many times to eat people (h/t to @theerkj for pointing out that the mouth of Jean Jacket looks exactly like a camera lens!). But despite the show of aggression, Jean Jacket doesn't eat OJ. Though eye-contact can be interpreted as hostile to animals, some trainers use it not to dominate or control the wild animal, but to connect with them, to understand its significance and recognize its existence, and for the animal to do the same. OJ's ready to be perceived and to see this dirty business for what it is, in all of its magic and its horror, without being consumed by it.
While OJ's coming to the agreement Jupe thought he had with Jean Jacket, Em is hopping on TMZ guy's electric bike and driving as fast as she can to Jupiter's Claim, like OJ told her to. There, she releases the giant kid sheriff balloon into the sky, in hopes to lure Jean Jacket away from her brother and into the line of sight of a coin-operated camera at the amusement park that spits out large polaroids.
With coins everywhere from Jean Jacket's last attack, Em puts in coin after coin trying to get the Oprah shot of Jean Jacket. Finally, she gets the shot, just as Jean Jacket is devouring the giant balloon. Within seconds, the balloon bursts inside of Jean Jacket, killing it. Battered and bruised, Em limps and rejoices at her victory.
Just as in real life, Black people have saved the day. But when Em looks around after she's destroyed Jean Jacket, news crews are descending on Jupiter's Claim, meaning one of them might have gotten the Oprah shot as Jean Jacket fell out of the sky. But it's no matter. When she turns back around, she's smiling, because in front of her is OJ and his literally lucky, faithful steed, alive and well. Damn the white-washed history, and the capitalist traps of Hollywood's fortune and fame. The beast has no more power here. OJ sees Em – as he always has – and she sees him too.
Does anything else matter? Nope.
Let's make things inbox official! Sign up for the xoNecole newsletter for daily love, wellness, career, and exclusive content delivered straight to your inbox.
#IssaRaeHive, we eatin! Her latest HBO series Rap Sh!t premiered last night and we'll be recapping every episode on xoNecole. This week, we got the treat of episodes one and two in the same night, so let's get into the hour-long premiere of "Something for the City" and "Something for the Girls."
The series starts off giving us location, location, location! An image of earth from space zooms in to show us Miami, Florida, a special flavor of the Black South, but our first introduction to it is through Instagram Stories. People are partying, people are on vacation, all turning up for the cameras. That's when we meet our main character Shawna (Aida Osman), a hotel clerk checking in a group of white women having a bachelorette party. When she's immediately recognized by another hotel guest as being a rapper whose protest anthem went viral a few years back, we're taken out of the Instagram Stories filter and into real life, and it's not a party. Shawna is stuck working at the Plymouth Hotel instead of being paid for her music.
The hotel guest thinks Shawna gave up on rapping and encourages her to keep going, but she assures him, she's still rapping and tries to play a video for him as proof. He's not feeling her "Women's History Month" rhymes and politely backs away, showing us why Shawna's had to resort to hotel clerking in the first place. Her conscious lyrics, baggy clothes, masked face and giant afro are just not resonating with the masses. Like her co-worker Maurice tells her, "You always complaining about being slept on, but you the one putting them to sleep!" That might be why her friend from college who works at Spotify is ducking her calls and texts.
Meanwhile her ex-producer Francois Boom (played hilariously by the Twitter-infamous Jaboukie Young-White) is making big money producing a white woman rapper who got her face and body done to look more "ethnic". We learn Shawna had dropped out of college to work with Francois but he ended up putting her on the back burner to focus on white artists who want to culturally appropriate. Seeing Francois burning money on IG because he's "so rich" prompts Shawna to go Live and announce her retirement from rap, since nobody wants to listen to a woman rapper who's not showing ass and titties.
A FaceTime call from Mia (KaMillion) makes Shawna think it must be a butt-dial. The high school friends haven't spoken in years. But Mia assures her it's no accident, she's a make-up artist working for that bachelorette party at Shawna's hotel and needs someone to watch her daughter since her kid's father Lamont (RJ Cyler) didn't pick her up like he was supposed to. Shawna helps out and Mia promises to pay her back with a favor. The two have gone in different directions over the years -- Mia's also a sex worker who went from clubs to OnlyFans - and they don't agree on using your body to make money or sell a message, but there's a hint of love there.
Frustrated over the day's events, Shawna picks a fight with her long-distance boo, Cliff, who's in law school in New York and letting one of his study buddies flirt with him. She asks Mia if she wants to get drinks. Mia's also upset over Lamont not pulling his weight, so she agrees to get drinks with Mia. After they get drunk together, they go on IG Live and freestyle a song based on their catchphrase from high school: Seduce and Scheme. Shawna wakes up the next morning to a flood of likes and comments like her music has never seen. Though her boyfriend texts her to make up for the fight, Shawna FaceTime's Mia instead, ready to form a rap group. There's only one thing she's excited about, and that's making music that connects.
In episode two, "Something for the Girls," Mia and Lamont are taking shots at each other on IG Live while Mia's at her third job and now their daughter is getting in trouble at school. Shawna's steady trying to get her friend Jill that works at Spotify to repost her music, but Jill's being shady. Meanwhile Shawna's boyfriend Cliff finds out Mia does sex work and gives Shawna misogynistic hell for it, worried about his image, since he wants to be the next Barack. Shawna "can be Melania," his friends joke.
But Mia and Shawna are determined to make this Rap Sh!t work. They link up to record in Shawna's homemade studio (which she got from stealing people's credit card numbers at the Plymouth), but Mia is not feeling Shawna's rapping from the perspective of Sallie Mae. "Bitch, is you rappin bout student loans?!" Best line of the episode. They're just not on the same page with the vision and go their separate ways again.
Mia has Lamont on FaceTime as they conference with their daughter's teacher to find out that she needs to work on her anger, but is also really smart and her teacher wants to put her in a space camp. Mia and Lamont bond over how special their daughter is and how different their lives could've been if they had a teacher like their daughter's. He also cash apps her the money for the rent and they're back cool again.
Mia looks into Shawna's old rap videos and gets a better understanding of her perspective. She meets up with her at the Plymouth and Shawna explains why she doesn't want to dress sexy and covers up. ""My art is not for the male gaze!" Shawna says. "Girl, what the gay niggas got to do with it?" Mia replies and I fell out. In what may be the best non-rhyming rap battle ever on screen, Shawna and Mia have it out over Black women in hip hop and whether we're in a Bad Bitch Renaissance or if the women are all controlled by some powerful men crafting their image and writing their lyrics behind the scenes. Points were made on both sides, but Mia wins out when she says, "You letting these niggas control you. You so worried about making art for them, they got you in a hoodie and fucking mask. Bitch, we in Miami, it's hot as fuck!"
Shawna can't even respond on that one! They head back to the studio and make a fun record about seducing and scheming, with no men controlling them. Shawna is actually so empowered by their rap session that she finally has FaceTime sex with her boyfriend even though he does NOT DESERVE IT!
Catch us next week for Ep. 3!
MORE BARS:

Tasha from Insecure (Dominique Perry) says "What did Maya Angelou say? 'When someone shows you who they are, remember dat.'"
"A broke nigga have my pussy like a bag of chips, just dryyyyy."
Let's make things inbox official! Sign up for the xoNecole newsletter for daily love, wellness, career, and exclusive content delivered straight to your inbox.