*Warning: spoilers for the plot of Nope below!*
Not even my momma could make me go back to Bible study, but if there's one thing Jordan Peele can do, it's the seemingly impossible. So here I am reading the book of Nahum again because Peele has started his latest horror-comedy Nope with a quote from the minor prophet, and it's the key to understanding the film:
"I will pelt you with filth, I will treat you with contempt and make you a spectacle." Nahum 3:6.
In context, the "I" in this scripture is God and the "you" are the citizens of Nineveh, the prosperous capital of King Hezekiah's empire. Nahum's name may mean "comforter," but his visions from God for Nineveh are anything but. Nineveh is a wicked city and Nahum's God is "jealous," "violent" "angry" and "vengeful." "The Lord will not leave the guilty unpunished," Nahum writes in chapter 1:3. "His way is in the whirlwind of the storm."
It's judgment day for the people in Nope. And God appears to be a flying saucer that hides behind an unmoving cloud in the sky over Agua Dulce, CA, about 40 minutes outside of Nineveh, er, Hollywood. Since the horror takes place in Agua Dulce, it proves that the monster of Hollywood is less about location and more about a system of beliefs and behaviors; an industry where profit is God, and God is fed by a steady stream of recorded images and performances, at all costs.
Our first shot is on the set of a 1998 TV show that's being taped before a live studio audience. But when we enter the scene, there's no audience. Only a woman's legs are visible from behind a sofa, one Keds tennis shoe on, one shoe off and mysteriously balancing itself on its heel, a splotch of blood on the toe. A bloody chimp wearing a birthday hat, knocks against her foot to wake her. She doesn't wake. He knocks his hat off his head. The party's over, but the sign that says APPLAUSE still blinks in the background.
The Erasure of Black Hollywood History
We came to see a spectacle. A summer blockbuster comedy-horror should be nothing less. And after the title card rolls, it begins, in Agua Dulce, in the present day, on the Haywood horse ranch.

Otis Haywood Sr. (Keith David) and his son, Otis Jr., or OJ (Daniel Kaluuya), are training the horses they use in Hollywood productions. Apparently, the business has been facing some financial issues as of late, but Otis Sr. has a plan so they don't have to keep selling off horses to keep the business afloat. All they have to do is "execute" it. Seconds later, the sky darkens and what sounds like bullets start raining from the sky.
When it's over, OJ sees it was an assortment of loose change that's fallen from the sky. A single key has stabbed a horse in its hindparts. And his father has fallen off his horse, a nickel, emblazoned with the motto "In God We Trust" has gouged out his eye and lodged in his brain. This is a story about capitalism, insatiable greed and its casualties.
In the hospital, Otis Sr., lies dead, pelted with filth, missing an eye, covered in blood. Peele's camera lingers on his horrific image. A spectacle. But what has Otis Sr. done to deserve God's judgment, if Nahum 3:6 is to be believed? It's soon evident that Nahum's God and Nope's God may not be one and the same.
Six months later, OJ has taken over Haywood Hollywood Horses and has his horse Lucky filming a commercial on set with a famed cinematographer. The white star, Bonnie Clayton, seems terrified to learn that her Black man horse trainer is named OJ, and he faces a series of other racist microaggressions from the all-white crew as he waits for his sister Emerald to show up and lead the animal safety meeting. In the meantime, OJ tries to tell the assistant director not to look the horse in the eye (because it puts the horse on defense) but the AD ignores OJ's authority. OJ is lost without his father and doesn't have his commanding presence or full command of the horse. It's clear that the Hollywood machine is what's really in control. OJ shrinks himself, not wanting to be perceived; in our modern culture that's obsessed with performing and documenting every detail for an audience, OJ still uses a flip phone. But all eyes are on him, and it's showtime.
Fortunately, Emerald (a dazzling Keke Palmer) finally shows up to lead the safety meeting and tells the Black history Hollywood has erased. The first moving picture ever created was of a Black man riding a horse. The white man, Eadward Muybridge, who filmed it is credited. The name of the horse is recorded as Annie G. But there is no record of the Black horse jockey's name. While this is true history, and the Black jockey's name has been successfully erased IRL, in the Nope universe, that Black horse jockey's name was Alistar Haywood, Emerald and OJ's great-great-great-great grandfather.
Why Otis Sr. Gets Killed
Their father, Otis Sr., made it his life's work to build Haywood Hollywood Horses as an homage to their erased ancestor, and to bring his name back to the forefront of history by retelling this story at every safety meeting, just as Emerald is doing now (we see Otis Sr. recite this same script on an old VHS tape Emerald watches later in the film). Otis Sr. was iconic in the industry; he changed the game for Black stuntmen and trainers and paved a path for his own children in Hollywood. But the industry changes, and productions rely more and more on CGI. What do they even need real horses for anyway? With less available productions needing horses, Otis Sr. was facing financial ruin, selling off horses to keep the business afloat. Then he was felled by the almighty…nickel. But that's showbiz. It chews you up and spits you out, despite your best efforts – especially if you're Black.

Through that lens, "I will pelt you with filth…I will make you a spectacle," is less a judgment from an angry God but a warning. If you put your heart and soul into a dirty business like Hollywood, whether through violent erasure or collateral damage, you might not make it out alive.
OJ and Emerald learn as much when they're promptly fired from the commercial shoot after the AD once again looks Lucky in the eye and Lucky bucks and scares the star and her crew. Tension builds between the siblings as Emerald's desire for fame and fortune leads to her neglecting the family business. Since they didn't make the money they needed, OJ and Emerald take Lucky to be sold to the wild-west-themed amusement park, Jupiter's Claim, nearby their ranch. The amusement park is owned by Ricky "Jupe" Park (Steven Yeun), a former child actor who starred as Jupiter in a huge wild west 1996 show Kid Sheriff.
As OJ tries to negotiate with Jupe a way to buy back Lucky and the other ten horses he's sold so far since Otis' death, Emerald can't help but be distracted by the Kid Sheriff memorabilia in Jupe's office. Jupe is more than happy to change the subject, as he has no intention of selling the horses back to OJ (surprise, they're dead already). Though he did make OJ an offer to buy the ranch altogether, to expand his theme park, OJ is not interested in selling out.
The Spectacle of Gordy's Home
Jupe loved the spotlight as a child star and is desperate to recreate that magic again, preying on people's nostalgia with his theme park. And what better metaphor for Hollywood than the Wild West? We learn that Jupe is also infamous for being a child star on another hit but short-lived show with a tragic end, Gordy's Home. The 1998 show starred the chimp we saw in the prologue of the film as Gordy. During the "Gordy's Birthday" episode, a balloon popped at 6:13 PM and it triggered the chimp who goes on a rampage, killing most of the cast and maiming his child co-star Mary Jo Elliott's face, but leaving only Jupe unharmed.
The chimp tries to fistbump Jupe, as that was their special handshake during the show, but in the midst of the fistbump, police storm in and shoot the chimp dead, splattering blood all over Jupe. The applause sign is still flashing, but it's dead silent in the studio. The audience has long-since scattered from the carnage like Josh Hawley running from the rioters he incited on January 6. Were they not entertained?
It's a memory so traumatic that Jupe can't even access it when Emerald asks him what happened on set. Instead, Jupe refers her to the Saturday Night Live sketch made about the tragedy starring Chris Kattan, a spectacle of a spectacle. (Kattan did actually play an ape character, Mr. Peepers in real life on SNL). He's sharing this while showing OJ and Emerald the secret museum he has of Gordy's Home memorabilia, including the one, blood-spattered suspended shoe which he keeps upright in a glass case. A couple paid him $50,000 to spend the night in his museum and he was more than happy to profit from that trauma.
Jupe invites them to come back in a few days for the "brand new live show" he's doing that he promises is going to change people's lives. But OJ and Emerald have their own agendas. OJ goes home to feed the remaining horses and do all the work that needs to be done on the ranch, while Emerald is more interested in drinking their dad's liquor and having fun for the one night she plans on being in town.
While Emerald has inherited her father's on-stage charm, OJ's the only one who's inherited Otis' responsibility and loyalty to the ranch. That's because Emerald always felt slighted by her father. On Emerald's 9th birthday, for example, Otis Sr. had promised to give her the horse Jean Jacket to train, but instead, Otis got called to the set of the blockbuster movie The Scorpion King, so he let the older OJ help train Jean Jacket for the film. That's when Emerald gave up on the business, feeling invisible and invalidated by her dad. But OJ, she remembered, saw her and acknowledged her pain. That strengthened the siblings' bond. As she recounts that memory, the chill between them softens, just in time for us to meet the flying saucer that killed Otis Sr.
What's a 'Bad Miracle'?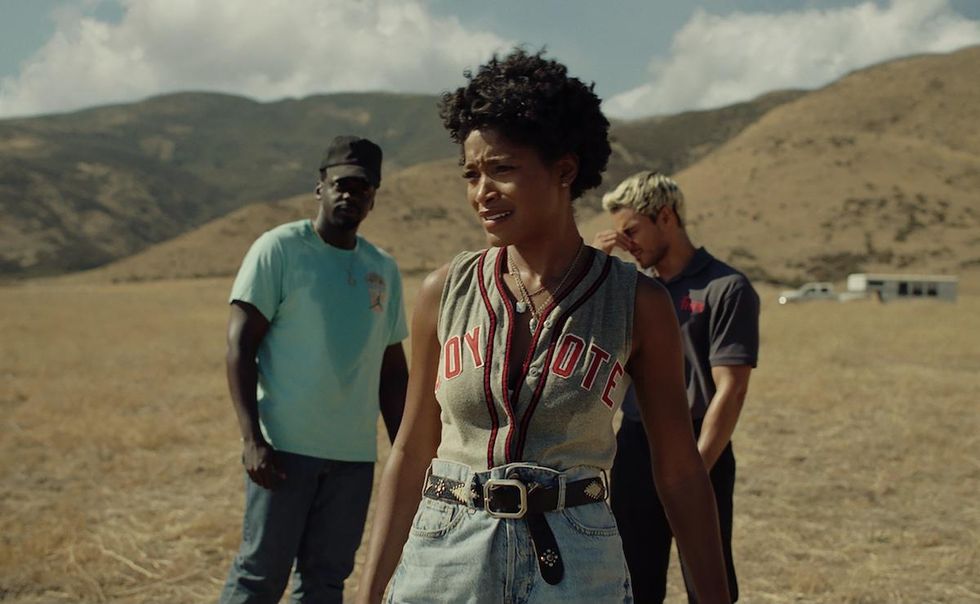 Keke Palmer as Em, Daniel Kaluuya as OJ, and Brandon Perea as Angel
Universal
OJ is outside trying to figure out what's spooked their horse, Ghost, into running away. Across the valley, he sees all the lights on at Jupiter's Claim and hears Jupe speaking into a microphone. Jupe's practicing for the new live show he mentioned to OJ and saying that six months ago (the same length of time since Otis Sr. was killed) he witnessed a phenomenon. Before Jupe can say much about what he witnessed, all the lights go out. OJ watches as the lights and music that Emerald is playing upstairs all go out too. Something is hovering over them that looks like a spaceship, a UFO. OJ runs from the sky saucer and hides in the shed as Ghost screams in terror and gets taken up in the "whirlwind of the storm," as Nahum describes in 1:3. "No animals were harmed in the making of this production," is a mandatory requirement in our modern times, but who can confidently say that when what should be wild animals are inherently broken down for use in the Hollywood machine?
The next day, OJ and Emerald are convinced that they've had an encounter with a UFO, a "bad miracle" as OJ describes. Emerald suggests they get camera equipment to record proof of aliens so they can sell it and make the money they need and become famous. While fame is more Emerald's speed, OJ just wants to keep the ranch and the business going to honor his father's legacy and his great-great-great-great grandfather's as well. This time, the Haywoods would not be erased from history.
They venture out to California's iconic Fry's Electronic store (which went out of business as they were filming last year) to buy equipment and meet Angel (Brandon Perea), the store clerk who offers to install the cameras for them. He's obsessed with aliens and UFOs (or their new government name UAPs) and isn't quite convinced by Emerald and OJ's insistence that they're not trying to catch a UFO. While Angel and OJ set up the cameras around the property and point them directly at the sky, Emerald has stolen a decoy horse wrapped in a colorful pennant banner from the amusement park. Since the UFO disappeared Ghost, she thinks the plastic decoy horse can draw the UFO out again.
The Oprah Shot
That night, as they prepare to get what Emerald calls "the Oprah shot," OJ runs into what he thinks are aliens, but turn out to be Jupe's three teenaged kids dressed in bizarre alien-chimp costumes from the upcoming live show that Jupe's preparing. The kids are pranking the Haywoods because Emerald stole their decoy horse. As they scurry away and Emerald falls asleep watching a YouTube clip of Oprah's 1994 show about alien abductions, the flying saucer returns.
It comes down and eats the decoy horse, but a praying mantis has landed on the camera pointed at the UFO, blocking their Oprah shot. Angel, who has been illegally watching Em and OJ's camera feed from his desk at Fry's calls Em to tell her that the camera closest to OJ has gone out and that the other camera on the roof is covered by the praying mantis. While OJ is trying to survive and the UFO swirls up another of their horses, Clover, Em does her best to make the praying mantis move, but it only moves seconds after the UFO leaves.
First thing in the morning, Angel drives over, certain that there was alien activity on the ranch. Emerald and OJ let him in on their plan to capture footage of the UFO with his help. OJ and Emerald try to bring in the famous cinematographer from the commercial shoot they got fired from, but he declines to help and eerily tells Em about her obvious thirst for fame, "That dream you have where you're at the top of the mountain, all eyes on you, it's the dream u never wake from." All the while, OJ's grown suspicious of what Jupe has planned for his live show and decides to drive over to get Lucky back.
Meanwhile, Jupe's live show has begun in broad daylight before a stadium audience. He even has his childhood co-star from Gordy's Home Mary Jo Elliott make an appearance in the stands, wearing a hat with a veil that covers her maimed face and neck (reminiscent of what Oprah guest Charla Nash wore to cover herself during a 2009 interview on the Oprah Winfrey Show after surviving a horrific chimpanzee attack). He explains that every Friday for the past 6 months at 6:13 PM, a strange phenomenon occurs. It's the same time that the Gordy's Home chimp went on his rampage in 1998.
When I Googled 6:13, the scripture Matthew 6:13 popped up first, a line from The Lord's Prayer: "And lead us not into temptation, but deliver us from evil." Jupe was failed as a child by the adults who made Gordy's Home and broke a wild animal's spirit for profit. Now as an adult himself, he's also fallen into capitalist temptation and is an active part of the evil. There will be no deliverance.
The Spectacle of Jupiter's Claim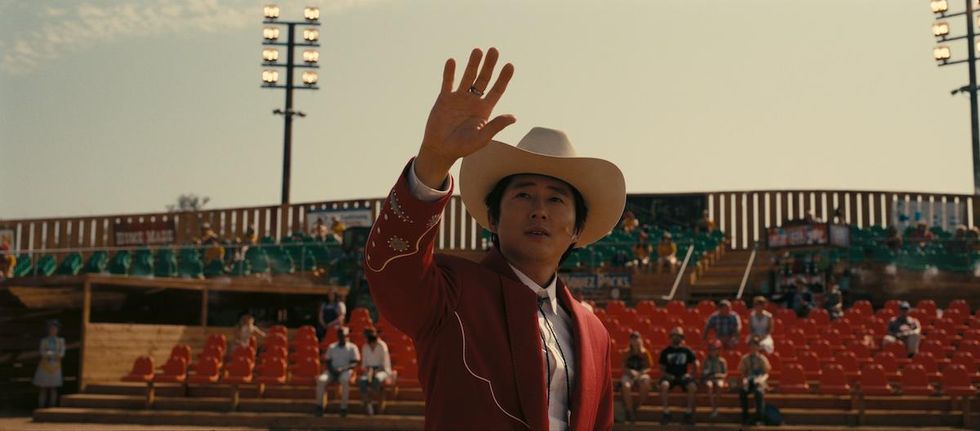 Steven Yeun as Jupe in Jupiter's Claim amusement park right before the spectacle
We now see why Jupe has manufactured alien-chimp costumes for his kids to perform in the show and merchandise to sell afterwards. Everything at Jupiter's Claim is a capitalistic endeavor. This is his path back to stardom. Though Jupe is obviously still traumatized by his childhood tragedy, he seems to have not learned that wild animals can't be tamed for human profit and enjoyment for long.
Instead, Jupe believes his survival back in '98 means that he has a special relationship with wild unknowable beasts. He tells the crowd that there are aliens in the clouds surveilling them and he calls them "the watchers". His obsession with fame makes him unable to contextualize the alien as anything other than a spectator. The alien-beast in the clouds "trusts" him, he reassures his audience, who don't see what's coming until it's too late. Jupe lifts the veil over a glass cage where he's holding Lucky as bait for the alien-beast to come out from behind the clouds. But the alien-beast is playing by its own rules and Jupe cannot tame it.
As it hovers over the arena, the wind blows, lifting Mary Jo Elliott's veil and giving us "the Oprah shot," a call-back to Oprah's 2009 interview with Nash where she revealed her face to Oprah on her own terms. But Mary Jo gets no such agency. Nor do the audience members, who were only promised a show, not any details about what kind. It's no matter. Jupe, his wife, his three kids, Mary Jo, and all the children, adults and crew in the audience get sucked up by the alien's whirlwind. This is the inevitable outcome of our spectacle-obsessed culture. No matter who you are, you can still get caught up.
Inside the Belly of the Beast
This is the first time we get an inside view of what's only been a flying saucer up to this point. Like the prophet Jonah, cast into the belly of the whale when he refused to be God's messenger in Nineveh -- but with a much worse outcome -- the spectators become the spectacle as we watch them in the alien's esophagus getting crushed and digested, wailing in unending terror and pain.
OJ arrives at the destroyed amusement park to see rows of cars in the parking lot but no one around. He makes his way to the arena, which is littered with trash, but otherwise empty–except for Lucky, who's still in the glass cage. OJ tries to get Lucky out, but every time OJ makes himself visible, the alien comes down from the clouds to try to eat him. OJ tries to hide but the force of the wind kicked up by the alien knocks him unconscious. When he awakes, he calls Em to try and warn her, "It's an animal. it's alive. it's territorial and it thinks that this is its home." Too late. Before he can finish the sentence, the alien has hovered over the ranch looking for Em and OJ. While OJ's loading Lucky in his truck to make it back to Em and Angel at the ranch, Em and Angel are under attack.
A "bad miracle," it turns out, is a plague, and the cries from the dying people fall out every time the beast opens its mouth to rain down torrents of blood and debris of biblical proportions on the house, terrifying Em and Angel who are trapped inside for hours. OJ tries to get to them but as soon as he drives the truck close to the ranch, it shuts off, as the beast sucks out all power and electricity. Stuck in his truck, OJ barely survives when the beast spits out the decoy horse and sends it through OJ's windshield. The beast is smart. It knows OJ and Em tried to trick it and get it on camera so it punishes them by pelting their home and truck with filth. Welcome to Hollywood's dirty game. They're in the thick of it now.
When the famous cinematographer sees on the news that all the people in Jupiter's Claim have mysteriously disappeared, he decides Em was telling him the truth about aliens and comes to help OJ, Em and Angel capture proof of the alien beast. He brings with him an analog IMAX camera that will not be impacted by the electricity going out when the alien beast gets close.
The Rules of the Beast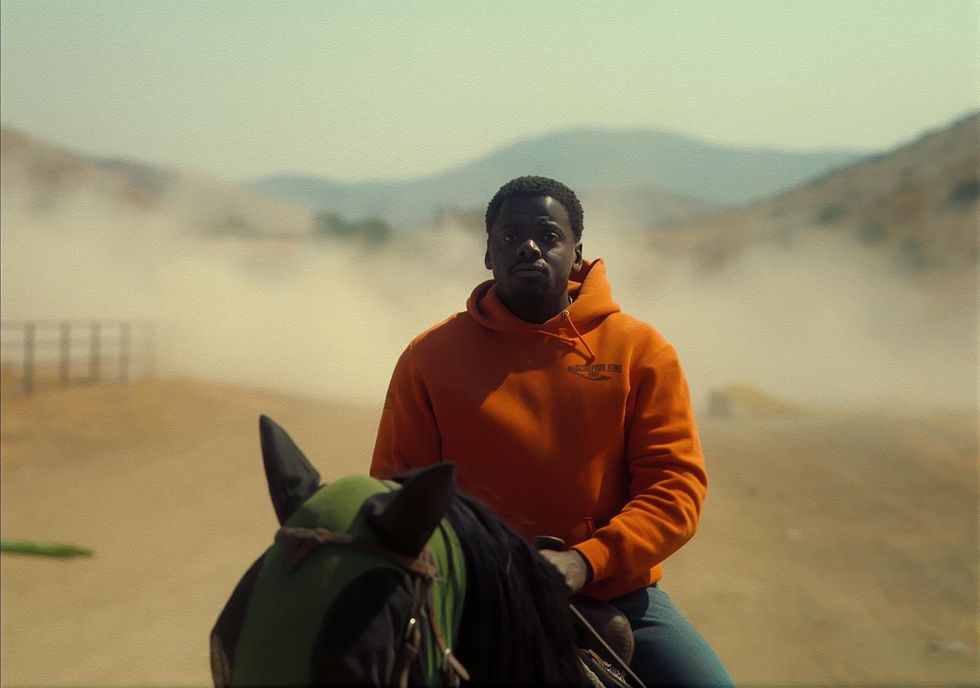 Daniel Kaluuya as OJ riding Lucky
OJ has formulated a plan to draw the alien beast out, using himself as bait, because he believes he understands the animal's rules: don't look it in the eye. Its spectacle is so grand and mesmerizing, you won't be able to look away. But you can scare it off with things it doesn't like, such as the pennant banner that was wrapped around the decoy horse that the alien beast couldn't digest. OJ calls the alien beast Jean Jacket, after the first horse his father let him train, and he wears his orange The Scorpion King crew hoodie as an homage to his father who taught him all he needed to know, and his ancestor. He symbolizes in this moment, all of the erased Black cowboys and Black stuntpeople and below the line talent in history. It's also the hoodie from his first horse training gig. He's reminding himself that baiting Jean Jacket is just like training a horse. "Anything that got a spirit can get broke," he says. But this time, Em also gets to take part in the training of Jean Jacket. This is her legacy too. "What we about to do, they can't erase that," he promises her.
A terrified Angel wants to be reassured that they're doing this work to capture proof of Jean Jacket for a greater purpose than wealth and fame. He wants to know they're going to help people and possibly even save lives. It's evident that he's shaken to the core by the dangers of Hollywood spectacle and therefore does not get consumed by it when OJ successfully lures Jean Jacket out the next day.
They've installed battery operated sky dancers, (waving inflatable tubes) all around the path where they want to lead Jean Jacket to get the Oprah Shot. Angel and the white cinematographer are in place, filming using digital cameras and the cinematographer's analog IMAX camera. Em is in the shed, observing the feeds from the digital cameras, though Angel has forgotten to hook up a feed to the analog camera because he was busy stealing batteries from the dead people's cars at Jupiter's Claim to power the waving inflatable tubes. No matter; it's now or never.
OJ puts a fly mask over Lucky's head to protect him from looking up at Jean Jacket and rides out across the plain with the cinematographer recording analog, and recreating the Haywood ancestor's experience of Horse in Motion. But as OJ's about to lure out Jean Jacket, a TMZ "reporter" on an electric motorcycle drives up on Em. She tries to get him to leave so he won't mess up their plan or steal their Oprah shot, but it's TMZ. They live for spectacle and will not be turned away for anything, let alone their own well-being.
As TMZ Guy gets closer to OJ, Jean Jacket nears and TMZ Guy flies off of his electric bike that no longer works under the force field and he lands horrifically in the dirt, his body a mangled spectacle. OJ sees TMZ Guy survived the crash, so he rides to him to try to move him out of the way before Jean Jacket comes, but the TMZ Guy won't be moved until OJ takes a picture of the aftermath of the crash. "Don't you want to be famous, Scorpion King?" TMZ Guy asks OJ, reading his hoodie, but he mistakes his own desires for OJ's.
OJ never wanted that. He wanted to be seen and not be erased. He only wanted his family legacy secured. TMZ Guy couldn't understand that, and neither could Jupe. Both men's stories are Peele's indictment of our culture's inability to even suffer without trying to flip it for profit. "Not me dying," he might as well have Tweeted out to his followers in his final moments. But alas, there's no phone, and he's resisted too long for OJ to save him. And because TMZ represents the worst of the worst of this Hollywood cesspool of exploited images for profit, TMZ Guy is wearing a mirror ball helmet, which reflects the beast back to itself and anyone else who looks at it. It puts OJ in danger to get too close to him. So, TMZ guy must die. OJ leaves him with a "my bad," and rides off on Lucky as Jean Jacket consumes TMZ guy.
Next, Jean Jacket chases OJ, and OJ brings it directly in the path of Angel and the cinematographer to get the shot. At the moment when Jean Jacket seems like it's going to swoop down and eat OJ, he unfurls a colorful balloon parachute with a pennant banner attached to it to scare off Jean Jacket and give OJ a chance to ride to safety. It's brilliant. It's perfect. The legacy is secured!
Damn the white-washed history
But, of course it isn't. A veteran in Hollywood, the white cinematographer knows the game is the game and that he's got the power as a famous, white man who's holding the camera and telling the story through his lens. He tells Angel, "You don't deserve the impossible shot," even though Angel helped him get it, Em brought him in on the plan and OJ literally made himself bait for it. Like Muybridge did to the Haywoods' ancestor, the cinematographer is ready to do to them. "You'll be alright," he says more to himself to ease his conscience than to Angel. The cinematographer takes his camera, climbs a hill, and records Jean Jacket, head on. The night before, he'd sang a slowed-down version of the old kid's song from the 1950s, "Purple People Eater," where the monster had promised not to eat the song's narrator because he was "too tough." The same agreement does not exist between Jean Jacket and the cinematographer. He's already lost and he knows it, as the beast's whirlwind sweeps him up into its esophagus, camera still rolling.
Angel survives the whirlwind but is worse for wear, tangled up in tarp and barbed wire, but at least not in Jean Jacket's guts. Jean Jacket obliterates the ranch house and Em gets caught up in the whirlwind briefly but spit out, never looking Jean Jacket in the eye.
To give Em a fighting chance at survival, OJ breaks the rules and looks Jean Jacket in the eye. The OJ that shrinks himself is gone, empowered by his family legacy. Jean Jacket unfurls itself as we've seen it do many times to eat people (h/t to @theerkj for pointing out that the mouth of Jean Jacket looks exactly like a camera lens!). But despite the show of aggression, Jean Jacket doesn't eat OJ. Though eye-contact can be interpreted as hostile to animals, some trainers use it not to dominate or control the wild animal, but to connect with them, to understand its significance and recognize its existence, and for the animal to do the same. OJ's ready to be perceived and to see this dirty business for what it is, in all of its magic and its horror, without being consumed by it.
While OJ's coming to the agreement Jupe thought he had with Jean Jacket, Em is hopping on TMZ guy's electric bike and driving as fast as she can to Jupiter's Claim, like OJ told her to. There, she releases the giant kid sheriff balloon into the sky, in hopes to lure Jean Jacket away from her brother and into the line of sight of a coin-operated camera at the amusement park that spits out large polaroids.
With coins everywhere from Jean Jacket's last attack, Em puts in coin after coin trying to get the Oprah shot of Jean Jacket. Finally, she gets the shot, just as Jean Jacket is devouring the giant balloon. Within seconds, the balloon bursts inside of Jean Jacket, killing it. Battered and bruised, Em limps and rejoices at her victory.
Just as in real life, Black people have saved the day. But when Em looks around after she's destroyed Jean Jacket, news crews are descending on Jupiter's Claim, meaning one of them might have gotten the Oprah shot as Jean Jacket fell out of the sky. But it's no matter. When she turns back around, she's smiling, because in front of her is OJ and his literally lucky, faithful steed, alive and well. Damn the white-washed history, and the capitalist traps of Hollywood's fortune and fame. The beast has no more power here. OJ sees Em – as he always has – and she sees him too.
Does anything else matter? Nope.
Let's make things inbox official! Sign up for the xoNecole newsletter for daily love, wellness, career, and exclusive content delivered straight to your inbox.
#IssaRaeHive, we eatin! Her latest HBO series Rap Sh!t premiered last night and we'll be recapping every episode on xoNecole. This week, we got the treat of episodes one and two in the same night, so let's get into the hour-long premiere of "Something for the City" and "Something for the Girls."
The series starts off giving us location, location, location! An image of earth from space zooms in to show us Miami, Florida, a special flavor of the Black South, but our first introduction to it is through Instagram Stories. People are partying, people are on vacation, all turning up for the cameras. That's when we meet our main character Shawna (Aida Osman), a hotel clerk checking in a group of white women having a bachelorette party. When she's immediately recognized by another hotel guest as being a rapper whose protest anthem went viral a few years back, we're taken out of the Instagram Stories filter and into real life, and it's not a party. Shawna is stuck working at the Plymouth Hotel instead of being paid for her music.
The hotel guest thinks Shawna gave up on rapping and encourages her to keep going, but she assures him, she's still rapping and tries to play a video for him as proof. He's not feeling her "Women's History Month" rhymes and politely backs away, showing us why Shawna's had to resort to hotel clerking in the first place. Her conscious lyrics, baggy clothes, masked face and giant afro are just not resonating with the masses. Like her co-worker Maurice tells her, "You always complaining about being slept on, but you the one putting them to sleep!" That might be why her friend from college who works at Spotify is ducking her calls and texts.
Meanwhile her ex-producer Francois Boom (played hilariously by the Twitter-infamous Jaboukie Young-White) is making big money producing a white woman rapper who got her face and body done to look more "ethnic". We learn Shawna had dropped out of college to work with Francois but he ended up putting her on the back burner to focus on white artists who want to culturally appropriate. Seeing Francois burning money on IG because he's "so rich" prompts Shawna to go Live and announce her retirement from rap, since nobody wants to listen to a woman rapper who's not showing ass and titties.
A FaceTime call from Mia (KaMillion) makes Shawna think it must be a butt-dial. The high school friends haven't spoken in years. But Mia assures her it's no accident, she's a make-up artist working for that bachelorette party at Shawna's hotel and needs someone to watch her daughter since her kid's father Lamont (RJ Cyler) didn't pick her up like he was supposed to. Shawna helps out and Mia promises to pay her back with a favor. The two have gone in different directions over the years -- Mia's also a sex worker who went from clubs to OnlyFans - and they don't agree on using your body to make money or sell a message, but there's a hint of love there.
Frustrated over the day's events, Shawna picks a fight with her long-distance boo, Cliff, who's in law school in New York and letting one of his study buddies flirt with him. She asks Mia if she wants to get drinks. Mia's also upset over Lamont not pulling his weight, so she agrees to get drinks with Mia. After they get drunk together, they go on IG Live and freestyle a song based on their catchphrase from high school: Seduce and Scheme. Shawna wakes up the next morning to a flood of likes and comments like her music has never seen. Though her boyfriend texts her to make up for the fight, Shawna FaceTime's Mia instead, ready to form a rap group. There's only one thing she's excited about, and that's making music that connects.
In episode two, "Something for the Girls," Mia and Lamont are taking shots at each other on IG Live while Mia's at her third job and now their daughter is getting in trouble at school. Shawna's steady trying to get her friend Jill that works at Spotify to repost her music, but Jill's being shady. Meanwhile Shawna's boyfriend Cliff finds out Mia does sex work and gives Shawna misogynistic hell for it, worried about his image, since he wants to be the next Barack. Shawna "can be Melania," his friends joke.
But Mia and Shawna are determined to make this Rap Sh!t work. They link up to record in Shawna's homemade studio (which she got from stealing people's credit card numbers at the Plymouth), but Mia is not feeling Shawna's rapping from the perspective of Sallie Mae. "Bitch, is you rappin bout student loans?!" Best line of the episode. They're just not on the same page with the vision and go their separate ways again.
Mia has Lamont on FaceTime as they conference with their daughter's teacher to find out that she needs to work on her anger, but is also really smart and her teacher wants to put her in a space camp. Mia and Lamont bond over how special their daughter is and how different their lives could've been if they had a teacher like their daughter's. He also cash apps her the money for the rent and they're back cool again.
Mia looks into Shawna's old rap videos and gets a better understanding of her perspective. She meets up with her at the Plymouth and Shawna explains why she doesn't want to dress sexy and covers up. ""My art is not for the male gaze!" Shawna says. "Girl, what the gay niggas got to do with it?" Mia replies and I fell out. In what may be the best non-rhyming rap battle ever on screen, Shawna and Mia have it out over Black women in hip hop and whether we're in a Bad Bitch Renaissance or if the women are all controlled by some powerful men crafting their image and writing their lyrics behind the scenes. Points were made on both sides, but Mia wins out when she says, "You letting these niggas control you. You so worried about making art for them, they got you in a hoodie and fucking mask. Bitch, we in Miami, it's hot as fuck!"
Shawna can't even respond on that one! They head back to the studio and make a fun record about seducing and scheming, with no men controlling them. Shawna is actually so empowered by their rap session that she finally has FaceTime sex with her boyfriend even though he does NOT DESERVE IT!
Catch us next week for Ep. 3!
MORE BARS:

Tasha from Insecure (Dominique Perry) says "What did Maya Angelou say? 'When someone shows you who they are, remember dat.'"
"A broke nigga have my pussy like a bag of chips, just dryyyyy."
Let's make things inbox official! Sign up for the xoNecole newsletter for daily love, wellness, career, and exclusive content delivered straight to your inbox.
In 2018, Miami-bred rap duo City Girls (JT and Yung Miami) dropped the mixtape Period, featuring a song detailing their rise to success: "Rap Shit."
My own daddy said I wouldn't be shit / I looked at him, like we gon' see bitch / I'm up now, I don't give a fuck about my past bitch / I don't really fuck with this rap shit
The track has all the elements of City Girls music: a braggadocio anthem for the girls who are defying the odds and making it in a fake, male dominated industry on their own terms, with your daddy's money. Even as they share their real hardships, the mood is fun, something for the summertime, no matter the season.
Creator and executive producer Issa Rae captured the mood and the mission of this song and the City Girls as a whole and turned it into TV magic with her latest HBO hit series Rap Sh!t.
Set in Miami, Florida, and very loosely based on the show's executive producers City Girls, Rap Sh!t follows Shawna (Aida Osman) and Mia (KaMillion), two former high school friends who grew apart and find themselves back in each other's orbit when life doesn't go as planned.
Now a hotel clerk, Shawna's rapper dreams have stalled as her conscious lyrics and incessant need to cover up her face and body keep her music and style from resonating widely. Mia turned to sex work to support her young daughter, but her large social media fanbase doesn't always translate into the dollars she needs to make ends meet. After a drunken night of reconnecting, Shawna and Mia decide to form a rap group.
Issa may have come to prominence being relatably awkward and insecure, but in Rap Sh!t we see a creator standing fully in her confidence, using social media as a cinematic device to expose layers of her characters. So much could go wrong with switching between IG lives, stories, FaceTime and IRL to tell the story of these Black women and how they perform vs. who they really are. But under the leadership of showrunner Syreeta Singleton, the transitions are smooth, and the device is not an indictment of the characters' (and the viewers!) social media obsession, but a compelling revelation.
With Issa's Raedio label serving up the soundtrack for the series, the music becomes a character itself, revealing even more about where Mia and Shawna are in their lives. Their first hit song, "Seduce and Scheme" sums up the duo perfectly. While Mia knows how to get a man to break some bread off, Shawna's also got some tricks up her sleeve that might not be totally legal. The two are in survival mode and become each other's life rafts. Their rebuilt friendship is the heart of the show and works because Osman and KaMillion ooze chemistry.
Osman, who also writes for the show, brings sincerity and vulnerability to Shawna who may be oblivious to her own self-righteousness but has a heart of gold that makes you root for her, even as she's stealing people's credit cards at work. And real-life rapper KaMillion was a reality TV star on Love and Hip Hop: Miami and the "Queen of Twerk Music," but the multi-faceted talent moves like a seasoned vet through Mia's hilarious one-liners and heart-breaking desperation.
READ OUR RAP SH!T EP. 1 & 2 RECAP: BAD BITCH RENAISSANCE HERE

In a show full of rising stars, Jonica Booth stands out as pimp and club-promoter Chastity, the self-proclaimed Duke of Miami, who tries to hustle her way into being Shawna and Mia's manager. The always excellent RJ Cyler rounds out the cast as Mia's baby daddy Lamont, whose immaturity makes him seem like more of a deadbeat than he intends.
Devon Terrell's Cliff serves as the foil to Lamont as Shawna's law school-future politician boyfriend. But this is a show about the complexities of Black life and Black love, and it shatters the stereotypes of what makes for a good partner. By episode six, Cyler has an opportunity to flex his charm, and does not disappoint.
It's in that sixth episode (directed by Insecure alum Amy Aniobi and the last of the eight-episode first season given to press) when it clicks for me why I love this show. Yes, it's fun and laugh-out-loud funny from the jump and the characters are consistently full and beautifully Black and specific to Miami – but there's something else that's crystallized toward the latter end of the series.
Episodes five and six take us through some serious issues that Black women face; in other hands, bringing this subject matter to screen could have done some damage to its Black audience. But if we know anything about Issa Rae, it's that she's rooting for everybody Black. In her and Singleton's hands, the trauma explored on screen is authentic without retraumatizing the Black audience for the white gaze.
Though I haven't seen the final two episodes yet, if they cover any of the real-life drama the City Girls have publicly faced, Shawna and Mia might be in for some serious heartbreak. But there is joy in knowing that this team of writers cares about the viewers as much as its characters. Like all of Issa's work, we love it because it loved us first.
Rap Sh!t premieres on HBO July 21 at 9 p.m. EST.'
Let's make things inbox official! Sign up for the xoNecole newsletter for daily love, wellness, career, and exclusive content delivered straight to your inbox.
This review contains spoilers for the plot of Thor: Love & Thunder
It took me three tries to watch Thor: Love and Thunder in the waking nightmare that is the Covid/Monkeypox pandemic era. The two screenings I attempted to attend, full of people wearing Thor's viking helmet but no masks over their noses and mouths, may very well be my villain origin story.

On opening day, I climbed the stairs to the top of Hollywood's regal and expansive El Capitan theater in the middle of the afternoon and sat in the middle of the very last row in what felt like acres away from the sparse (but still unmasked?!!) crowd of moviegoers, and watched til the end of the credits, disappointed by the journey.
That is to say, I can relate to the movie's villain, Gorr.
The film begins with Gorr (Christian Bale) and his young daughter, the last survivors of their people, trekking through the desert, desperate, wounded, starving. Gorr's daughter dies on the journey and a distraught Gorr unwittingly stumbles into the valley of his people's god. A devout worshiper despite the total annihilation of his people and his daughter, Gorr bows before his god and begs for answers for his people's destruction. The god, gorging himself on fruit in the lap of luxury, is dismissive, even laughing at Gorr and his people's fate. "The gods will use you but they will not help you," Gorr learns firsthand. The Necrosword, the only weapon strong enough to kill gods, chooses Gorr for its mission, and in grasping the Necrosword and murdering his god, Gorr the God Butcher is born.
So, yeah, in a pandemic, where 6.4 million people have been disappeared by a deadly virus, due in large part to the incompetence, greed, and apathy of the people in power, I'd say Gorr the God Butcher is a villain for our times. And Bale plays the role with heartbreaking sincerity. But a successfully told story needs more than timely themes and great acting.
Co-written and directed by Taika Waititi, Thor: Love and Thunder is like watching a bunch of unrelated plot lines swirling around in a blender without enough water to make it stick. There are at least three beginnings to the film before the plot gets moving. And after slogging through recycled gags and tedious exposition via voice over narration from the Kronian warrior Korg, played by Waititi, it becomes obvious that this is a director who loves the sound of his own voice. But what he's trying to say with all. those. words. is much less clear.
In Gorr's first battle against Thor (Chris Hemsworth), The Mighty Thor (Natalie Portman's Jane) and Valkyrie (Tessa Thompson), Gorr starts losing badly and decides instead to kidnap the children of New Asgard to lure Thor and his ax, Stormbreaker, into a trap. Gorr keeps the children in cages and then Thor makes a "kids in a cage" joke. Is this supposed to be some commentary on the inhumane caging of children happening at the US border? If so, what's the joke?
In a particularly disturbing scene during the movie's climax, Thor ventures alone into the shadow realm and imbues the kidnapped children with the powers of Thor (on a temporary basis) so they can fight off the shadow monsters while he fights Gorr. The children's eyes glow and electricity shoots from their fingers as they kill the monsters. In a truly unhinged moment, a child screams in delight as she swings around her teddy bear (also possessed with the powers of Thor) to kill a bunch of shadow monsters. I suppose that was meant to be funny too.
Just before Thor gave those children superpowers to kill, it looked like he was praying over them, like many in America pray over their kids before sending them out into a world where they can be gunned down in school, at a parade, or by police. But instead of a forcefield or some kind of hedge of protection, Thor empowers them to kill and we in the audience are supposed to cheer at their violence.
In one of the film's many beginnings detailing the life of Thor, we see Thor as an infant, strapped to his mother's chest as she swan dives into the heat of battle, an exhilarated Baby Thor screaming along in delight. The film ends with the kidnapped children reunited with their families in New Asgard and happily training for their next battle. But Waititi doesn't seem to grasp that this is a really bad thing! On the contrary, the future of New Asgard, Thor says, is now secured.
I guess, instead of ending the harm against children, the solution is to teach them to kill. For an America that sells bulletproof backpacks, refuses to ban assault weapons, and lets the military recruit for its ranks on school grounds, this is the superhero movie we deserve.
It's not all terrible. There are a few laugh out loud moments and as many nods and winks at the existence of queerness that Disney would allow. And Portman's Jane/The Mighty Thor and her terminal cancer journey are the compelling heart of the film, though her waning mortality seems to only be a device to speed up Thor's growth into an adult who knows how to love. But, I'mma be honest: I came to see King Valkyrie licking a sword and I blinked at the wrong time during a crucial fight scene and I missed it. In fact, King Valkyrie is MIA far too often for my taste. When she's not on the screen, I just want to know where she is. When she is on screen, I want to know why she's not doing, saying, being more. Show us Valkyrie's lesbian love story or at least show her meeting Africans in the Diaspora and learning what box braids are, you cowards!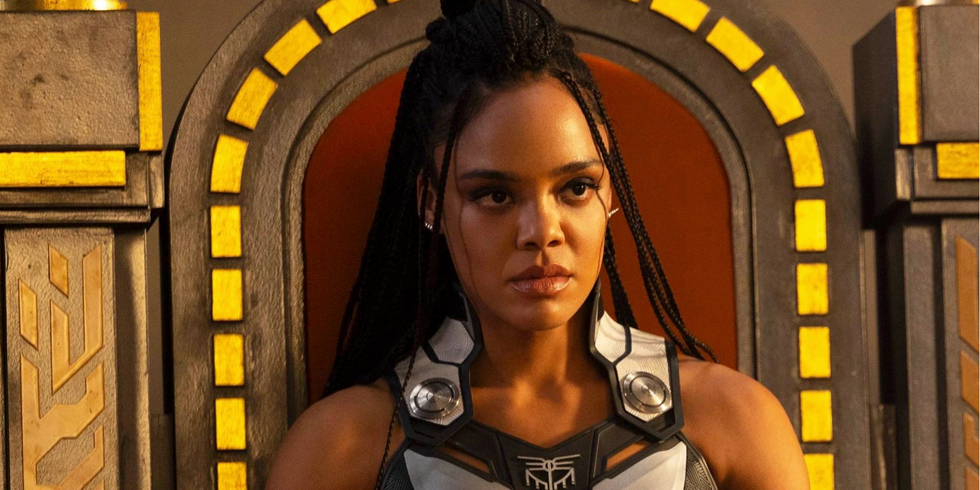 Who Taught Valkyrie about box braids?? Tessa Thompson as Valkyrie in Thor: Love & ThunderMarvel / Disney
As soon as Thor arrives in New Asgard, King Valkyrie all but relinquishes control to him, deferring to his incessant need for spot-light stealing and speech-making in the wake of New Asgard's children being stolen. For the climax battle, King Valkyrie is out of commission, bested by Gorr the God Butcher with Zeus' lightning bolt. Instead, Jane gets the triumphant moment to save Thor, on King Valkyrie's faithful Pegasus steed, no less. After her star turn in the much better, actually revolutionary Thor: Ragnarok, (there was a revolution of the enslaved! The imperialist empire of old Asgard was destroyed!) it's even more obvious how wasted Thompson's talents were here to make room for Jane and Thor's love story.
And cool, the main message is that Thor chose his love for Jane over vengeance and fighting. But the moment Jane succumbs to cancer, turns to gold dust, and floats away to Vallahar to rest with Asgard's other dead gods, Thor just gets right back to fighting and war.
The final (pre-credits) scene is of Thor and his newly adopted goddess-preteen Love (Gorr's resurrected daughter) diving into battle, side by side, mirroring his own introduction into battle as an infant with his mom. But in a world where even god-children can't just be kids and grow up in peace, what is there to love?
Let's make things inbox official! Sign up for the xoNecole newsletter for daily love, wellness, career, and exclusive content delivered straight to your inbox.
Featured Image by Marvel / Disney
Cisters, we need to talk. (By "cis" I mean cisgender women–people who were assigned female at birth and also identify as women).
We're living in scary times, battling multiple pandemics, and in the wake of the Supreme Court gutting abortion rights, the assault on autonomy over our bodies continues. With lives at stake, many trans and gender non-conforming people have come out to say to cis people, "Hey, please don't forget about us in the fight for abortion rights," as many trans men and gender non-conforming people have uteruses, are also able to give birth, and are already facing disproportionate harm when it comes to receiving healthcare. The backlash has been swift.

Many famous cis white women like Bette Midler and Pamela Paul in the New York Times have gone so far as to say that using inclusive language like "birthing people" or "people with uteruses" instead of just saying "women" when talking about abortion rights, is "erasure," and just as violent as politicians and judges making anti–abortion laws. Unfortunately, Black cisgender women have also been attacking trans people. The latest Trans Exclusionary Radical Feminist (TERF) to join the fray is singer Macy Gray who went out of her way to be a guest on noted racist and misogynoirist Piers Morgan's show to say, "Just because you go change your parts, doesn't make you a woman, sorry."
This is straight up transphobia and just not true. Trans women are women. And "womanhood" is a social construction–which means its rules are made up by what a society decides at a point in time. It is not biological. (Even in biology, there are more than two sexes.) And looking to "parts" to make up the definition of a woman is dangerous.
Last week, a pregnant 10-year-old child, a rape victim, had to flee Ohio to get a legal abortion last week. This child has the "parts" to give birth, but is in no way a woman at 10 years old. There are women who have no reproductive organs. There are women who are unable or uninterested in giving birth. There are women who don't want to ever be mothers. There are innumerable ways to be a woman. But when you reduce women to their "birthing parts," you should not be surprised when your society dictates what you are and aren't allowed to do with those parts. Motherhood is a choice and for all of our protection, it must be separate from womanhood.
Transphobia is violent and harms all Black women (that means cis and trans). To understand this, we must understand who constructed our ideas of womanhood and why.
The oppressive systems that all Black women are living under are interconnected and multi-faceted, targeting us for race, gender, sexuality, ability, class and so much more. This white supremacist, capitalist, ableist, cishetero patriarchy (to paraphrase bell hooks) has constructed our identities and assigned value on our lives based on how white we look, and how well we perform our assigned gender, heterosexuality, able-bodiedness and wealth. As a result, of course, white, straight, cis, able-bodied, wealthy men are at the top of this oppressive system and do everything in their power to oppress us so they can remain there.
When wealthy, land-owning, white men wrote in the Declaration of Independence that "all men are created equal," they were only talking about other wealthy, land-owning, able-bodied white males, to the exclusion of everyone else.
Similarly, all the "women" (who did not even exist in any of America's founding documents) were white, able-bodied, and married to men. Under white supremacist patriarchy, these white women could not hold elected positions or vote. Their property ownership was limited without fathers, husbands or brothers controlling their fates. Their pedestaling of white women as the ideal of womanhood, with a delicateness that needed to be protected and cared for by men has always been oppressive and infantilizing. But white women took comfort in having power over people with less wealth and people who weren't white. And many of these footsoldiers of the patriarchy hold onto their white power in the face of their own gender oppression to this day.
When you understand the creation of womanhood and manhood as white supremacist constructs meant to specifically exclude the Black people they enslaved, you understand that womanhood and manhood are identities based on the whims of our oppressors, that can be taken away from us whenever they feel like it.
Ask Caster Semanya. The two-time Olympian and queer Black woman from South Africa is dark-skinned, muscular, married to another woman, and naturally produces testosterone in her body, which white people have decided gives her an unfair advantage to compete in women's sports. The international governing body of sports decided she had to take medication to chemically alter her biology in order to be "female enough" to compete as the woman she is, or she would be banned from competing. Silver medalist Francine Niyonsaba from Burundi and bronze medalist Margaret Wambui from Kenya and many more were also banned for the same reason. That's what happens when you win too much as a Black woman: they change the rules.
Ask Megan Thee Stallion. After all the hate she got for just literally being a victim of a shooting "allegedly" committed by Tory Lanez, she knew that her race, her complexion and the build of her body all played a role in why she was not allowed to be the dainty woman who deserves protection, care and human decency.
"And I don't know if people don't take it seriously because I seem strong," Megan told Rolling Stone. "I wonder if it's because of the way I look. Is it because I'm not light enough? Is it that I'm not white enough? Am I not the shape? The height? Because I'm not petite? Do I not seem like I'm worth being treated like a woman?"
Black cisgender women like Megan face transmisogynoir too, because the root of the violence against all Black women specifically is to reinforce our devaluation as people in comparison to white women and white men. Despite the ways individual Black women can gain proximity to whiteness (through colorism/featurism; through class; through performance of gender), we will never as a group be treated equally to white people under white supremacy. The police that murder Black people with impunity, regardless of our class and gender performance, will remind us of that. But cis people don't have to play the role of police against trans people for them. We don't have to hold as sacrosanct a white supremacist construction of gender and gender expression that was never meant to include Black people in the first place!
When cis people reject transphobia, we are actively rejecting white supremacy and all of its spawn: classism, ableism, colorism/featurism, capitalism, and cishetero patriarchy. We are actively rejecting the idea that we can quantify people's value and grant and restrict their rights as a result. We are boldly claiming bodily autonomy and personhood as a human right and becoming one step closer to our own liberation. And we need it urgently.
Trans people are under attack. More than 300 anti-trans rights' bills have been introduced across the country in 2022 alone. Black trans women are being murdered with impunity in record numbers. Like Black cis women, Black trans men and gender non-conforming people are at extreme risk due to these abortion bans. Our siblings are in danger. They are not "replacing" or "erasing" us; they are us. And when white supremacists start to blur these so-called fixed lines about who these bans apply to – the same way they've done in sports to so many Black women; the same way they've done to a 10-year-old rape victim; the same way they've done to the chronically ill whose life-saving medication may be banned under the new abortion rules - we'll all find out the hard way.
Cis people, we have a choice to make. The scapegoating of trans women, trans people and other gender non-conforming people will not save us. Trans people are not our enemies. They are not the ones who have built the systems that oppress us. They are our sisters and siblings and our liberation is tied up together. Our collective struggle is against white supremacist, capitalist, ableist, cishetero patriarchy. We can either be the overseers for white supremacy and eventually get crushed under its boots, or we can all be free.
Which will you choose?
Let's make things inbox official! Sign up for the xoNecole newsletter for daily love, wellness, career, and exclusive content delivered straight to your inbox.
Featured image by Getty Images
Last week, I asked, "
How Black Will Oscars' Night Be
?" And just as I predicted, it was pretty Black! The 94th Academy Awards made Black history several times over on Sunday night. Not only that, but ratings were up 56% over last year's all-time low. There is a lot to celebrate about what went down at the Oscars this year! But what's been on everyone's minds and Twitter fingers ever since was the Slap heard 'round the world.
xoNecole was in the Dolby Theater for our parent company Will Packer Productions'
making history as the first all-Black producing team
in the Oscars' 94 years--and yes, the moment was shocking and confusing, with guests reacting much like those at home, wondering was the presumed Best Actor Will Smith doing a bit when he walked onto the stage and open-handed slapped Chris Rock after a joke about Jada Pinkett-Smith's bald head? It was quickly clear that it wasn't, with those of us up in the theater's rafters looking to Twitter for a replay of what exactly went down.
But we should not forget some truly amazing moments in Black history that went down at this year's Oscars.
xoNecole was on the red carpet talking to your faves about what this moment meant for Black people, Oscars host Regina Hall, Best Supporting Actress Aunjanue Ellis, Oscar winner H.E.R., Oscar winner Ruth E. Carter, presenters Chloë x Halle and more:
Oscar Winner Samuel L. Jackson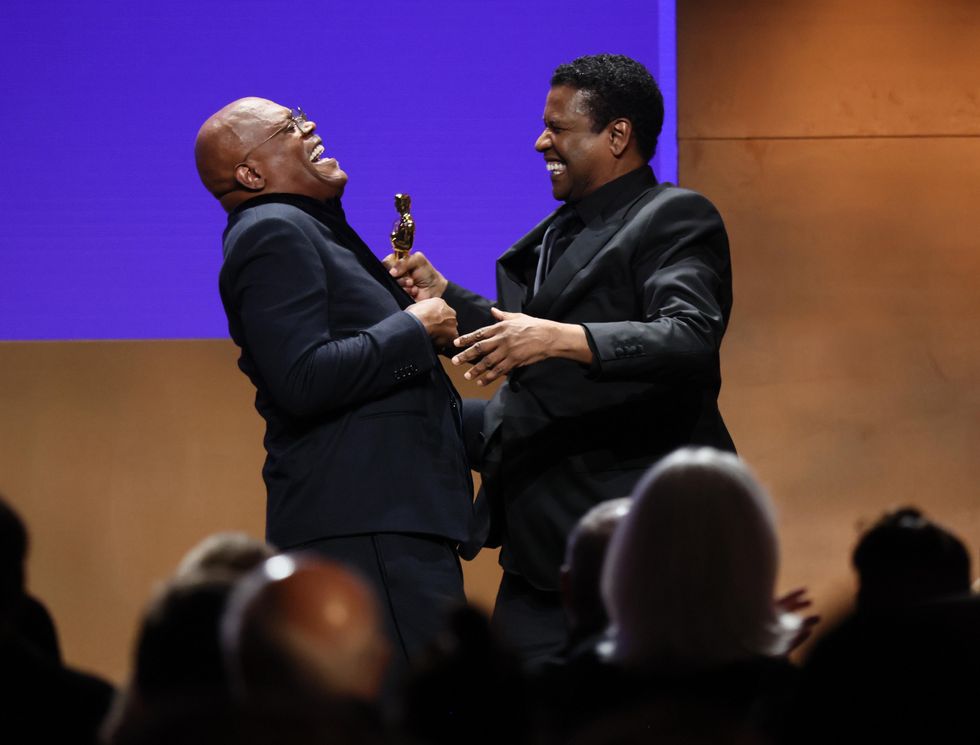 Samuel L. Jackson celebrates his Oscar with Denzel Washington
Mike Coppola/Getty Images
At The Academy's Governors Awards the night before the Oscars, Denzel Washington presented his peer and friend Samuel L. Jackson with this year's honorary Oscar. The 73-year-old acting veteran has been on our screens for most of his life, alongside Washington and Spike Lee. After being nominated for Supporting Actor for his role in Pulp Fiction, Jackson now has his first Oscar!
Blue Ivy Gave The Opening Performance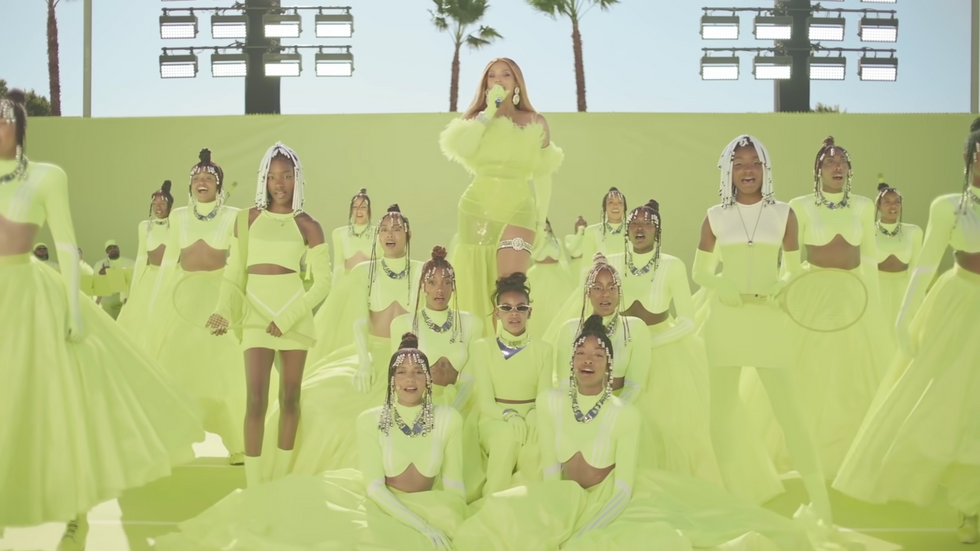 Baby, Blue Ivy was MOVING, okay? Dance moves on point. An icon. A legend. We didn't deserve it, but I'm so glad Blue Blue let her mom sing background for her debut performance at the Oscars. She can add this accolade to her illustrious Emmy, Grammy and literary awards.
'The Queen of Basketball' Received Best Documentary Short 
One of the early, exciting moments from the pre-taped show was when The Queen ofBasketball won for best documentary short (just as I predicted!). The floor vibrated as the family of Lucy Harris, the first woman to ever play in the NBA, celebrated the Oscar win in her honor. Sadly, Lucy passed just months before the nominations were announced, so she never got to see how her pioneering story would reach international acclaim. "Hallelujah! Thank you, Jesus!" Her family and loved ones shouted out from the rafters above and behind me in the Dolby Theater. Their energy and joy were electric! And Director Ben Proudfoot ended his acceptance speech with an appeal: "President Biden, bring Brittney Griner home!" A Black history moment and icon we should never forget. Watch the Oscar-winning documentary short below:
Ariana DeBose Won Best Supporting Actress 
The first award of the (televised) night went to Ariana DeBose for Best Supporting Actress in West Side Story, (as predicted) making her the first Afro-Latina, openly queer woman to win the award. Quoting her famous musical in her acceptance speech, she said "So to anyone who has ever questioned your identity, or you find yourself living in the gray spaces, I promise you this: there is indeed 'a place for us.'"
Megan Thee Stallion Is The First Female Rapper To Perform 
One of the more pleasant surprises of the evening was seeing Megan Thee Stallion performing the hit song from Encanto by Lin Manuel Miranda, "We Don't Talk About Bruno." While you may remember the famous performance from Oscar winners Three-Six Mafia of "Hard Out Here For A Pimp," Megan's performance was the first-ever by a female rapper in Oscars history. Keep doing it big for the Hot Girls, Meg!
A Disabled Black Woman Was Defended Against Ableism and Misogynoir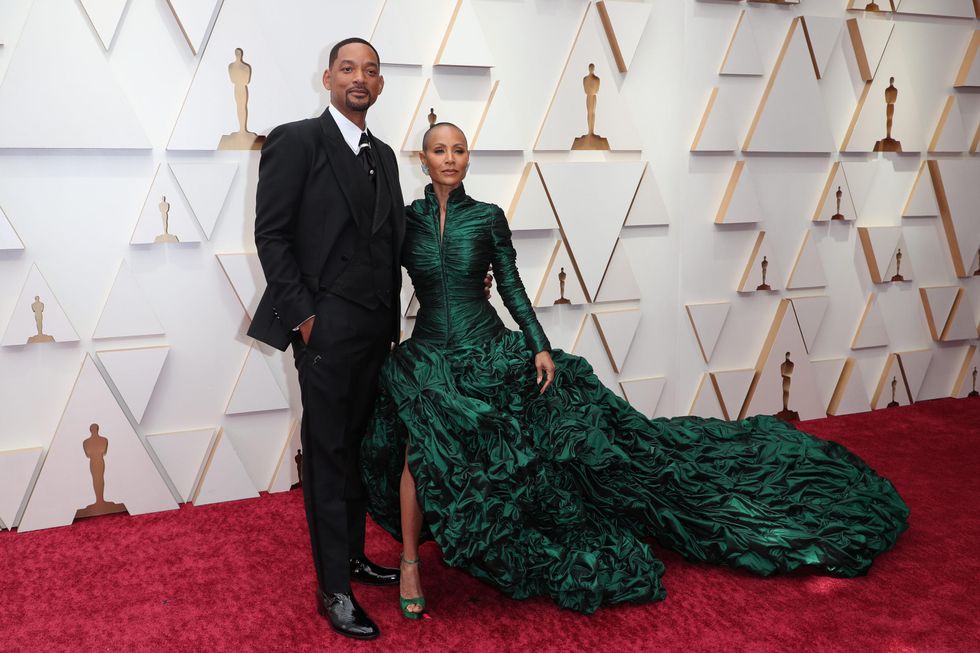 WILL SMITH, JADA PINKETT SMITH
THE OSCARS® – The 94th Oscars® aired live Sunday March 27, from the Dolby® Theatre at Ovation Hollywood at 8 p.m. EDT/5 p.m. PDT on ABC in more than 200 territories worldwide. (ABC)
For too long, comedians like Chris Rock have built their entire careers on mocking how Black women look, talk, dress and act and we're always expected to take it because it's "just jokes." I'd wager that part of what seems to be so offensive to people in the aftermath of the Slap is not that Chris Rock got popped in the mouth for mocking a Black woman's appearance, it's that this violent, ableist, misogynoiristic 'joke' is supposed to be acceptable. Open season on the most unprotected and disrespected people in America, the Black woman, is assumed, and how dare Chris Rock face consequences for it? Alopecia is an autoimmune disease. Jada Pinkett Smith is disabled. A Black disabled woman was defended against ableism and misogynoir in front of the world on Sunday night. While we'll have to wait for Jada to speak specifically on how she felt about the offense or the defense, I hope more 'comedians' think twice before mocking Black women for a white audience's laughter and actually try to be funny next time.