Issa Rae finally released the trailer for her highly anticipated new series Rap Sh!t. The HBO show's trailer hit the internet on Monday after the Insecure star shared it on her Instagram page. "🗣 New Sh!t #RapShit - July 21st @rapshitonmax," Issa wrote. The trailer gave viewers insight into what they can expect and it looks like they will be in for a ride.
---
The show, which was created and executive produced by Issa, is about two former high school friends who reconnect to form a rap group in their hometown of Miami, FL. The new series stars Aida Osman, KaMillion, Jonica Booth, Devon Terrell, and RJ Cyler. Here's everything we know so far about the series that will premiere on July 21.
Rap Sh!t stars a Miami rapper and one of HBO's Youngest executives.
KaMillion and Aida Osman co-star in the series as best friends Mia and Shawna. In real life, KaMillion is a rapper who hails from Miami and she has also starred in Love and Hip Hop: Miami. From what we know so far, it appears that art will be imitating life as she will be playing a Miami rapper trying to make it to the top. Aida, who grew up in Nebraska, and worked on many TV series as a writer, now has the spotlight on her as a co-lead on the HBO show. Aida spoke about her character in an interview with Harper's Bazaar.
"It's comedy, it's storytelling, it's music, it's fine b–hes!" she said. "It's interesting with Shawna—I'm giving her a lot of my personal storylines. In the writers' room, we access our own personal stories and give them to the characters just by nature of having conversations about our life and about what's going on in culture around us. We can have real conversations about Black femininity and control as a young creative, and that's beautiful to me as a young creative and a Black woman. I get to do a lot of self-exploration through the show, and heal and investigate my own life. It's like constant therapy."
Social media is its own character on the show.
Rap Sh!t shows how the characters use social media as a way to document their journey to stardom. Social media plays a key part in many artists' success as they use it to build and entertain their followers. Issa explained why it was important to show that in the series and how famous female rappers like Cardi B and Megan Thee Stallion influenced the show.
"When I think about Cardi B, I discovered her because of friends sending me her social media videos before she was a rapper, before Love & Hip Hop. And then, being able to watch her journey and watch people fall in love with her and root for her, and then root for her downfall like that—that is so interesting to me," Issa explained in the Harper's Bazaar interview.
"Megan Thee Stallion too. I didn't become a fan of hers until I saw the twerking gas station video she did. When I think about so many of the female rappers that we see today, and even just the music industry as a whole, social media is such a huge part of that come-up. To be famous during this time relies so much on what you're putting out. The question of how authentic we really are, knowing that people are watching, really fascinates me. I don't think that this era of female rap exists without social media."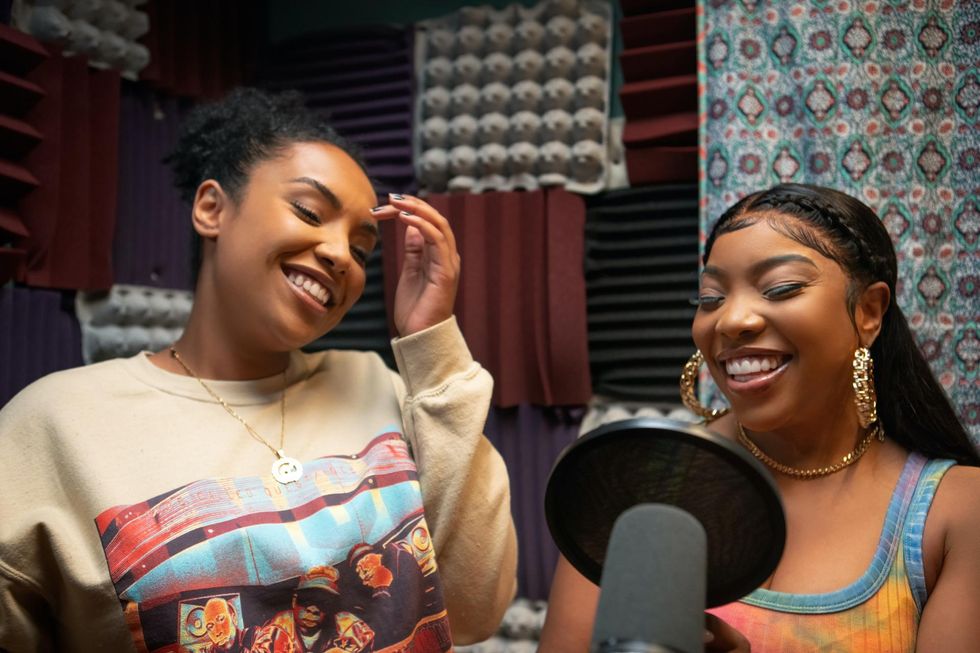 Alicia Vera/HBO Max
Rap Sh!t is about female empowerment.
Issa enlisted Yung Miami and JT of the City Girls to co-executive produce the series along with Kevin "Coach K" Lee and Pierre "P" Thomas who are the co-owners of the "Period" hitmaker's music label Quality Control. Rap Sh!t's showrunner is Syreeta Singleton who also worked on Insecure.
The Photograph star explained the concept behind Rap Sh!t and how she found the inspiration. "I think this is just such a unique time in hip-hop, especially when it comes to female rappers, because there's such an abundance, and it doesn't feel like they're all in competition with each other," Issa said. "I'm a child of the '90s, and there used to always be a tendency to put two women against one another. It feels like we're in an era where there's such a supportive environment now because of that abundance. All of that, combined with just my own story of coming up, became the next story that I wanted to tell."
Let's make things inbox official! Sign up for the xoNecole newsletter for daily love, wellness, career, and exclusive content delivered straight to your inbox.
Featured image by Alicia Vera/HBO Max