In 2016, Issa Rae took her vision that was five years in the making, and transformed it what is now the HBO hit-show, Insecure. The groundbreaking series received an overwhelming response and led her to become one of the youngest (and most melanted) industry professionals in the game. Issa's initiative to tell all of our stories is invaluable to further developing the archetypes of black women.
---
Last year on the Emmys red carpet, she delivered the prolific quote that will resonate in our hearts and minds forever: "I'm rooting for everybody black." The quote that is now written across t-shirts and coffee mugs across this nation is a reminder to Issa, that we're rooting for you too, boo. It was just announced that the actress received her first Emmy nod for Outstanding Actress in a Comedy, and it's an occasion worth celebrating. Although her success may seem overnight to some, this nomination was years in the making.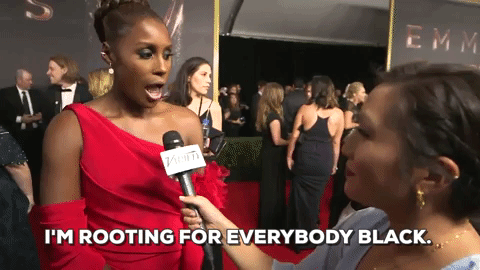 Giphy
I believe it was junior year of college when I discovered Issa's YouTube series, Misadventures of an Awkward Black Girl, and I've been following her ever since. I recall how elated I felt seeing a depiction of a black woman in the media that was more aligned with me than ever before.

Issa's character asked all of the questions that many of us refuse to say aloud out of fear that we were alone in those hella random moments. In remaining true to her art form, she's given a platform to other self-proclaimed awkward black girls, including myself.
With so much of the world telling black women who they (allegedly) are — boisterous, bitter, angry, and quick to check whoever, wherever — it's easy to feel lost. You try to live up to the hype of that monolithic script, not because you necessarily want to, but because we've been made to feel it's the only way. Issa proves that it's not.
When I think about the phase I went through in middle school, trying to keep up with the the idea of who a "typical black girl" should be, I can't help but wonder how much sooner I might have come to find myself if we had women like Issa Rae around. I can't imagine how beneficial it would have been to have a voice that reassured little black girls like me that our awkwardness and social anxiety were acceptable. Representation matters, honey.
That statement will never get old because although matters in the media are constantly improving, there's definitely room for additional multidimensional roles. We often internalize media, this observation has been studied for years now. This internalization impacts our self-esteem, mood, and behavior. When they are unable to see themselves reflected in the media, it leaves little girls and boys alike feeling as though they're limited to the hyper-sexualized or hyper masculine scripts that were pre-written for them. The media's lack of diversity has the ability to hinder a positive self-image among people of color.
The past five years have been epic for black television, generally speaking. In that time frame, we've been blessed with characters like the Vera Wang Queen, Olivia Pope, and the sperm-snatching Mary Jane Paul, who are each portrayals of black women in powerful positions. They kicked down the doors of primetime TV so that more complex characters of color could have an opportunity to thrive. We see this cultural progression in shows like Queen Sugar and Atlanta.
The roles that Issa continues to create and advocate for, are roles that speak to our soul on several levels, making these characters agents of change that reach multiple generations of people. These qualities alone allow her work to transcend everything that has been done prior to her reign.
There's TV B.I. (before Issa) and there's TV A.I. (after Issa), and I truly believe that everything to follow will continue to change the way we view ourselves through the scope of media for the better.
*Featured image by Getty Images